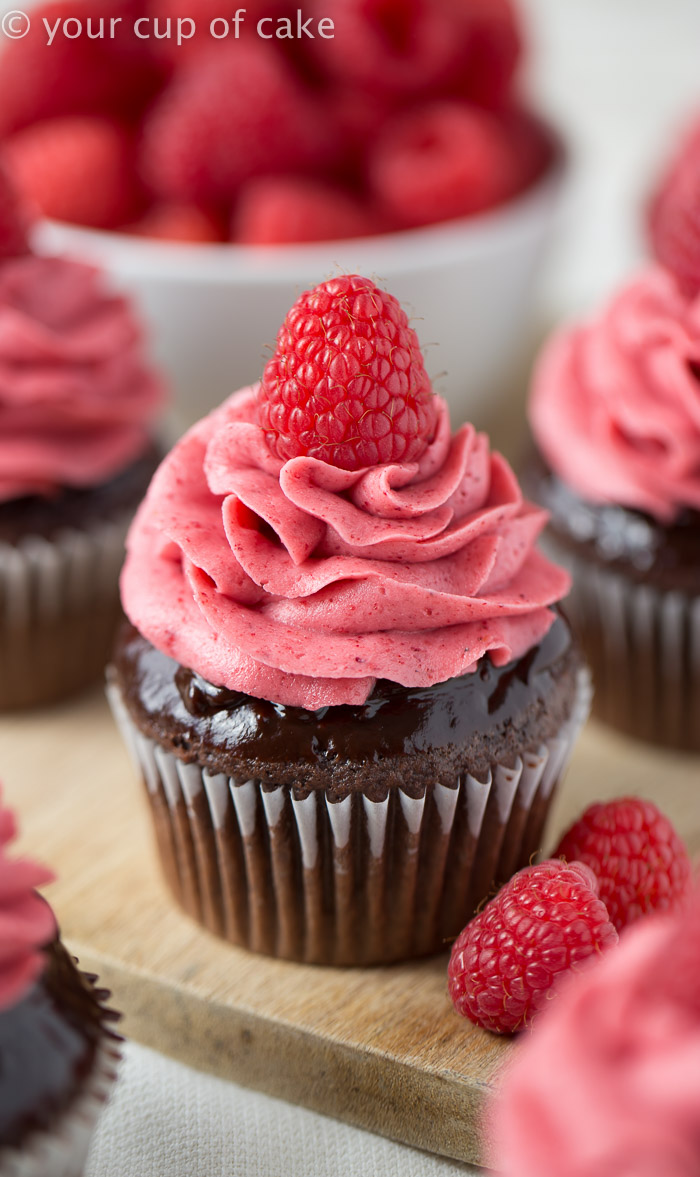 Chocolate Raspberry Cupcakes with thick chocolate ganache and the best raspberry frosting you will ever taste! Valentine's Day is almost here, so make your beau a bouquet of cupcakes! But let's face it, these are perfect for bridal showers, weddings, Easter… or any wednesday night!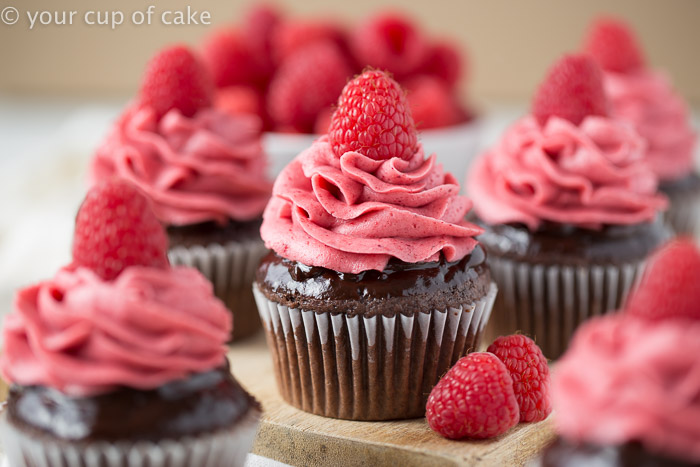 I made these with my favorite cake mix! The new Purely Simple Chocolate Cake Mix has no preservatives, artificial flavors or colors! And my favorite part is that you can switch out the regular cake mix and this new Purely Simple version seamlessly. Some brands… their new cakes mixes (like gluten free or preservative free versions) make fewer cupcakes! So you have to adjust all the other things you add in. But this new Pillsbury mix you can use in any cake mix recipe! I'm obsessed!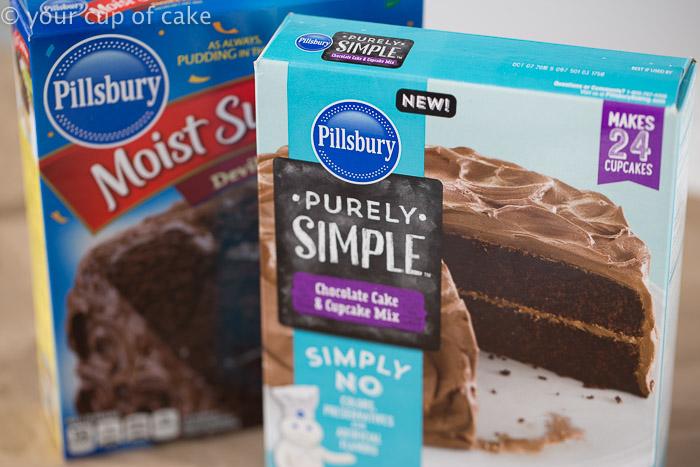 I had a helper in the kitchen this week. He wanted to try his hand at photography so I had him snap a few of me piping on the frosting. And in keeping with our artificial color and artificial flavor free theme… this frosting has NO dyes or artificial flavors!! How did I do it? It's basically magic 🙂 Check out the recipe to see!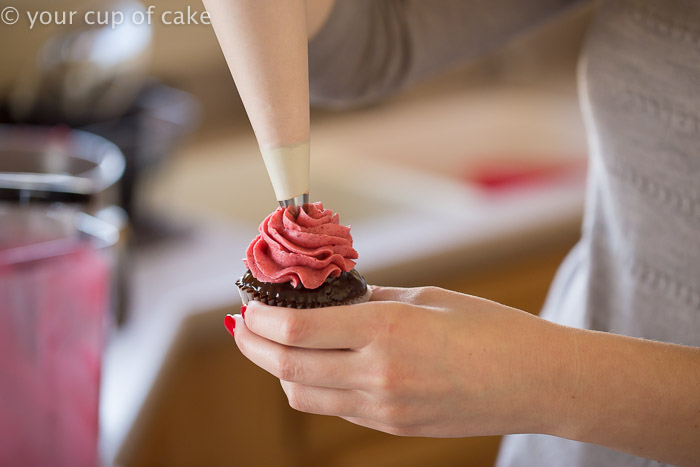 Ganache, cupcakes, raspberries… it's a good sight to see.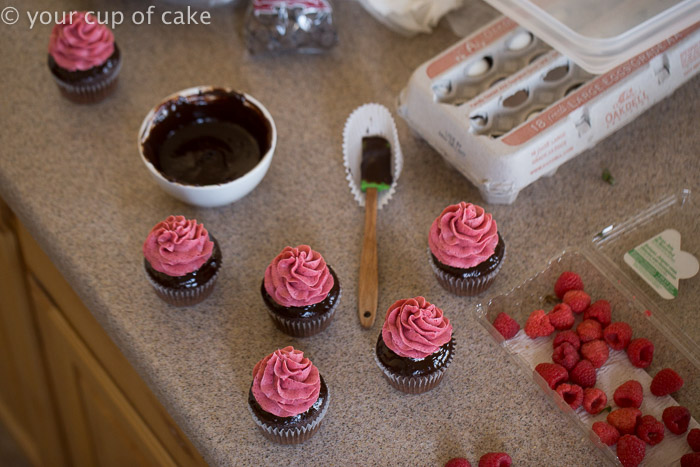 Me in my zone! A lot of people ask me how I learned to pipe cupcakes, and it was a combination of youtube and working at a bakery for 2 months. You learn pretty quickly when you're piping 300 cupcakes every morning!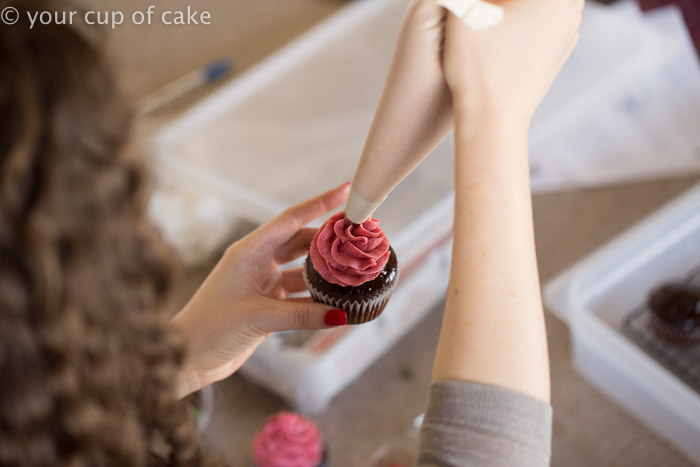 Check out how good that ganache looks! Whenever I'm home visiting my parents and I say I'm making cupcakes, my mother's first question is always "Will it have ganache?" She's obsessed.
What is ganache? Chocolate and cream! It makes that shiny layer of chocolate between the cake and frosting.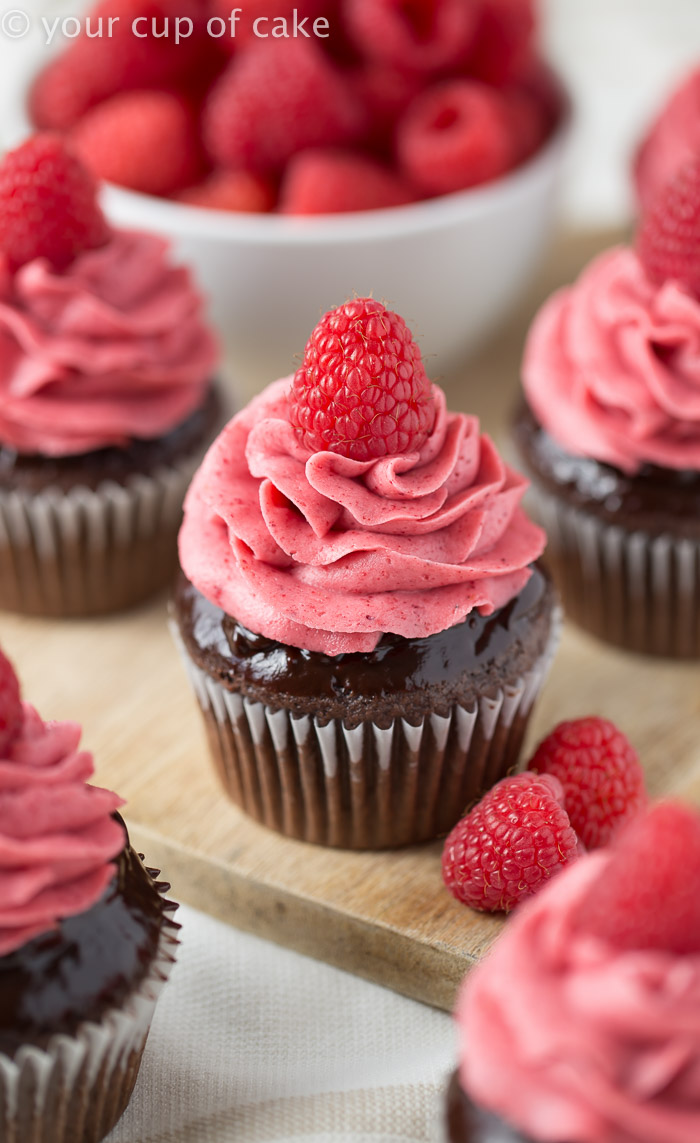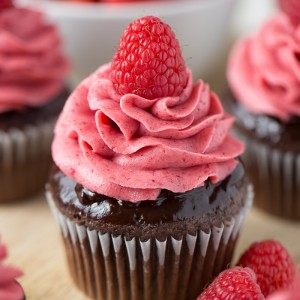 Chocolate Raspberry Cupcakes
Ingredients
CHOCOLATE CAKE:
1 Box Purely Simple Chocolate Cake Mix
3 eggs
1/2 C. butter melted
2/3 C. sour cream
2/3 C. milk
GANACHE:
1/2 C. chocolate chips
1/4 C. heavy whipping cream
RASPBERRY FROSTING:
1 pkg. freeze dried raspberries I use trader joe's brand
1 C. butter softened
1 tsp. vanilla extract
2-3 Tbsp. milk
2-3 C. powdered sugar
Instructions
1. Preheat oven to 350 degrees and line pans with cupcake liners.

2. Sift cake mix into a large bowl to remove any lumps and add eggs, butter, sour cream and milk. Stir until smooth,

3. Fill cupcake liners 3/4 full and bake for 15-20 minutes or until an inserted knife comes out clean.

4. Let cool.

5. Ganache: In the microwave or on the stove top, heat chocolate chips and cream and stir until smooth. Be careful not to burn the chocolate. Dip the tops of the cupcakes into the ganache and let set.

6. Frosting: Use a blender (I love my handy blendtec) to finely crush the freeze dried berries the use a sifter to remove the big pieces and seeds. Use whatever falls through the sifter.

4. Add butter to the raspberry and beat in a stand mixer. Add vanilla 2 Tbsp. milk and continue to add powdered sugar until you reach your desired consistency. Pipe onto cupcakes over ganache and top with raspberries!
This post was created in partnership with Pillsbury, but all opinions are my own.