Yum! These Chocolate Strawberry Cheesecake Cupcakes are perfect for summer and any season after! They have a chocolate strawberry cake, a thick layer of ganache, cream cheese frosting and a fresh berry on top! You can even sprinkle some graham cracker crumbs over the frosting to give it some more texture and color!
Oh! Amazon is having some huge sale this week so make sure and check out my absolute favorite cupcake pan and all the food scoops so you can get your cupcakes the same size and it's a ton easier to make cookie dough balls!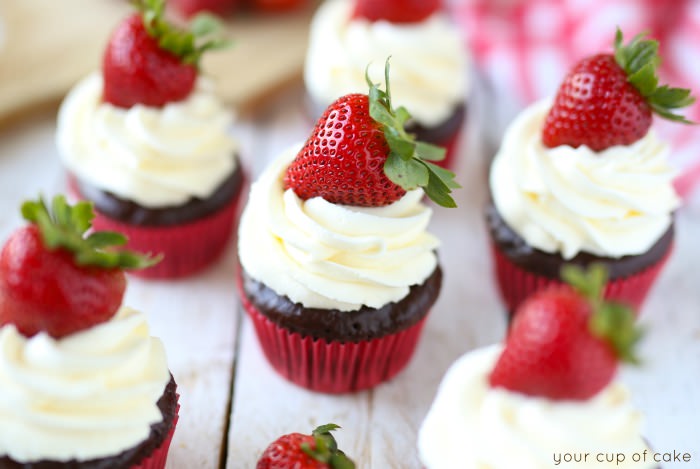 Let's talk chocolate ganache. It's that thick layer of chocolate between the cake and the frosting. It has a few purposes… first of all it's incredibly decadent and delicious. And second, it helps to seal in the moisture of the cake! It's so easy to make, give it a shot! And if you're trying to be all healthy, then just use the ganache and skip the frosting! Low-cal cupcake 🙂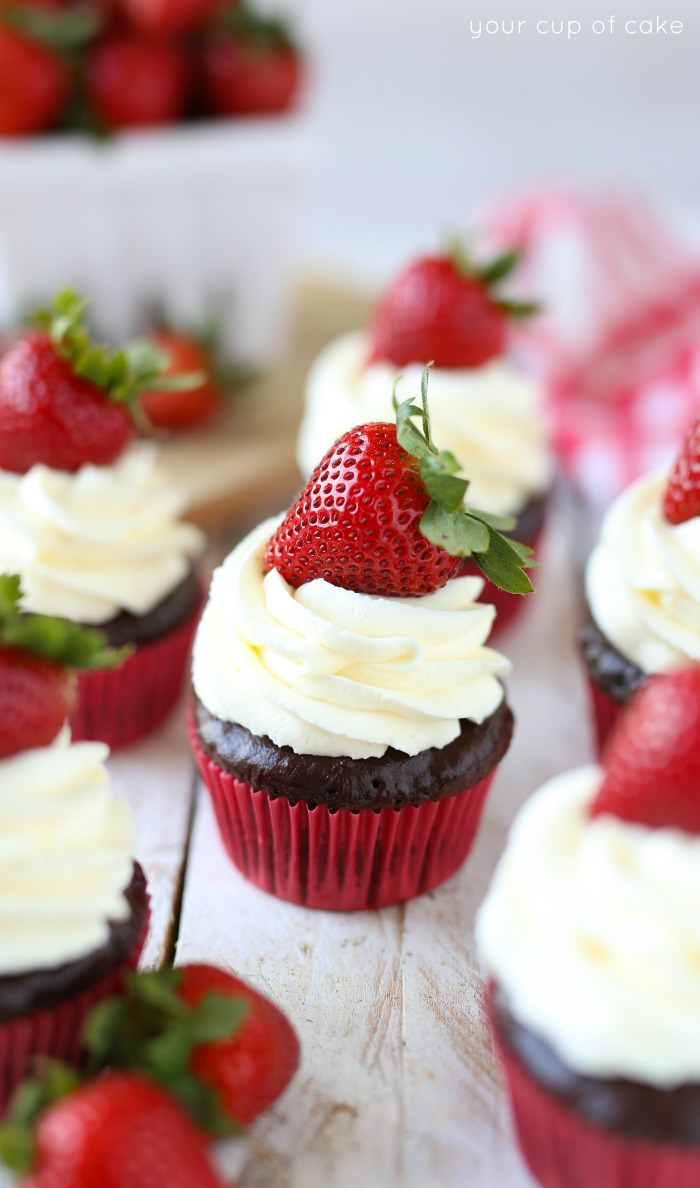 I love food photography. It's become one of my favorite things. It can be so frustrating to not be able to get a good photo, but when I do get a good shot it makes my entire day better. Moving into my new space a few months ago I was really forced to learn how to deal with harsh light. If that's all you have in your house to take photos, pop a light diffuser into the window (just lean it against the window sill) and then you'll have perfectly soft light!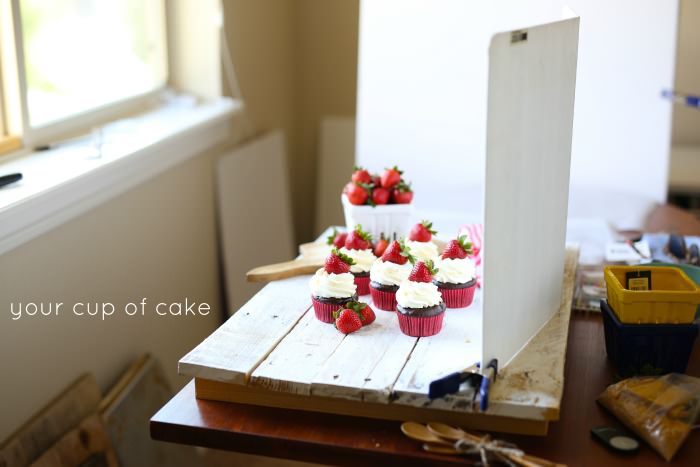 PS: Did you see by gorgeous Banana Split Cake from a few weeks ago?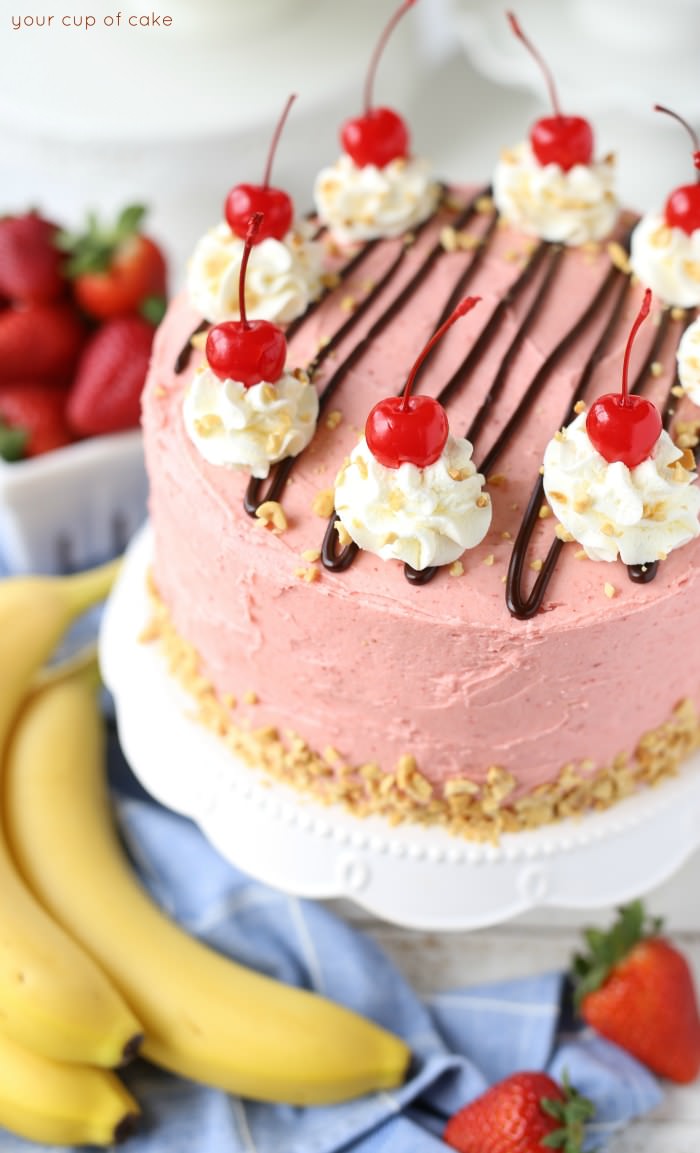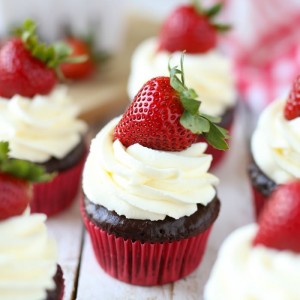 Chocolate Strawberry Cheesecake Cupcakes
Ingredients
Chocolate Strawberry Cake:

1

box chocolate cake mix

3

eggs

1/2

C.

oil or melted butter

1

C.

sour cream

5-8

strawberries

Chocolate Ganache

optional:

1

C.

chocolate chips

I prefer semi-sweet

1/2

C.

heavy whipping cream

Cream Cheese Frosting:

8

oz.

cream cheese

1/2

C.

butter

softened

2

tsp.

vanilla extract

2-4

C.

powdered sugar
Instructions
1. Preheat oven to 350 degrees and line cupcake pan with cupcake liners.

2. In a large bowl, sift in cake mix to remove any lumps. Add eggs, oil, sour cream and stir until combined well.

3. Cut the stems off the strawberries and then toss the berries into a blender to puree. Add puree to cake batter and stir in.

4. Fill cupcake liners 3/4 full and bake for 15-20 minutes or until an inserted knife comes out clean.

5. Let cool.

6. Chocolate Ganache: In a microwave proof bowl, place chocolate chips and heavy whipping cream. Microwave for 40 seconds and then in 10 second increments stirring in between. Stir until smooth. (You want to be careful to not burn the chocolate, every microwave is different so be careful. If your bowl gets REALLY hot, use a different bowl next time because bowl that get really hot aren't good for microwaving 🙂

7. Dip the tops of your cooled cupcakes into the ganache and let set.

8. Cream Cheese Frosting: In a stand mixer, beat cream cheese and butter together. Add vanilla extract and then slowly add in powdered sugar until you reach your desired consistency. Pipe over your ganache once it has set and if firm and top with fresh strawberries!