The perfect sweet potato side dish has arrived! Cinnamon Roasted Sweet Potatoes are perfectly sweetened and easy to make for any dinner!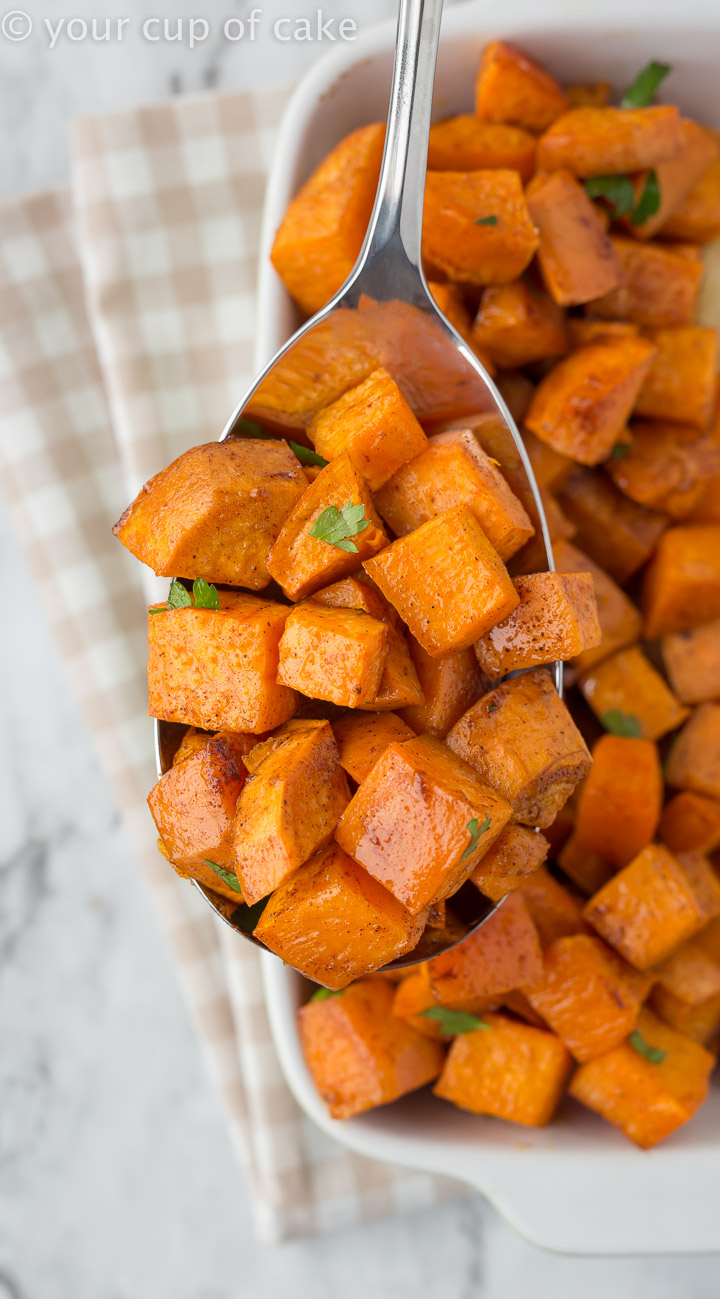 Cinnamon Roasted Sweet Potatoes
Yesterday we talked all about my favorite green bean recipe and today we're talking about sweet potatoes! Some people like them topped with marshmallows, some people like them mashed but this Cinnamon Roasted Sweet Potatoes will win over everyone! They're perfectly sweetened and super easy to make! My mother is a huge sweet potato fan so I'm excited to make these for her this year. On a personal note, I'm so happy to be deep into my second trimester of my pregnancy because I have an appetite again! I would hate to miss out on all the great holiday food!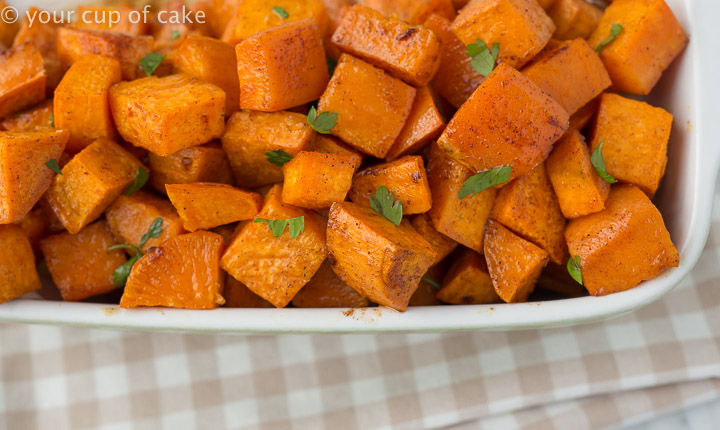 Best Sweet Potatoes for Thanksgiving
These Cinnamon Roasted Sweet Potatoes are the perfect side dish for any meal during the fall (or all year round)! The maple and cinnamon on these is just an explosion of flavor when you bite into a piece of sweet potato, it would go great with a chicken dinner or summer salad! Another bonus of this side dish is that it reheats really well. Parker and I obviously couldn't finish it all since there were only two of us but these Cinnamon Roasted Sweet Potatoes were wonderful the next day after a quick zap in the microwave.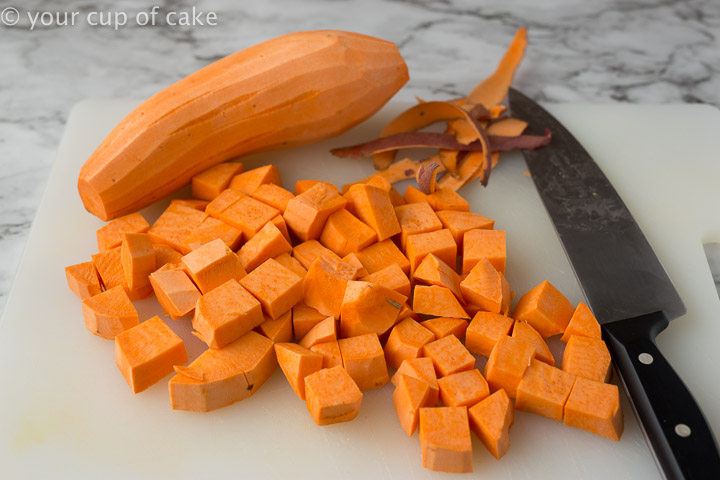 Super Easy Side Dish
I love this recipe because it is so simple. The prep work takes 5 minutes and then the rest of the time is in the oven, so you can easily knock out this side dish while working on the main course. I am all about a quick and easy dinner and these Cinnamon Roasted Sweet Potatoes sure are a great go-to side dish if that is the goal. Have you ever had one of those hectic dinners where you have 5 pots on the stove and a million things to chop, simmer, braise, or stir all at the same time? I have…and let's just say I burned it all and ordered take out! Avoid that mess and stick to easy side dishes like this one. You can always get take out tomorrow, but tonight, you'll nail this!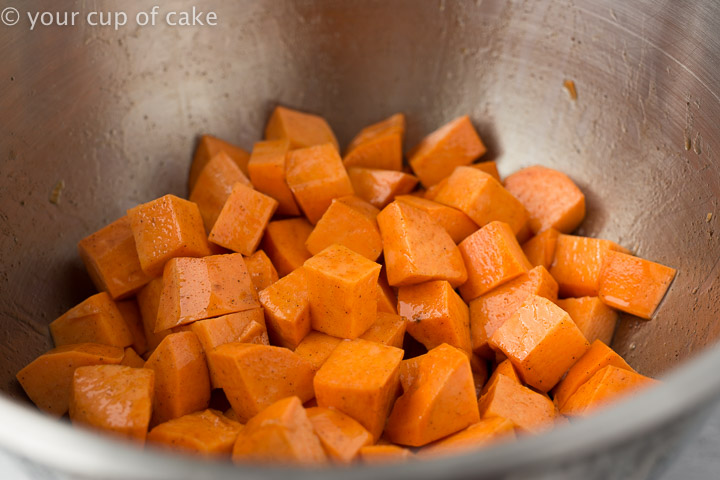 Best Way to Make Sweet Potatoes
Cinnamon and maple syrup on regular potatoes? That'll be a hard pass for me. But the same combo on sweet potatoes? Sign me up! There's just something about how easy this side dish is combined with how good it tastes that makes it feel like it's cheating or something. But hey, I won't tell if you won't!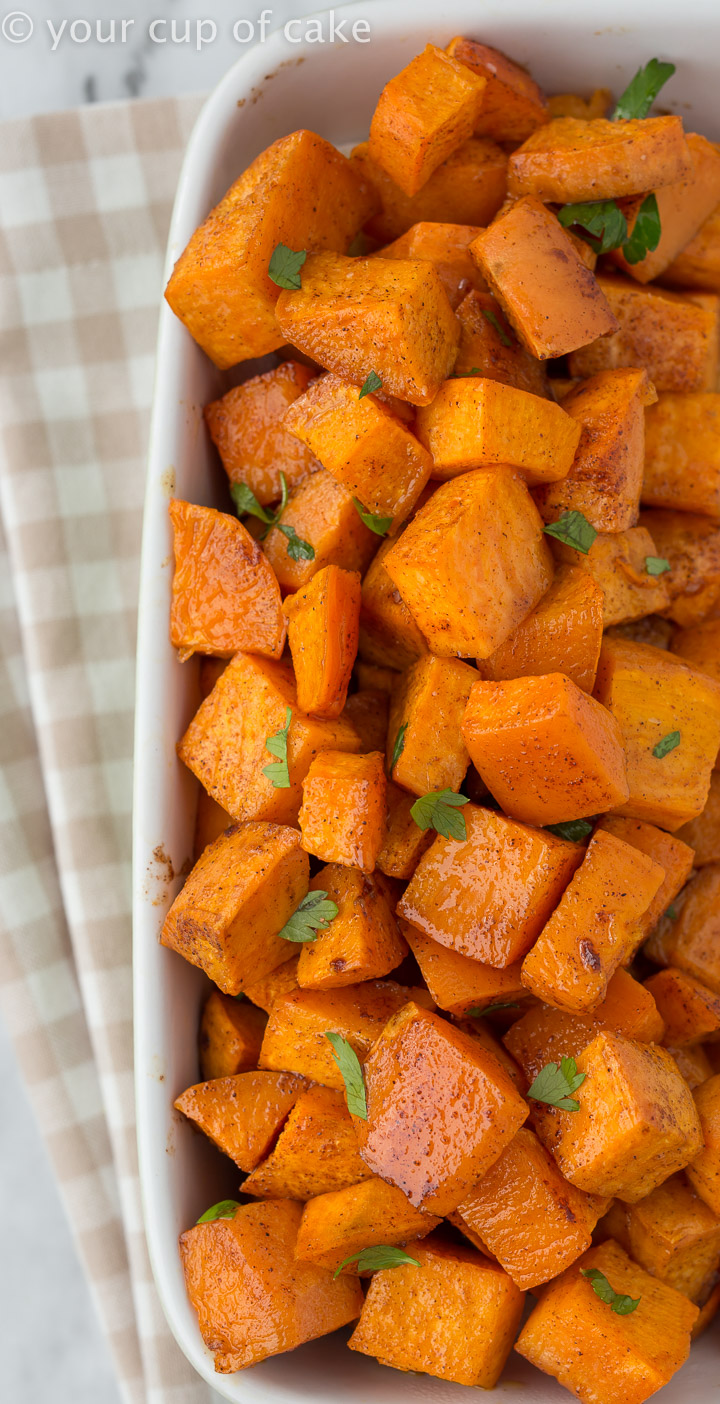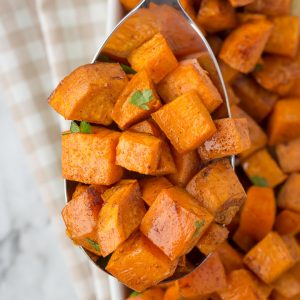 Cinnamon Roasted Sweet Potatoes
Ingredients
4

large

sweet potatoes

peeled, cut into 1-inch cubes

1/4

cup

olive oil

1/4

cup

maple syrup

1

tbsp

ground cinnamon

salt and pepper

to taste
Instructions
Preheat oven to 400 degrees.

In a large mixing bowl, combine all ingredients and toss so the sweet potatoes are evenly coated.

Bake for 25-30 minutes or until tender.

Remove from oven, transfer to serving dish. Enjoy!