I told myself I wasn't going to bake. But before I knew it, I was busting out the pans and the sugar.
What better way to procrastinate than to bake?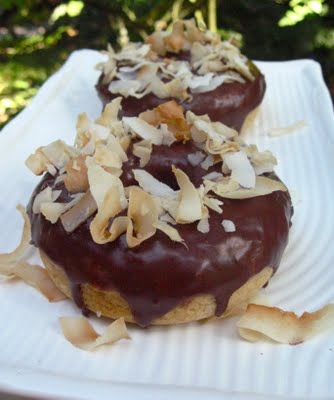 1 ½ cup + 2 TB all purpose flour
½ cup whole wheat pastry flour
2 teaspoons baking powder
2/3 cup + 2 TB granulated sugar
½ cup coconut milk, scalded
½ cup plain yogurt or sour cream
2 teaspoons coconut extract
½ teaspoon coconut extract
1.
Preheat oven to 350 degrees and lightly spray doughnut pans (yields 8-12).
2.
Combine flours, baking powder, and sugar.
3.
Using a pastry blender, cut in butter.
4.
In a small bowl, gently beat egg with coconut extract and vanilla.
5.
Add egg mixture to the flour mixture.
6.
Add scalded coconut milk (do not boil) and yogurt. Stir only until combined, do not over mix.
7.
Fill doughnut pans ¾ using a piping bag and bake for 8-12 minutes or until the tops spring back.
8.
Chocolate Glaze: Whisk all ingredients together and adjust sweetness and consistency as desired.
9.
Toast coconut shavings on a cookie sheet at 250 degrees for 3 minutes.
10.
Dip warm doughnuts in glaze and top with coconut.