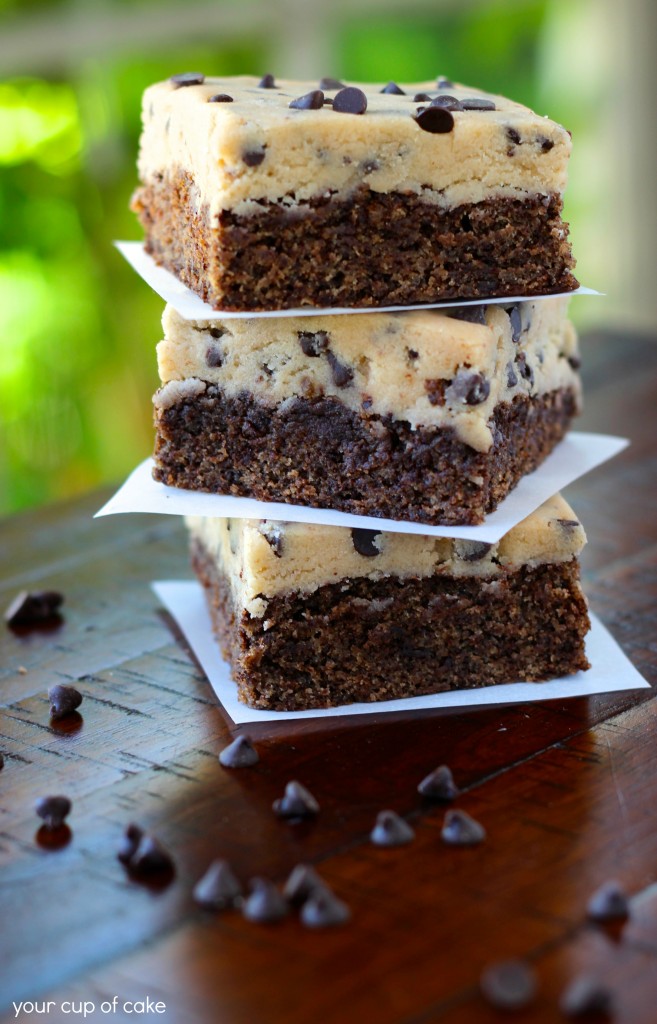 The Story:
I get emails from people every day asking questions, wanting to know where I get certain products, giving recipe suggestions, and a few from people just telling me thank you .
But a common line in all the emails tends to read something like this…"They tasted great, but of course they didn't look as good as yours…."
Give yourself a break! I spend hours upon hours baking every week. After all, it's my "job" so I have to be good at it to make ends meet. I don't have 3 kids running around the house or a desk job to tend to.
So I really do LOVE posting recipes where it doesn't take any fancy tools or skills to make them look just like the photos. Because honestly, how many times have we all tried to make the Martha Stewart cake or the Bobby Flay meal and it just never looks like the picture. Don't worry, I too have failed many times.

Cookie Dough Brownie Bars
Ingredients
Brownie:
4

oz.

unsweetened chocolate

finely chopped

1

C.

unsalted butter

at room temperature

2

C.

brown sugar

4

eggs

2 1/2

tsp.

vanilla extract

1

C.

flour
Cookie Dough:
3/4

C.

butter

unsalted

3/4

C.

brown sugar

3/4

C.

sugar

3

Tbsp.

milk or cream

2

tsp.

vanilla extract

1 1/2

C.

flour

1 1/2

C.

mini chocolate chips
Instructions
1. Preheat oven to 325 degrees and line a 11 X 13 pan with foil (let some hang over the edge to it's easy to lft the dessert out when finished), then spray or butter the foil.

2. Brownies: In a microwave proof bowl, melt the chocolate the 30 second increments and stir until smooth. Set aside to let cool.

3. Cream butter and brown sugar together for 2 minutes.

4. Add eggs and vanilla extract, scrape the sides of the bowl as necessary.

5. Pour in chocolate, mix well.

6. On low, mix in flour just until combined.

7. Pour into foiled pan and spread evenly.

8. Bake for 25-30 minutes. (The longer you leave it in, the more "cakey" your brownie layer will be. Less time means a fudgey brownie.)

9. Let brownies cool completely.

10. Cook Dough: Beat butter, brown sugar and sugar together for 2 minutes.

11. Add milk, vanilla and flour and mix just until combined.

12. Stir in 1 1/4 cup of chocolate chips.

13. Spread cookie dough onto cooled brownies, then sprinkle the remaining 1/4 cup of chocolate chips on top and gently press in.

14. Cover and refrigerate for 1-2 hours for easy cutting.
Recipe Notes
You can also just make brownies from a box and then put the cookie dough layer on top of save time.
Okay, so I gave in this weekend when I was home alone watching a movie. I put one of these in a bowl, zapped it in the microwave to get the cookie dough all gooey and the cake all warm and put a big scoop of vanilla ice cream on top. Love in a bowl.
Oh my.