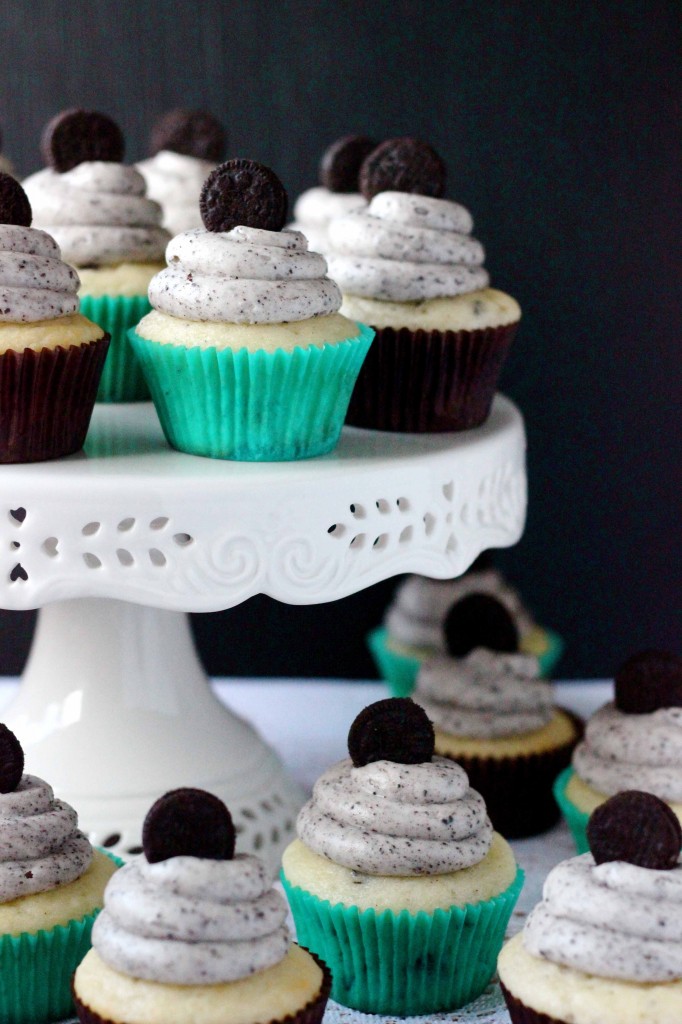 The Story:
My Oreo cupcake recipes are always my "go-to" recipes for any party. The are chocolatey, cream cheesey, and with an Oreo on top everyone just loves them. (See my Original Oreo Cupcake recipe and my Oreo Crumb Cupcake recipe.) But this time around, I wanted something a little lighter, but still just as fun and tastey as an Oreo.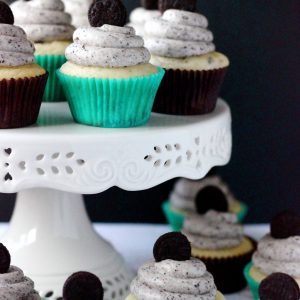 Cookies & Cream Cupcakes
Ingredients
Vanilla Cake:
24

Oreos

1

box white cake mix

2

egg whites

2

eggs

1/3

cup

oil

3/4

cup

buttermilk

3/4

cup

sour cream

1

tablespoon

vanilla extract

3/4

cup

chopped Oreos

I used Minis
Cookies & Cream Frosting:
1/2

cup

butter

softened

8

oz

cream cheese

softened

2

teaspoons

vanilla extract

4-5

cups

powdered sugar

1/2

cup

finely crushed Oreos
Instructions
1. Preheat oven to 350 degrees and line pans with cupcake liners.

2. Take your 24 Oreos, split them in half, and place the cream side in your cupcakeliners...cream side up. Save the plain cookie half for the frosting.

3. Sift your cake mix into a small bowl and set aside.

4. In a large bowl, gently whisk egg whites, eggs, oil, buttermilk, sour cream and vanilla extract together.

5. Add cake mix and stir until combined.

6. Fold in your 3/4 cup of chopped Oreos. (I used minis and just cut each in half, use the cream filling and everything.)

7. Fill cupcake liners 3/4 full and bake for 15-20 minutes or until and inserted knife comes out clean.

8. Cookies & Cream Frosting: Beat butter and cream cheese for 3 minutes. Add vanilla extract and slowly add powdered sugar until you reach your desired consistency. Gently stir in your crushed Oreos. (I crush my cookies and then put them through a sifter, and only use what goes through. I don;t like chunks of cookie in my frosting.)

9. Pipe your frosting onto your cooled cupcakes and top with Oreos, I used mini Oreos this time.