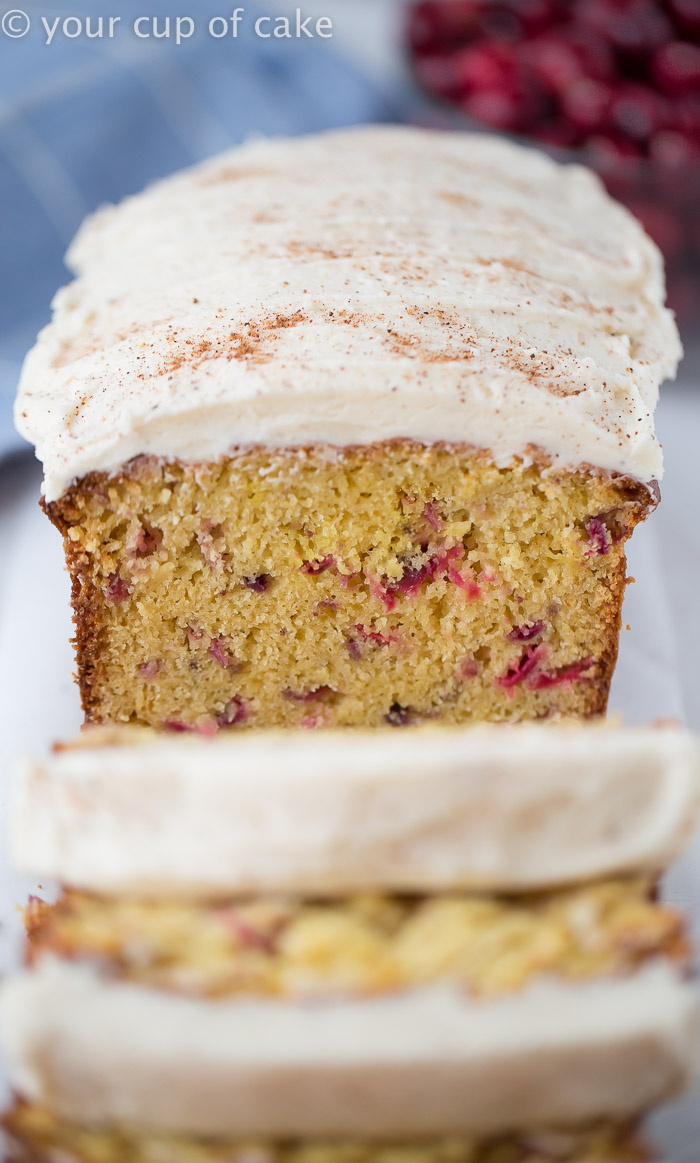 If you want a Christmas party for your taste buds, this is it! Cranberry Eggnog Bread that's quick and easy to make! Plus, I frosted it with a little vanilla buttercream sprinkled with nutmeg to give it some extra flare!
Whenever their was eggnog in my house growing up, it was never there for long. It would last for maybe 12 hours tops. But each time someone would sneak away from the movie into the kitchen, we knew what they were headed for! I would always catch my brother drinking out of the carton and my father would scold me for taking a whole glass. We always blamed someone else for drinking the most it was like a death in the family when it was gone.
But now I buy my own eggnog and I have no one to blame but myself when it's gone within the day. Whoops.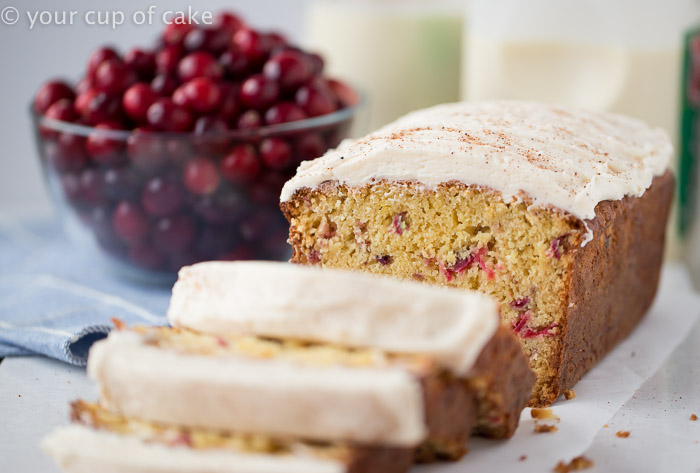 I looked at the calendar yesterday and realized Thanksgiving is next week! What? How did that happen? Time really flew by and I need to get in to Christmas recipe mode! Don't worry, I'm not skipping over Thanksgiving in my life, just maybe in my blog life. I couldn't be more excited for the holiday season, especially with all that's going on in the world right now. I've already bought most of my Christmas presents for family and I feel like a 10-year-old again just counting down the days to the Macy's Parade.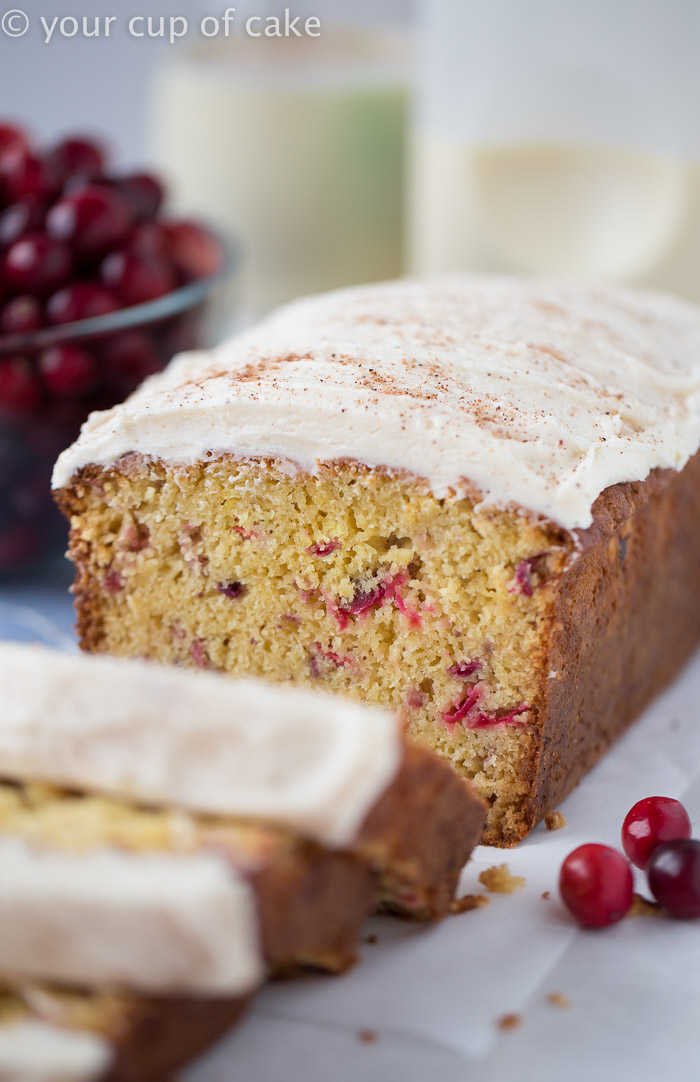 The frosting on this is totally optional! It's great with or without it. If you want it to be a dessert, add the frosting but if you want it to be more of a sweet snack… then serve it plain. I also made muffins out of this recipe and they were gorgeous! I baked them for about 18-22 minutes before they were done.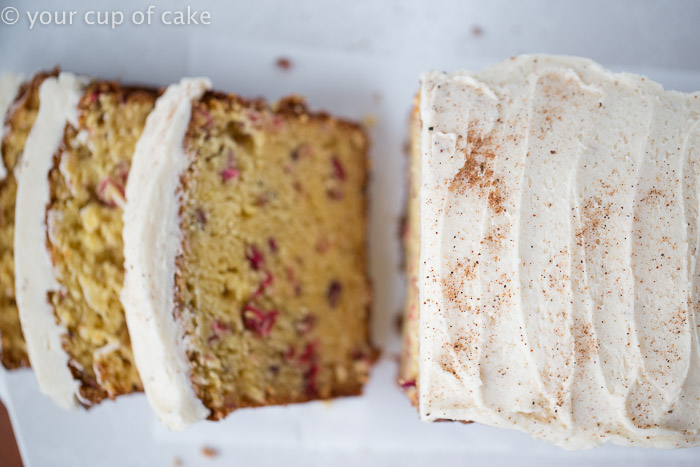 If you want to use dried cranberries, that will work too! The berries give a great tartness to the bread and keep it from being too sweet.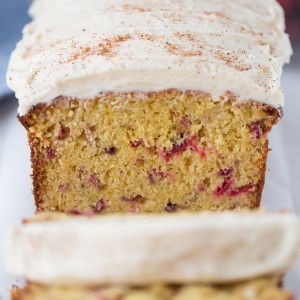 Cranberry Eggnog Bread
Ingredients
1

C.

sugar

1

3.4 oz. box instant vanilla pudding mix

1/2

C.

butter

softened

2

eggs

2

tsp.

vanilla extract

2 1/4

C.

flour

2

tsp.

baking powder

1/2

tsp.

baking soda

1/2

tsp.

salt

1/2

tsp.

nutmeg

1 1/2

C.

eggnog

1 1/2

C.

chopped fresh cranberries

FROSTING:

1/2

C.

butter

softened

2

C.

powdered suagr

2

tsp.

vanilla extract

sprinkle of nutmeg
Instructions
1, Preheat oven to 350 degrees and grease a loaf pan (I like to also line my pan with parchment paper).

2. Cream sugar, pudding mix and butter for 2 minutes.

3. Add eggs and vanilla and mix again.

4. In a separate bowl, whisk together flour, baking powder, baking soda, salt and nutmeg. Add half of these dry ingredients to the sugar mixture.

5. Add eggnog and then add the rest of the dry ingredients.

6. Fold in cranberries. Don't overmix. (The batter will be pretty thick.)

7. Fill loaf pan and bake for 60-80 minutes or until an inserted toothpick or knife comes out clean.

8. Frosting: Beat butter, powdered sugar and vanilla extract until smooth. Spread onto cooled bread and sprinkle with nutmeg.