My brother came and visited me this past weekend. I asked for cupcake suggestions, and of course he gave me a crazy idea. He texted me back, "Have you ever had sweet date cake?"
My first thought was "Okay Lizzy, never ask him for another suggestion again and what is my excuse going to be for NOT making date cupcakes."
However, they turned out incredibly well! This is an Australian recipe that I adapted for cupcakes and it really is marvelous. I gave some to my neighbors, not telling them it had dates in it, and they said they have never had a better cupcake.
I no longer think of dates as gross…. As long as they are covered in sugar and buttercream.
Date Cakes:
1 ½ cup pitted, chopped dates
½ cup butter plus 2 tablespoons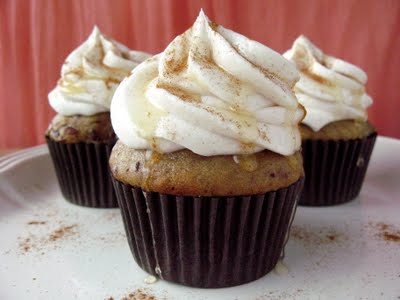 1 cup brown sugar
1 teaspoon vanilla extract
1 ¾ teaspoon baking powder
Caramel Sauce:
½ teaspoon vanilla extract
Maple Cinnamon Buttercream:
1 teaspoon vanilla extract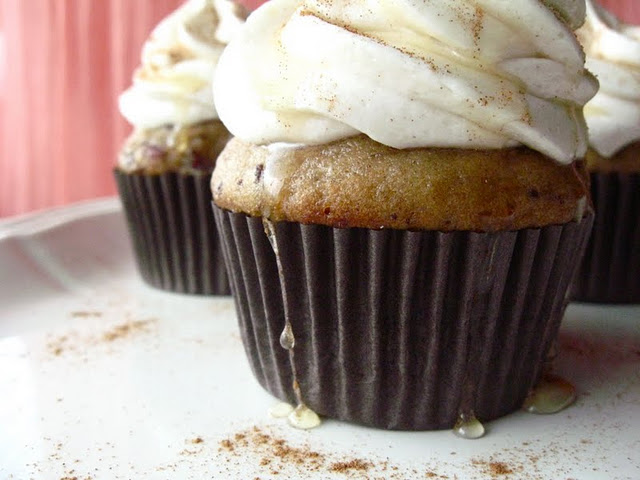 Directions:
1. Preheat oven to 350 degrees and line cupcake pans (for about 20 cupcakes).
2. Bring water and buttermilk to a boil. While waiting, chop dates and place into a bowl with baking soda. Pour boiling water and milk over dates, briefly stir, then let sit for 20 minutes.
3. In a separate bowl, beat butter and sugar until creamy, about 4 minutes.
4. Add eggs one at a time and vanilla.
5. In a separate bowl, mix flour, salt and baking powder together.
6. Slowly add the dry ingredients and the date mixture (alternating between the two) to the butter and eggs. (1/3 dry, then ½ dates, then 1/3 dry, ½ date, 1/3 dry.)
7. Fill cupcakes liners 2/3 full and bake for 13-16 minutes, or until a knife inserted comes out clean.
8. While the cupcakes bake, make the caramel sauce. Place all ingredients in a sauce pan over medium heat and bring to a boil, stirring constantly, then reduce heat to low and let simmer for 2 minutes.
9. When cupcakes are out of the oven, use a squeeze bottle to insert caramel sauce into each cupcake, or cut out a small hole on the top of each cupcakes (about the size of a nickel) and pour the sauce in using a spoon.
10. Buttercream: Beat butter and cream cheese for 4 minutes. Then add maple syrup (or honey), powdered sugar, vanilla and cinnamon. You can also add milk or heavy cream if desired.
11. Pipe onto cooled cupcakes and top with extra caramel sauce, honey or cinnamon.