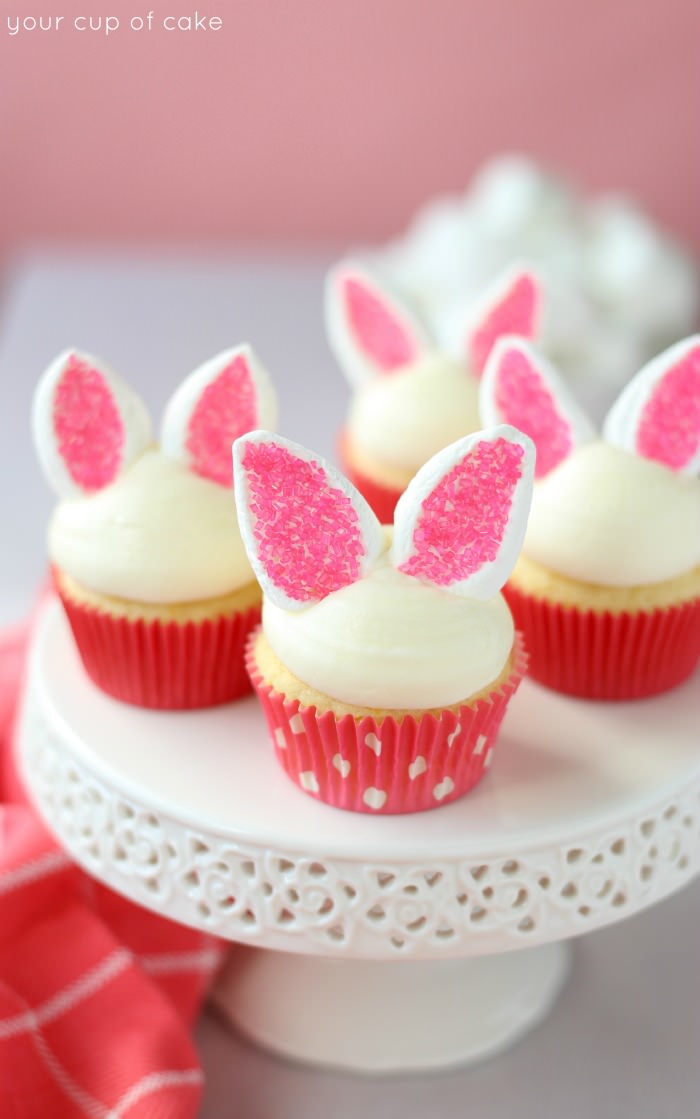 Easter Bunny Cupcakes
Looking for Easter Dessert ideas? These Easy Bunny Cupcakes are made with marshmallow and sprinkle ears! So easy to do! All you need are cupcakes (any flavor), white frosting (I love cream cheese frosting on top of these lemon cupcakes), large marshmallows, some scissors and pink sprinkles! These are perfect for easter and even great for a kid's cupcake decorating party 🙂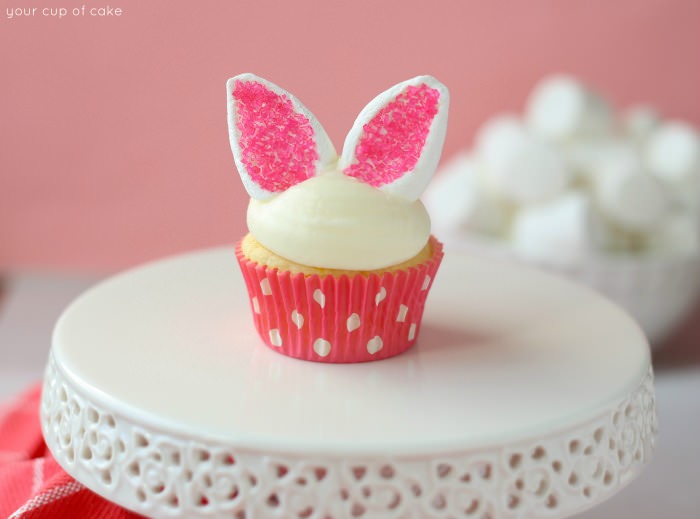 Cake Mix Cupcakes
I love when I look down and my entire work space matches and coordinates 🙂 Even days after making these, my house still smells like lemons, I love it! Can it be summer already? You'll notice I use a white cake mix and not a lemon one. I add fresh lemon juice and zest because I prefer the taste. It just tastes less artificial. You'll also notice I use a Pillsbury mix, it's the only mix I buy! I really do prefer it to all the others.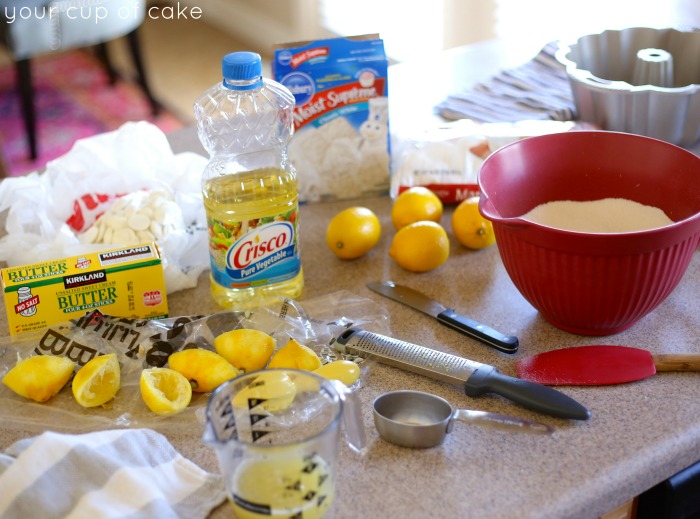 How to make Bunny Cupcakes for Easter
So, this isn't a new idea. I'm sure you've seen people make these cute bunny ears, but I wanted to give it a try myself. I had way too much fun snipping all the marshmallows in half (sometimes popping one half into my mouth). I did start to dip the cut side of the mallow into the sprinkles (I used pink sanding sugar), but I ended up just sprinkling them in with my fingers because I had a little more control that way. But I think every marshmallow brand and set of scissors will be a little different.
If you want to make a bunny face, just use chocolate candies or chocolate chips to make little eyes!

I'm really into making cute cupcakes that everyone can recreate. No fondant, no intense piping skills needed. Sort of like my adorable Carrot Garden Cupcakes I'm loving right now…
You can roll the frosted cupcakes in shredded coconut to make it look more like "bunny fur" but I opted not to. Not everyone loves coconut and I was making these for a party so I played it safe. But if your family loves coconut, then go for it!

If you want some more easy Easter Cupcakes (plus an updated version of these bunny cupcakes) check out my Easy Easter Cupcake Decorating post!


I love a good cake mix recipe! No need to measure out flour, salt, sugar, baking powder… just dump in the cake mix and add a few extra things! For all your cake mix haters, you can absolutely use a lemon or white cake recipe you love and decorate them like this. The buttercream frosting is quite lovely, so give that a try!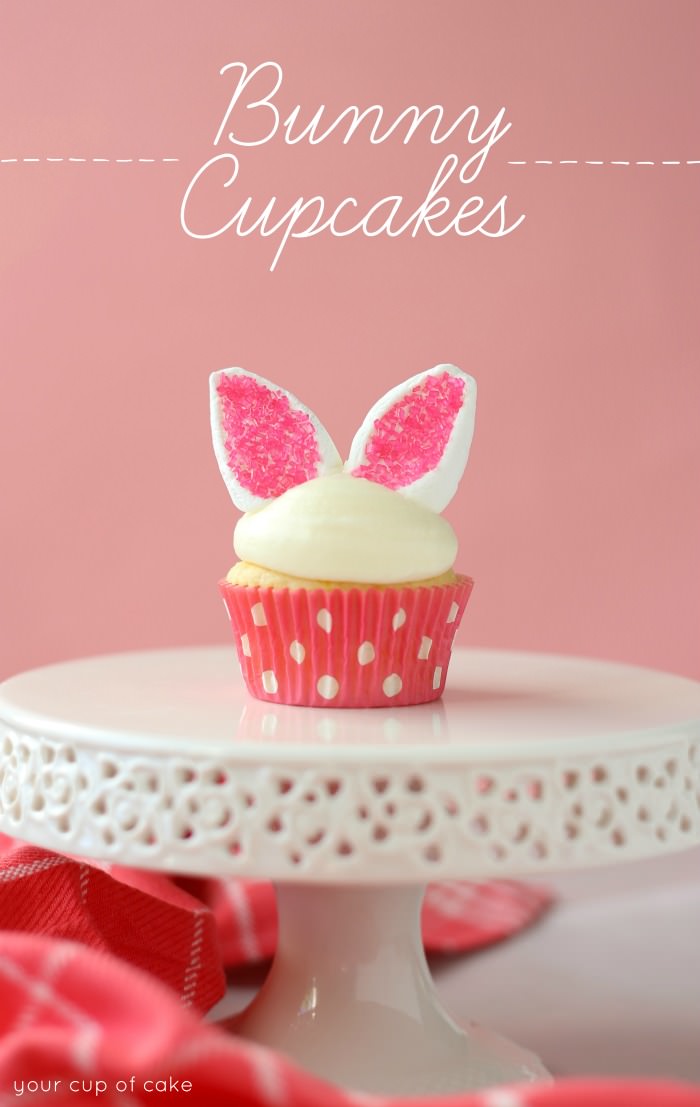 Hippity Hop!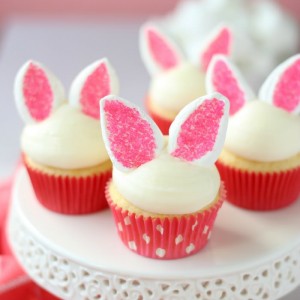 Easy Bunny Cupcakes
Ingredients
Lemon Cupcakes:
1

box white cake mix

3

eggs

zest of 3 lemons

1/4

Cup

fresh lemon juice

2/3

Cup

milk

1/2

Cup

sour cream

1/3

Cup

oil
Cream Cheese Frosting:
8

oz.

cream cheese

1/2

Cup

unsalted butter

softened

3-4

Cup

powdered sugar

2

tsp.

vanilla extract
Bunny Ears:
20-24

large marshmallows

pink sprinkles
Instructions
1. Preheat oven to 350 degrees and line pans with cupcake liners.

2. Sift cake mix into a medium bowl to remove any lumps, then continue to add the rest of the cake ingredients. Stir until smooth. Use a whisk if there are lots of lumps.

3. Fill cupcakes liners 3/4 full of batter and bake for 15-20 minutes or until an inserted knife comes out clean.

4. Let cool.

5. Cream Cheese Frosting: Beat cream cheese and butter until smooth. Continue to add ins as much powdered sugar as needed to reach desired consistency. Add vanilla extract.

6. To make Bunny Ears (see photos above) cut each marshmallow using scissors diagonally and then immediately press the stick side into sprinkles. (You can also just sprinkle and sprinkles into the sticky area if you want to get very precise.)

7. your cooled cupcakes and then top with a set of Bunny Ears!