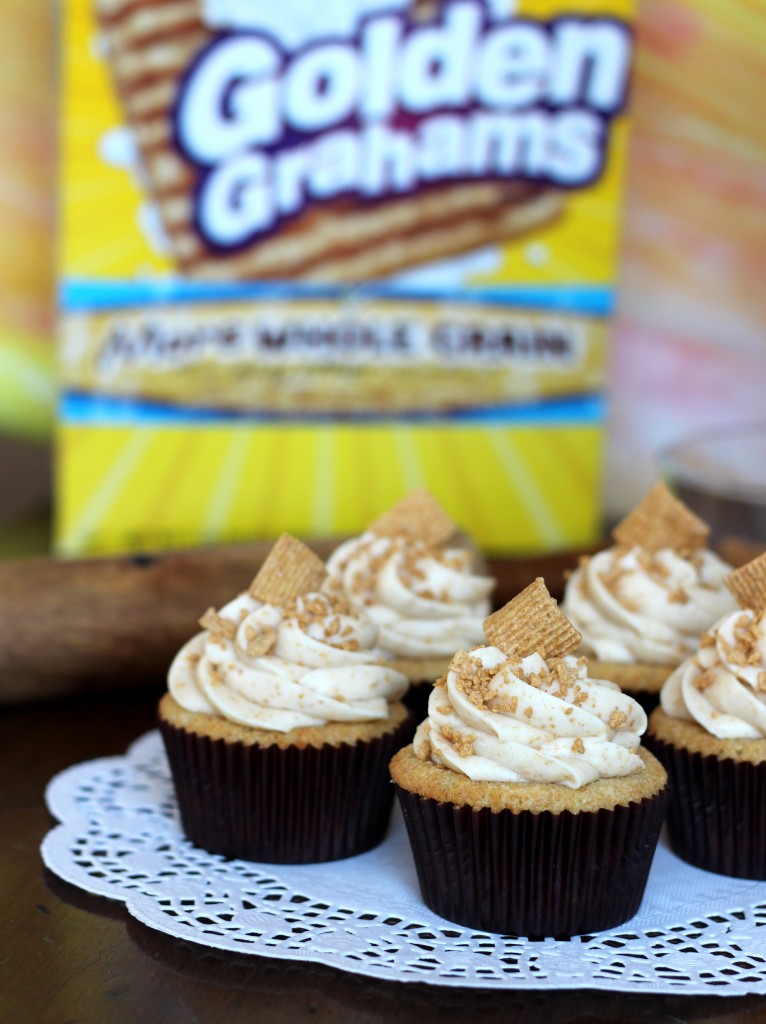 The Story:
When you think about your childhood memories with cereal, you probably remember sitting at the kitchen table in the morning doing the puzzles and trivia on the back of the cereal box. Or maybe it's eating out of a mixing bowl because you were that hungry. Congratulations, you are normal. I on the other hand am not. This cereal reminds me of the wind on my face on a summer morning in a little boat crossing Lake Powell. My brothers and I ate with a plastic spoon out of styrofoam bowls and my Grandfather was at the rudder.
If you're loving these cereal cupcakes, check out my cinnamon toast crunch ones. I am particularly proud of them!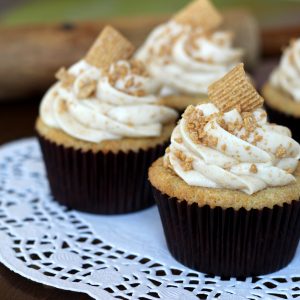 Golden Graham Cupcakes
Ingredients
Cake:
1

Box White Cake Mix

3

whole eggs

1/2

cup

oil

3/4

cup

buttermilk

3/4

cup

sour cream

1

teaspoon

vanilla extract

1/2

cup

fine graham cracker crumbs
Golden Graham Buttercream:
1

cup

butter

softened

3-4

cups

powdered sugar

1

teaspoon

vanilla extract

1/2

cup

Golden Graham "powder"

milk as needed
Instructions
1. Preheat oven to 350 degrees and line pans with cupcake liners.

2. From your 1/2 cup of fine graham cracker crumbs, place 1 teaspoon in each cupcake liner and gently shake pan to evenly disperse.

3. In a large bowl, combine eggs, oil, buttermilk, sour cream and vanilla extract.

4. Sift in cake mix and stir until well combined.

5. Fill cupcake liners 3/4 full (you will be placing your batter on top of your graham cracker crumbs).

6. Bake for 17-22 minute or until an inserted knife comes out clean.

7. Golden Graham "powder": Use a food processor or a rolling pin to crush about 1 cup of Golden Graham cereal. Then, sift cereal. Whatever sifts through, is your "powder."

8. Buttercream: Beat butter for 2-3 minutes until light and fluffy. Scrape down bowl as needed. Add powdered sugar and vanilla extract. Add Graham Cracker "powder." If the buttercream becomes too thick or resembles cookie dough texture, stay calm! Slowly add milk until it reaches the consistency you need.

9. Pipe onto cooled cupcake and top with Golden Graham squares.