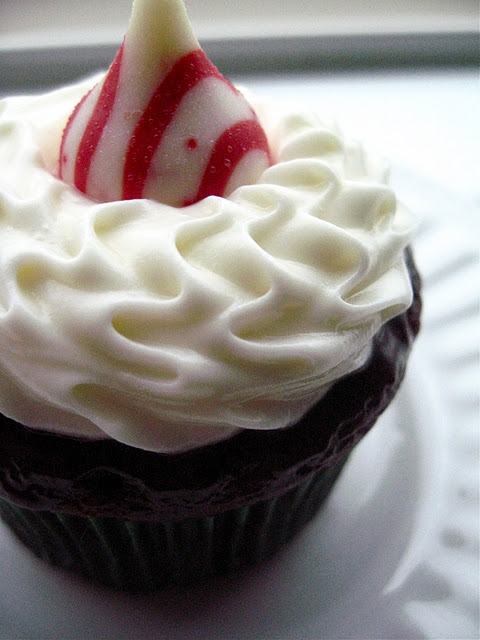 Cakes: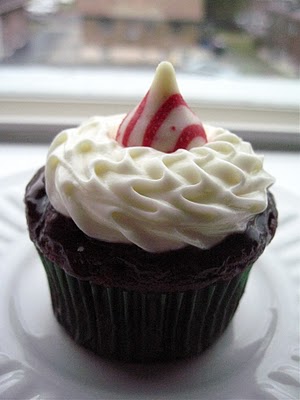 ½ cup water
1 teaspoon vanilla extract
1 box devil's food cake mix
Peppermint Ganache:
5 tablespoons unsweetened cocoa
6 tablespoons buttermilk (or 5 ½ T milk, ½ T lemon juice)
½ teaspoon peppermint extract
Peppermint Buttercream:
½ teaspoon peppermint extract
Directions:
1.
Preheat oven to 350 degrees.
2.
Whisk eggs, water, milk, oil and vanilla extract together. Stir in devil's food cake mix and sour cream until well blended.
3.
Fill cupcake liner ¾ full and bake for 15-20 minutes or until a toothpick comes out clean.
4.
While cupcakes are in the oven, make peppermint ganache.
5.
In a bowl, sift 3 cups powdered sugar.
6.
In a small saucepan, melt butter and add cocoa and buttermilk and bring to a boil. Then pour over powdered sugar, add peppermint extract and stir until smooth.
7.
Dip the tops of the warm cupcakes into the warm ganache and let cool before frosting. If you have extra ganache, save it in the fridge and use it another day. Just warm it up in the microwave and it will be perfect!
8.
Buttercream: Beat cream cheese and butter until light a fluffy, it will take several minutes. Slowly add powdered sugar. (I say 2 cups, but this is just an estimation, taste test along the way.) Add peppermint extract and beat again.
9.
Pipe onto cooled cupcakes and top with peppermint candy. (I did white chocolate peppermint kisses but mint M&M's, candy canes, or any holiday peppermint treat works perfectly.)