Cinnamon rolls slathered in magical cream cheese frosting. After my first bite I said, "These are million dollar cinnamon rolls!" But really, if I was a millionaire these would be the only cinnamon rolls I would ever eat again. They're just that good.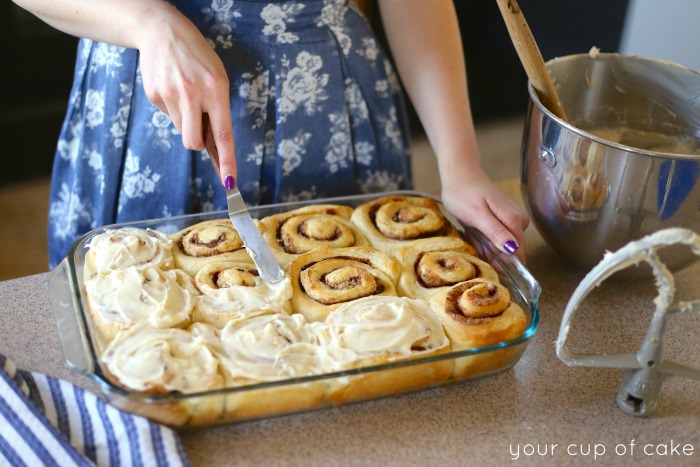 Now, you can use your bread hook to knead but I like to get a lithe morning workout in. I figure if I knead the dough by hand I can eat an extra roll later, right? Right.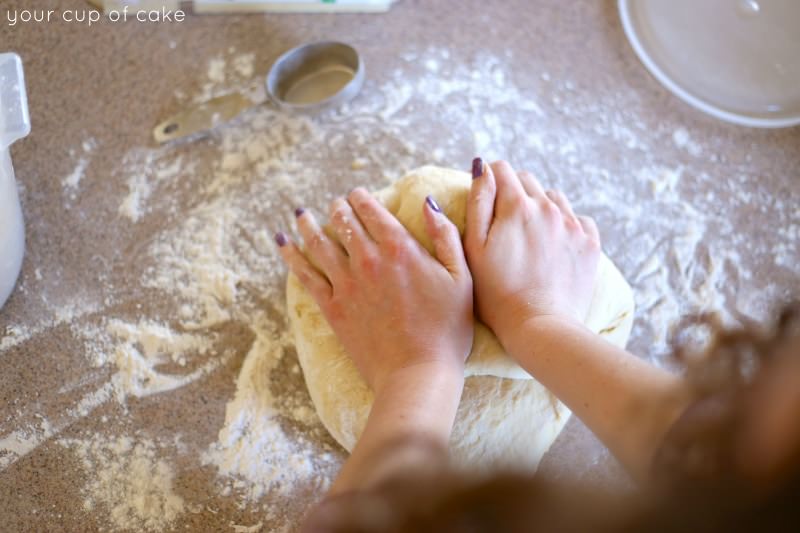 Mmm… this frosting really is magical. I like to put it on while the rolls are still a little warm so that the frosting melts into them. No one can resist a warm cinnamon roll dripping with cream cheese goodness.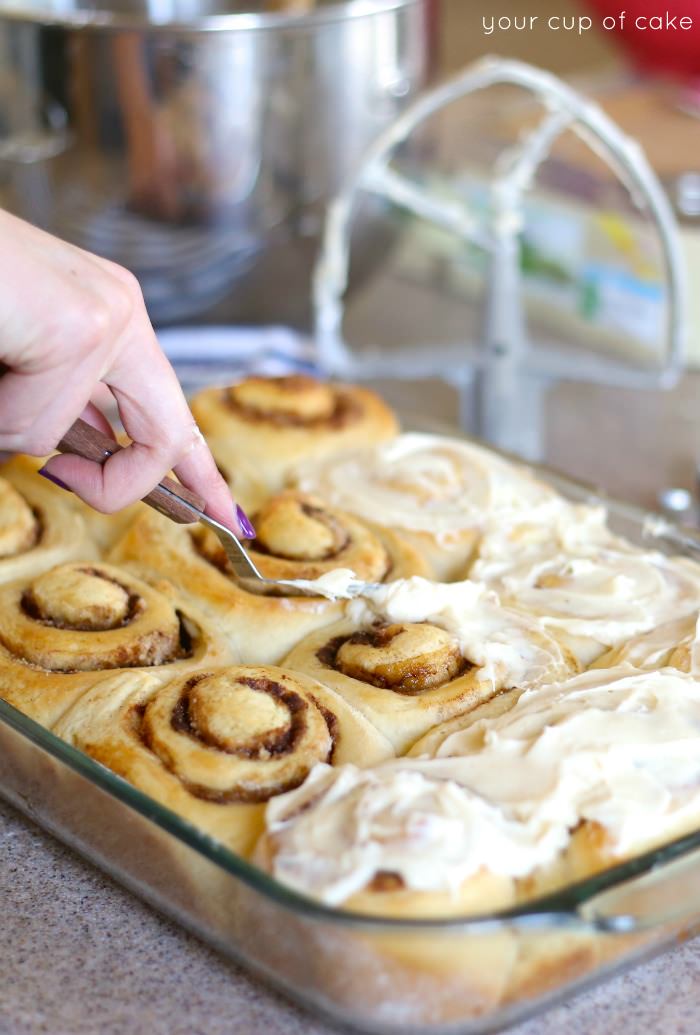 Now, you can add raisins or walnuts or neither! My papa, he loves walnuts in his brownies, cookies and definitely in his cinnamon rolls.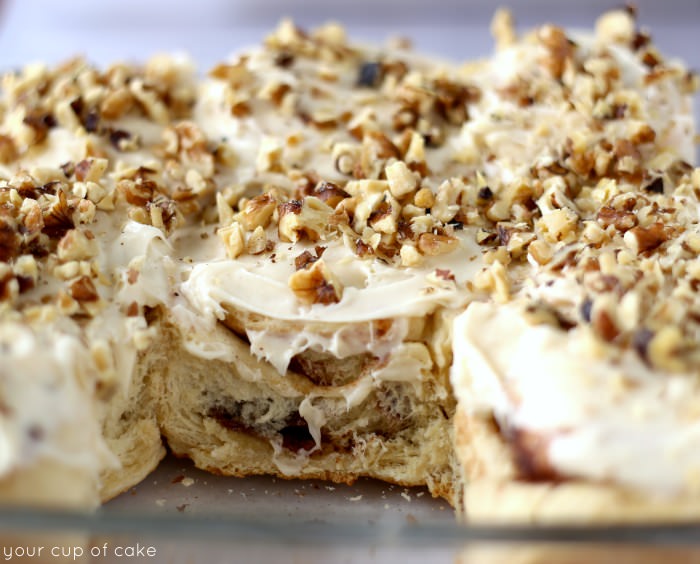 This was right before I set them aside to rise for the last time. I like my cinnamon rolls BIG! You can pack them in tight if you want them to rise up or you can spread them out to give them more room if you prefer a more circular roll.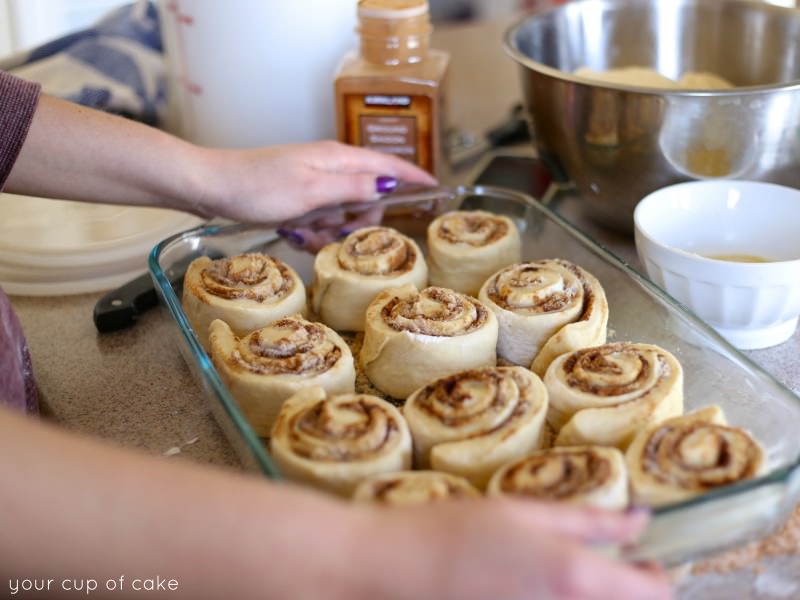 Nothing is more beautiful.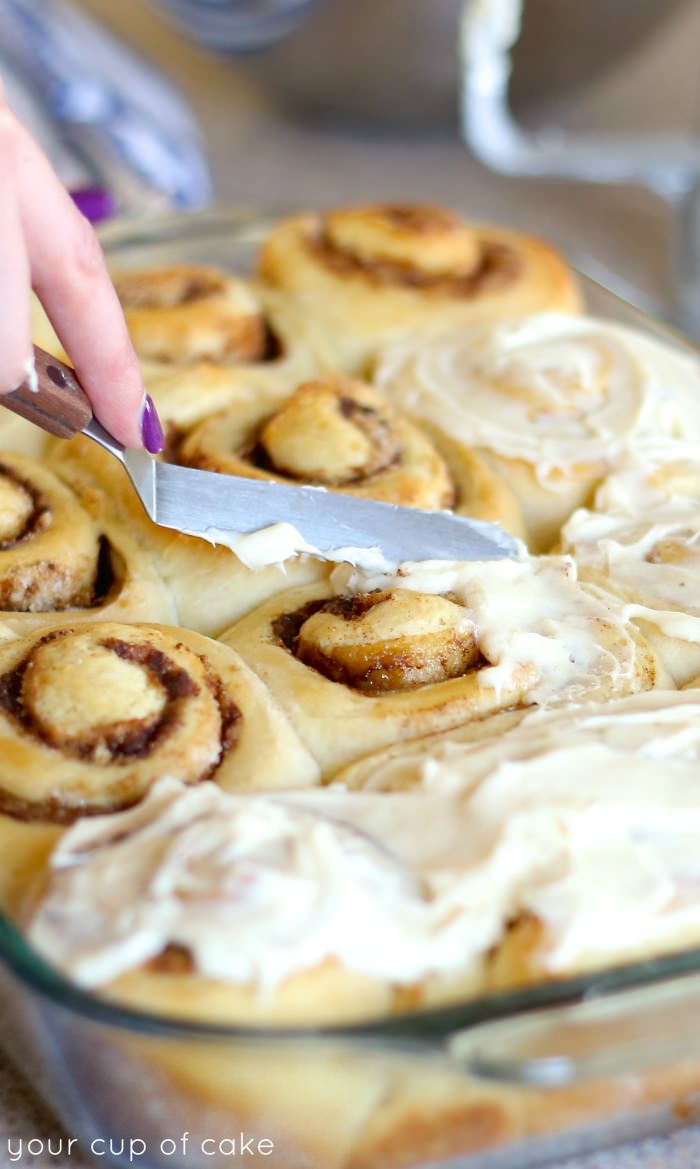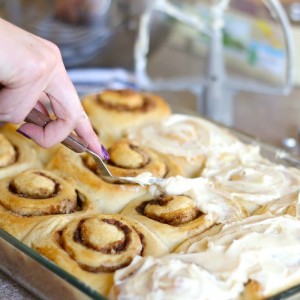 Million Dollar Cinnamon Rolls
Ingredients
3

C.

milk

1

C.

oil

¾

C.

sugar

4

Tbsp.

quick rise yeast

1 ½

tsp.

salt

5

C.

flour

I use half bread flour and half all-purpose

4

eggs

more flour

about 2 cups

Filling:

1

C.

butter

soft or melted

1 1/4

C.

sugar

1/2

C.

brown sugar

4

Tbsp.

ground cinnamon

raisins and walnuts

optional

Magic Cream Cheese Frosting:

16.

oz.

cream cheese

1

C.

butter

2

tsp.

vanilla extract

1

tsp

almond extract

2

Tbsp.

brown sugar

3-5

C.

powdered sugar
Instructions
1. Preheat oven to 350 degrees and grease two casserole pans.

2. Heat milk and oil to 125 degrees, use a candy thermometer.

3. In a separate bowl, sift sugar, yeast, salt and flour together.

4. Combine milk/oil and dry ingredients. (bread hook in stand mixer)

5. Add eggs.

6. Continue to add more flour (about 2 cups) until it becomes a soft dough.

7. Knead for 10 minutes and then cover with a cloth and let rest for 10 minutes.

8. Knead lightly then divide in two.

9. Roll out each section on a floured surface into a long rectangle. Smear the surface with 1/2 cup butter (2 rectangles total 1 cup butter) and then sprinkle with your sugar-brown sugar-cinnamon mixture.

10. Roll each rectangle up and then cut into 1-2 inch pieces.

11. Place in your well greased pan and let rise for 30-45 minutes and bake for about 20 minutes or until golden brown.

12. Frosting: Beat cream cheese, butter, vanilla extract, almond extract and brown sugar together for 3 minutes. (Beat well so that the brown sugar starts to melt into the butter.) Slowly add in powdered sugar until you reach your desired consistency. Some people prefer more of a glaze while other like a thick frosting, so add as much powdered sugar as you want!.

13. Slather your frosting on just before serving and enjoy warm! Let that frosting melt all over the rolls 🙂
And to my most loyal reader: Haaaaaaappy Father's Day! Aw, look at that… 20-something years later and I'm still looking up to you.