Fluffy 3-ingredient mousse frosting topped with Andes Mints makes these Mint Chocolate Mousse Cupcakes the dream cupcake for chocolate mint lovers! Love this easy recipe!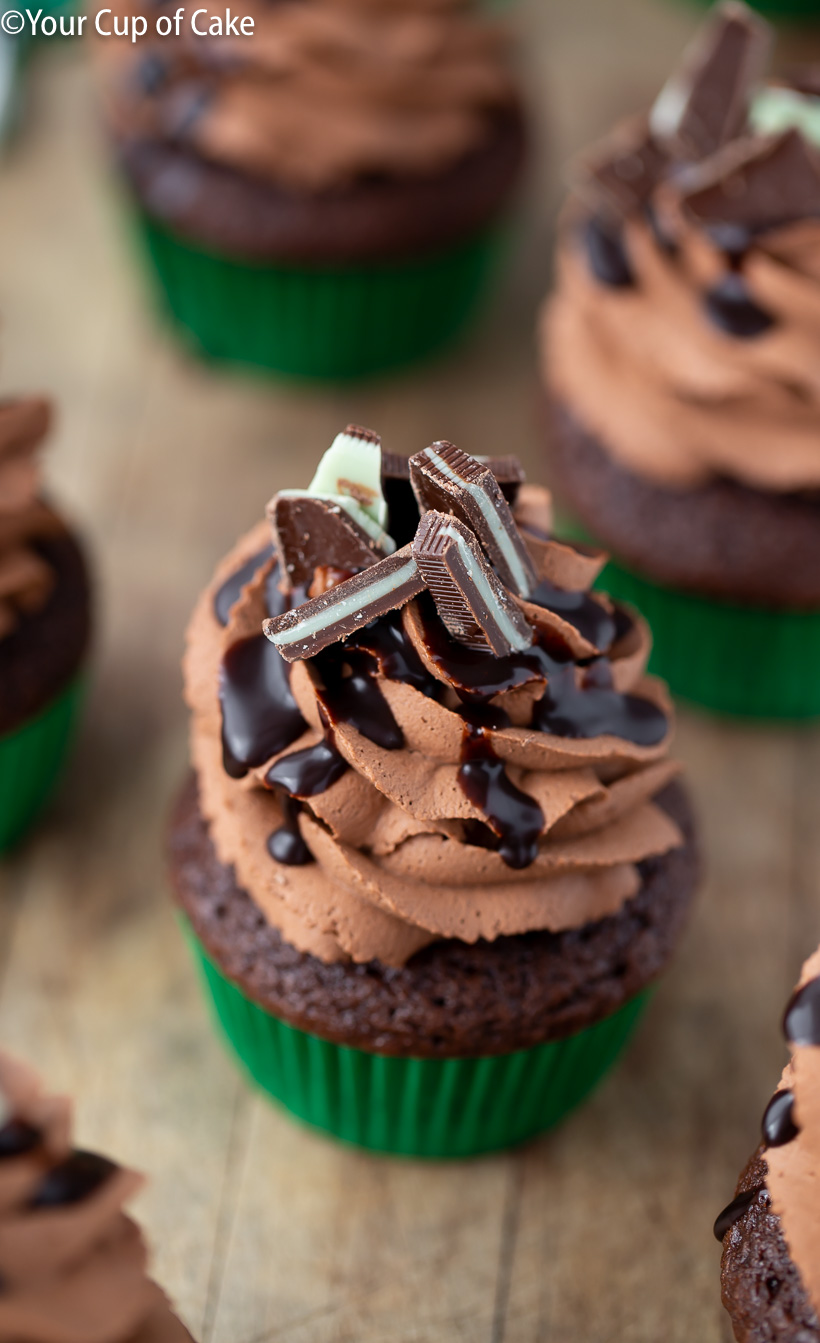 Mint Chocolate Mousse Cupcakes
St. Patrick's is coming up so it's my excuse to make some fun new chocolate mint recipes! I have always loved chocolate and mint together all year long! Are you a big St. Patrick's Day fan? We didn't do much in my house growing up, none of this dying the milk green or leprechaun footprints… I was just lucky if I remembered to wear green to school! But as an adult, I like treating myself to something minty to celebrate the day. Who know's what I'll be doing this year though, because I'm sure our brand new baby girl will be running our lives! These Mint Chocolate Mousse Cupcakes are the perfect treat though! Fluffy mousse frosting, drizzled in chocolate sauce (I love just keeping a bottle of Torani in my pantry for desserts), and topped with Andes Mints, because why not? These are delicious showstopper cupcakes!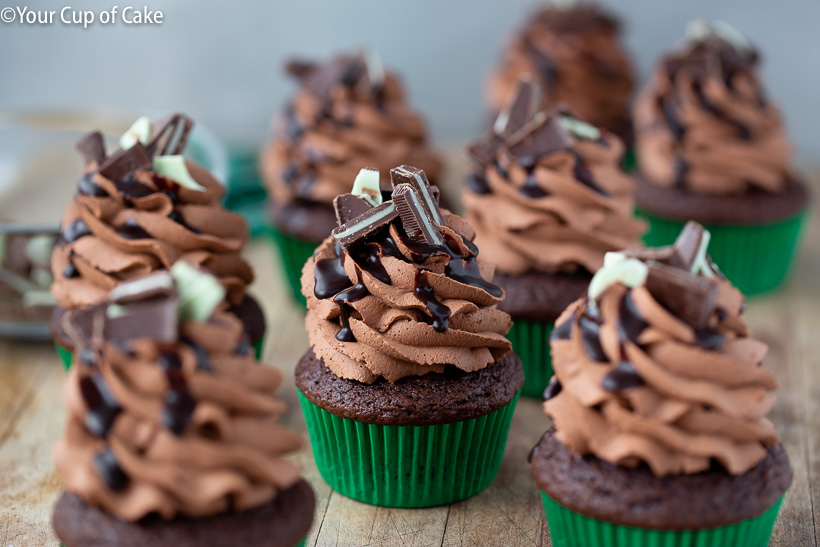 Fool Proof Frosting Recipe
I get so many emails about frosting struggles! So I love telling people about this Fool Proof Frosting using a secret ingredient! You can mix it up depending on what flavors you like but no matter what your frosting won't melt on you or be too sweet! I call is "mousse frosting" because the texture reminds me of a mousse. It's really just heavy whipping cream with some instant pudding mix! You whip both the ingredients together and the instant pudding mix thickens the whipping cream and keeps it from "melting" later in the day. This recipe also has some unsweetened cocoa in it to make it extra chocolate-y. Once of the biggest complaints I hear from people is that they hate super sweet frosting, well heavy whipping cream isn't sweet and you don't add too much of the pudding mix, so it's not a sweet frosting! Add in powdered sugar to get it as sweet as you want!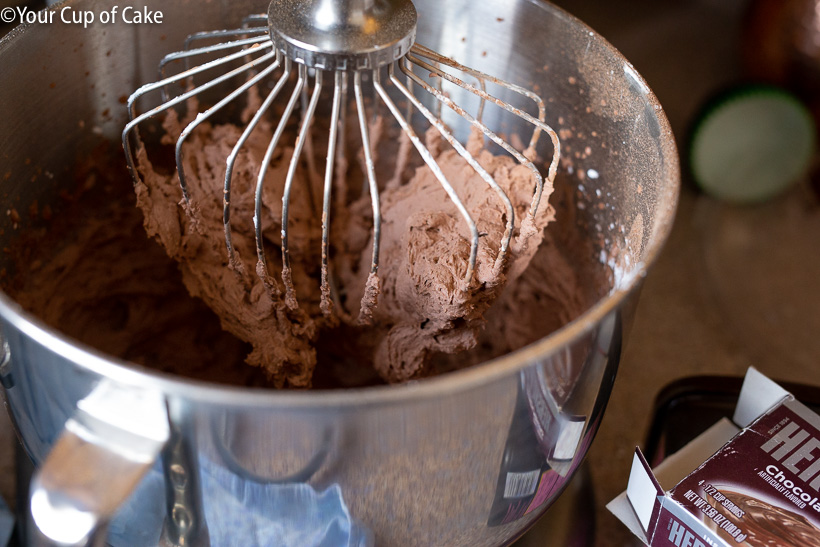 Make sure you use INSTANT pudding mix and not accidentally cook and serve pudding mix.
Best Frosting Hack!
Instant pudding mix is the best frosting hack around! I use this trick all the time and it's so much fun to make different flavors like on my Banana Cream Pie Cupcakes! The more instant pudding you add the thicker your frosting will be. I usually add around 2 Tablespoons depending on how much of the flavor I want. For these Mint Chocolate Mousse Cupcakes I added 1 1/2 Tablespoons and then added cocoa powder to really bring out the chocolate. The best news? If you have any extra frosting it makes a great fruit dip! I ate some of these with strawberries… yum!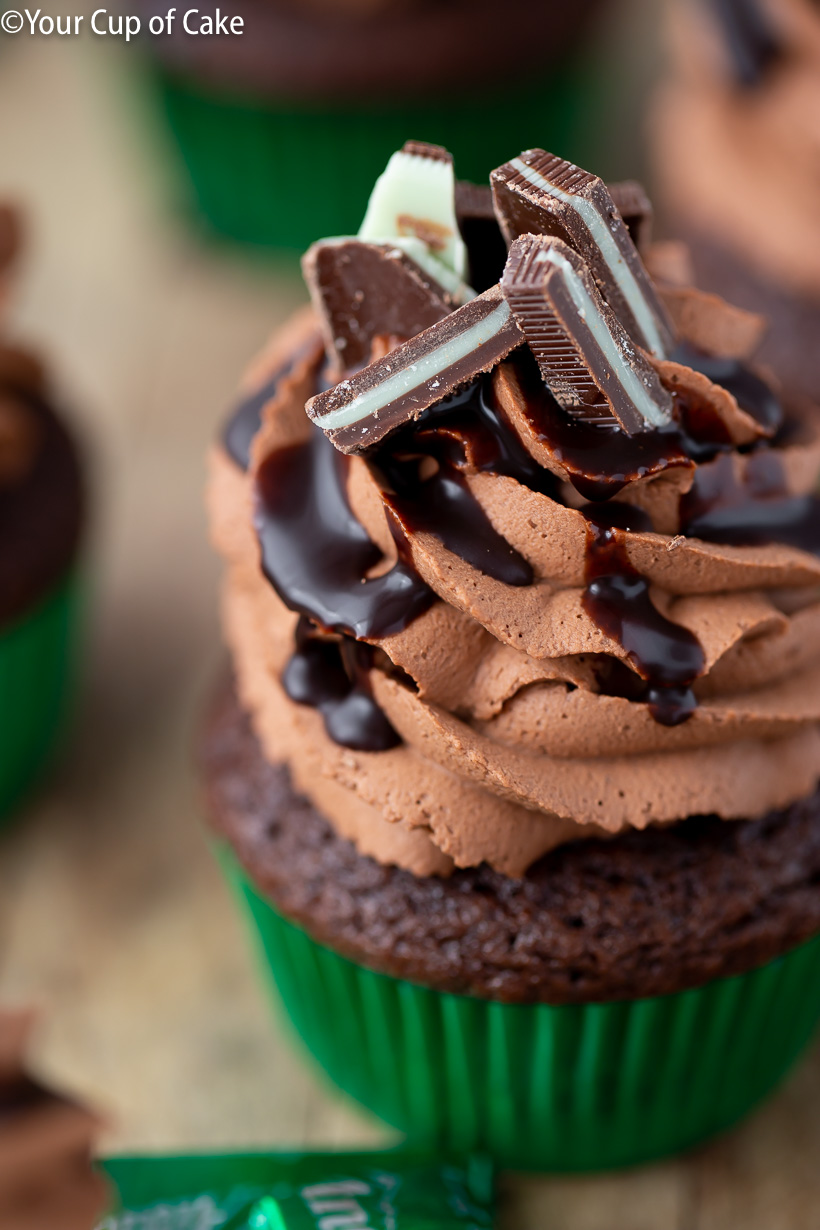 The trick to making bakery looking cupcakes or real showstopper cupcakes is all about the toppings! Really make your cupcakes decadent by putting on a sauce like this chocolate sauce and some chopped up Andes Mints! I love using Andes Mints on these Mint Chocolate Mousse Cupcakes because it's sort of giving a hint to what flavor cupcakes these are!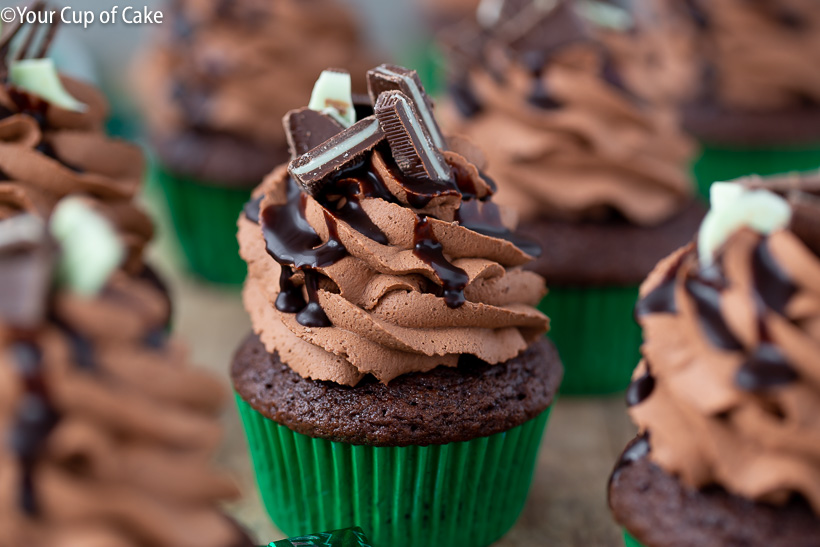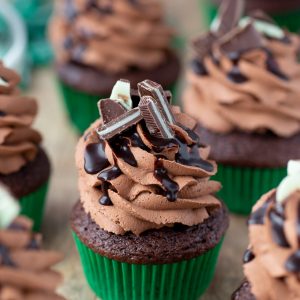 Mint Chocolate Mousse Cupcakes
Ingredients
Chocolate Cupcakes
1

box

Devil's Food Cake Mix

I always use Pillsbury mixes

3

eggs

1/2

cup

oil

1/2

cup

milk or buttermilk

3/4

cup

sour cream
Mint Chocolate Mousse Frosting
1

pint

heavy whipping cream

1 1/2

Tbsp.

chocolate instant pudding mix

1/3

cup

unsweetened cocoa powder

1 1/2

tsp.

peppermint extract

optional

powdered sugar

optional
Instructions
Preheat oven to 350 degrees and line cupcake pans with cupcakes liners.

Combine all chocolate cupcakes ingredients and stir until smooth. Fill cupcake liners 2/3 full and bake for 15-18 minute or until an inserted knife or toothpick comes out clean. Let cool.

Frosting: Using a stand or hand mixer with the whisk attachment, beat heavy whipping cream, instant pudding mix, cocoa powder and peppermint extract together. Before it gets too thick, taste! Add in powdered sugar to make it sweeter! Continue to whip until it becomes thick. Pipe onto cooled cupcakes and top with chocolate sauce and Andes Mints if desired.
Just can't get enough of that chocolate drizzle!