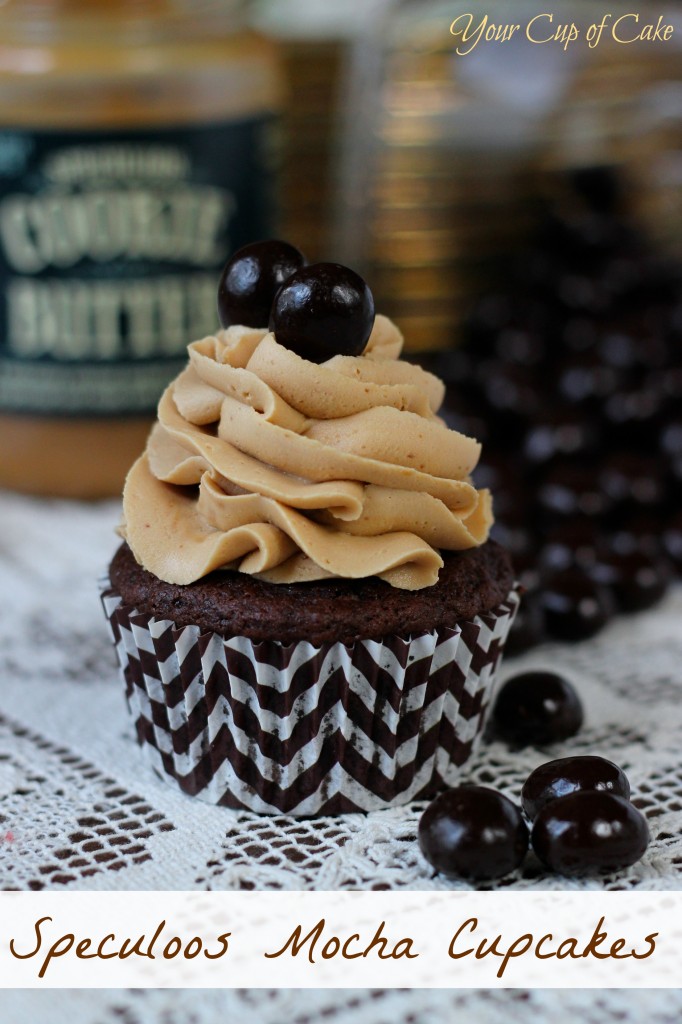 The Story:
Her: "Just FedEx some cupcakes over next week."
Me: Instant panic attack.
She said it like it was no big deal. Just put some of your delicious and beautiful creations into a cardboard box and trust a bunch of mail men to get them to another state. I've seen how some packages look when they get delivered to me. Gashed boxes and smooshed corners, but there were only clothes inside so it was okay. But CUPCAKES!? You have got to be kidding me.
End of the story…the cupcakes got a little smushed but did end up okay.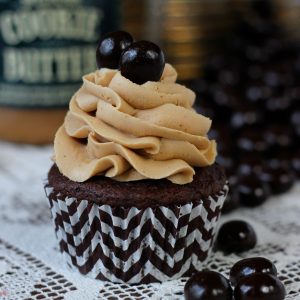 Mocha Speculoos Cupcakes
Ingredients
Mocha Cupcakes:
1

box chocolate cake mix

3

Tbsp

instant coffee

1/4

C.

hot water

3

eggs

1/2

C.

oil

3/4

C.

buttermilk

1/2

C.

sour cream

1

tsp.

vanilla extract
Speculoos Buttercream:
1/2

C.

butter

softened

1/2

C.

Speculoos

1

Tbsp.

milk

3-4

C.

powdered sugar
Chocolate Covered Espresso Beans
Instructions
1. Preheat oven to 350 degrees and line pans with cupcake liners.

2. Sift cake mix into a small bowl and set aside.

3. Mix instant coffee and hot water and stir until dissolved. (You can do this in a mug)

4. In a large bowl, combine eggs, oil, buttermilk, sour cream and vanilla extract.

5. Stir in cake mix until smooth.

6. Add coffee-water mixture and stir again.

7. Fill liners 3/4 full and bake for 16-20 minutes or until an inserted knife comes out clean.

8. Buttercream: Beat butter and speculoos until smooth. Add milk and powdered sugar until you reach your desired consistency. If it becomes too thick, stream in more milk.

9. Pipe onto cooled cupcakes and top with chocolate covered espresso beans.
Recipe Notes
Speculoos is a cookie spread and can be found at Trader Joes (called Cookie Butter) and other retailers.
I got the cute liners from Sweets & Treats! They have amazing grease-proof liners that never fail me