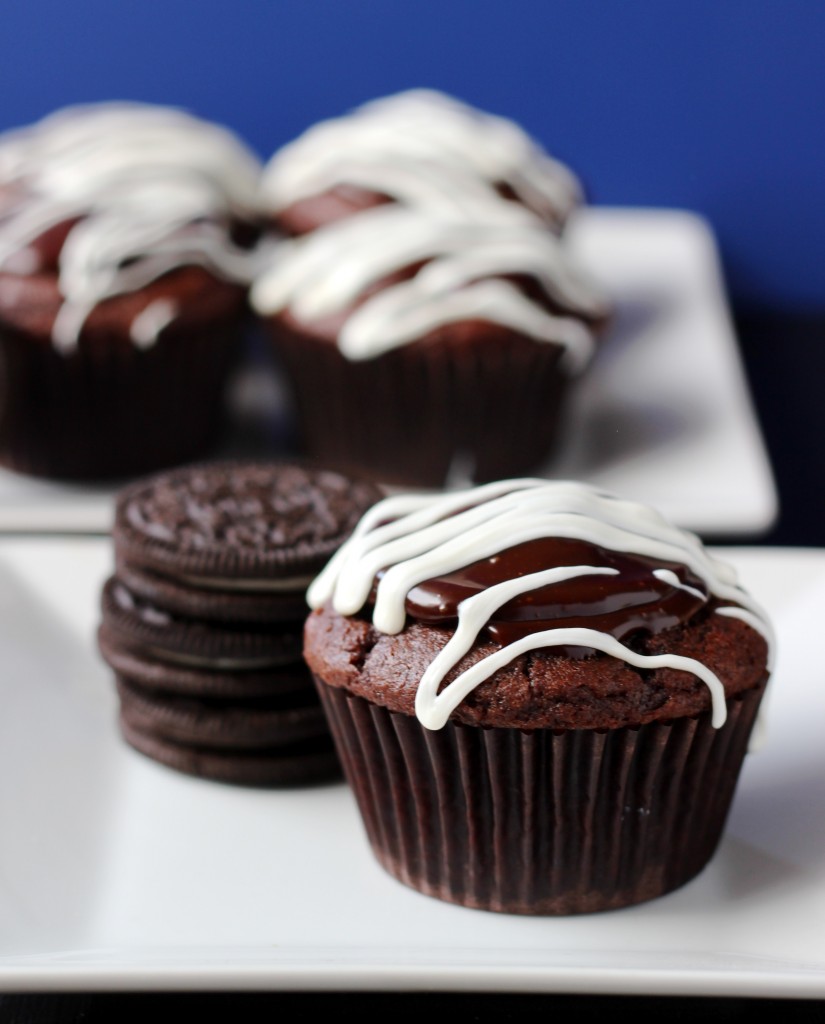 The Story:
I am always a fan of making cupcakes that ANYONE can do. I don't care who you are, if you have never baked in your life, if you can't pipe buttercream, it does not matter because THIS you can do. And guess what, they are so amazing. I walked around campus handing these cuties out and people responded with things like "That cupcake changed my life" and "This is heavenly" and "Will you marry me?"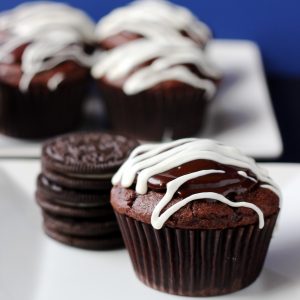 Oreo Hostess Cupcakes
Ingredients
Cake:
1

box Devil's Food Cake Mix

3

eggs

1/2

cup

oil

3/4

cup

buttermilk

3/4

cup

sour cream

2

teaspoons

vanilla extract

24

Oreos
Oreo FIlling:
8

oz

cream cheese

softened

1/4

cup

butter

softened

3-4

cups

powdered sugar

remaining Oreos from cake

crushed
Chocolate Ganache:
1/4

cup

heavy cream

1/2

cup

chocolate

chips or melts

1/2

tablespoon

honey

1/2

teaspoons

vanilla extract
Melted white chocolate for decoration
Instructions
1. Preheat oven to 350 degrees and line pans with cupcake liners.

2. Take your 24 ores and twist them apart. (If you are lucky, one side will have all the cream and the other side will be bare.) Take the Oreo halves with the cream and place them cream side up at the bottom of each cupcake liner.

3. Sift cake mix into a small bowl to remove lumps and set aside.

4. In a large bowl, gently whisk eggs, oil, buttermilk, sour cream and vanilla extract together.

5. Add cake mix and stir until smooth.

6. Fill cupcake liners (over your Oreo halves) 3/4 full and bake for 15-20 minutes or until an inserted knife comes out clean.

7. Filling: Beat cream cheese and butter until smooth. Slowly add powdered sugar until you reach your desired consistency. To prepare your Oreos for the filling, take the "bare" halves left over from the cake and crush them finely. Then put them through a sifter to remove the larger pieces. Add 1/3 cup of this Oreo "powder" to your filling and stir.

8. After cupcakes have cooled, use a knife to cut "cones" out of the top of each cupcake, deep enough to fill with your filling. Use a spoon or a piping bag to fill the holes in the cupcakes with your Oreo filling. Cut off the pointy part of your "cone" removed from the cake, and place the top back over the filling. (See my Homemade Hostess post for images on filling the cakes.)

9. Ganache: Place chocolate, honey and vanilla extract in a heat proof bowl. Heat heavy cream on the stove top just until small bubbles start to form around the edges. Pour cream over your chocolate and whisk until smooth. You may need to let it cool for a few minutes to let it thicken.

10. Spoon chocolate ganache over your cupcakes, let set and then drizzle melted white chocolate to get that "Hostess" look.
For photo diagram of filling cupcakes, see my Homemade Hostess post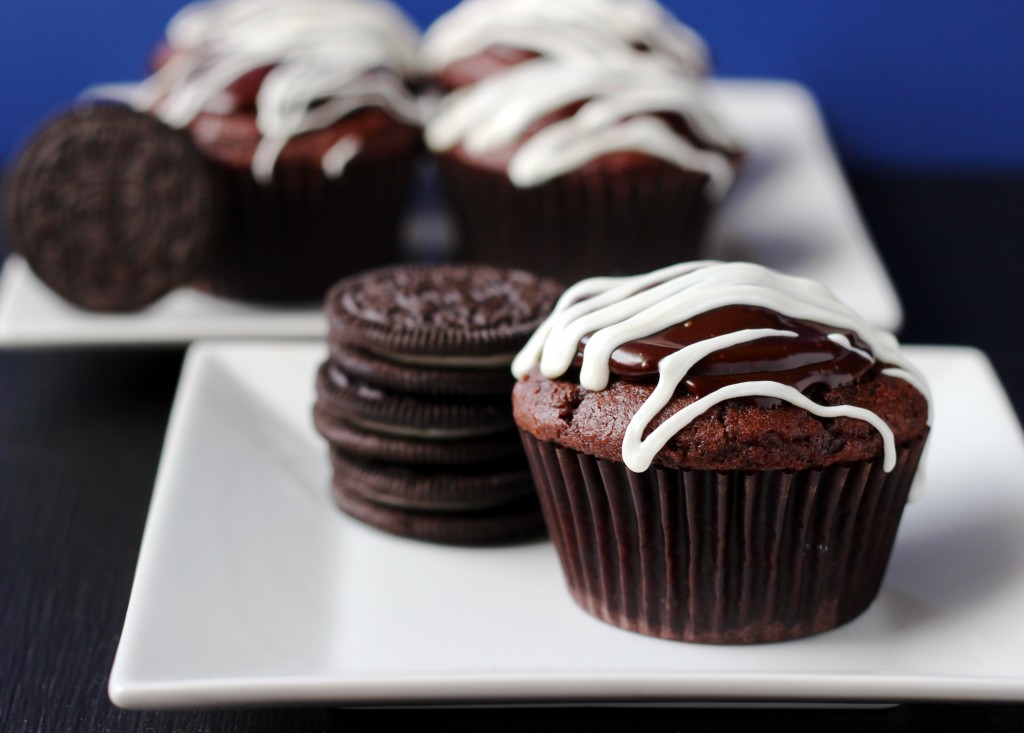 Look at the Oreo Filling and the Oreo on the bottom!!!! Mmmmm…