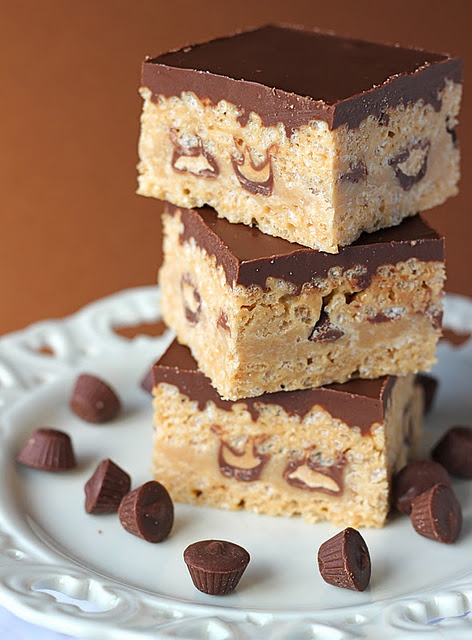 The Story:
I make really fancy things most weeks. Cupcakes with fillings and ganches and buttercreams and blah blah blah. But guess what, I just like the simple treats the best. Rice Krispy Treats have always held a special place in my heart, but these peanut butter bars are just out of control. I took them to a party and they disapeared before had time to cross the room. [end-story]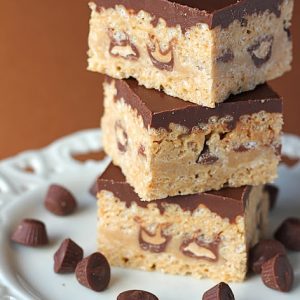 Peanut Butter Chocolate Rice Crispy Treats
Ingredients
1st Layer: Cereal
3

cups

Crispy Rice cereal

½

of a 10 oz bag of marshmallows

2

tablespoons

butter

softened

1/3

cup

peanut butter

½

teaspoon

vanilla extract
2nd Layer: Peanut Butter Fudge
Peanut Butter Fudge

½

cup

butter

softenend

½

cup

smooth peanut butter

½

teaspoon

vanilla extract

1 ½

cup

powdered sugar

1 ¼

cup

mini peanut butter cups
3rd Layer: Cereal
3

cups

Crispy Rice cereal

½

of a 10 oz bag of marshmallows

2

tablespoons

butter

softened

1/3

cup

peanut butter

optional

½

teaspoon

vanilla extract
4th Layer: Chocolate Peanut Butter Ganache
1

cup

+ 2 tablespoons smooth peanut butter

2

cups

chocolate chips
Instructions
1. Prep a 9 X 13 pan, or something close to that, by greasing the bottom and sides with butter or a butter spray.

2. 1st Layer: Measure out your 3 cups rice cereal and set aside. In a large microwave safe bowl, put in your ¾ cup marshmallows, butter, peanut butter and vanilla. Melt in the microwave for around 45 seconds, take out…stir…put back in for a few more seconds. Do this until the mixture is smooth. Stir in your rice cereal and dump into pan. Spread it out evenly and press firmly.

3. Peanut Butter Fudge: Measure out powdered sugar and set aside. On the stovetop (or microwave) melt butter and peanut butter until smooth. Remove from heat, add powdered sugar and vanilla and stir until smooth. Dump over 1st layer of cereal and spread evenly. Spread out your mini peanut butter cups (Reese's Pieces would work too) and gently press into the fudge.

4. Let the fudge set for a few minutes before you add the next layer of cereal. I popped my pan into the freezer for a few minutes.

5. 3rd Layer: Prepare this layer as you did the first. Only add the peanut butter if you really want a strong peanut butter flavor, which I did J Then pour oven the fudge and spread it evenly and press firmly. Make sure you try to cover up all the peanut butter cups, so that the next layer doesn't hit the fudge.

6. 4th Layer: On the stovetop, melt peanut butter and chocolate chips until smooth. Stir constantly to avoid the chocolate from burning. Let cool for a few minutes, the pour evenly over the cereal layer and gently shake pan to evenly distribute chocolate.

7. Carefully cover with plastic wrap, and place in the freezer or fridge to firm. Cut into bars and enjoy death by chocolate and peanut butter!
Based on Liv Life's Recipe
I used Trader Joe's Mini Milk Chocolate Peanut Butter Cups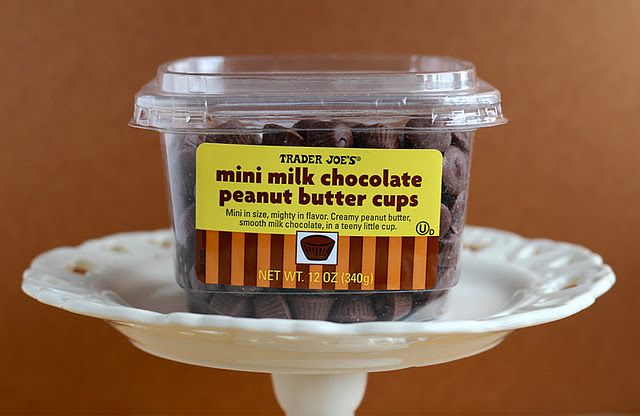 Wow, these pack a lot of flavor into a tiny little cup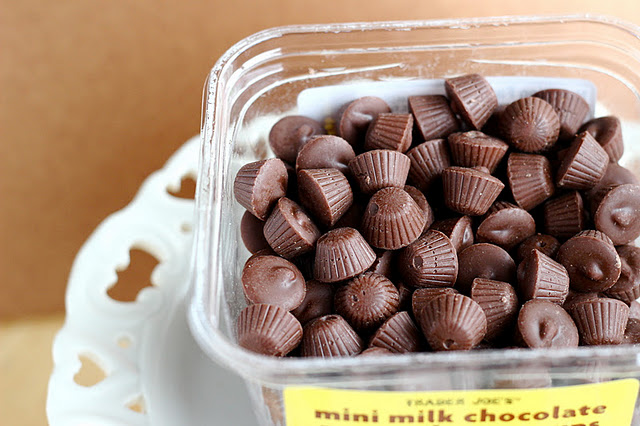 Spread out the fudge layer…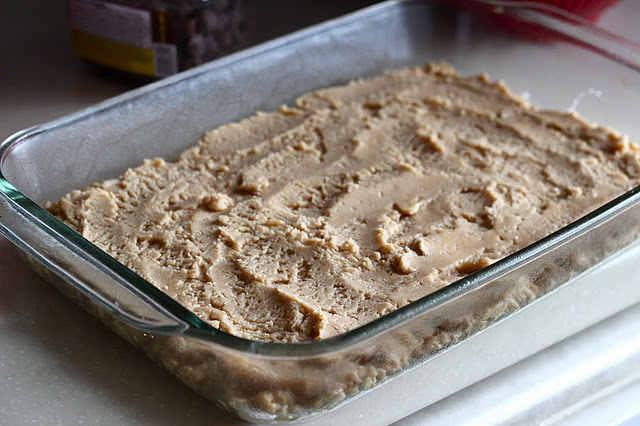 Drop on the peanut butter cups…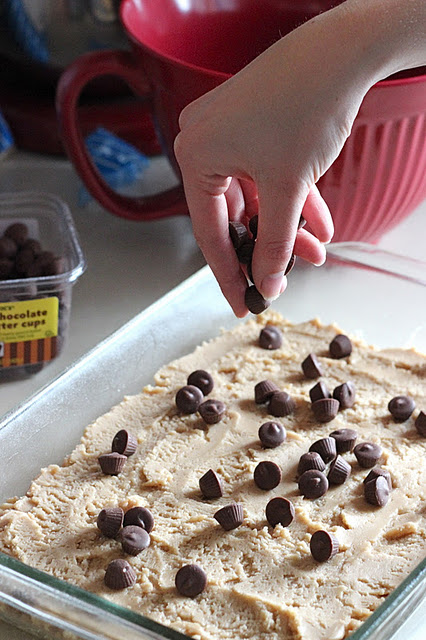 Press the peanut butter cups into the fudge…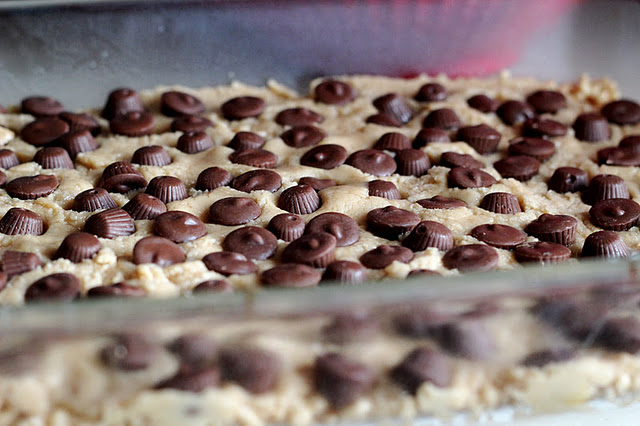 3rd layer goes down…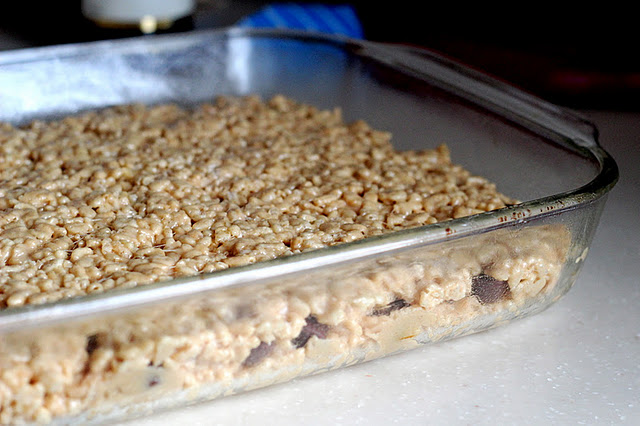 The finished product.