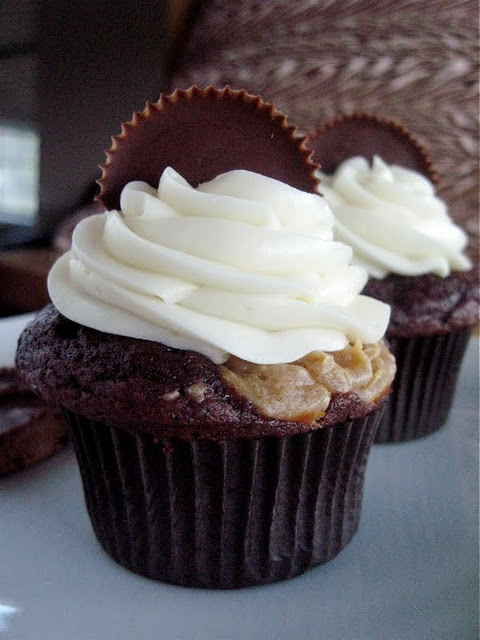 The Story:
Peanut butter and I have a spastic relationship.
I can remember days when I would sit down and eat 15 peanut butter cups and not think anything bad of that.
But it also grosses me out to watch people eat it straight out of the jar.
In the end, I think I blame Barney. He was unable to talk when he ate peanut butter because it got stuck to the roof of his mouth, it seemed like a form of torture.
½ cup creamy peanut butter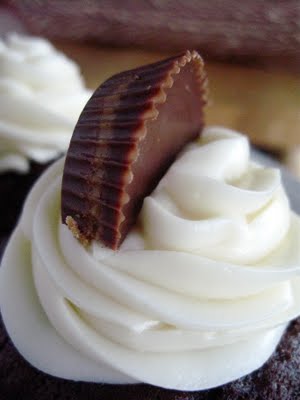 1 teaspoon vanilla
1.
Preheat oven to 350 degrees and line pans with cupcake liners (yields 22).
2.
Peanut Butter Filling: Cream all ingredients until well combined and set aside.
3.
Chocolate Cake: In a large bowl, combine eggs, oil and vanilla (do not over beat the eggs).
4.
Add sour cream, yogurt and milk and stir well.
5.
Add cake mix (for easy mixing sift cake mix into batter).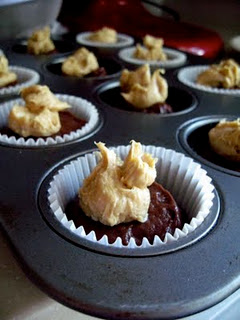 6.
Fill cupcake liners ½-3/4 full.
7.
Place about 1 ½ teaspoons peanut butter filling on top of batter. Then, do your best to push the filling down into the batter. (Unlike my photo where it is just sitting on top.) If you don't push the filling into the middle, it may slide over while it bakes, that is what mine did.
8.
Bake for about 18 minutes, or until an inserted knife comes out clean.
9
Buttercream: Beat butter and cream cheese. Add remaining ingredients and adjust as needed to reach desired consistency.
10.
Pipe onto cooled cupcakes and top with half of a peanut butter cup. (To cut easily, put peanut butter cups into the freezer for a few minutes.)