Creamy peppermint frosting topped with rich chocolate ganache. These easy Peppermint Pattie Cupcakes are perfectly minty!

Easy to Make Peppermint Pattie Cupcakes
There's something perfect about a peppermint pattie. The clean minty taste melts into the chocolate and it's heavenly. I grew up snacking on Junior mints in movie theaters and big York Peppermint Patties, so I've always been a peppermint lover. Don't even get me starting on Tillamook mint chip ice cream… I'm obsessed!! And you'll soon be obsessed with these Peppermint Pattie Cupcakes that are crazy easy to make thanks to a cake mix!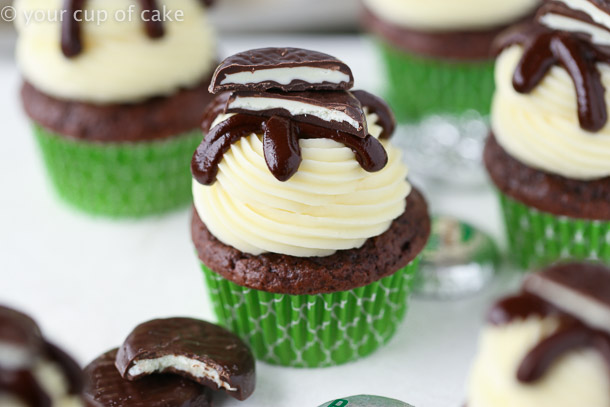 What's Ganache?
People ask me this all the time! First of all, it's pronounced "guh-nosh" or "guh-nash" depending on who you ask. It's the thick chocolate topping on these cupcakes but you'll usually find it on top of cakes! That shiny decadent soft chocolate stuff that drips off of cakes, thats ganache! It's a combination of chocolate and heavy whipping cream melted together. Depending on how much cream you add, the consistency will be different. Every time I'm back home with my parents and making cupcakes, the first question my mother asks is "Will it have ganache?" She's obsessed! Every dessert has to have ganache in her world! I usually put a layer of ganache on top of the cupcakes before the frosting, it helps seal in the moisture of the cake and tastes divine! My Chocolate Strawberry Cheesecake Cupcakes have it! You can even whip it into frosting after it's cooled! (Whipped Chocolate Ganache Frosting)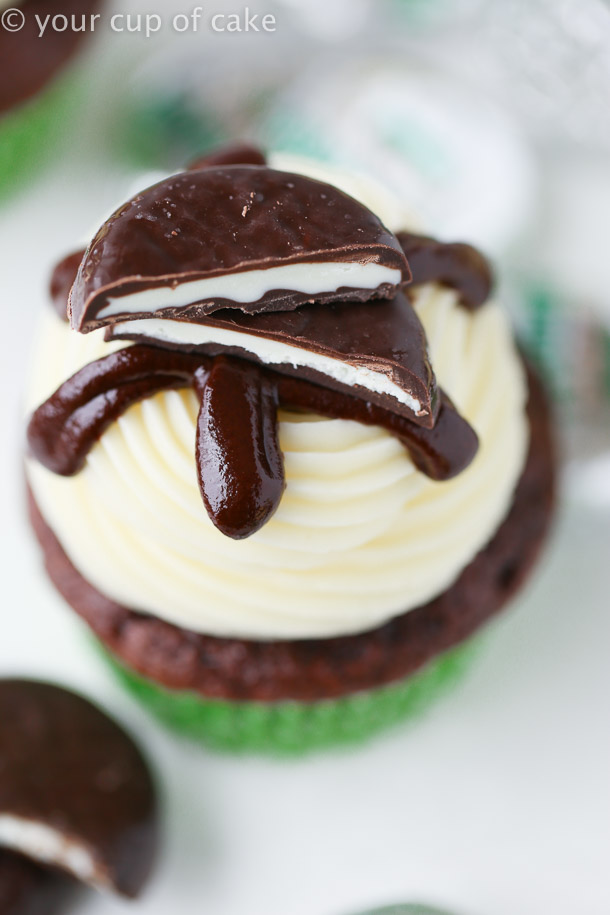 Peppermint Extract vs. Mint Extract
The most common mistake people make when baking their minty desserts is using the wrong extract. You want to use peppermint! I know, I know most people associate peppermint with candy canes and not with the chocolate mint desserts they love so much. But check the ingredient list on Andes Mints… peppermint is what they use! I have tried using the mint extracts but it always turns out tasting artificial to me because it isn't really the minty taste my tastebuds are wanting! So use peppermint extract in all your mint chocolate desserts!
At first, I took the photos of these cupcakes with whole peppermint patties on top… they looked like spiders!!! The ganache drizzle looked like legs! So then I cut the patties in half! It was super funny/creepy.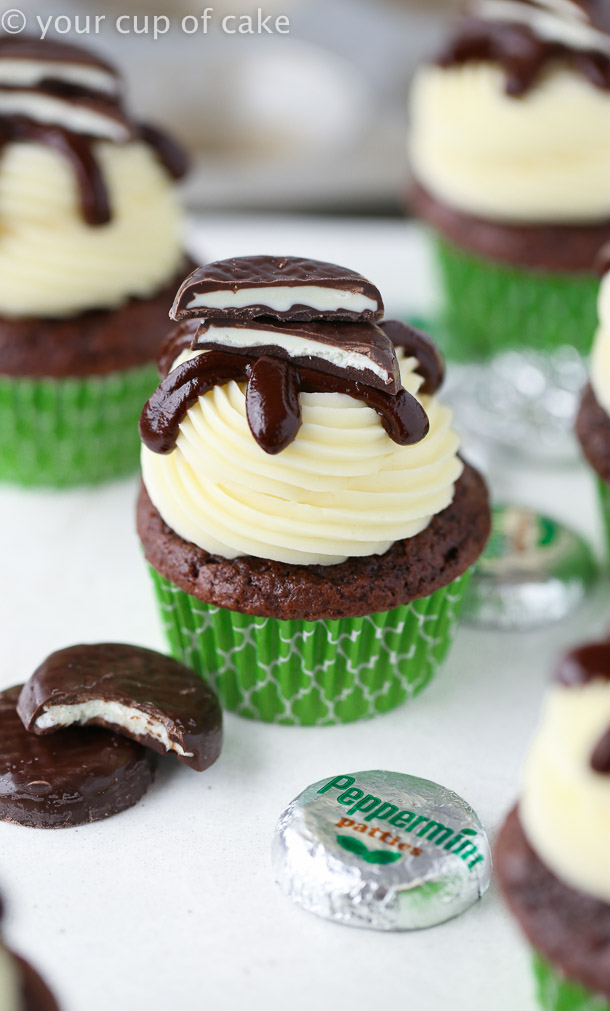 These cute greaseproof liners are from my favorite liner shop Sweets & Treats! They have all sorts of fun colors and designs! Because they're ultra greaseproof the cupcakes don't bleed through and the liners keep their colors!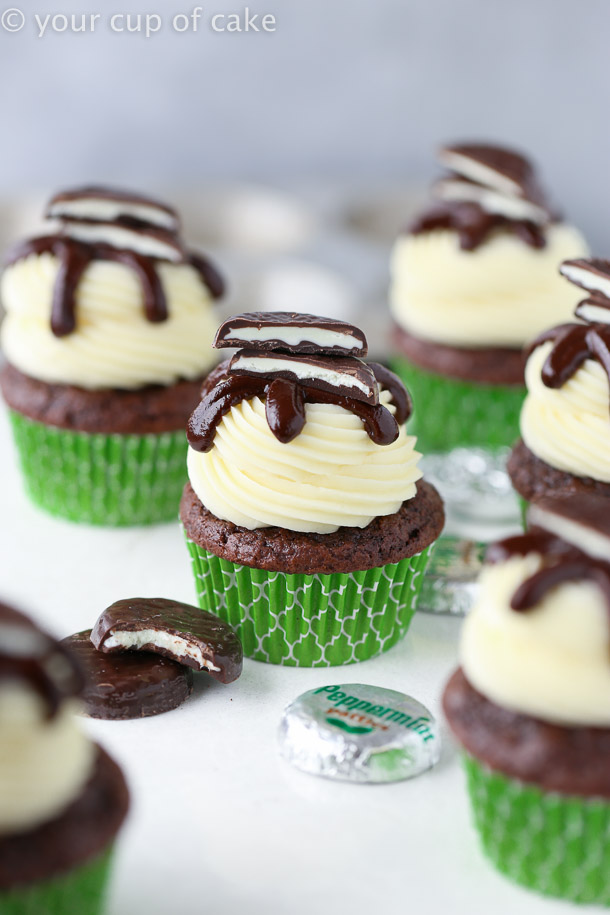 Enjoy my easy to make Peppermint Pattie Cupcakes!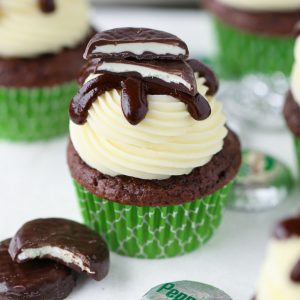 Peppermint Pattie Cupcakes
Ingredients
1

box Devil's Food Cake Mix

I prefer Pillsbury

3

eggs

1/2

C.

oil

1/2

C.

milk or buttermilk

1/2

C.

sour cream

1

tsp.

peppermint extract

PEPPERMINT FROSTING:

1/2

C.

butter

room temperature

8

oz

cream cheese

or another 1/2 C. butter

1

tsp.

peppermint extract

1

tsp.

vanilla extract

2 1/2-3 1/2

C.

powdered sugar

GANACHE

Chocolate Sauce:

1/3

C.

chocolate chips

3

tbsp.

whipping cream

PEPPERMINT PATTIES
Instructions
1. Preheat oven to 350 degrees and line pans with 20 cupcake liners.

2. In a large bowl, combine cake mix, oil, milk, sour cream and peppermint extract. Stir until smooth.

3. Fill cupcake liners 3/4 full and bake for 15-20 minutes or until an inserted knife comes out clean!

4. Let cool.

5. Peppermint Frosting: Beat butter and cream cheese until smooth. Add peppermint extract and vanilla extract. Add 2 cups powdered sugar and beat again. Scrape down the sides of the bowl as needed. Continue to add more powdered sugar until you reach your desired consistency.

6. Ganache: Add chocolate chips and whipping cream to a small microwave proof bowl (I like to use Pyrex measuring cups). Microwave for 30 seconds and then stir. Continue to microwave in 10 seconds increments and stir until smooth!

7. Frosting cooled cupcakes, drizzle with ganache and top with peppermint patties!