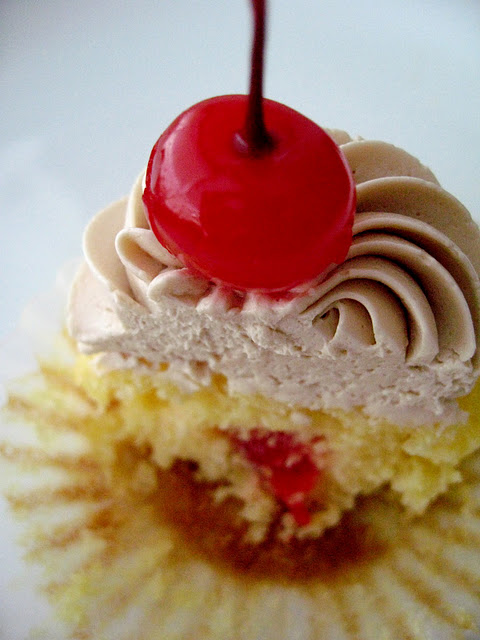 My best friend admitted to me that he has never had pineapple upside down cake. My jaw just dropped and I was so confused. Maybe I just feel like this cake is a staple in my life because I would eat it every night at Girl's Camp during the summer, but who really knows. I do know that pineapple upside down cake is amazing and he needed to experience it.
I decided to fix this problem of his in cupcake form. Now, I know most people still take the upside down approach for cupcakes, but I decided that those just are not pretty enough to take photos of. So I chose to do more of a pineapple "inside out" cake.
The best news? I made 24 cupcakes and still had extra batter to make him a real pineapple upside down cake so that he could experience the magical brown sugar glaze.
eggs and oil called for on cake mix box
1 large can crushed pineapple
24 or 48 maraschino cherries
Brown Sugar Buttercream:
¾ cup brown sugar, packed
Directions:
1.
Preheat oven to 350 degrees.
2.
In a large mixing bowl, whisk eggs and oil together.
3.
Sift (or don't if you want a real work out which mixing) in yellow cake mix.
4.
Add pineapple, juice and all, and ¼ cup milk. Mix together until well blended. (The consistency should still be the same as normal cake batter. I needed to add about 1/3 cup flour to get it right.)
5.
Spoon about ½ a tablespoon on batter into each cupcake liner and then place a cherry in the center. Make sure to remove stems. Then cover the cherry with more batter until about ¾ full.
6.
Bake for 14-16 minutes or until a fork comes out clean. The cake will not rise too much and is very moist but bakes fast! So be careful.
7.
Buttercream: In a small metal bowl, whisk eggs whites, salt and brown sugar together over a pan of simmering water. (Double boiler.) Whisk until sugar has dissolved and the mixture is warm.
8.
Pour mixture into a mixing bowl and beat at medium speed until cool and frothy. 10-15 minutes. Then increase speed to high until soft peaks form.
9.
Decrease speed to medium and slowly add butter until fluffy.
10.
Pipe onto cooled cupcakes and top with another cherry if you really want to impress.