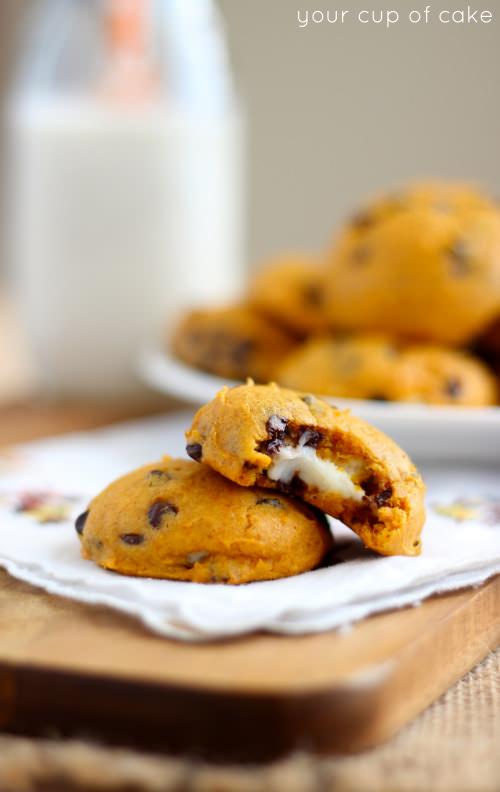 Pumpkin chocolate chip cookies are classic! But what makes them even better? Baking them with a sweet cream cheese inside the cookie! It's a heavenly little surprise in every bite. Now, I've had so much fun this season working with pumpkin and finding new ways to use it. Some of my favorites have been my Pumpkin Nutella Muffins that I still dream about, my Pumpkin Oreo Cupcakes because Ores are incredible and adding pumpkin just made sense 🙂 and the Pumpkin Heath Bar Cookies with Cream Cheese Frosting that were so easy, gorgeous and delicious! But of all my new recipes one went insanely viral, and that was my Pumpkin Cream Cheese Dump Cake! Now it's sort of funny because I only posted that recipe because I got dumped by a boy, and that was my humor after the heartbreak, but I guess it's the silver lining that the recipe became so popular!
Anyway… onto these little beauties…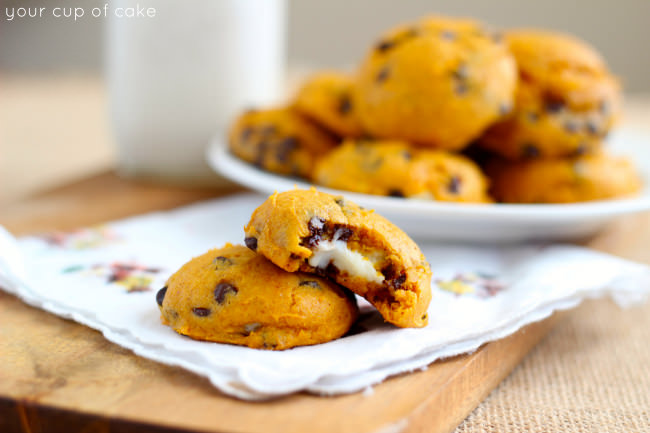 The Story:
Costco and TJ Maxx need to slow down. I don't even have my pumpkins yet and they're already green, red and gold all over. I even walked into Home Depot for screws and came out with red glitter all over my shoes
Calm down, it's not even Halloween yet.
Though, I did break and made myself an Eggnog slushy with my new favorite kitchen toy last night 🙂 It's just too temping not to buy it!!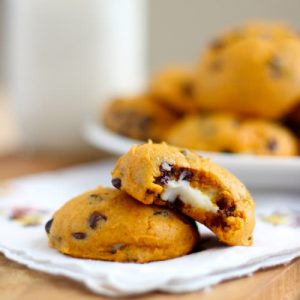 Pumpkin Chocolate Chip Cookies Stuffed with Cream Cheese
Servings
30
cookies, depending on the size
Ingredients
Cookies:
1

box spice cake mix

or yellow cake mix plus 1 Tablespoon pumpkin spice-it's what I did

15

oz.

pumpkin puree

1/2

C.

oil

1

tsp.

vanilla extract

1

C.

mini chocolate chips
Cream Cheese Filling:
8

oz

cream cheese

3/4

C.

powdered sugar
Instructions
1. Preheat oven to 350 degrees and line cookie sheets with parchment paper.

2. Sift cake mix into a large bowl to remove any lumps and add pumpkin puree, oil and vanilla extract. Stir until smooth.

3. Stir in mini chocolate chips.

4. In a stand mixer (or using a handheld beater) combine cream cheese and powdered sugar.

5. Use a cookie scoop (or a regular spoon-see notes below recipe) and fill it 1/3 of way with cookie dough, then place a little bit of cream cheese filling over the dough and then top it off with more dough. Place the full dough ball onto your cookie sheet and repeat until all the dough is used!

6. Bake for about 14 minutes or until the top of the cookies "spring" back like a cake or muffin would.

7. Let cool. Like anything pumpkin, the flavors actually taste better the next day so these are great cookies to make the day before an event 🙂
If you don't have a cookie scoop, you should buy one it will change your life 🙂 I like this brand from Amazon, I like the purple or black scoop for small cookies and the red or yellow scoop for cupcakes! But if you have to use a spoon, you make want to chill the dough to make it easier to work with so it's not so sticky!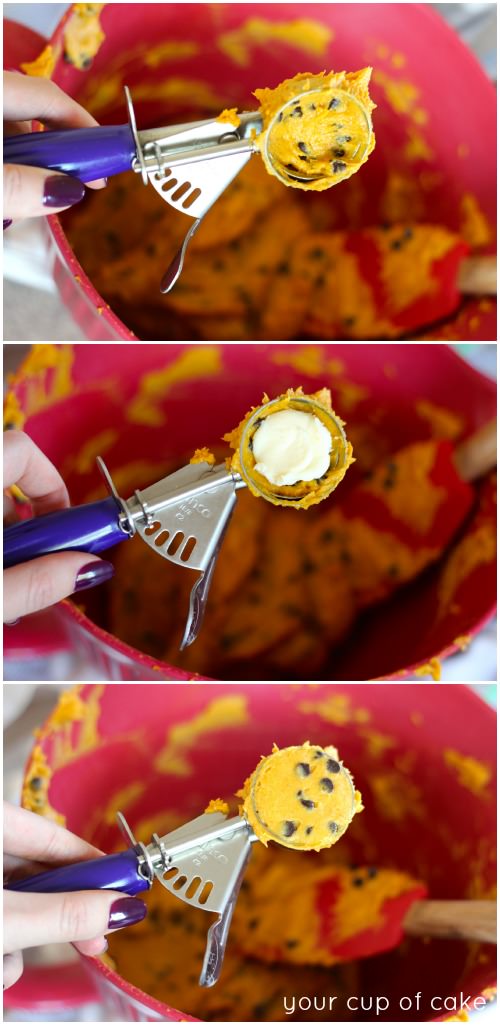 These Pumpkin Chocolate Chip Cookies are frosted from the inside out!