BETTER and way easier than pumpkin pie! This Pumpkin Cream Cheese Dump Cake is the best way to serve pumpkin pie to a crowd!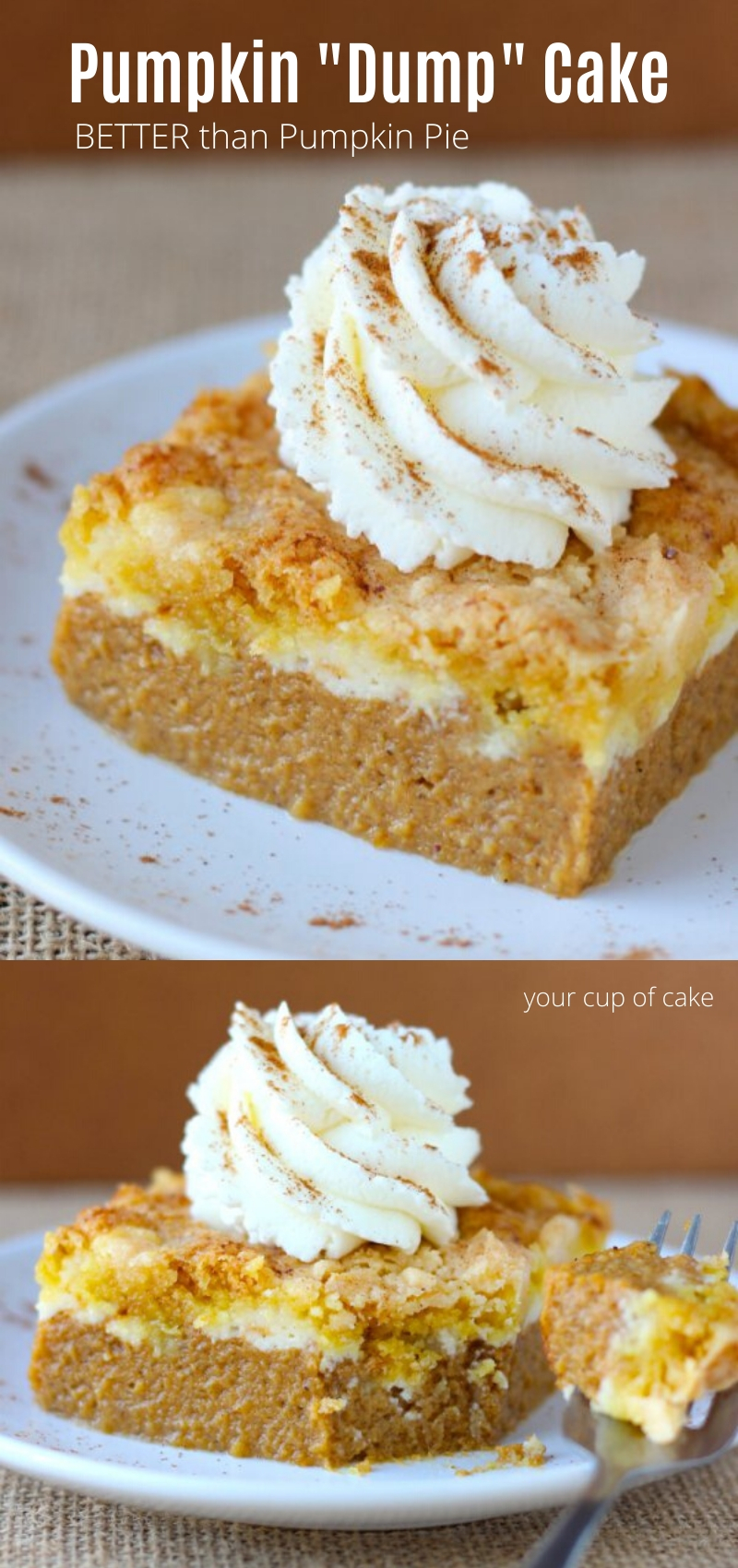 Delicious pumpkin pie filling covered in a layer of sweet cream cheese and topped with a crunchy cake mix topping. This Pumpkin Cream Cheese Dump Cake really is my new favorite thing. It's all the glamour and deliciousness of pie with none of the fuss! Plus, the cream cheese layer makes it even more decadent. "Dump" cake is traditionally made by dumping canned fruit into the dish, and then cake mix on top and then butter. This cake has just a little bit of mixing but the concept is similar and the results are totally worth it 🙂 This is a great dessert to start off the pumpkin season!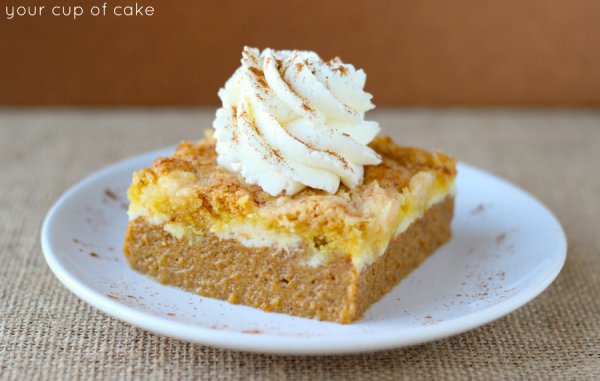 The Story:
It's remarkable how fast life can change.
My biggest concern an hour before was what throw pillows would match my new room. And then one of the most important people in my life walked out.
He fed me the traditional lines "You're going to make a great wife someday" and "You're incredible and amazing," but that didn't soften the blow. He told his mother I was coming home with him for Christmas the day before. He was the one posting photos of us together on facebook and instagram. He was the one who said he thought about how to propose. But he sat there now and said he didn't really like me.
Later that night I logged onto facebook to try to forget what happened. I started scrolling through the feed and stopped when I saw a friend's a post. This friend lost her father a week earlier. Losing a boyfriend didn't seem all that rough anymore. Sure, all the plans we made are gone, the texts from friends asking about my cute boyfriend crack my heart a little more, but he's just a boy. Just a boy who didn't want to be with me. That's all.
So why the post? Because the first thing I said when I woke up the next day was "Dump Cake." I laughed laying there in bed at my cheesy baking humor and I didn't feel so bad any more.
———
Now on to this delicious pumpkin pie cake!
Pumpkin filling, then the cream cheese piped out of a little plastic bag to get an even layer (don't worry about making it pretty, you won't be able to tell after it's baked!). Pour the cake mix over, poke holes (not pictured), pour butter and then top with cinnamon sugar (not pictured). Then bake! Just like traditional pumpkin pie, this dessert tastes better cold and even better the next day because the flavors get more intense! So it's really a perfect dessert to make the day before 🙂 Top it off with some whipped cream and you're set! I actually used 1 pint of whipping cream and whipped it with 1/2 a package of hershey's white chocolate instant pudding mix. This keep the whipped cream stiff and it never melts all over making a mess.

I ate 3 pieces. And not just because I got dumped but because this was so good! I will even go so far as to say this Pumpkin Cream Cheese Dump Cake is better than pumpkin pie…
Do you know what makes me laugh even now? His older sister once threatened me to never lead him on. Turns out, he wasn't the one who needed protecting.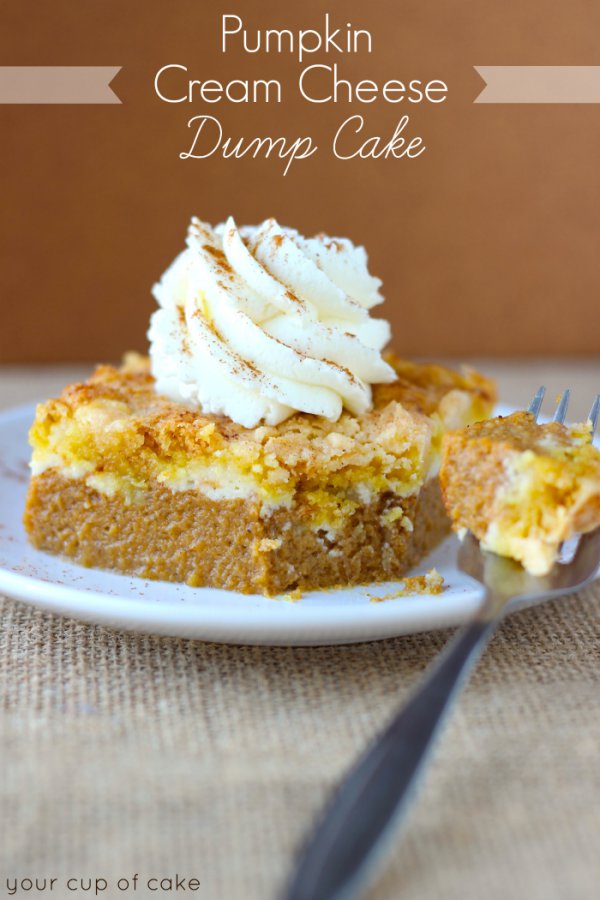 This recipe is sort of like a pumpkin pie cobbler. It has the the pumpkin pie custard on the bottom and the cobbler like topping… on top! You can also add pecans to the topping as well if your family loves nuts!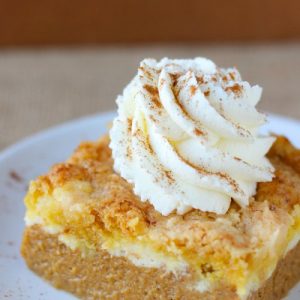 Pumpkin Cream Cheese Dump Cake
Ingredients
8

oz.

cream cheese

3/4

C.

powdered sugar

2

tsp.

milk

1

can

29 oz. pumpkin puree

1

can

12 oz. evaporated milk

4

eggs

1 1/4

C.

sugar

1

tsp.

salt

1

Tbsp.

pumpkin pie spice

1

yellow cake mix

dry

1/2

C.

butter

melted (sometimes I use a little more)

1

Tbsp.

cinnamon sugar mixture

optional

whipped cream
Instructions
1. Preheat oven to 350 degrees and grease a 9 X 14 pan.

2. Using a mixer (a KitchenAid or hand held) combine cream cheese, powdered sugar and milk until smooth. Set aside.

3. In a large bowl, combine pumpkin puree, evaporated milk, eggs, sugar, salt, and pumpkin pie spice. Pour into prepared pan.

4. Put cream cheese filling into a small ZipLock bag, and snip off the tip the make a mini piping bag. Then pipe over the pumpkin filling (see photo).

5. Pour the dry cake mix over the cream cheese layer then poke holes using the end of a wooden spoon or a table knife through the cake mix until you hit the filling (not to the bottom of the pan).

6. Pour melted butter over the dry cake mix.

7. Sprinkle cinnamon sugar over the entire cake for extra flavor and crunch.

8. Bake for 40-50 minutes or until the top is browned and an instead knife comes out clean.

9. Let cool and serve with whipped cream! (Store in fridge)
2021 Update:
My husband and I laugh hysterically every year over this post. I make this Pumpkin Dump Cake each fall and it always makes our top recipes for the season. So… this recipe written over a (stupid) boy years and years ago makes us money. So every fall my husband says a funny thank you out into the universe to this boy for inspiring this wildly popular recipe. And now my husband and two adorable kids get to enjoy this cake year after year.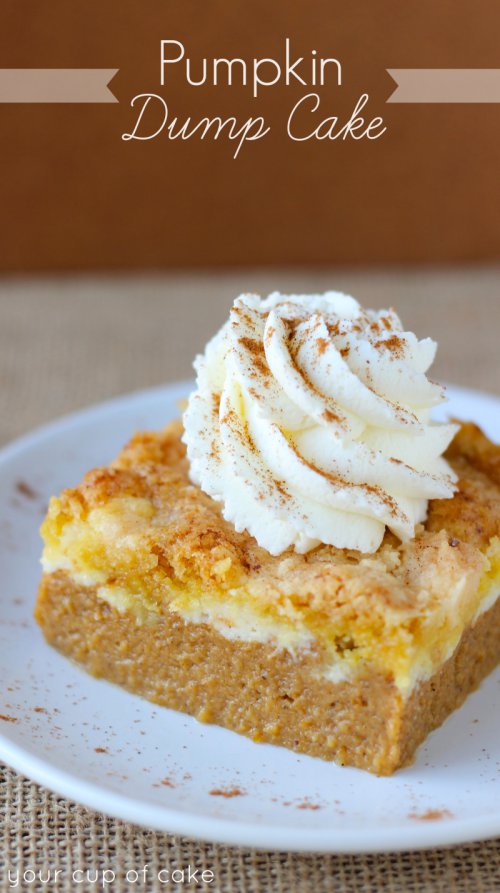 UPDATE August 2015: There were a few people saying their pie filling didn't set up and a few people say their topping still had dry spots after it had baked. I tried this recipe this recipe again in a different oven to see if that made any difference. My cake still turned out beautifully, but I think I know where people may have gone wrong.
For the pie filling not setting problem: The pie filling is just a standard pumpkin pie recipe. If this won't set in your oven, then neither would a normal pie. Maybe your oven doesn't really get up to 350 degrees, so maybe you'll want to just cook it longer or on a higher temperature. Make sure you are using canned pumpkin and not canned pumpkin pie filling. I use Libby's for my pumpkin!
For the dry topping problem: After you sprinkle on the cake mix you have to poke the cake with the back of a wooden spoon, you need to do this a lot! I probably poked about 50 holes! It helps to bring some of the moisture from the cake and push down some of the dry cake mix. So don't just poke your cake 6 times and call it good. Some recipes also call for pouring 3/4 of a cup of melted butter on top, so that also will help keep the top from having a few dry spots. But if all that fails, when your cake comes out of the oven, pour just a little melted butter over the dry spots. If you do it when it's hot it will melt into the cake and still keep cooking so it will be great!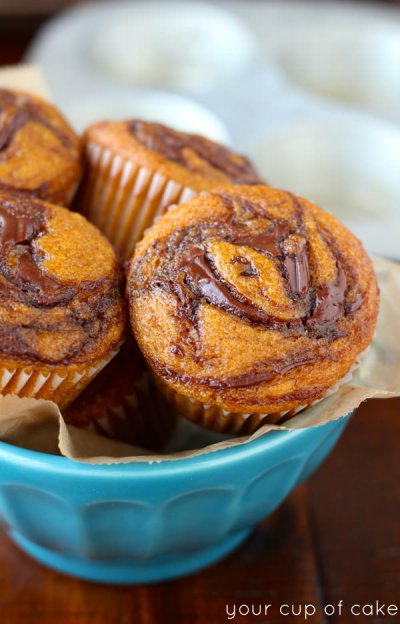 And these adorable Reese's Frankenstein Cupcakes!