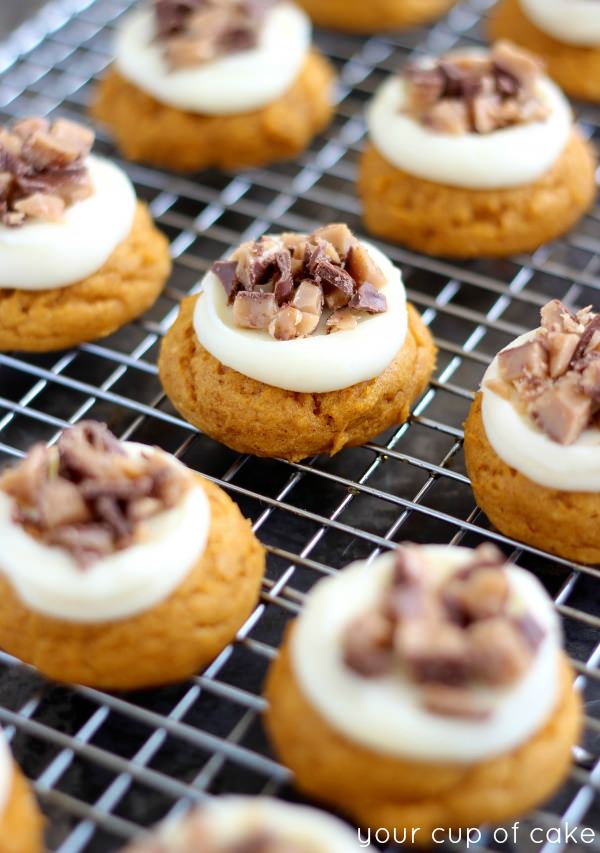 Pumpkin cookies are the favorite fall dessert! Top them with cream cheese frosting and some Heath Bar bits and you have yourself a little bite of heaven 🙂
Now, don't get me wrong, I love the classic chocolate chip pumpkin combo or even some Pumpkin Whoopie Pies but sometimes you just want to mix things up! Plus, every fall party I've been to has had an entire table with chocolate chip pumpkin cookies, I refuse to add to that table! Heath Bars are the perfect topping because they have a little chocolate and they have some crunchy and delicious toffee that goes great with the pumpkin.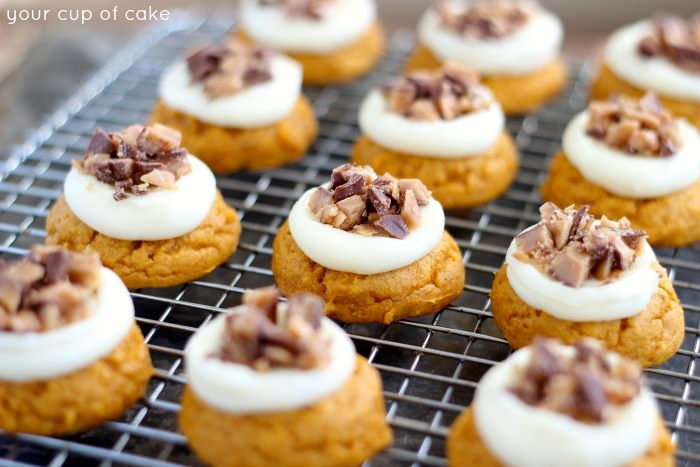 The Story:
When I was a kid, the real fun of Halloween came after the masks and animal ears hit the floor. I loved coming home with my brothers, dumping out all our candy and making stacks of every kind. By the time we were done it looked like a huge sugar army was at war in the living room. We'd have the standard flavors like Snickers, Milky Ways and Reese's. But we would also have sub categories breaking them down into their sizes. There would be a section for fruity flavors and random candies we had never heard of and then a place for the floss and toothpaste the dentists in the neighborhood gave out. But before the night was over, our father would come in, inspect the army and then take a few pieces hostage.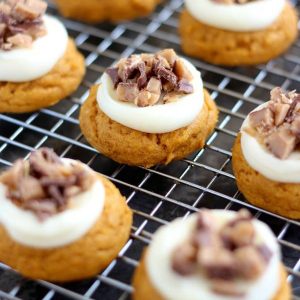 Pumpkin Heath Bar Cookies
Servings
30
cookies, depending on the size
Ingredients
Cookies:
1

box spice cake mix

or yellow cake mix plus 1 Tablespoon pumpkin spice

15

oz.

pumpkin puree

1/2

C.

oil

1

tsp.

vanilla extract
Cream Cheese Frosting:
8

oz.

cream cheese

1/4

C.

butter

softened

2

C.

powdered sugar

more if needed

1

tsp.

vanilla extract
3 Heath Bars, roughly chopped
Instructions
1. Preheat oven to 350 degrees and line pans with parchment paper.

2. In a large bowl, combine cake mix, pumpkin puree, oil and vanilla extract until smooth.

3. Scoop out dough balls roughly the size of a golf ball and bake for 14 minutes or until the tops of the cookies are done. (Just gently press on the top of a cookie and make sure it "springs" back like a cake or muffin would, you don't want to under-bake these cookies.)

4. Let cool.

5. Cream Cheese Frosting: Beat cream cheese and butter together. Add powdered sugar and vanilla. To make thicker, add more powdered sugar, if you want to make in thinner, add a little milk!

6. Frost the top of your cookies and then sprinkle some Heath bits on top! The Heath adds a great crunch and toffee is a perfect pairing for the pumpkin!
We aren't even halfway through October! Done with pumpkin or wanting more?
My Pumpkin Cream Cheese Dump Cake has been going crazy viral! It's seriously out of control. I love that I only wrote that post because I got dumped… it's funny how life works. And I'm still dreaming about my Pumpkin Nutella Muffins that were just to die for!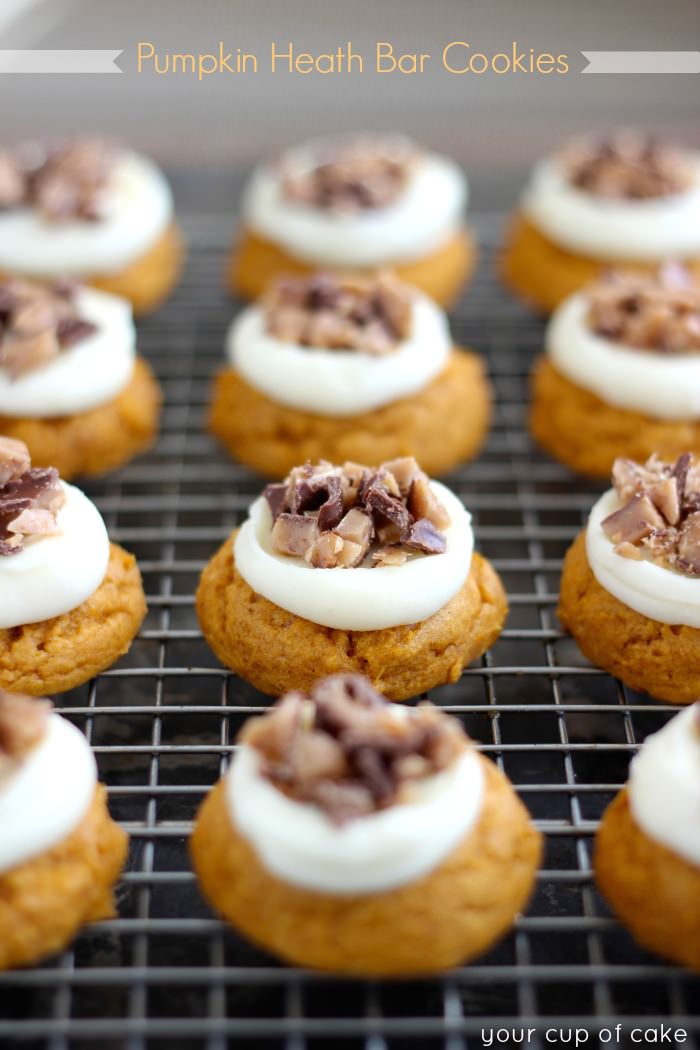 These Pumpkin Heath Bar Cookies won't let you down 🙂