Pumpkin Pie Poppers are like mini pumpkin pies that take just a few minutes to whip up thanks to crescent dough! This will be your new favorite pumpkin recipe!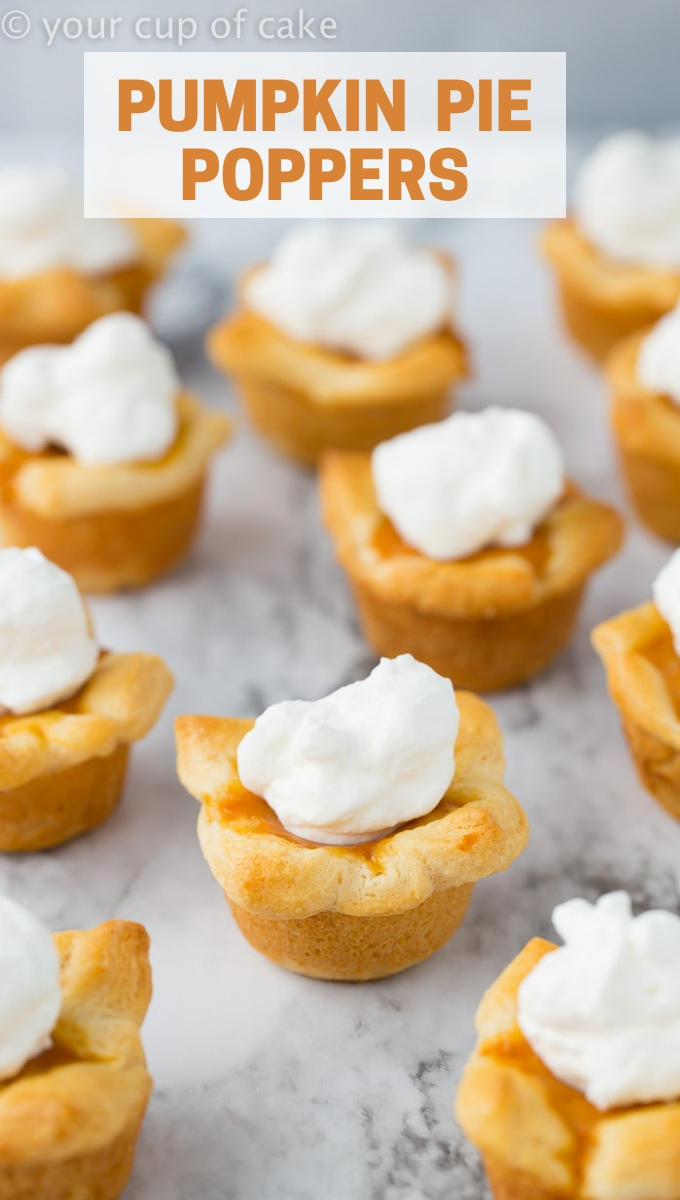 Pumpkin Pie Poppers
Pumpkin season is in full swing in my kitchen! Though to be honest my husband and I made a pumpkin pie 2 months ago because I was just getting too excited for the coming holiday season! I am a huge pumpkin pie fan but sometimes I don't like the fuss of rolling out pie dough, so I love recipes that are similar to pumpkin pie but easier to make. My Pumpkin Dump Cake and Pumpkin Pie Magic Cake are crazy popular! But I've always wanting to make mini pumpkin pies, so here is my take on those! Pumpkin Pie Poppers made super simple with crescent dough!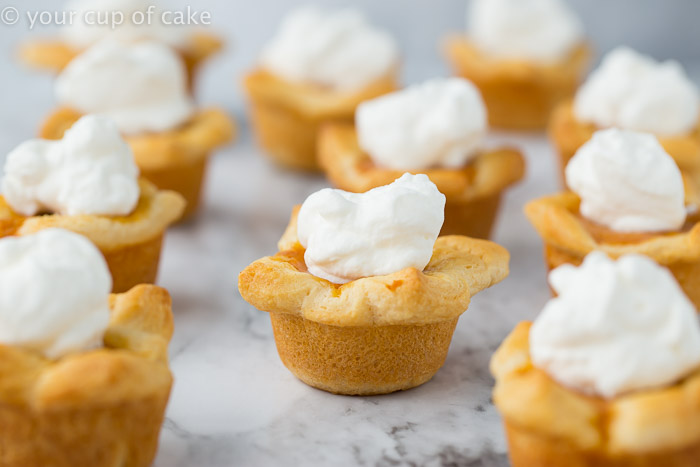 Best Pumpkin Recipes
I am always on the hunt for the best pumpkin recipes. I love when people experiment adding brown sugar to their pumpkin filling, extra spices, using only egg yolks… there are so many fun ways to make pumpkin pies and desserts your own! Feel free to share your favorite recipe below in the comments! I have an incredible pumpkin muffin recipe coming next week so watch for that! They look and taste better than any bakery pumpkin muffin! But for now, enjoy these adorable little Pumpkin Pie Poppers!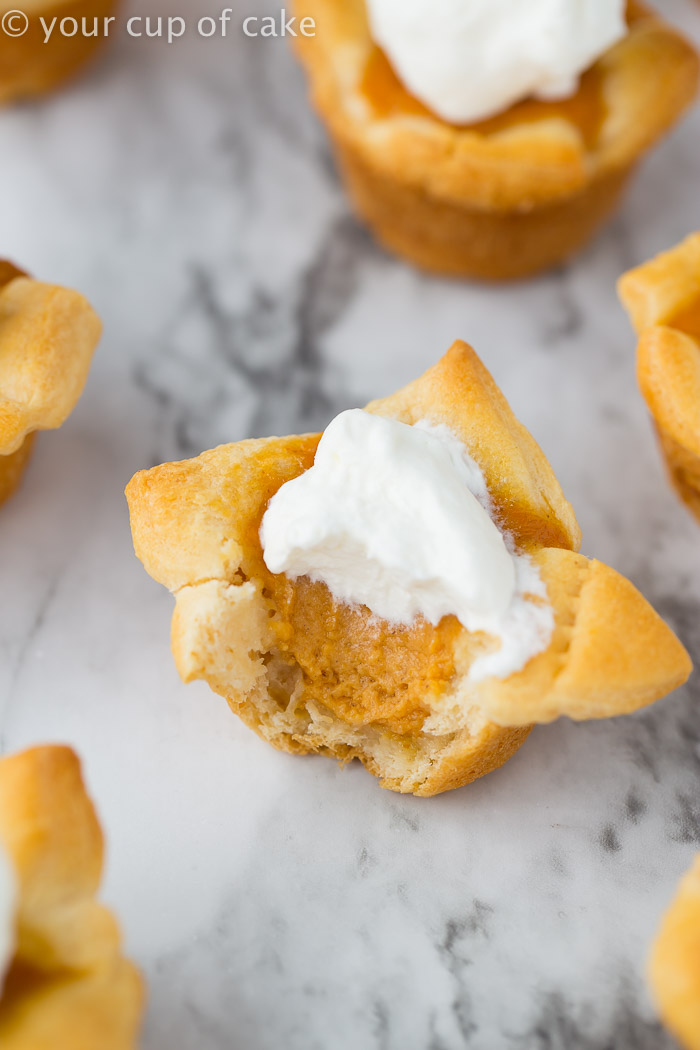 How to Make Pumpkin Pie Poppers
The best part about these Pumpkin Pie Poppers is how easy these are to make! First, you make your pumpkin pie filling! (If you want to make this even easier you can buy pumpkin pie filling and not just the pumpkin puree, then this recipe will become a 2 ingredient dessert!) After you make the filling, pop open your crescent dough rolls and pinch all the seams together to make it into one large rectangle. Use a pizza cutter to cut squares about 1.5 inches wide. You'll need to press them into your mini muffin pan, so cut a few squares and then put them into the wells of the mini muffin pan to make sure you're cutting the right size, then continue to cut out all the squares from the dough! Once all the dough is fitted into your pans, fill each well with pumpkin pie filling and bake!

Mini Pumpkin Pies: Pumpkin Pie Poppers
These Pumpkin Pie Poppers are basically mini pumpkin pies! My father in law was wanting me to make these and I was trying to figure out a way to do it that didn't involved traditional pie crust… crescent dough to the rescue! I love these little poppers because the dough puffs up and they just look so cute! My husband took these to his friends last week and he said everyone was raving out them. They're the perfect bite of pumpkin pie and you don't even need a fork to enjoy them… less dishes! You know I love that!
I topped mine with a spoonful of whipped cream because I'm one of those people who needs equal parts pie and whipped cream 🙂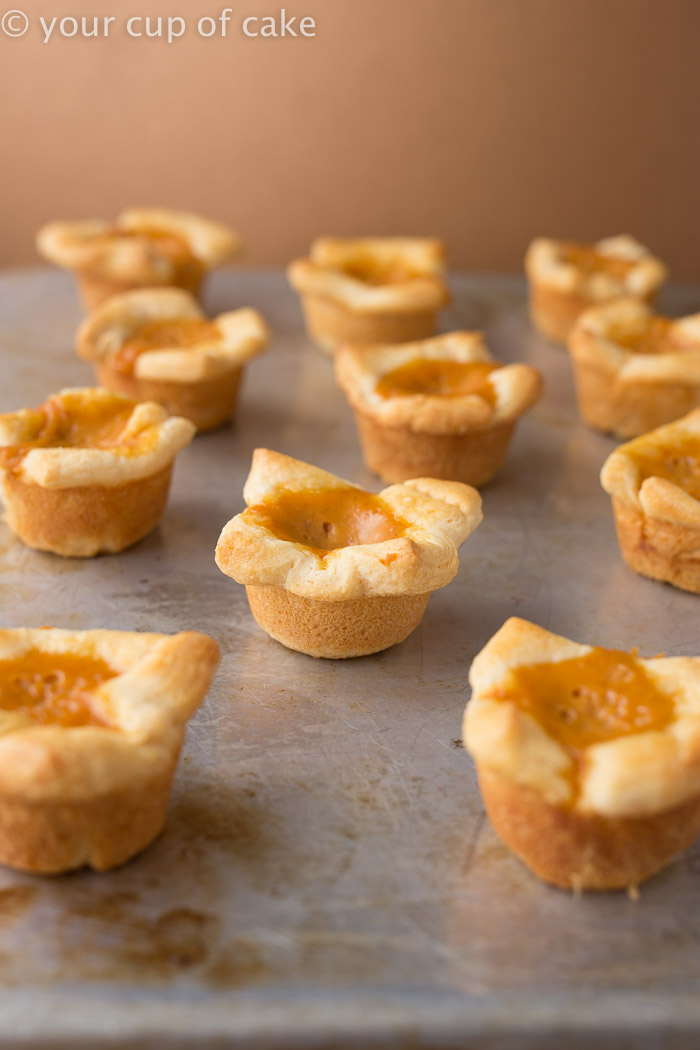 I mean, how cute are these Pumpkin Poppers? They would be the perfect treat at any fall party this year!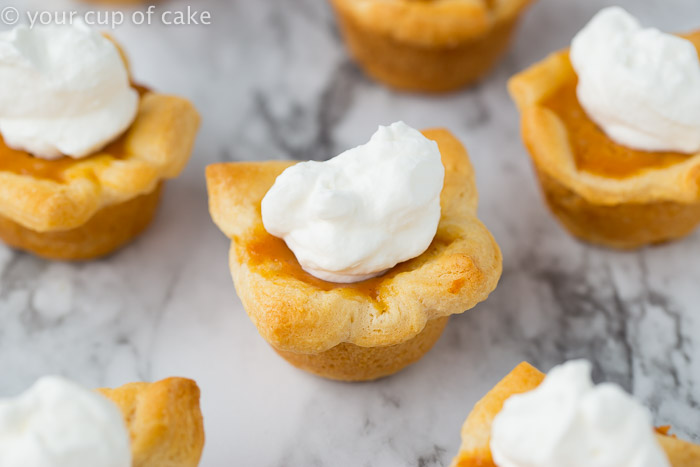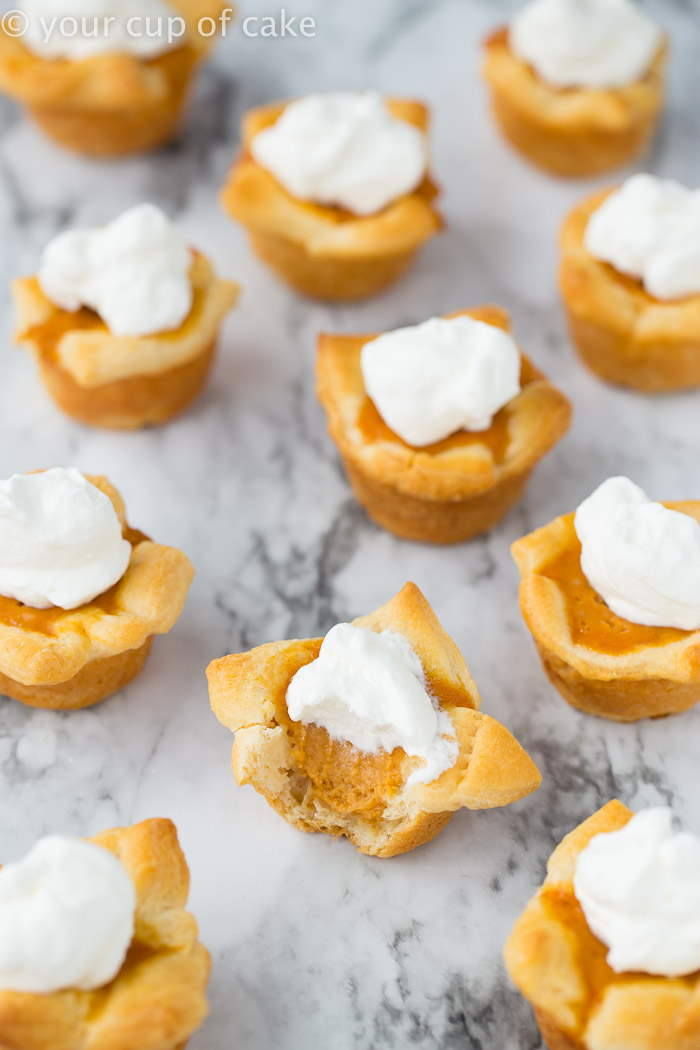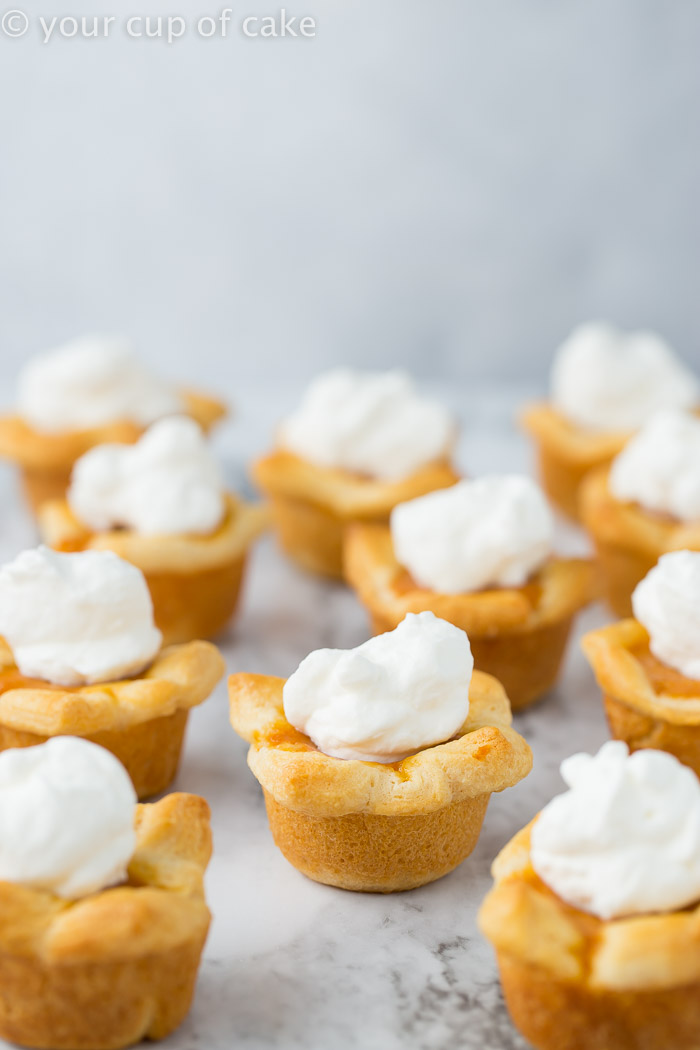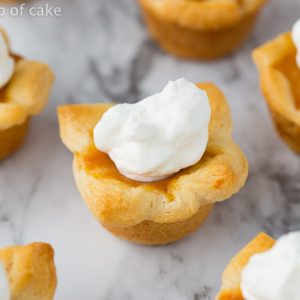 Pumpkin Pie Poppers
Ingredients
3/4

cup

Pumpkin Puree

(not pumpkin pie filling)

6

oz

Evaporated milk

6

Tbsp.

Sugar

1

Egg

1/2

tsp.

Pumpkin Pie Spice

3

cans

Pillsbury Crescent Rolls
Instructions
Preheat oven to 350 degrees.

Whisk together pumpkin puree, evaporated milk, sugar, egg and pumpkin pie spice.

Unroll crescent dough and pinch together the seams to make one large piece of dough. Use a pizza cutter to cut out 1.5 inch squares (you should get about 16 squares per roll). Cut a few squares and fit them into your mini muffin pan to make sure you're cutting the right size.

After you've cut all your squares press them into your mini muffin tins and fill them with pumpkin pie filling!

Bake for 15-20 minutes or until the filling it set and the dough is golden. Let cool and serve with whipped cream!