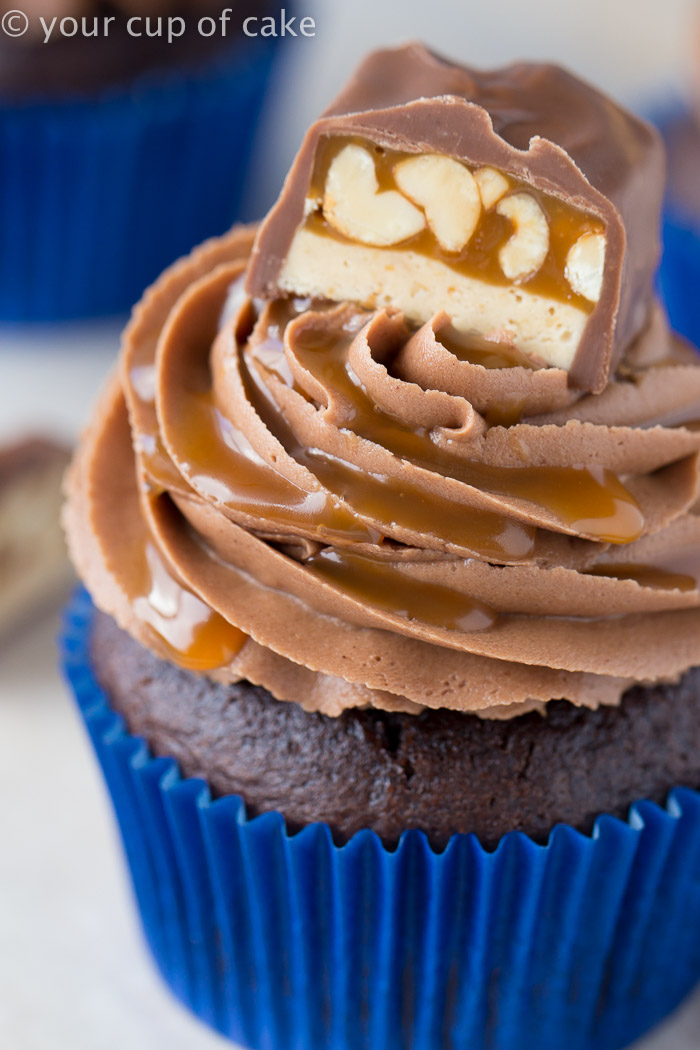 Chocolate Peanut Butter Frosting dripping with caramel sauce, these must be Snickers Cupcakes from heaven! They're a party favorite and perfect all year long. But why post them now? Because Halloween is coming! And if you're not into the cute cupcakes like my spooky Skeleton Cupcakes, Pumpkin Patch Cupcakes or even the Frankenstein Cupcakes and you don't want anything pumpkin, then Candy Bar Cupcakes are a great way to go! Just put a fun-size bar on top (or cut slices from a regular size like I did) and they'll be a hit!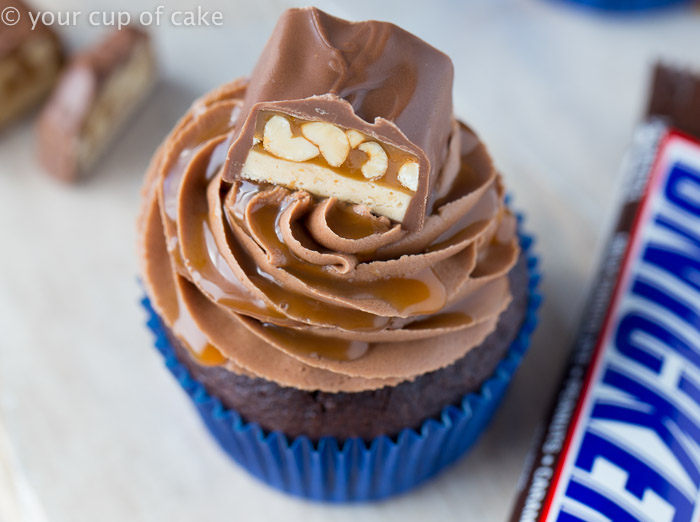 I used some store-bought caramel sauce to top mine off! I kept it cold in the fridge and then used a little plastic bag as a mini piping bag to drizzle just a little on!
Are you ready for Halloween? I've had my costume planned for months! I even went to Costco a few weeks ago to buy my candy! I must admit, there might not be any Twix left by the time the 31st rolls around. But Snickers were my absolute favorite when I was a kid! I still remember sitting on floor in the living room making piles of each flavor. I would organize by size and make a fruity side and a chocolate side. And there would always be a weird stack with floss and toothpaste the dentists in the neighborhood would hand out.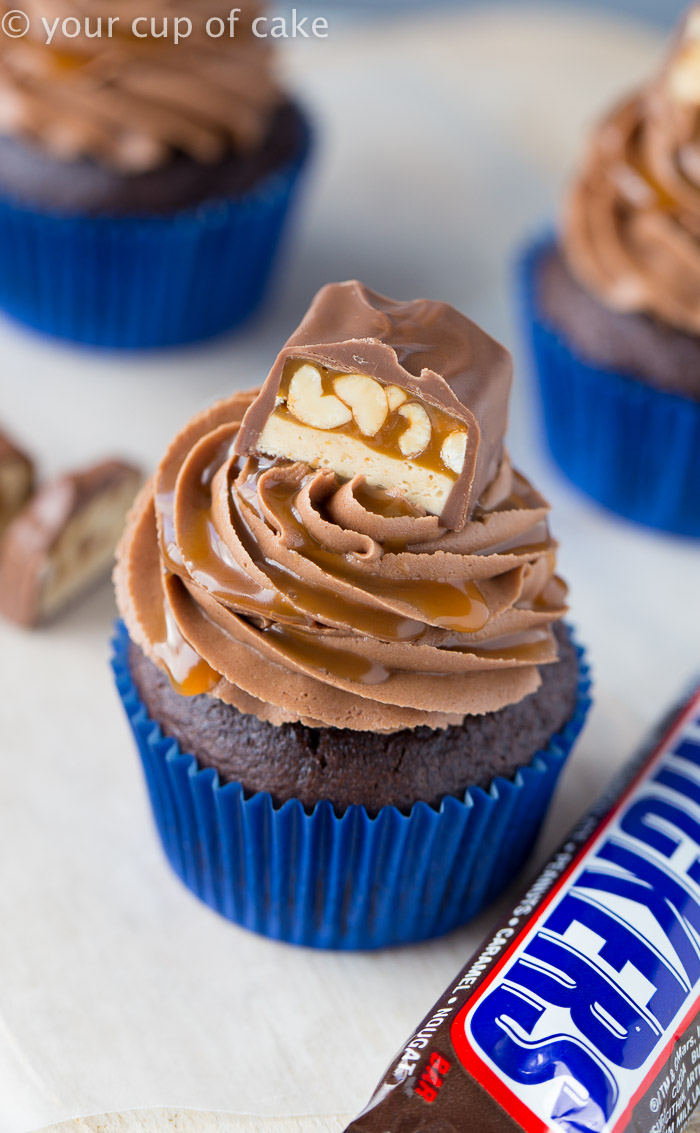 I love these Snickers Cupcakes because they look and taste decadent but really aren't hard to make! And who can resist chocolate peanut butter frosting? No one. Unless they're allergic to peanut butter.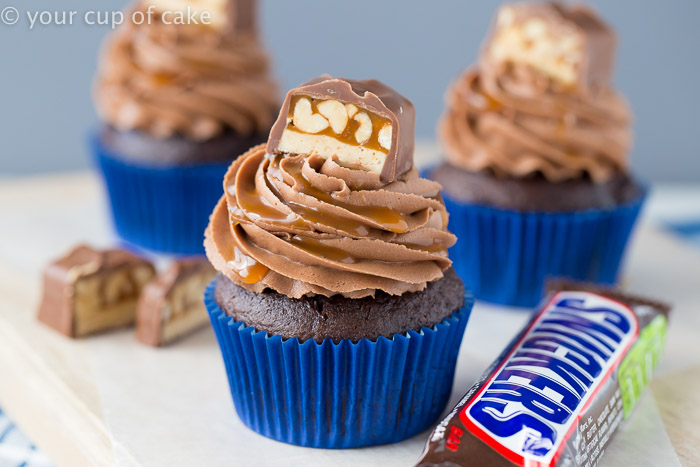 I hope you love these as much as I did! Happy baking!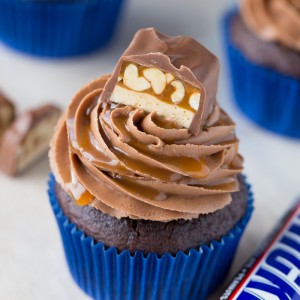 Snickers Cupcakes
Ingredients
Chocolate Cupcakes:

for cake mix recipe see below

1 1/2

C.

all-purpose flour

1

C.

unsweetened cocoa powder

1

tsp.

baking soda

1 1/2

tsp.

baking powder

1/2

tsp.

salt

4

eggs

at room temp (see my tip below)

1

C.

sugar

1

C.

brown sugar

packed

2/3

cup

oil

1

C.

buttermilk or milk

1

Tbsp.

vanilla extract

Chocolate Peanut Butter Frosting:

3/4

C.

butter softened

1/2

C.

peanut butter

creamy

1/2

C.

unsweetened cocoa powder

2

tsp.vanilla extract

2-3

Tbsp.

milk

3-4

C.

powdered sugar

Snickers bars and caramel sauce for decoration!
Instructions
1. Preheat oven to 350 degrees and line pans with cupcake liners.

2. In a medium bowl, combine cocoa flour, cocoa powder, baking soda, baking powder and salt. Set aside.

3. In a large bowl, combine eggs, sugar, brown sugar, oil, buttermilk and vanilla extract.

4. Pour half the dry ingredients into the wet and stir. Then add the rest of the dry ingredients and stir again. Don't over mix.

5. Fill cupcake liners 2/3 full and bake for 18-22 minutes or until an inserted knife comes out clean. Let cool.

6. Frosting: Beat butter and peanut butter until smooth. Add cocoa powder, vanilla extract and 2 Tablespoons milk. Slowly add in powdered sugar until thick. If it becomes thick like cookie dough, stream in more milk!

7. Pipe onto cooled cupcakes and top with Snickers and caramel sauce (mine was store bought).
If you prefer a Cake Mix Recipe for your chocolate cupcakes use the one from my Skeleton Cupcakes! Also, to get your eggs to room temperature fast, read my Cookie Secrets!
More Candy Bar Cupcake Ideas!