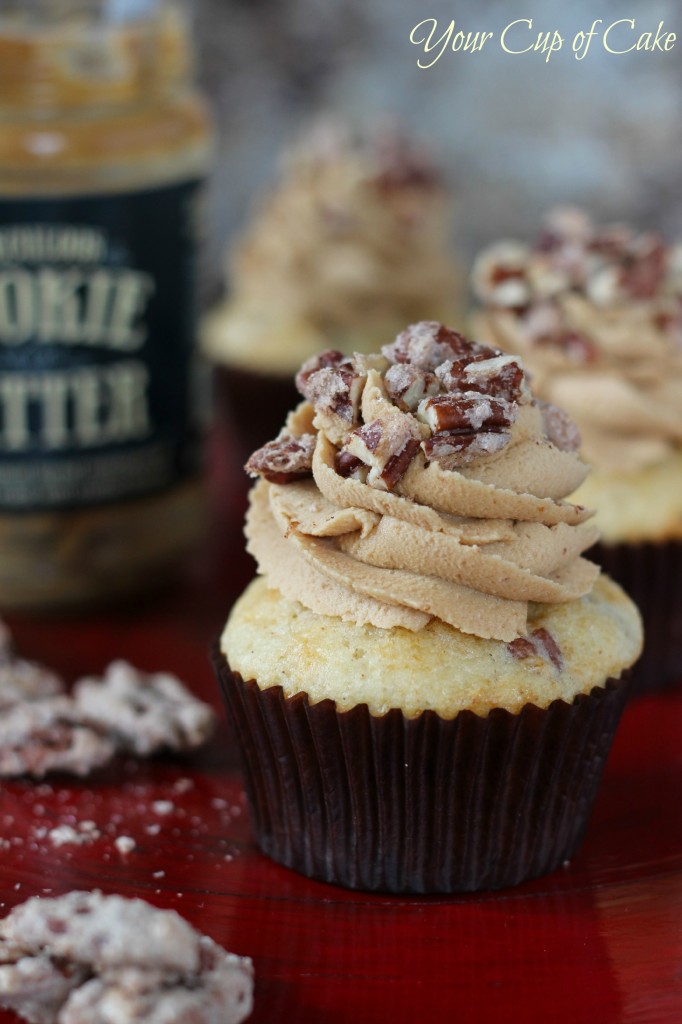 The Story:
One of my best friends had been telling me FOREVER to make a speculoos cupcake. But I just kept making excuses because i hate the name of it. Spe-cu-loos. Weird, unappetizing, sorta nerdy.
But at the grand opening of Trader Joes in Salt Lake City the other week, I decided I would give it a shot. TJ's calls it "Cookie Butter" so I guess their head honchos are on the same pay as me with the whole-who would ever eat something with such a terrible name- thing. I went home, tasted with a spoon, and that's how I continued to eat the entire rest of the jar. I never spread it on anything, it just went from jar to spoon to mouth.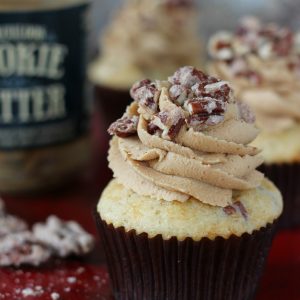 Speculoos Pecan Cupcakes
Ingredients
Pecan Cake:
1

box white cake mix

1/2

tsp.

nutmeg

3

eggs

1/2

C.

oil

1/2

C.

eggnog or buttermilk

1/3

C.

buttermilk or milk

1/3

C.

sour cream or plain yogurt

1

tsp.

vanilla extract
Speculoos Buttercream:
3/4

C.

butter

softened

1/2

C.

Speculoos

1

tsp.

vanilla extract

2-3

Tbsp.

milk

3/4

C.

powdered sugar
Candied Pecans to Decorate
Instructions
1. Preheat oven to 350 degrees and line pans with cupcake liners.

2. Sift cake mix and nutmeg into a small bowl and set aside.

3. In a large bowl, combine all other ingredients until smooth.

4. Stir in cake mix and nutmeg.

5. Stir in pecans.

6. Fill cupcake liners 3/4 full and bake for 17-22 minutes or until an inserted knife comes out clean.

7. Buttercream: Beat butter and Speculoos until smooth. Add vanilla extra and milk and beat again. Slowly add powdered sugar until you reach your desired consistency. If it is thick like cookie dough, stream in more milk.

8. Pipe onto cooled cupcake and top with candied pecans.