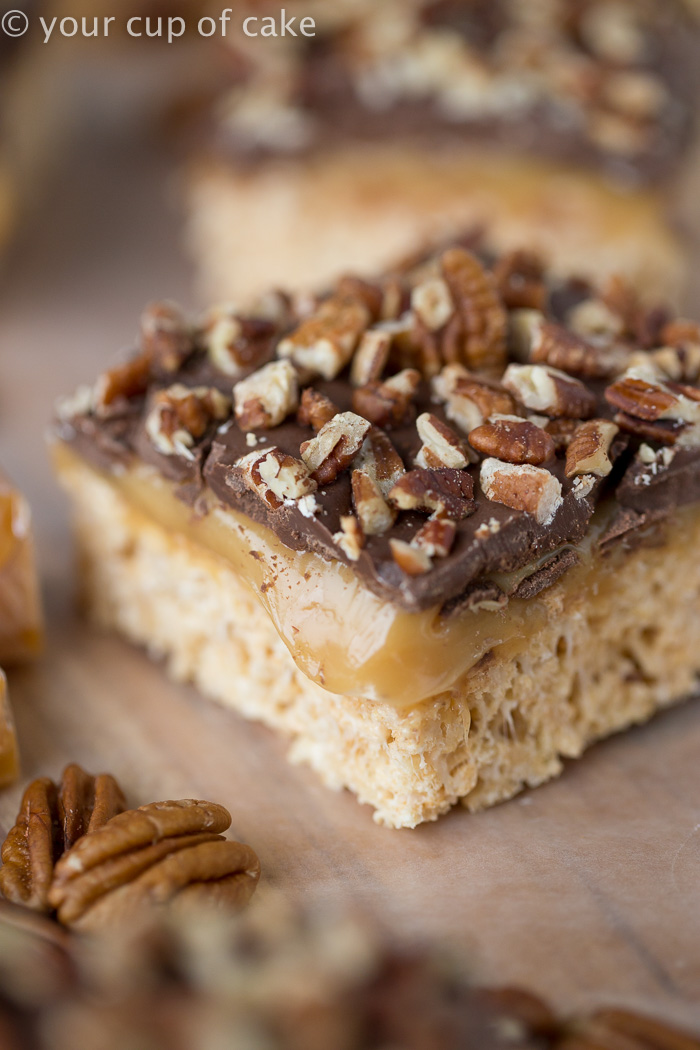 Caramel, chocolate and pecans make a classic treat even better! Turtle Rice Krispie Treats will be your new family favorite! I brought these to a party and when I turned back around they were gone! The caramel layer is the most divine thing you will taste and your friends will love you even more if you make these for them! They're pretty rich, so you can cut them into small squares to feed a whole crowd.
Rice Krispie Treats are my go-to late night treat. They're quick to make, I can make a really tiny batch and if I don't add any butter I consider it to be low fat and not a dessert at all 🙂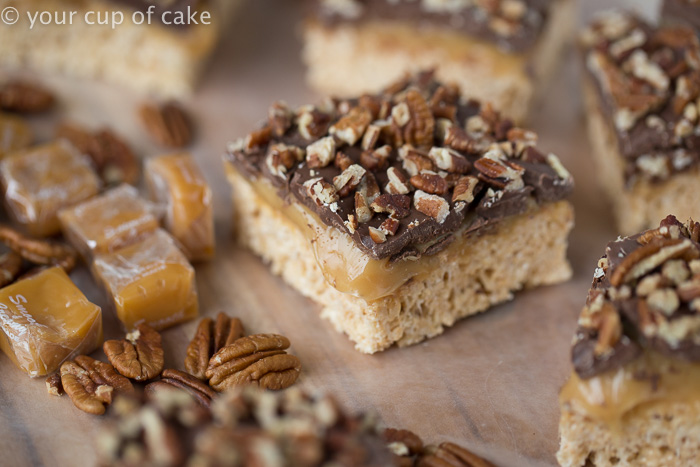 Make some standard rice krispies and then layer on caramel, chocolate and pecans. I would recumbent toasting your pecans first to really bring out their flavor. You could even mix them into the chocolate if you wanted to! I always like to line my pans with parchment so that when the treats are set, I can just lift up on the parchment and pull the whole dessert out. It makes it really easy to cut them up!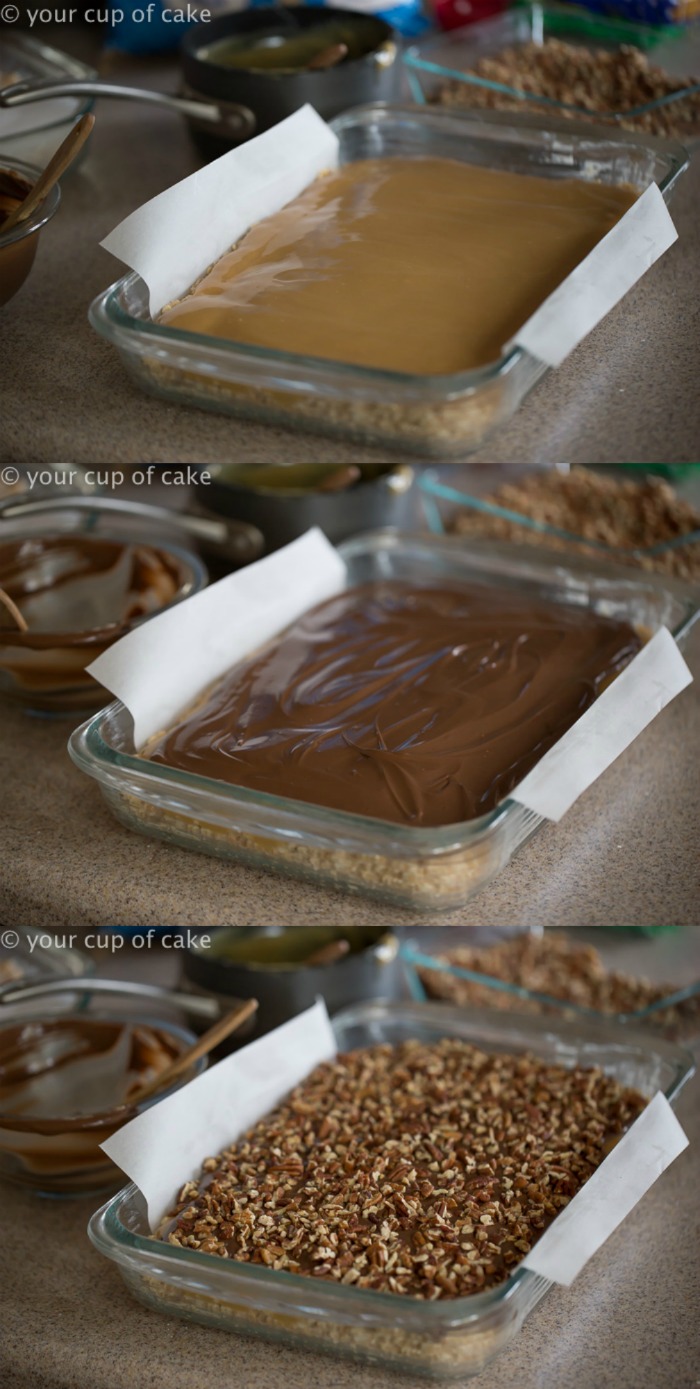 I made these with my mother in mind. She is a loves anything "turtle!" When we go to small towns and find cute bakeries we always look for turtles for her to eat! (I hope you know I'm talking about candy turtles and not real turtles! We love real turtles too but not for eating!) I know my mother will be wanting me to make these when I see her at Christmas…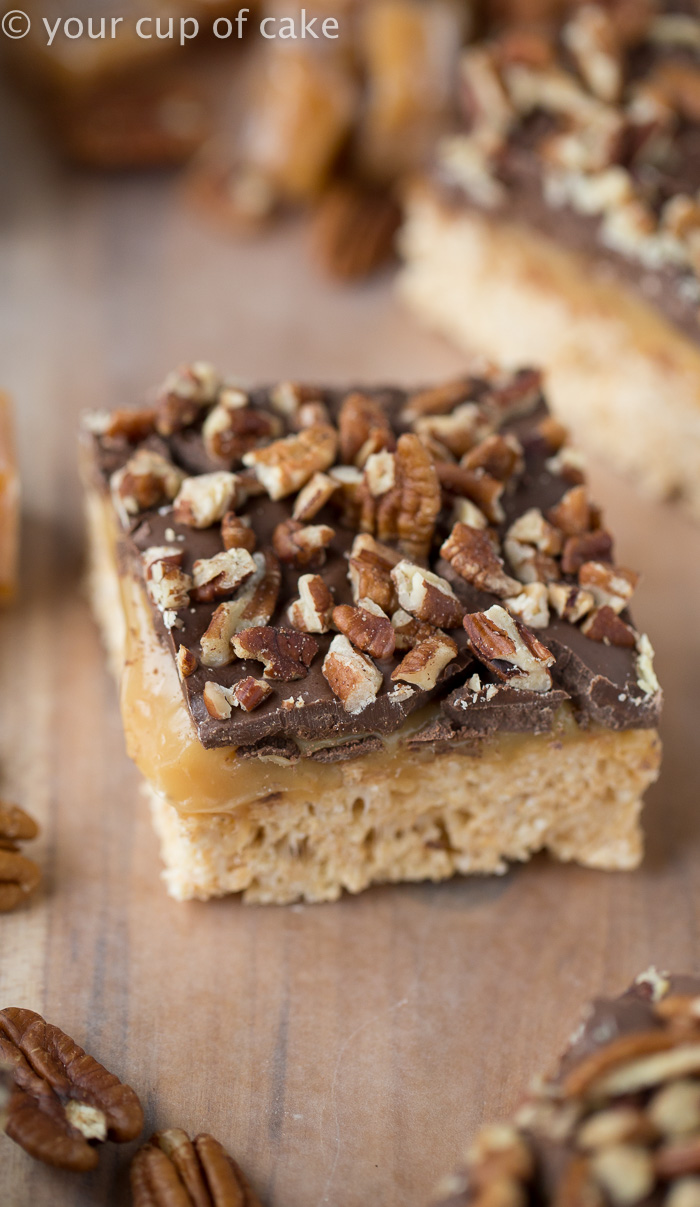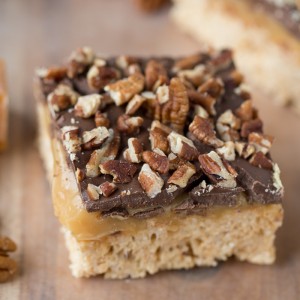 Turtle Rice Krispie Treats
Ingredients
1

14-16 oz. bag mini marshmallows

6

Tbsp.

butter

1

tsp.

vanilla extract

optional

5-6

C.

Rice Krispie Cereal

14

oz.

caramels

about 45 little caramel squares

1

14 oz. can sweetened condensed milk

6

Tbsp.

butter

2

C.

Chocolate chips or almond bark

if you use chocolate chips you can add a little heavy cream

2

C.

chopped pecans

(toasted for more flavor, optional)
Instructions
1. Prep a 9 by 13 pan by greasing it and/or lining it with parchment paper.

2. Place marshmallows, butter and vanilla extract in a large microwave proof bowl and microwave until marshmallows are puffy and stir until smooth.

3. Add Rice Krispie Cereal and fold until combined. Dump into prepared pan and pat until flat.

4. Over medium heat melt unwrapped caramels, sweetened condensed milk, and butter until smooth. Pour over Rice Krispie Treats.

5. Melt chocolate chips and spread over caramel. (Add a little cream if you want it to be thinner.)

6. Sprinkle chopped pecans over the chocolate layer and let set in the fridge or on the counter. (But the fridge takes much less time.)