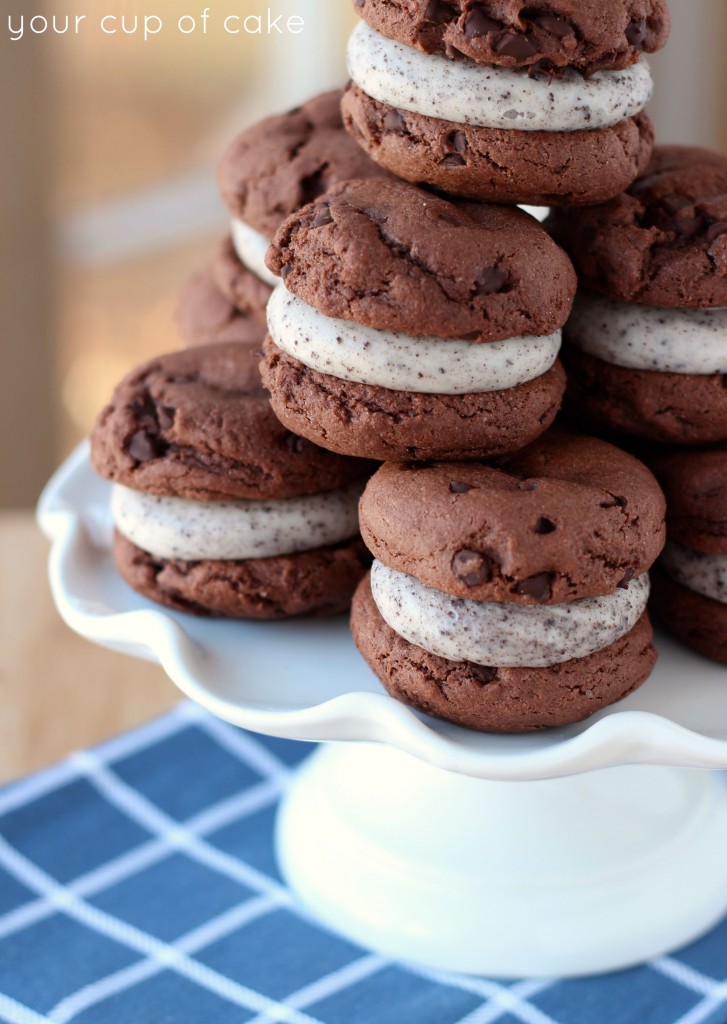 Ultimate Cake Mix Oreos, because Oreos are really the answer to any problem. So how did I make them even better? I gave them a cookies & cream filling and some mini chocolate chips!
I actually made whoopie pies for a wedding about a month ago and I was shocked how fast they went! The kids, the dads, the bridesmaids… everyone loved them! Plus, they're awesome because you can make them the day before and pop them in the fridge (in a tupperware) to set-up overnight! So you don't have to stress the day of the event about making treats 🙂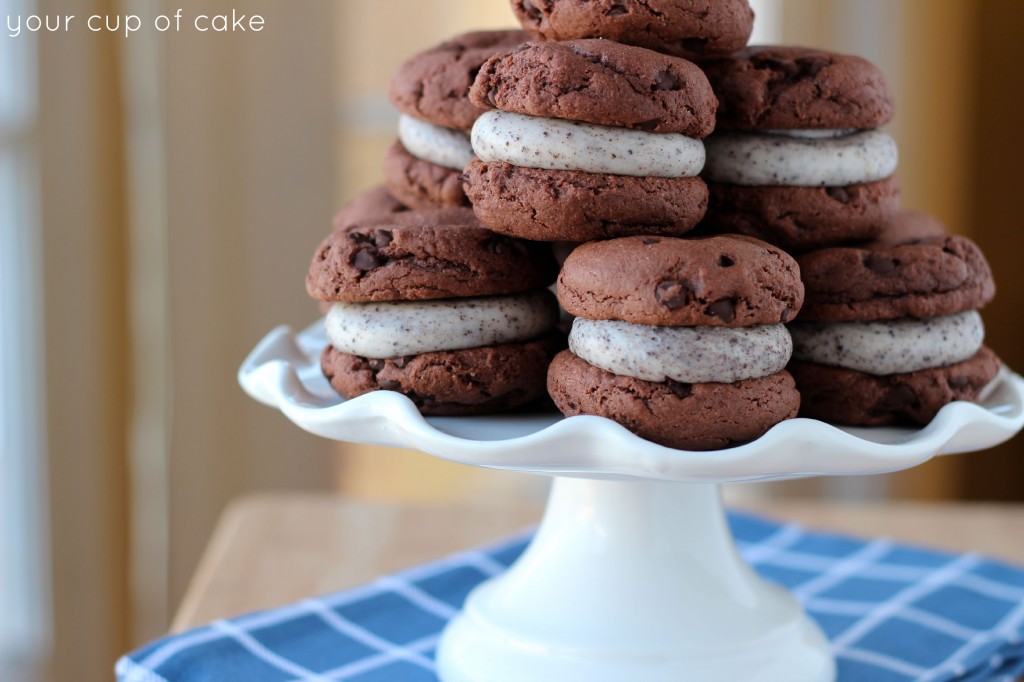 The Story:
My father is the hardest working and the funniest man I know. Great combo, right? Long nights, early mornings, no vacations, and tons of stress just so that he can give me everything I have ever dreamed of and more. And the "funny" parts of my dear father? Brace yourself for this.
He is a man who shuns technology. Does he have an iPhone? Yes, but only because his work makes him use it. Does he have my phone number saved in his phone? Of course not. It's safely written on a notecard kept in his front pocket. Does this man use GPS? Never. He just pulls out a huge map and charts out where he wants to go.
His wardrobe? I have never seen the man in jeans. But a blue button up shirt? Oh, this man has at least 17 in the same exact shade and style. He knows what he likes and he's sticking with it! And how many blue button ups do I have?
15.
Father like daughter.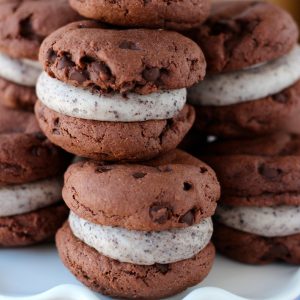 Ultimate Cake Mix Oreos
Ingredients
Cake Mix Cookies:
1

Box Devil's Food Cake Mix

I prefer the Pillsbury mixes

2

eggs

1/3

cup

oil

2

tablespoons

brown sugar

1

cup

mini chocolate chips
Oreo Filling:
6

oz.

cream cheese

6

tablespoons

butter

softened

2

teaspoons

vanilla extract

2-3

cups

powdered sugar

8

Oreos

finely crushed in a food processor
Instructions
1. Preheat oven to 350 degrees and line pans with parchment paper.

2. Combine cake mix, eggs, oil and brown sugar. Fold in mini chocolate chips. Batter will be thick.

3. Place small dough balls (about the size of 2 teaspoons) on cookie sheets 3 inches apart. Use your fingers to gently press the dough balls down to make them look like little "disks" rather than mounds of dough. Cake mix cookies tend to bake up tall, so we flatten them a little.

4. Bake for 6-9 minutes depending on how fudge-y or cake-y you want them to be.

5. Remove from pans and let cool.

6. Oreo Filling: Beat cream cheese and butter until smooth. Add vanilla extract and slowly add in powdered sugar until your reach your desired consistency. Fold in crushed Oreos. (I like to sift my crushed Oreos to make sure I don't accidentally put in a large chunk of cookie.)

7. Frost the bottoms of half the cookies, then take the unfrosted cookies and place them on top to "sandwich" them together!

NOTES:

Note: Place in a tupperware and let set in the fridge. This stiffens the filling so that when you bite into them, the frosting doesn't gush out the sides. They taste DIVINE after being in the fridge for at least 20 minutes
Mmm… Gorgeous and heavenly.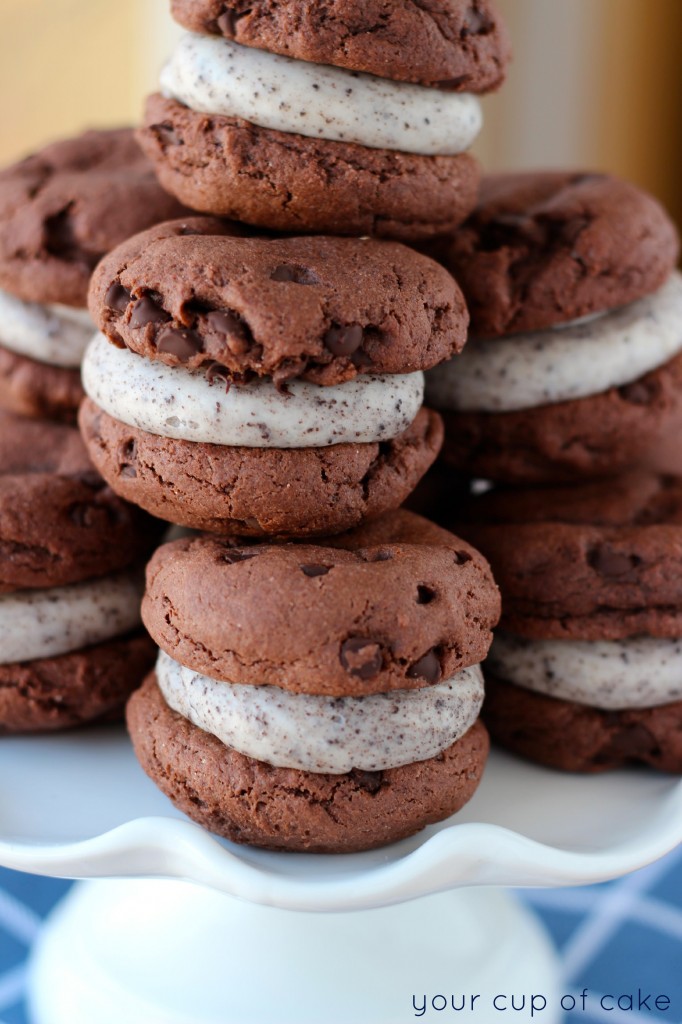 Some cake mixes, like Pillsbury (my favorite to use), bakes up really tall. So I have to pat the dough balls down just a bit before baking so that they don't bake up too high! You also can just bake them and then if they are too tall press them down right as they come out of the oven! (I stole these photos from my Original Home Made Oreo Recipe so they don't have chocolate chips in the cookie dough, but you get the idea…)

Happy Father's Day everyone!