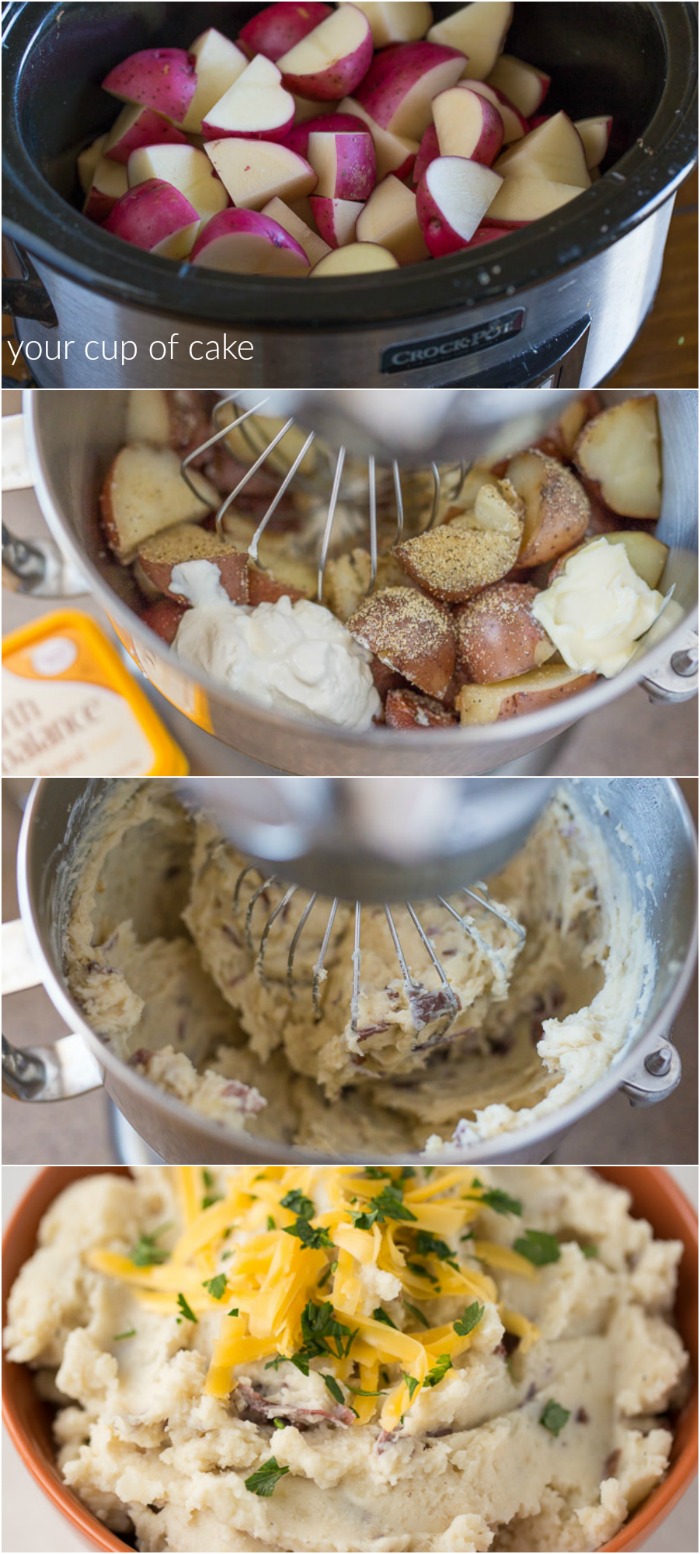 I made these potatoes and immediately thought, "I've been making mashed potatoes wrong my entire life." Why fill a huge pot of boiling water, keep checking the done-ness of the potatoes and then spend an eternity trying to mash them? No more. Slow Cooker Mashed Potatoes are the way to go and even better than that is how I mashed them!
Chop your potatoes into about 2-inch pieces (I quartered mine and cut some into 6ths) and throw them into your slow cooker. Yes, you can peel them first but I prefer the skins on to add a little texture and color. After a few hours (see recipe) they'll be done and ready for seasoning! Just add all the flavors and then WHIP…whip it good! You can do this with a hand mixer but I just threw mine in my stand mixer. I flipped the switch and sat back in amazement. Making mashed potatoes was always a work out when I was little. I would sit at the counter and stab the potatoes with the masher and then try and convince my brother that he wanted to do it for me…
You can whip your potatoes as long as you want. Some people like them a little chunky and other people like them silky smooth. My brother prefers them with no skins and perfectly smooth… he throws a tantrum if I even mentioning keeping the skins on, and he's 29.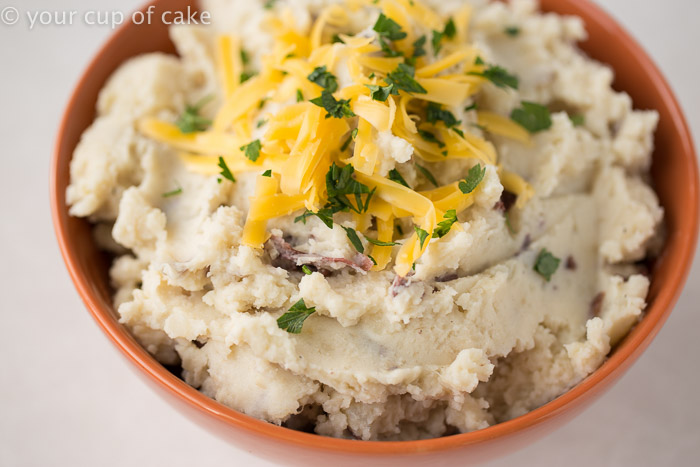 This game changing recipe came to be because of a partnership with Earth Balance. I swapped the butter in this recipe out for Earth Balance–they challenged me to take a traditional recipe and swap in Earth Balance and see if anyone could tell the difference and no one could! I took these to my extended family down the road and everyone devoured them! I sprinkled some cheese and herbs on top to give a little kick. Earth Balance in a dairy substitute and can be used in place of butter. A lot of people are trying to eat less dairy these days and this is a great way to do it! Earth Balance even did a study about how people can't tell the difference between this spread and butter. So try buttering your rolls this year with Earth Balance!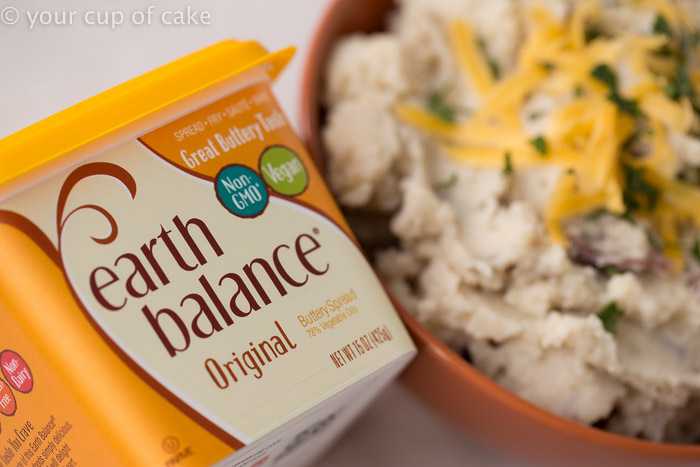 If you wan't more inspiration with how to use Earth Balance in your baking, check out this video of making corn bread! It would be great for your corn bread stuffing this Thanksgiving!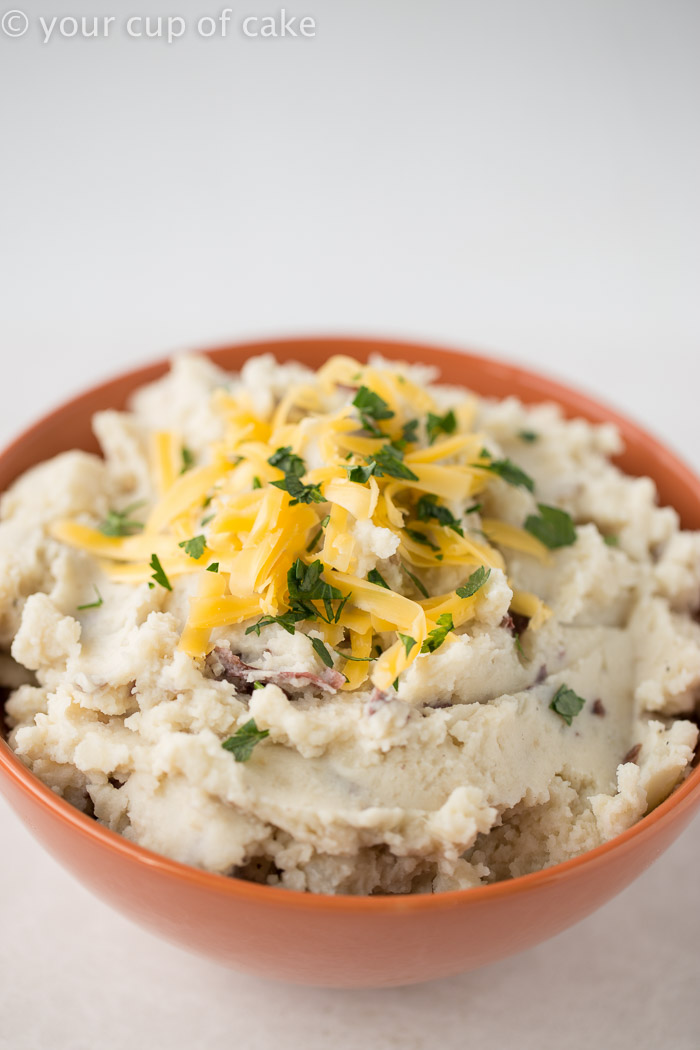 Slow Cooker Mashed Potatoes
Ingredients
4

lbs.

Red Potatoes

1

Tbsp.

Salt

4

Tbsp.

Earth Balance

3

Tbsp.

Sour Cream

1/3

C.

Heavy Cream or Milk

Ground Pepper and garlic to taste
Instructions
1. Wash potatoes (and peel if desired). Cut into 2 inch pieces, I quartered the small ones and chopped the others into 6ths.

2. Spray the inside of your slow cooker and dump in potatoes. Cook on high for 3-3.5 hours. (If you half the recipe it will only take 2-3 hours.)

3. Once potatoes are soft dump into a standing mixer or large mixing bowl if you're using a hand mixer and add salt, Earth Balance, sour cream, heavy cream, pepper and garlic. Whip until you reach your desired consistency. You can also add parmesan cheese!
Recipe Notes
Russet Potatoes don't do all that well in a slow cooker, so stick with red for this recipe!
This is a sponsored conversation written by me on behalf of Earth Balance. The opinions and text are all mine.