Super simple, super cheesy, super tasty 4 Ingredient Queso Dip that is perfect for every party and won't let you down! This Queso recipe will be your new favorite!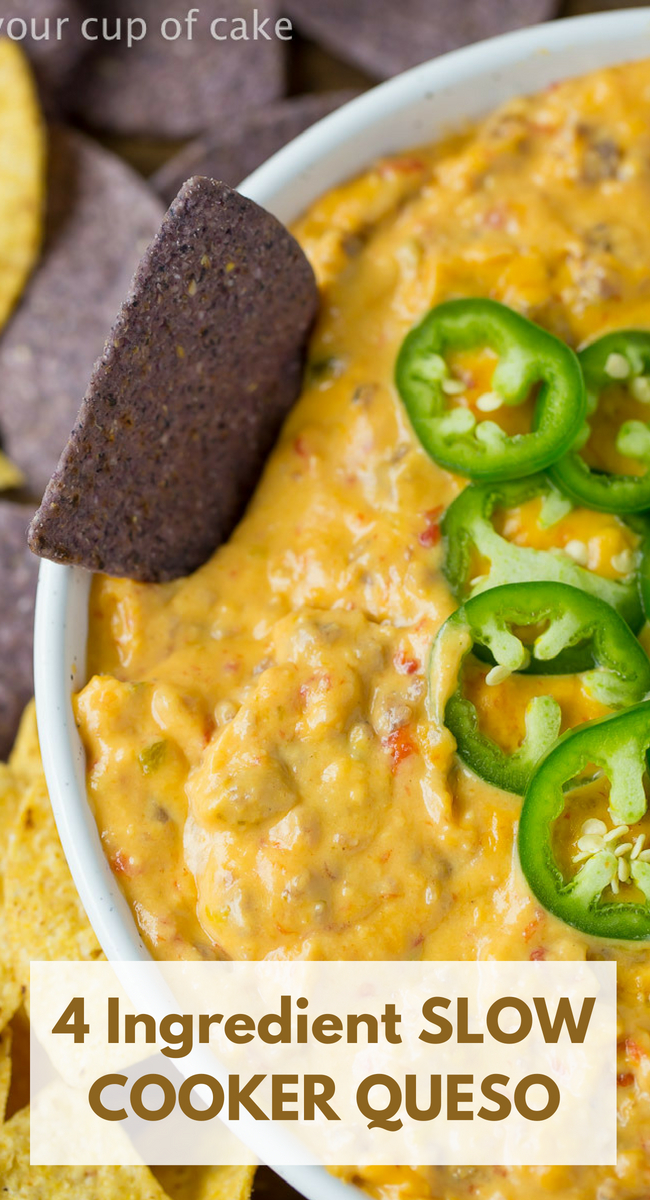 4 Ingredient Queso Dip Recipe
It's hard to beat good queso when it comes to dips. I went to a party the other week and was strapped for time to whip up something tasty to bring so I turned to my old reliable recipe, this 4 Ingredient Queso Dip. Sure enough, everyone loved it and it seemed like it got swarmed the second I set it down. Whatever the occasion, this queso will hit the spot and take care of your cheesy cravings day and night. From football watching parties to Bachelor watching girl's nights, your friends will be shocked when you tell them how easy it was to make this dip. Or if you're anything like my husband you'll find yourself pulling out the slow cooker on a random weekday night to get your queso fix.
Queso Dip Easy as 1-2-3
If you want to get into the science of quesos, dips, or other sauces you can talk to my husband. He has a cookbook called The Encyclopedia of Sauces for heaven's sake! But if you're like me and just want something simple and easy then look no further. No need for a roux, no need for expensive cheeses. Grab these 4 ingredients and get them in a slow cooker and you're basically done.
The ULTIMATE Queso Dip
Quick and simple recipe prep in less than 10 minutes! The only reason it takes 10 minutes to prep is because that's about how long it will take to brown the pork, otherwise, it is even faster. I picked up some Jimmy Dean Hot Pork Sausage that you would normally use for breakfast sausage. Don't be alarmed if spicy foods aren't really your thing, it's not very spicy and brings more flavor to the queso, but you can always opt for non-spicy sausage. Brown the sausage in a pan like you normally would do for ground beef, drain it and add it into the mix of goodness. I decided to go with the jalapeños for a little extra kick but the dip is still amazing if you don't want to add the jalapeños. Bust out your favorite bag of tortilla chips and watch this 4 Ingredient Queso Dip disappear at your next party!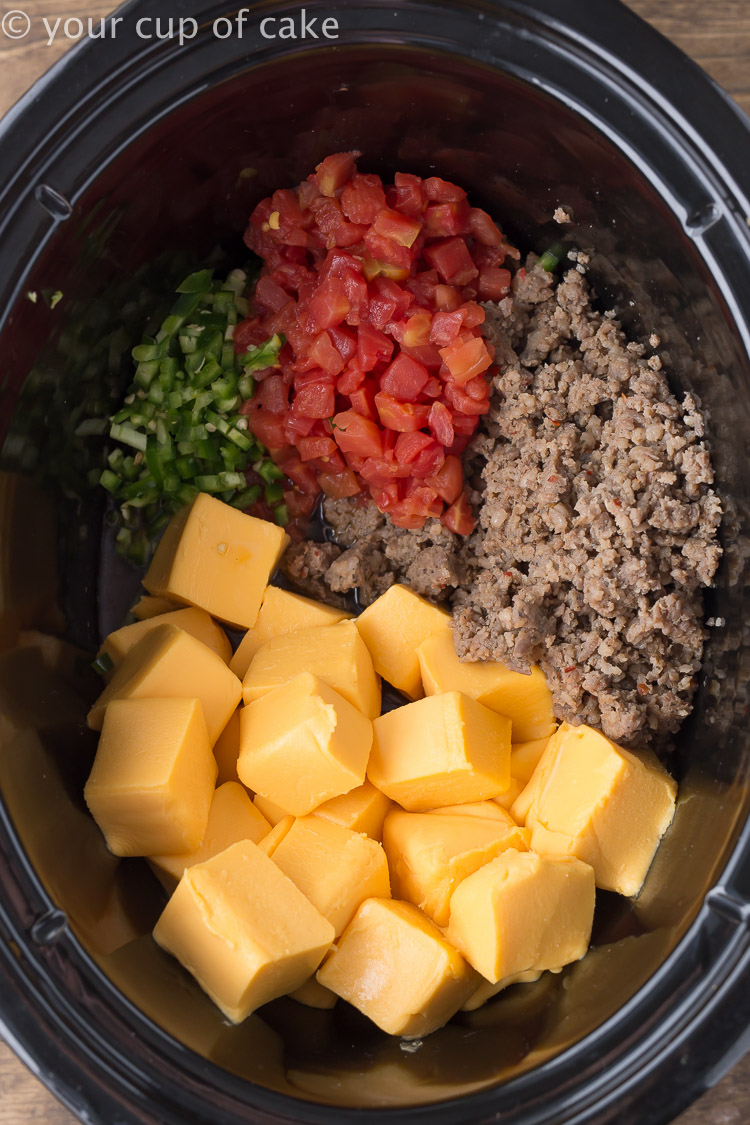 Slow Cooker Queso Dip
Like I said, I was running around doing errands before a party and didn't have too much time to babysit something on the stove. I just dumped the ingredients for this 4 Ingredient Queso Dip into the slow cooker, set it on high, and finished up the rest of my to-do list. Just be sure to stir it occasionally so the bottom and sides don't burn. If you are in a time crunch and need your queso fast just dump everything in a microwave-safe dish and microwave it in 1-minute increments stirring between each until the cheese is melted. Either way will work and taste great! My husband will make small batches of this for himself late at night so he'll just use the microwave!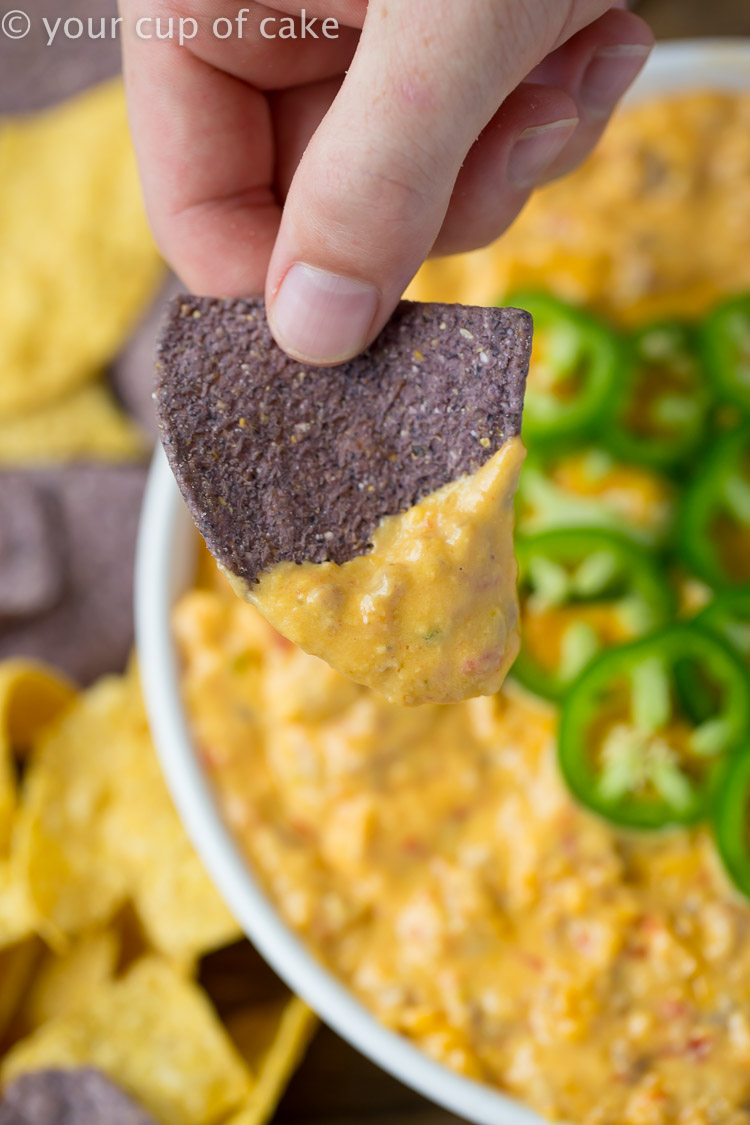 Queso Cooking Tip: Sometimes the dip can separate if it cooks for too long, just give it a stir and it will come back together! No need to panic!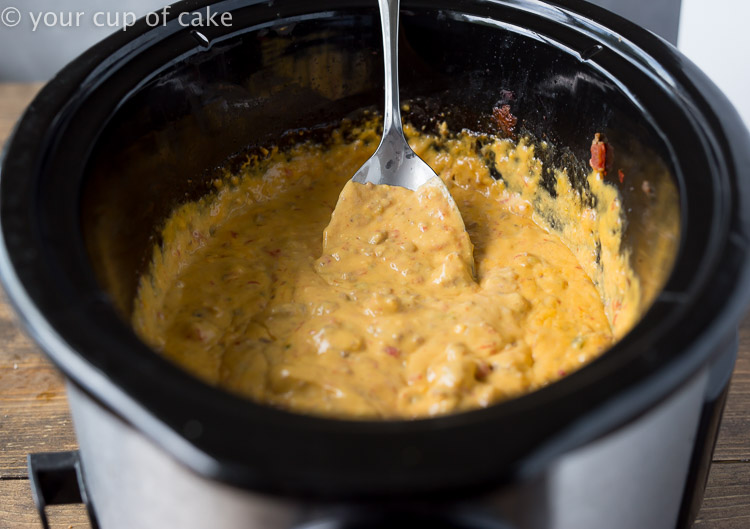 I hope you love this 4 Ingredient Queso Dip as much as we do!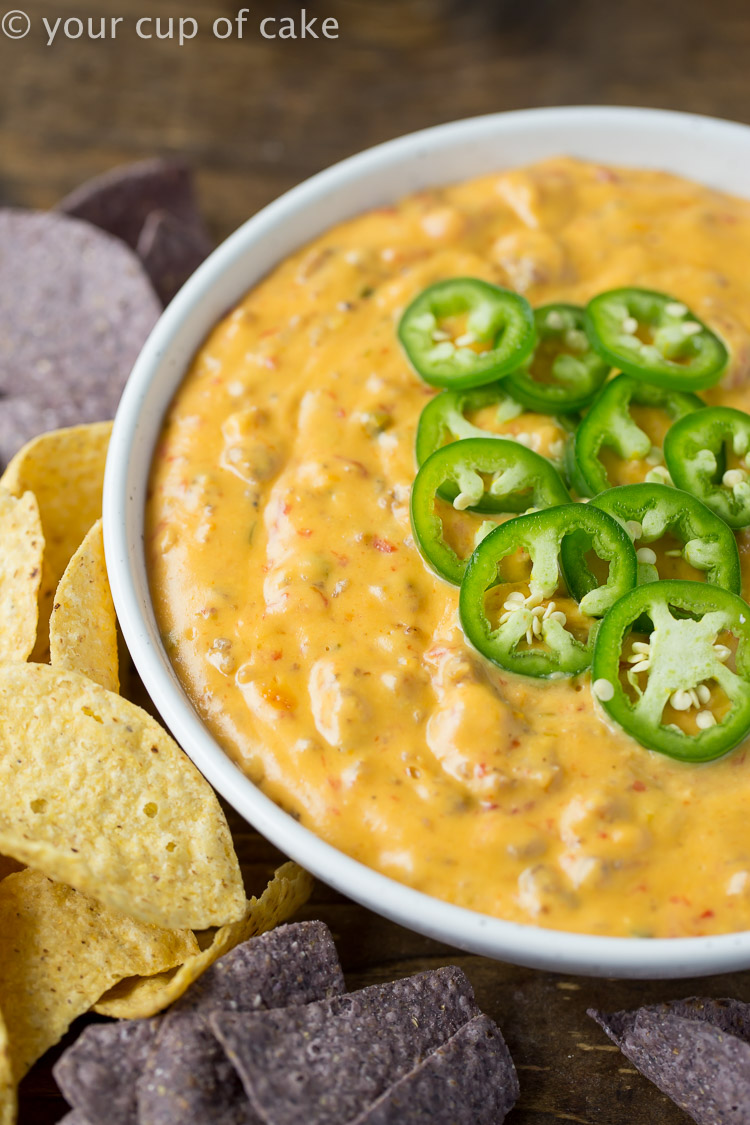 If you like simple dip recipes check out my Cheesy Buffalo Chicken Dip recipe because it is a fan favorite!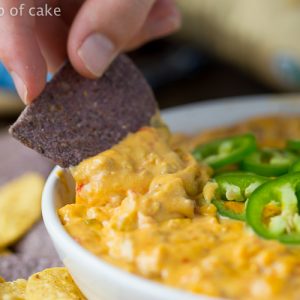 4 Ingredient Queso Dip
Ingredients
1

16 oz. package

Velveeta cheese

cut in 1 inch cubes

2

cans

Rotel Original Tomatoes and Chilies

undrained

1

16 oz. package

hot breakfast sausage

cooked and drained

2

jalapeños, seeded and diced

optional
Instructions
Combine all ingredients in a slow cooker and set to high.

Cook for 1-2 hours on high or until cheese is melted. Stir occasionally.

Transfer to a bowl and serve with tortilla chips.