One of my favorite pumpkin desserts are these Amazing Pumpkin Snickerdoodles! An easy fall twist on a classic cookie recipe everyone goes crazy for!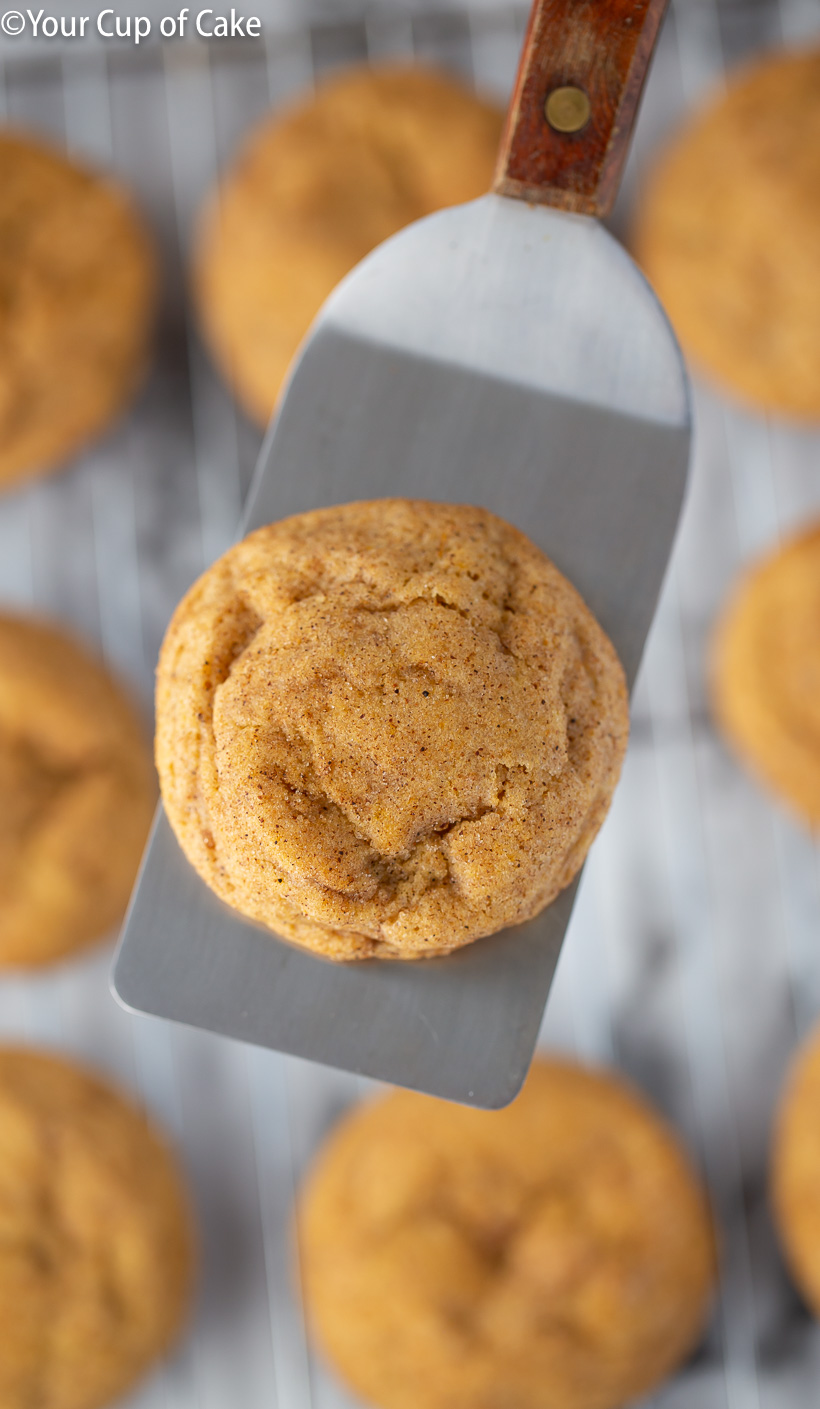 Amazing Pumpkin Snickerdoodles are the Best Pumpkin Cookies
Fall is here! Well okay, okay it's still pretty toasty outside but pumpkin everything is hitting the stores. So of course my kitchen is smelling like pumpkin spice. I'm just counting down the days until I can bust out my favorite fall candle and all my Halloween decorations. But for now, I'll just munch on these AMAZING Pumpkin Snickerdoodles. They have the classic cream of tartar taste associated with snickerdoodles but the pumpkin spice just makes them incredible.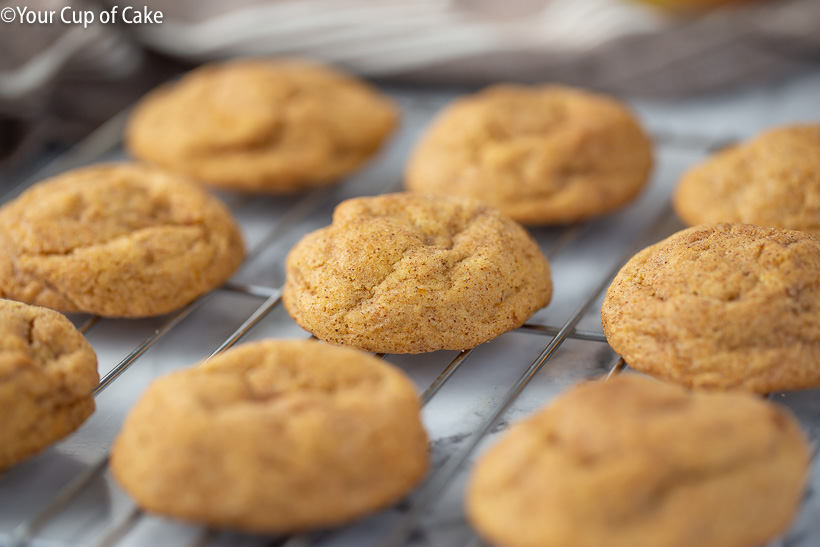 How to keep your cookies tall and thick
How do you keep your cookies thick after baking? This is the secret you need! There are two parts to this bakery secret. One, you need to chill your dough. I know, I know… lame. You want cookies NOW! But be patient, it will be worth it. Chill this dough for at least 45 minutes but I prefer 2 hours. Two, make your dough balls TALL! I'll use my favorite cookie scoop (either the black or purple handled one) and them after rolling in the cinnamon sugar I will give it a little squeeze and make the dough ball tall like the photo below! As the cookies bake, they will spread but leave a lot of dough in the middle so your cookies will stay thick! You can use this trick with any of your cookie recipes to make them bakery perfect.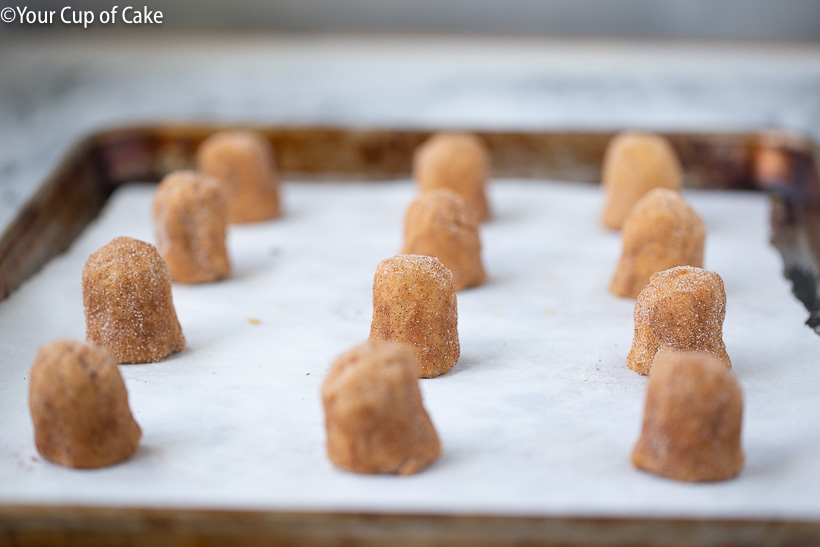 The Ultimate Pumpkin Cookies are Pumpkin Snickerdoodles
How pretty are these cookies? I promise they taste even better than they look! The little crunch of the cinnamon sugar on the outside of these pumpkin snickerdoodles is just magical. Tip: Sometimes I like to under-bake my cookies a bit, but you'll want to make sure you cook these the full time. They will keep their height better and you really don't want pumpkin desserts to be underdone.
My Most Popular Blog Post EVER.
Did you know my most popular recipe on the blog is a pumpkin dessert? In the post I also write about this one time when I got totally dumped by a stupid boy, haha! My husband is very happy about that boy dumping me 5 years ago because it help to make that post such a big success! Now it helps to put him through school, woot woot!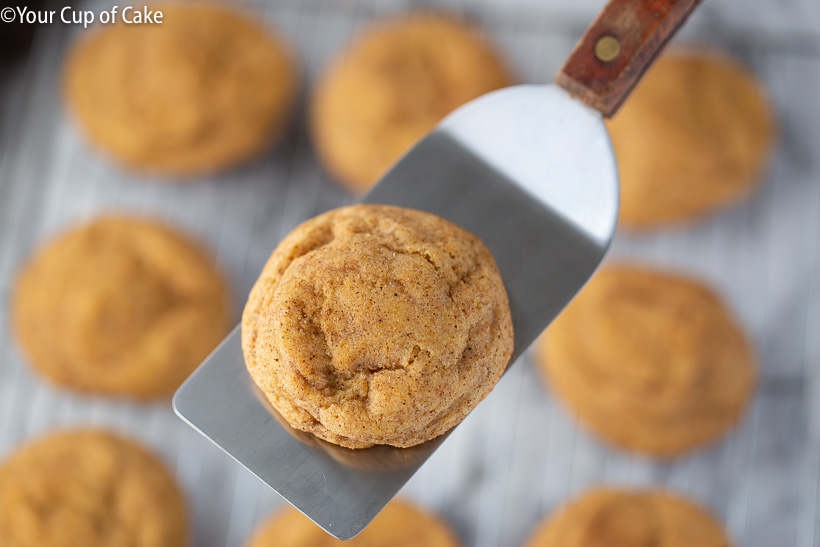 I don't know about you but I am so excited about fall! It's the start of all the fun holidays and with baby Stella I am just even more excited about it! Parker is in school all day long and so it's just her and me all day playing peek-a-boo and making messes in the kitchen.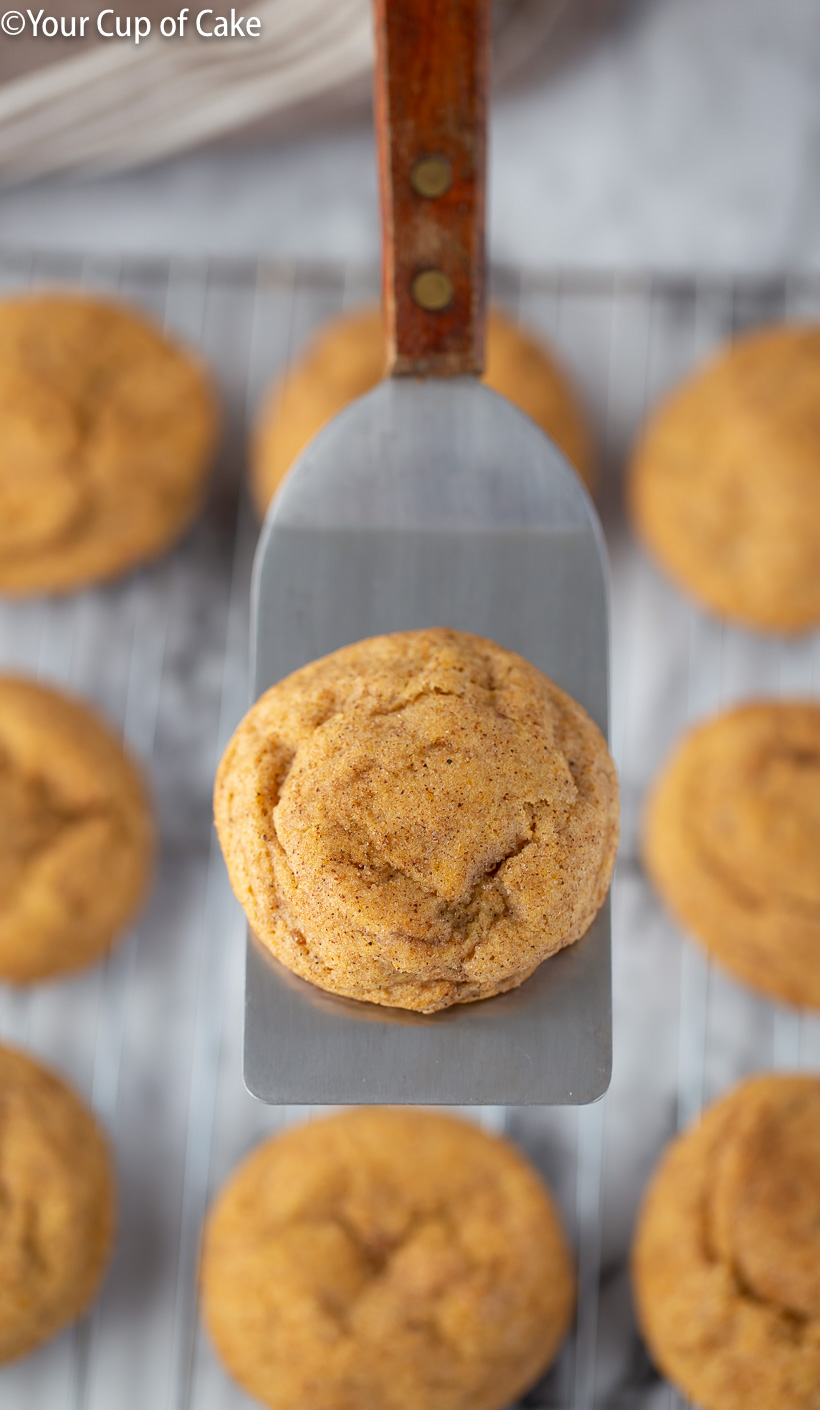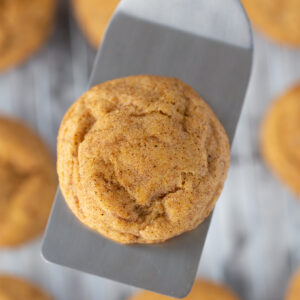 Pumpkin Snickerdoodles
One of my favorite pumpkin desserts are these Amazing Pumpkin Snickerdoodles! An easy fall twist on a classic cookie recipe everyone loves!
Ingredients
1/2

cup

unsalted butter

partially melted

1/2

cup

sugar

1/3

cup

brown sugar

packed

1/4

cup

pumpkin puree

1

large egg yolk

room temperature

3/4

teaspoon

vanilla extract

1 1/2

cups

flour

2

teaspoons

pumpkin pie spice

1/2

teaspoon

baking soda

1/2

teaspoon

cream of tartar

1/2

teaspoon

salt
Cinnamon Sugar Coating
1/4

cup

sugar

2

teaspoons

ground cinnamon
Instructions
Cream together butter, sugar and brown sugar for at least 3 minutes. Add pumpkin and beat again.

Add egg yolk and vanilla extract and beat again.

In a separate bowl, whisk together flour, pumpkin pie spice, baking soda, cream of tartar and salt. Slowly add dry ingredients to wet ingredients. Don't over mix.

Chill your dough for at least 45 minutes! You can make dough balls BEFORE or AFTER chilling. Make dough balls just smaller than a golf ball in size and coat them the cinnamon sugar topping. Squeeze the dough balls to be slightly taller than they are wide (see photo above) to ensure your cookies bake up nice and thick.

Preheat oven to 350 degrees and then bake on cookie sheets covered with parchment paper. Bake for 10-12 minutes. Enjoy!
Recipe Notes
Only partially melt your butter! If you accidentally totally melt it that's fine, but I prefer when there's still some of the butter that keeps it's soft shape.