Thick, creamy chocolate pudding with an Oreo crust and piled high with whipped cream. This is the Best Ever Chocolate Cream Pie! Sure to wow every guest this Thanksgiving and every holiday season!
The Best Thanksgiving Pies
It feels like pie week since I just barely posted my Brown Butter Pecan Pie recipe too! The truth is, pie really is one of my all-time favorite desserts but it can be tricky to get photos because of the cooling process before cutting so that's why it takes me a while to post them. Plus, by the time it's baked and cooled I just want to eat it! I have been making this pie non-stop for about 2 1/2 years. My husband is obsessed with pecan pie and chocolate pie. When we got married I didn't have incredible recipes for either so I knew I needed to do some major recipe testing! This is the Best Ever Chocolate Cream Pie! One of the best parts about it is you can tweak the chocolate intensity based on what chocolate bars you put into it. But more on that later. Let's take a closer look at this dreamy pie.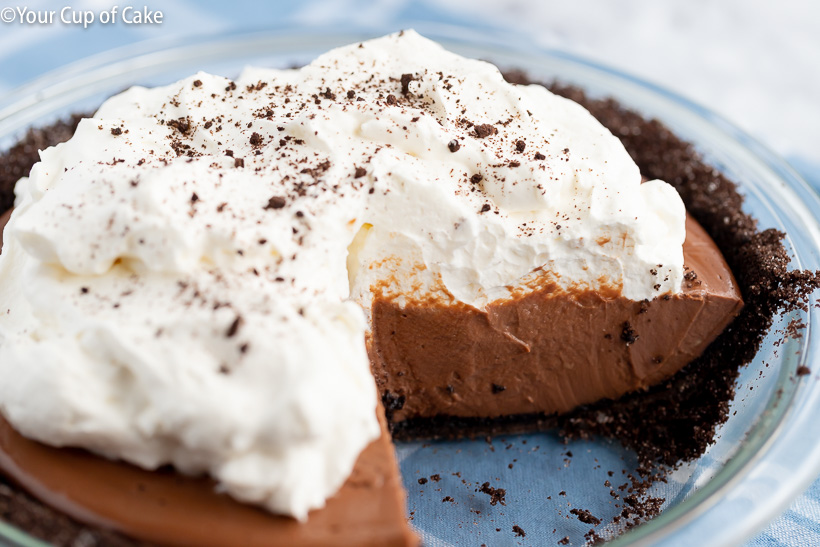 I have tried way too many chocolate pies in (the nearly) 5 years I've been married. I've been on a quest to making the perfect chocolate pudding pie! I've had pies with weird gelatinous textures, pies that lack enough chocolate to make it taste decadent, and some that are too loose to cut a pretty slice and never quite have the right texture. But this recipe is perfection.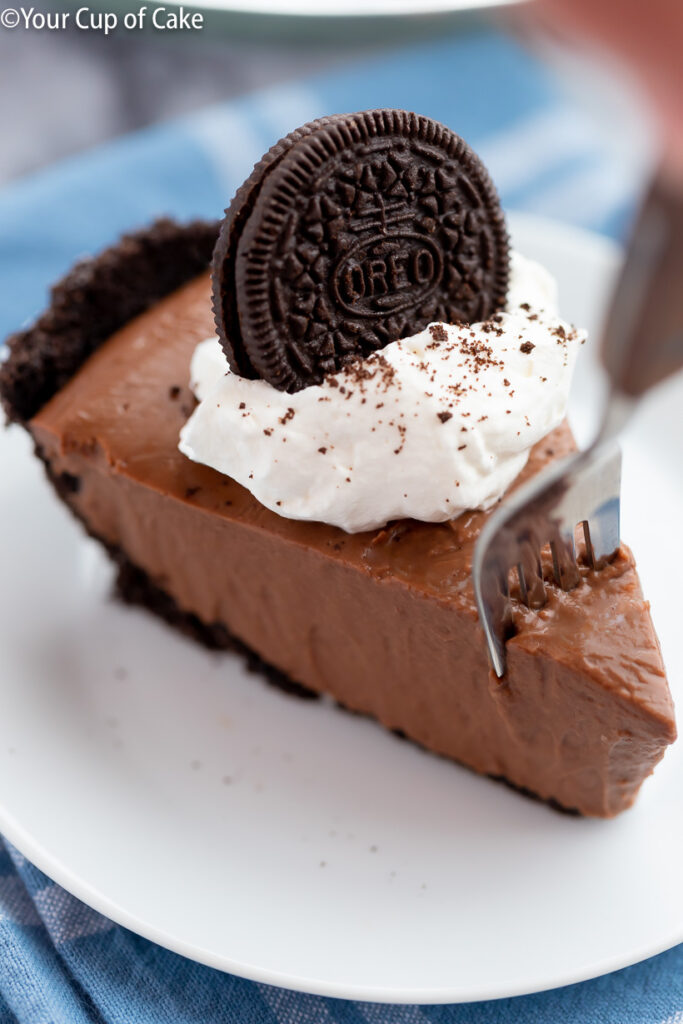 Best Ever Chocolate Cream Pie Recipe
Okay, back to the chocolate! Too many recipes out there call for chocolate chips in chocolate pie filling. Don't do it. I know it's easier because you usually have those on hand but chocolate chips aren't pure chocolate and are lower quality than baking bars. Ghirardelli is really my go-to for this recipe and they are at every grocery store I've ever been to, so they should't be difficult to find! I made my recipe with all semi-sweet chocolate but if you're a big fan of dark chocolate you can substitute some of it for bittersweet or unsweetened. Use good chocolate and you'll get incredible chocolate flavor in this pie! I know some recipes call for cocoa powder and I have tried many of those recipes but they just cant compete with using chocolate bars. This is the way to go.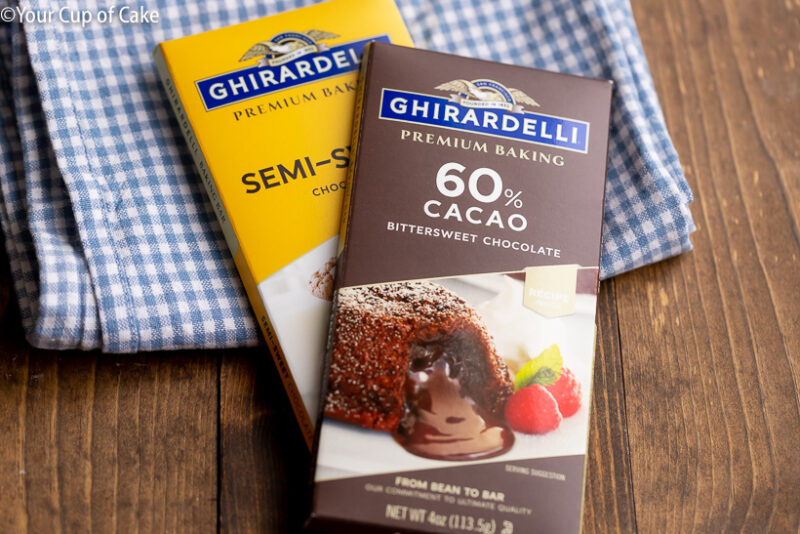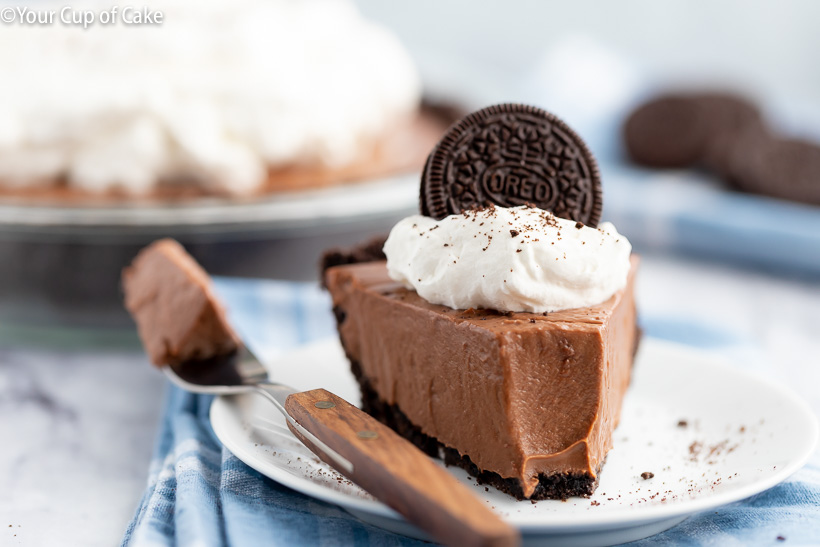 How to keep your pudding from forming a skin
After you cook your pudding and pour it into the crust, immediately place plastic wrap on top of it. It seems silly and very wrong, but trust me it's a magical trick. You'll see mine is not done very smooth, I blame my 2-year-old tugging on my leg for that haha!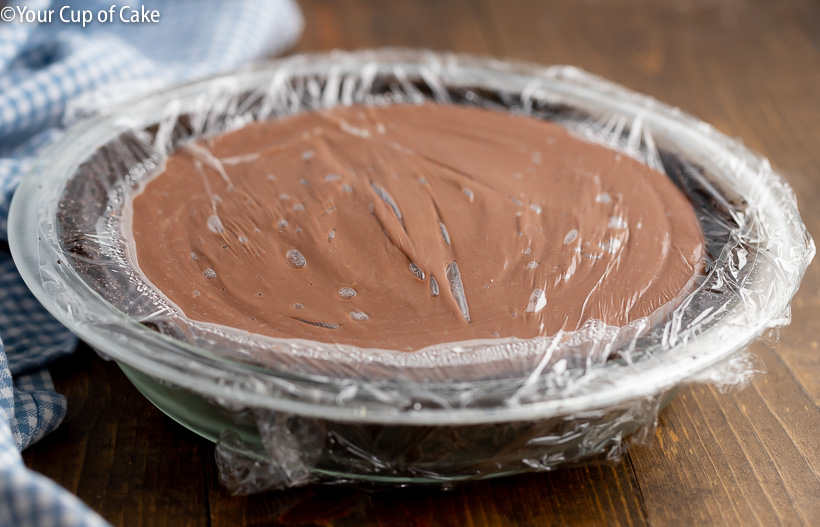 How to cut the perfect slice of chocolate pudding pie
Great pie recipes shouldn't be too tricky to cut pretty slices. You'll want to make sure you've refrigerated the pie long enough for it to really be cool. I like to make this pie either the night before or the morning of my party. After that all you'll need is a sharp knife and a pie server to pull out the slice and you'll be set! As will all pies, the first slice is usually the most difficult to get out, and then it's smooth sailing after that!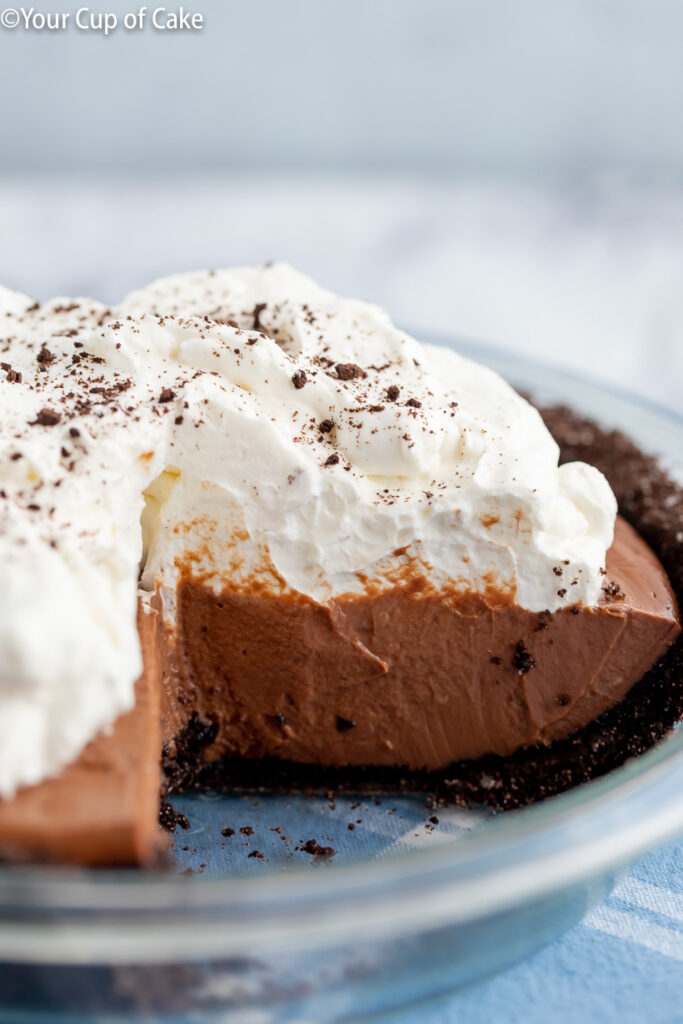 The key to perfect pudding texture
The key to making the pudding with the best texture is what you use to thicken your pudding AND the temperature you cook it at. Some recipes call for way too much cornstarch which leaves you with more of a chocolate jello than a pudding. Egg yolks are also used to give pudding a silky texture and provide it with body. The key is to have the right balance between the two. You also don't want to crank up the heat on the stove! Be patient, the pudding will thicken quickly but it does take a few minutes to make it happen. Keep stirring and wait.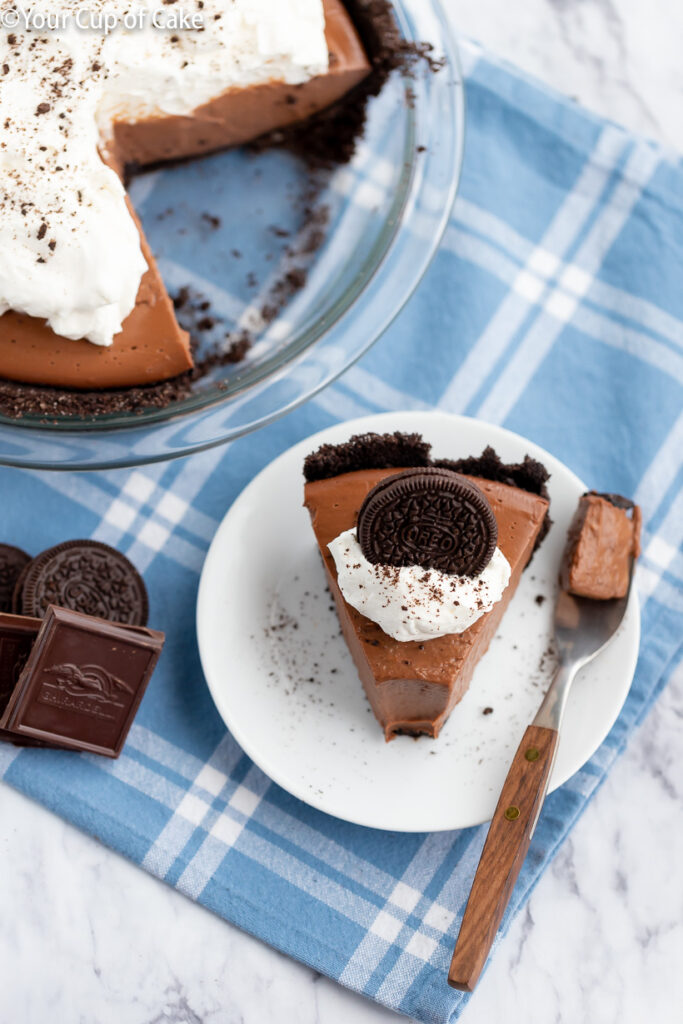 The Perfect Oreo Cookie Crust
Yes, you can make an Oreo pie crust without baking it! I have done it many times. You can use this recipe but just omit the sugar. But I always prefer baking mine because it makes the crust crispy and not just crumbly. When you bake this crust the sugar melts and helps bond the cookie pieces together. When you do a no-bake version of the crust, it's just sort of makes a cookie layer. BUT a fun twist on this recipe would be to use a graham cracker crust and top it which marshmallow cream for a s'mores pie!
As you can see, my slice had a dollop of whipped cream but the pie is piled high with whipped cream! When I serve it to my family I always just cover the whole pie with whipped cream. It's easy to do and easy to serve this way. You can make chocolate shavings to top the whipped cream or sprinkle Oreo cookie crumbs over it like I did. In the summer when I make this Best Ever Chocolate Cream Pie I like to top it with strawberries or raspberries.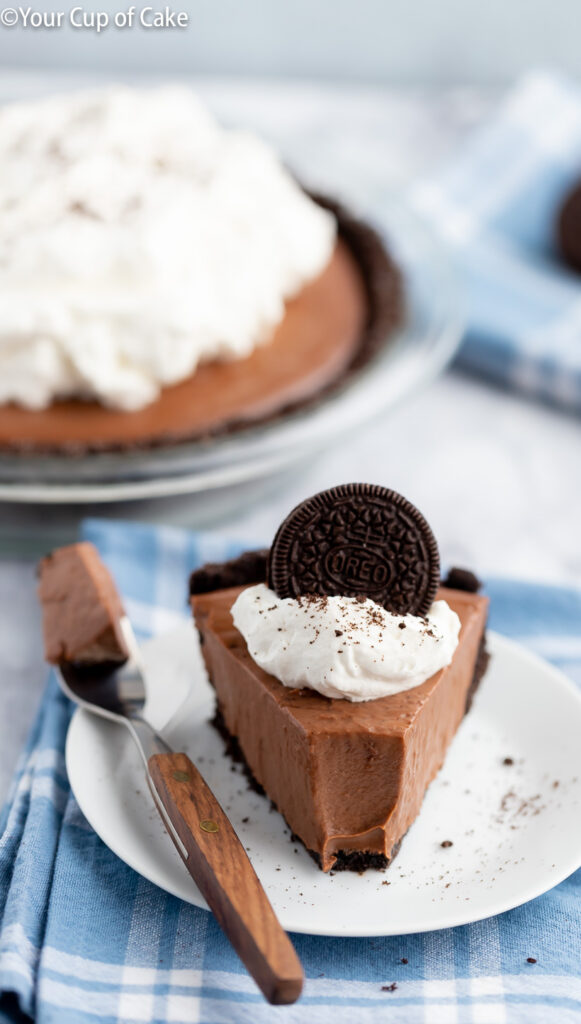 I hope you all are getting ready to have your best Thanksgiving yet! We are doing Thanksgiving small this year. Just me, my husband and two kiddos. Because my husbands is in school it's just too tricky to try to get away for short weekends. But we will still be cooking for 15 so we can have LOTS of leftovers! If you make this Best Ever Chocolate Cream pie, let me know!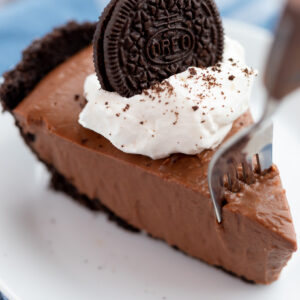 Best Ever Chocolate Cream Pie
Rich, homemade chocolate pudding with a crispy Oreo crust and whipped cream topping. This pie is perfect for every holiday and every day in between.
Ingredients
Oreo Crust
30

Oreo cookies

5

Tablespoons

unsalted butter

melted

1/3

cup

sugar
Homemade Chocolate Pudding
5

egg yolks

large

3

cups

whole milk

2/3

cup

sugar

1/4

cup

cornstarch

1/2

teaspoon

salt

7

ounces

semisweet* chocolate, chopped

I prefer Ghirardelli, see note

2

Tablespoons

butter

room temperature

1

teaspoon

vanilla extract
Whipped Cream
1/2

pint

heavy whipping cream

cold

1/4

cup

powdered sugar

less if you like your topping less sweet

1

teaspoon

vanilla extract

1/2

teaspoon

unflavored gelatin or vanilla pudding mix

optional BUT magical ingredient to keep your whipped cream from "melting" or weeping
Instructions
Oreo Crust
Preheat oven to 375 degrees.

Split Oreo cookies, remove and discard cream filling.

Place Oreos in a food processor or high powered blender and finely crush.

Melt butter in a medium bowl in the microwave, then add crushed Oreo cookies and sugar and mix until combined.

Dump into pie pan and firmly press flat and up all the sides.

Bake for 10-15 minutes or until crisp. Let cool while you make the pudding.
Homemade Chocolate Pudding
Add egg yolks and milk to a small bowl and whisk together.

In a medium-large saucepan add sugar, cornstarch and salt, stir together and then whisk in egg-milk mixture.

Place over medium heat and stir constantly until the mixture starts to bubble and thicken (about 8 minutes). Then decrease heat and let cook for one more minute.

Remove from heat and add chocolate, butter and vanilla extract. Whisk until smooth and then pour into Oreo pie crust.

Immediately cover pudding with plastic wrap. Let the plastic fall directly on the pudding, this will keep the pudding from forming a "skin" on top. Chill pie overnight or at least 8 hours.
Whipped Cream Topping
Combine all ingredients in a stand mixer and use the whisk attachment to beat until stiff peaks form.

Generously top your chilled pie!
Recipe Notes
You can substitute all or some for bittersweet or unsweetened chocolate if you are a dark chocolate lover!