The most decadent, flavorful and delicious pecan pie you have ever had! This Brown Butter Pecan Pie is going to WOW every guest this Thanksgiving and have everyone begging you for the recipe!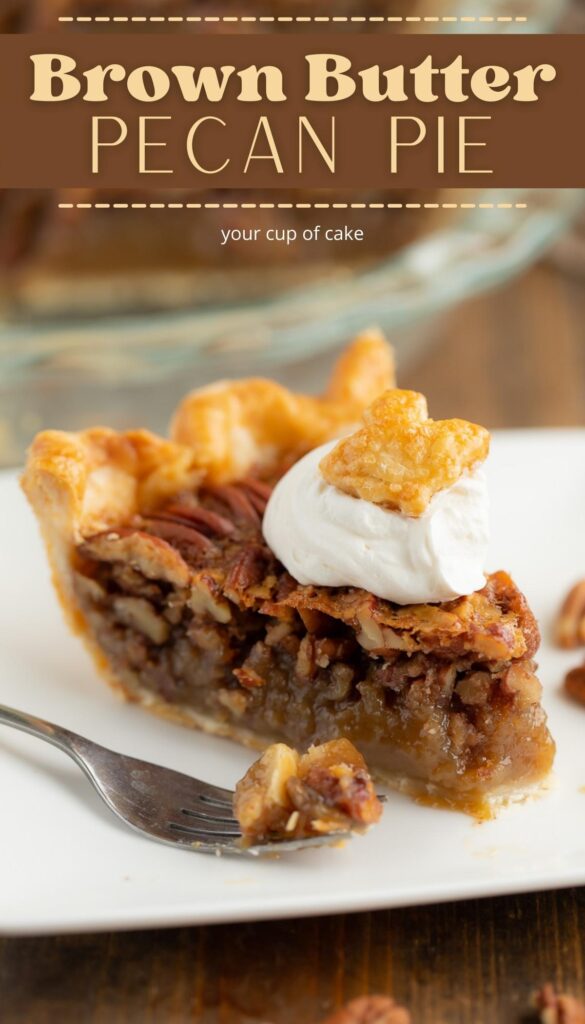 Brown Butter Pecan Pie Recipe
It's been a while. I haven't posted anything in a long time because… I had a baby! Head to my instagram post about our new baby boy for a little more about that and my endless struggles with pregnancy. But he is finally starting to sleep more at night so that means I have time to post again! There are about 10 recipes floating around my home that I make again and again and I am going to do my best to get them up here soon! I started this little site 10 years ago because I wanted a place to save my recipes and I'm trying to get back to that sentiment. No more trying to guess what's popular or going to be the next big trend. More of just what I bake and make over and over again because I love it. Now on to this Brown Butter Pecan Pie…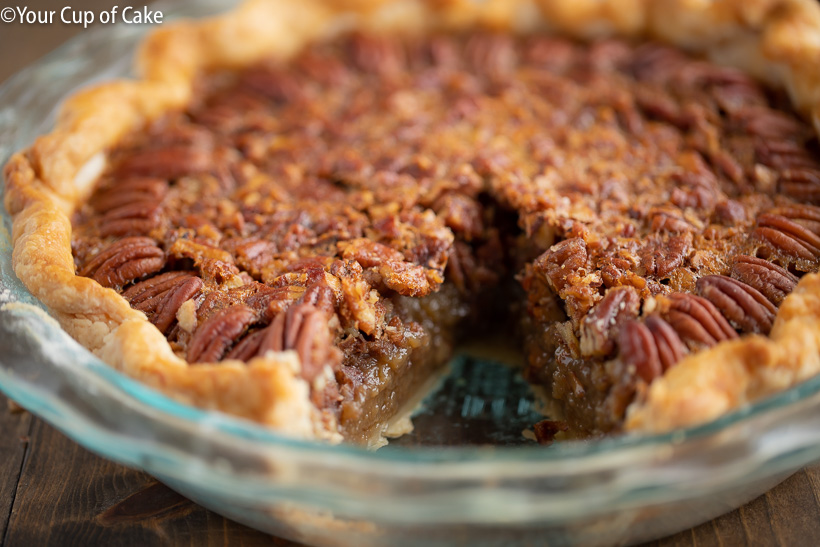 Look at those delicious layers… Perfectly gooey and crunchy from the toasted pecans. The texture of this pie is perfect!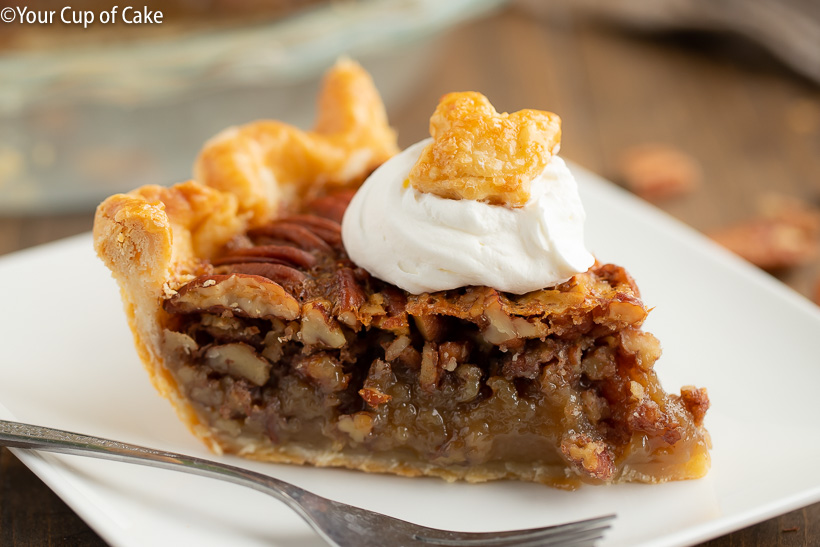 The Best Pecan Pie recipe for Thanksgiving
Pecan pie. My husband loves pecan pie. When we got married I didn't quite understand how deep his love for it went but it only took me one Thanksgiving to find out! But me? Well I never grew up eating it and it was never on our Thanksgiving table. My family was all about apple and pumpkin pie. But I knew I needed to hunt down and tinker with recipes until I made the best one my husband has ever had. And I did it! We have been making this classic recipe for about 2 years now and he can't get enough. Honestly, I'm in love with it too. I think I never liked pecan pie before because I was trying terrible store-bought ones. Homemade pecan pie is a sweet, gooey, crunchy dream. Top it off with some whipped cream or vanilla ice cream and you'll float off to food heaven.
Looking for more Thanksgiving recipes? Check out my Thanksgiving page and find my all time favorite roll recipe!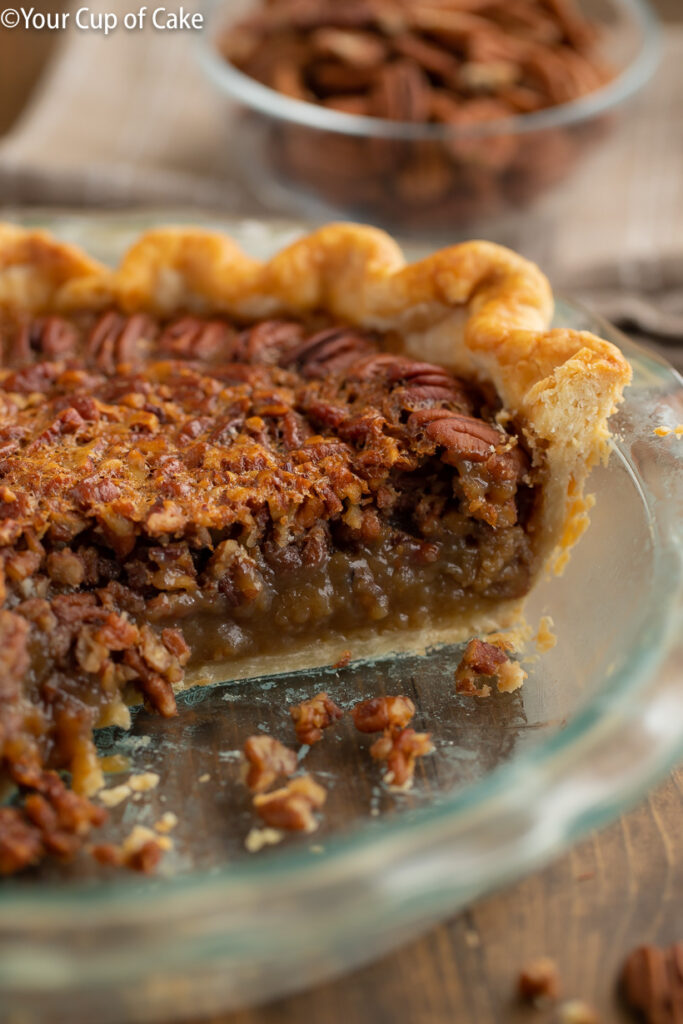 Easy Pecan Pie Recipe
This Brown Butter Pecan Pie recipe is easy to make. But it does take some time. The two extra things I do to make this pie over the top amazing are very simple, just take and extra step. But believe me, it is worth it! I have had family members bugging me all week to post this recipe because they want to make it for their Thanksgiving. So trust me, the extra steps are worth it!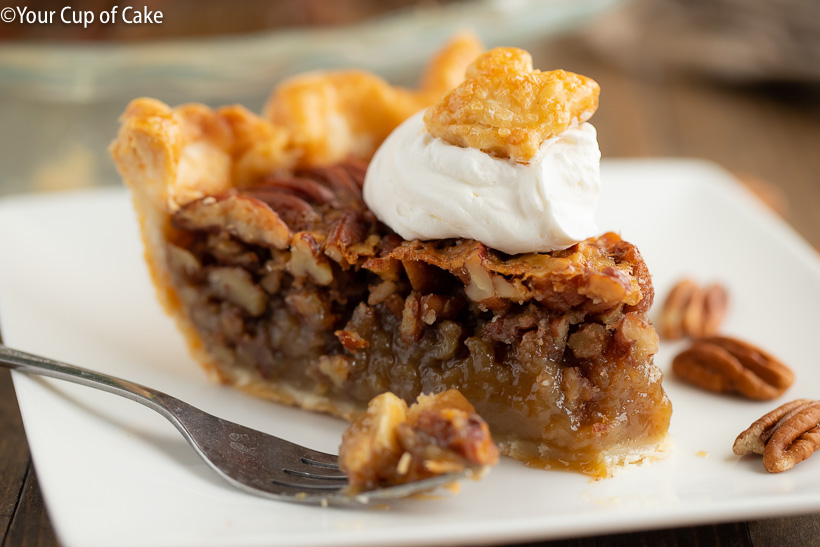 How to make the BEST Pecan Pie this Thanksgiving
Even if you don't want to use my Brown Butter Pecan Pie recipe for your Thanksgiving this year, you can still implement the two big things I do to make this recipe amazing. You can toast your pecans to before you add them to the filling and you can brown the melted butter you use. I totally understand when people have family recipes they want to keep using, but you can make them better with little changes to the baking methods.
Here's what my brown butter looks like! I can't even tell you how amazing it smells…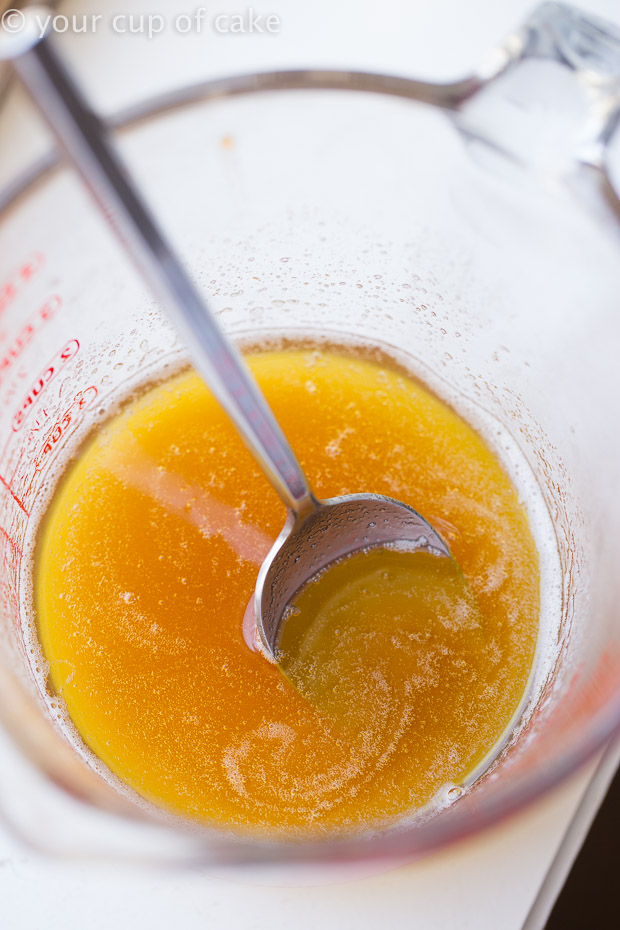 Flakey Pie Crust Secrets
The pie crust dilemma. We all hate having to pull out that food processor and make pie dough but it is worth it and after you go through all the effort of making pie you shouldn't skimp on the crust! I have made box mix crust but it just doesn't do pie any justice. You'll notice I only have the filling recipe listed here and that's because I have a separate post for my Flakey Butter Pie Crust! I wanted to include several pie crust tips so it deserved its own space with lots of photos. It comes together super fast but does take some time in the fridge. The best part? (Besides how incredibly flakey it is…) You can make it long before Thanksgiving and then pull it out when you'll ready to bake your pie! So grab a friend and make your pie crusts NOW and then you'll have one less thing to do for your big meal!
My FAVORITE and insanely flaky pie crust recipe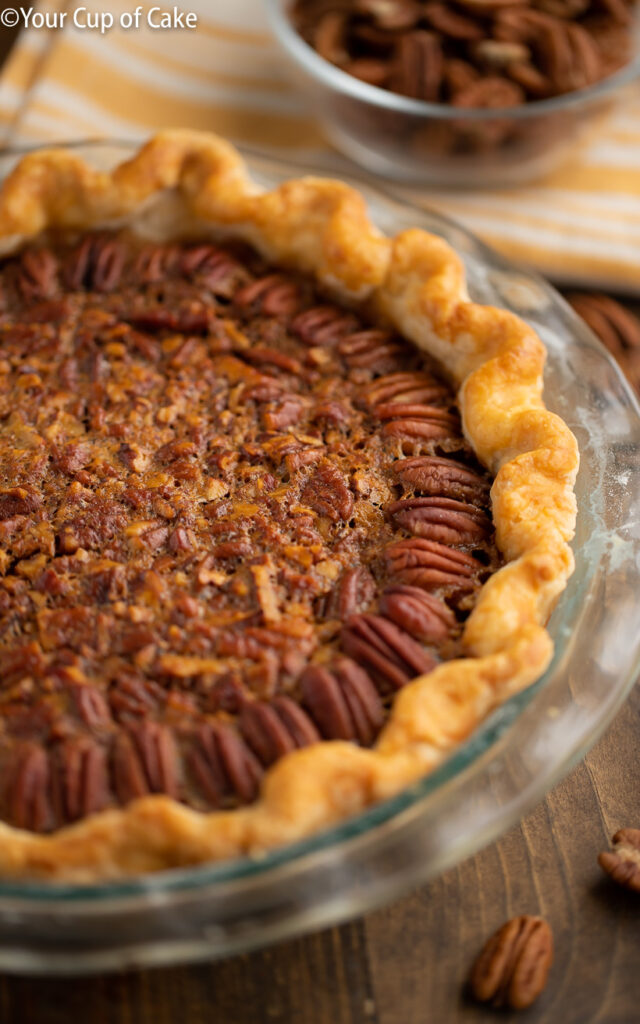 How do I know when my Pecan Pie is done baking?
I love when baked goods have easy way to tell they're done and ready to come out of the oven! When your pecan pie filling makes a dome shape all the way through the center of the pie, it's done! It will start to puff up around the edges and slowly move towards the middle so wait until it looks like a puffy pie all the way through before taking it out! Resist the urge to open up the oven door because SO much heat gets out when you do that. Use the oven light to help you keep an eye on it.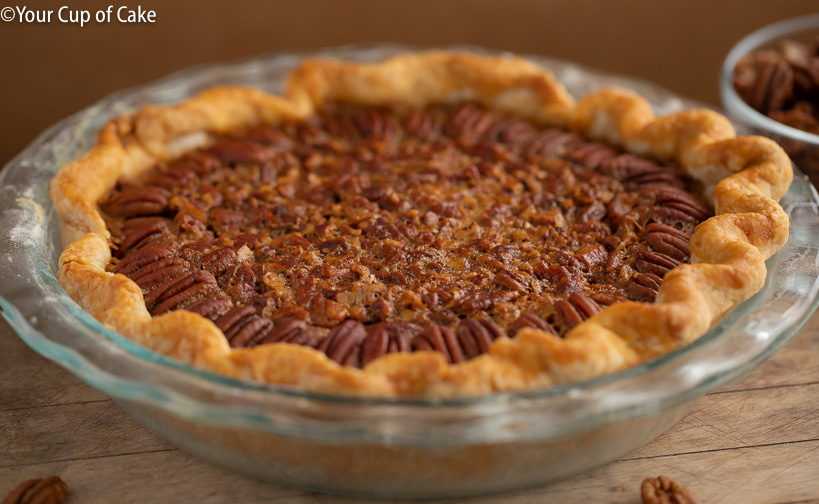 How to Cut Pecan Pie
I ask myself this question all the time. Many videos online show you how you can flip the pie over and cut it but that's using bakery pies that don't have flakey crusts. AND their filling and pie crust is pretty much exactly level. So I would not recommend this method for homemade pies. Use a serrated knife to gently "saw" through the pecan filling. If your pie is cold from the refrigerator it will be easier to cut than a warm or room temp pie. Pecan pie is tasty but it doesn't always make for the prettiest slices because of the gooey filling. Just top it with whipped cream and don't worry about it too much!
If you love baking pies! Get some cute pie crust cookie cutters to really put your pies over the top! You can add them to dollops of whipped cream or around the rim of the pie. If you're in charge of making pies this Thanksgiving it's a super simple way to make them look professional and extra fancy.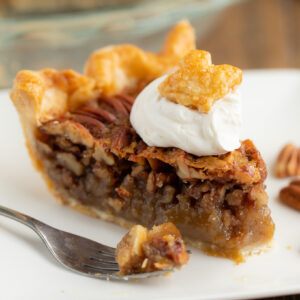 Brown Butter Pecan Pie
The most flavorful and delicious pecan pie you have ever had! Perfectly gooey, sweet and crunchy. Even if you don't like pecan pie, you'll love my pecan pie!
Ingredients
1

unbaked 9-inch pie crust

see note for favorite recipe

1/2

cup

unsalted butter

1/2

cup

sugar

1/3

cup

brown sugar

1

cup

dark corn syrup

1/4

teaspoon

cinnamon

heaping

1

teaspoon

salt

1

teaspoon

vanilla extract

4

large eggs

preferably room temperature

2

cups

toasted pecan halves (see note)

plus more if decorating the top of the pie
Instructions
Preheat oven to 400 degrees.

Make sure you start with a chilled pie crust. Line the pie crust with foil or parchment and place pie weights or dried beans on top to help the crust to not shrink too much while baking. Bake for 15 minutes, remove foil/parchment and pie weights and set aside. Decrease the oven temperature to 350 degrees. (This step helps the pie crust to stay firm and well-baked and not get the dreaded "soggy bottom.")

Brown the Butter. Place your butter in a sauce pan over low-medium heat and stir for 8-10 minutes. The butter will melt, bubble, foam, bubble and then start to turn an amber color and become very fragrant. Once that happens remove from heat so you don't burn the butter. Set aside.

In a large bowl add sugar, brown sugar, corn syrup, cinnamon, salt, vanilla and eggs. Whisk together until smooth. Add browned butter and stir again.

Chop pecans and add to sugar/butter mixture.

(Egg wash the rim of your pie crust now if desired.) Pour the filling into the pie crust. Decorate with additional pecans if you would like.

Bake for 45-55 minutes or until the pie filling domes. Check your pie around 25 minutes because you may want to cover the crust in foil to keep it form browning too much. As the pie cools the dome will settle and you're filling will be flat.
Recipe Notes
My favorite pie crust recipe linked
To toast your pecans, spread out pecans on a cookie sheet and bake for 5-7 minutes at 300 degrees. Stir the pan halfway through. Every oven is different so bake them until they're fragrant.
Once your pie is fully cooled, wrap in plastic wrap and store in the fridge or on the countertop!
Fun tip! Have you noticed this little line on the Karo Syrup bottle? I never use a measuring cup thanks to this little packaging help!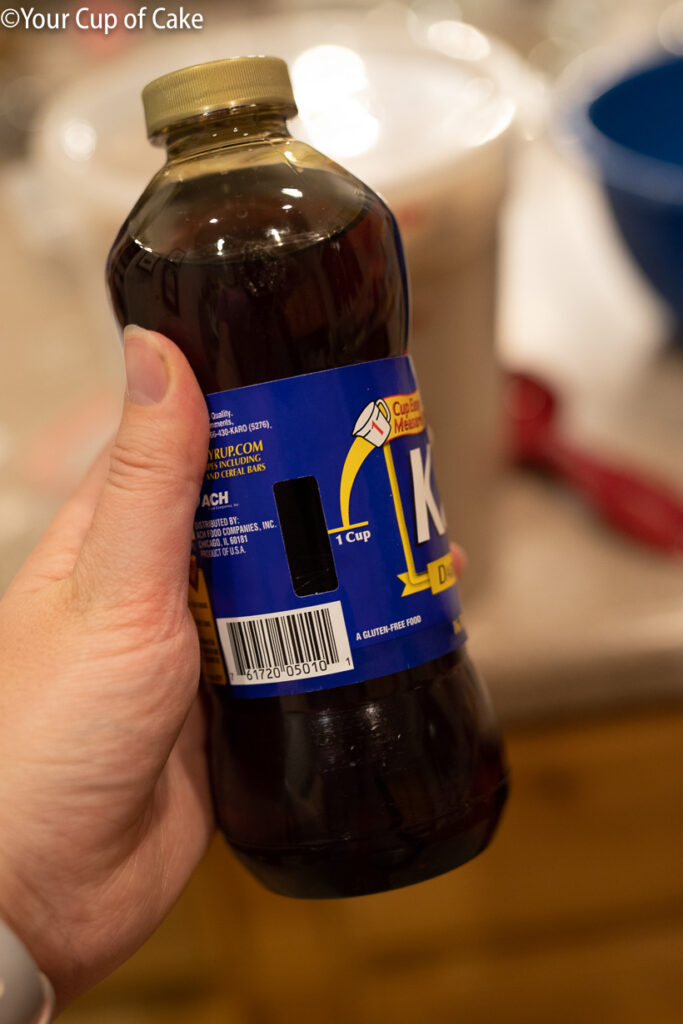 Light Karo syrup or dark Karo for Pecan Pie?
Dark all the way! The darker syrup gives it a fuller, richer taste. Pecan pie is known for being rich and this helps accomplish that. However, light corn syrup can be used if that's all you have on hand. It's a great pie to bring to a party because since it's so rich, people only want a little slice. Top it off with some whipped cream or ice cream and one pie will serve a crowd! Now, a lot of people ask what they can substitute for Karo syrup in pecan pie and there are recipes out there that offer other ingredients but they just aren't as good. Sorry. But you know what, we don't eat pecan pie every day so I don't mind using it in holiday recipes! Plus, I'm not eating the entire pie by myself. At least, I never plan on that!