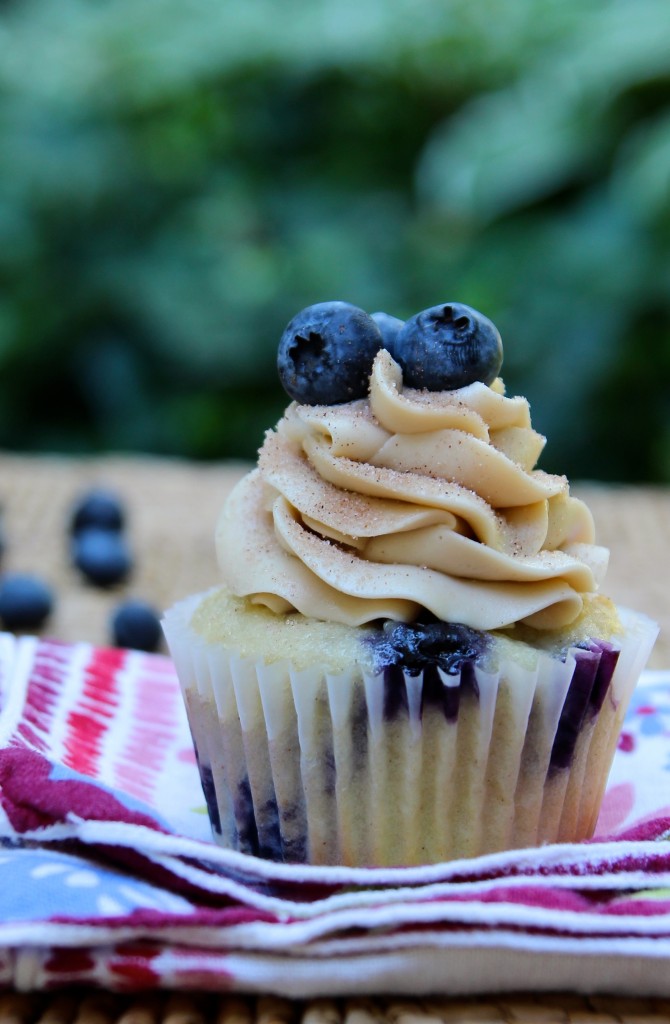 The Story:
Blueberry pancakes were a staple summer food when I was a kid. Every family reunion we would go camping for a week and breakfast was always Grandpa's Blueberry Pancakes. I have over 50 first cousins, so the line was always incredibly long, but it was well worth the wait. Something about hot blueberries just starts every day out perfectly.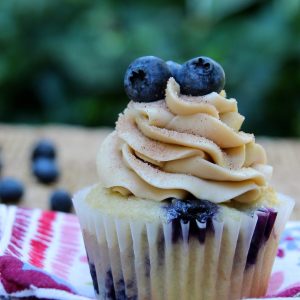 Blueberry Pancake Cupcakes
Ingredients
Blueberry Pancake Cupcakes:
1

cup

butter

softened

1 ½

cup

sugar

3

eggs

2

egg whites

3 1/3

cup

flour

1

teaspoon

baking soda

½

teaspoon

baking powder

1

teaspoon

salt

1

tablespoon

cinnamon

½

teaspoon

nutmeg

1

cup

sour cream

1/3

cup

milk

1

tablespoon

vanilla

1 ½

cups

fresh or frozen blueberries
Maple Buttercream:
½

cup

butter

softened

8

ounces

cream cheese

2

teaspoons

Mapleine

maple flavoring

4

cups

powdered sugar

Milk

as needed
Cinnamon sugar and fresh blueberries to decorate
Instructions
1. Preheat oven to 350 degrees and line pans with cupcake liners (yields 24)

2. Beat butter and sugar until light and fluffy.

3. On low speed, add eggs and egg whites one at a time until each in fully incorporated.

4. In a separate bowl, sift flour, baking soda, baking powder, salt, cinnamon and nutmeg together.

5. Add dry ingredients to the butter mixture in thirds, alternating with the wet (milk, vanilla extract and sour cream). Let each ingredient fully mix in before adding another, still be careful not to over mix.

6. Fold in blueberries. Fill cupcake liners ¾ full and bake for about 18 minutes, or until an inserted knife comes out clean. Maple Buttercream: Beat butter and cream cheese until light and fluffy. Add maple flavoring and powdered sugar and let beat again. If needed, add 1 tablespoon of milk to loosen.

7. Pipe buttercream onto cooled cupcakes and top with cinnamon sugar and berries.
Recipe Notes
If you really want to treat yourself, put a warm cupcake in a bowl and pipe some of this maple buttercream over it and let in melt into the cake. It is absolutely divine.
/>