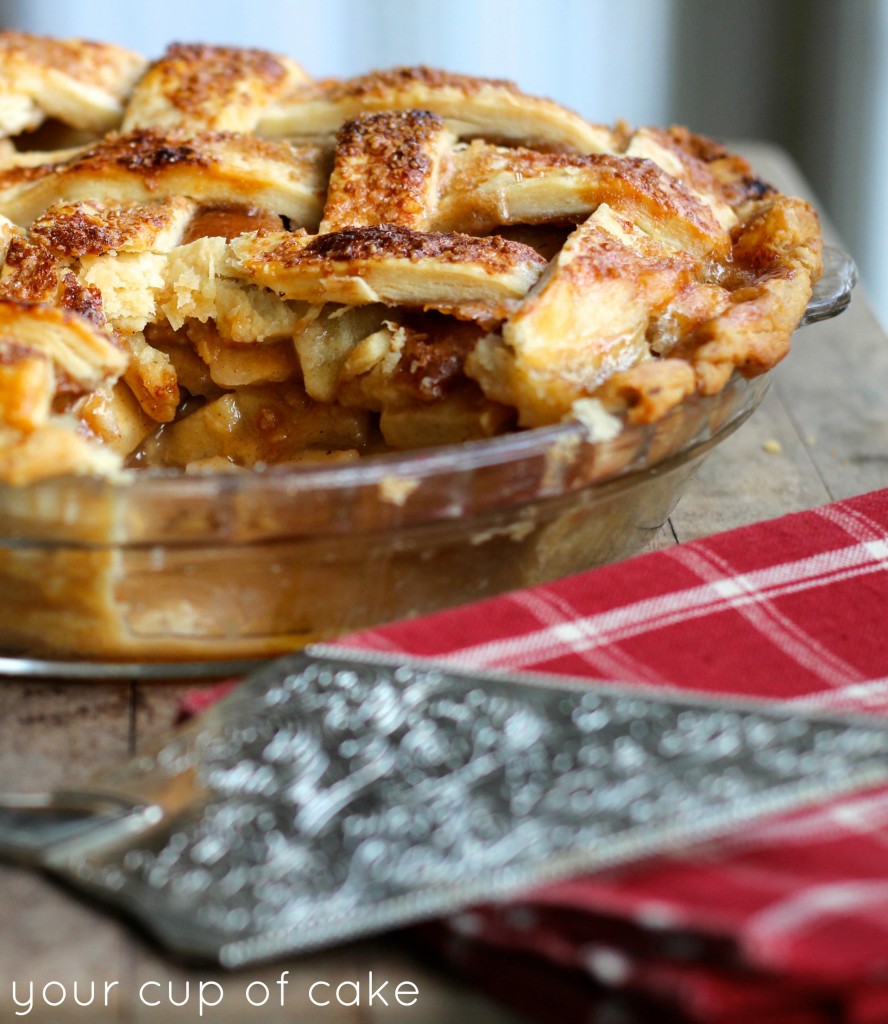 The Story:
Last year for Thanksgiving we found ourselves in Arizona. My parents, my brothers and sister in law and me. We were in charge of bringing pies to the family dinner but ovens don't come in a standard hotel room, so we decided store-bought pies were going to be all we could do. The night before Thanksgiving we walked into Costco and what did we see? Hundreds and hundreds of people in line. I'm not kidding either. They were organized, I'll give them that. Three separate lines, one for apple, pumpkin and pecan. The apple line went around the perimeter of the store going into the Tire Center, the pecan went in the opposite direction around the other side, and the pumpkin line went right through the middle on the warehouse and ended at the check-out stands.
Costco pies are good, but not that good. So we left.
(Recipe for my pie is at the bottom after photos)
I like to use a combination of apples, but I always make half of them Granny Smith because I like a tart pie.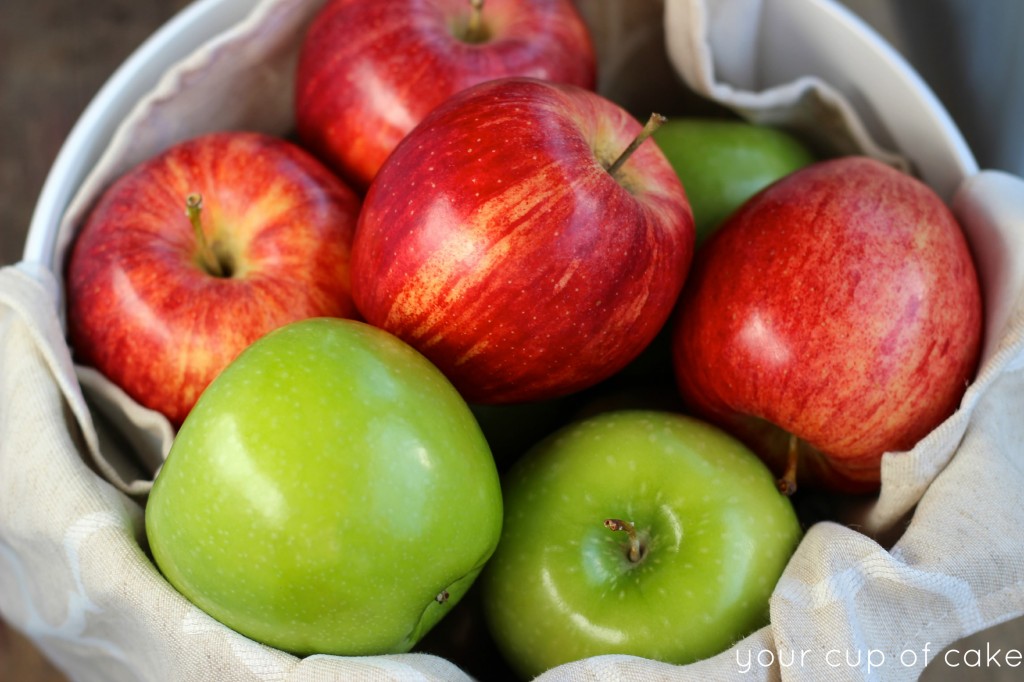 Yes, I'm still in junior high. Give a girl an apple and she somehow finds a way to make it decide her future husband. The Apple Stem Game! You know…you twist the stem and say the alphabet and whatever letter the stem breaks off at is the first letter of your husbands name!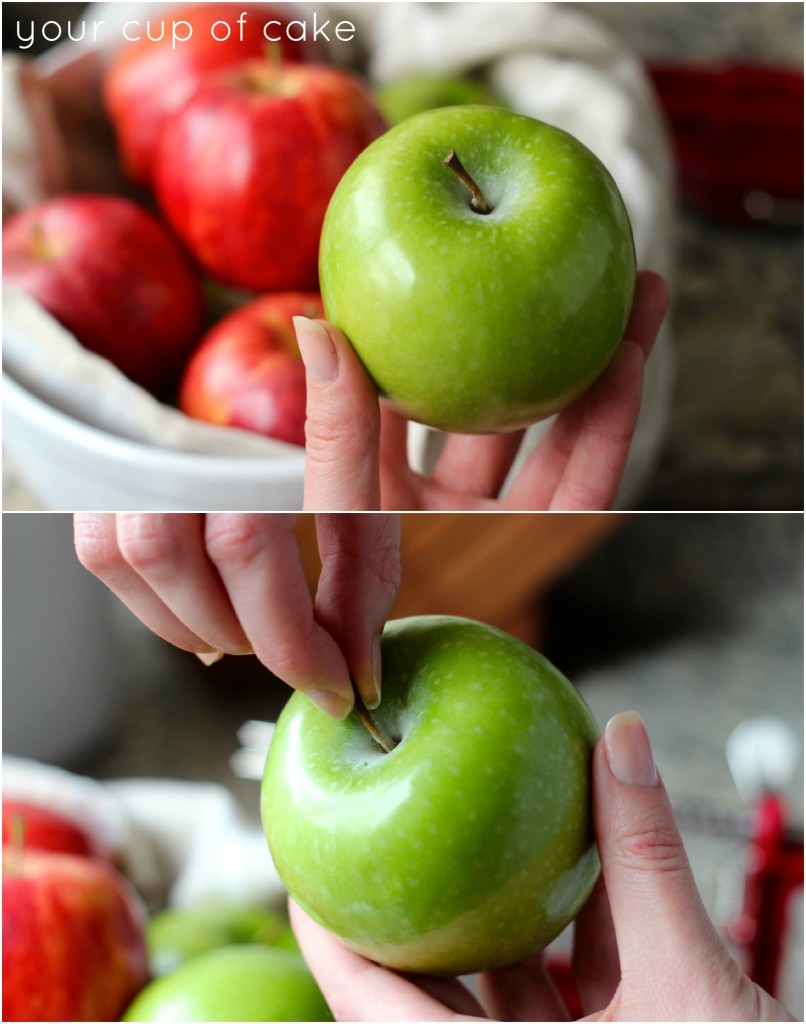 Best pie gadget EVER. It's about 20 bucks and even though I only make 3 apple pies a year it is totally worth it, plus it works for potatoes! In less than 30 seconds it peels, cores and slices an apple! Some of the older ones "clamp" onto the edge of a table, but the newer ones suction onto a table instead. So no fear of marks and it woks on any flat surface! Click the photo for a link to the one I have (and LOVE)!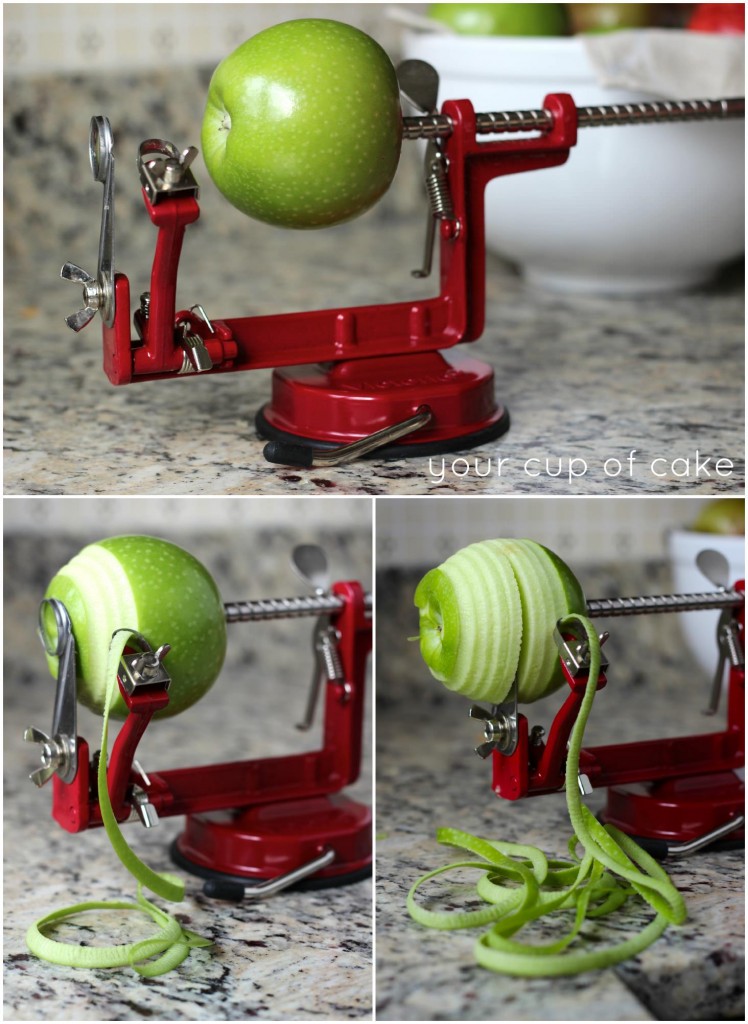 This is what it does to your apple! So fun! Then just one quick slice down the top to cut it all in half! (Note: sometimes I don't use the top slice because it still has a little bit of peel on it, so I just eat those as I work…)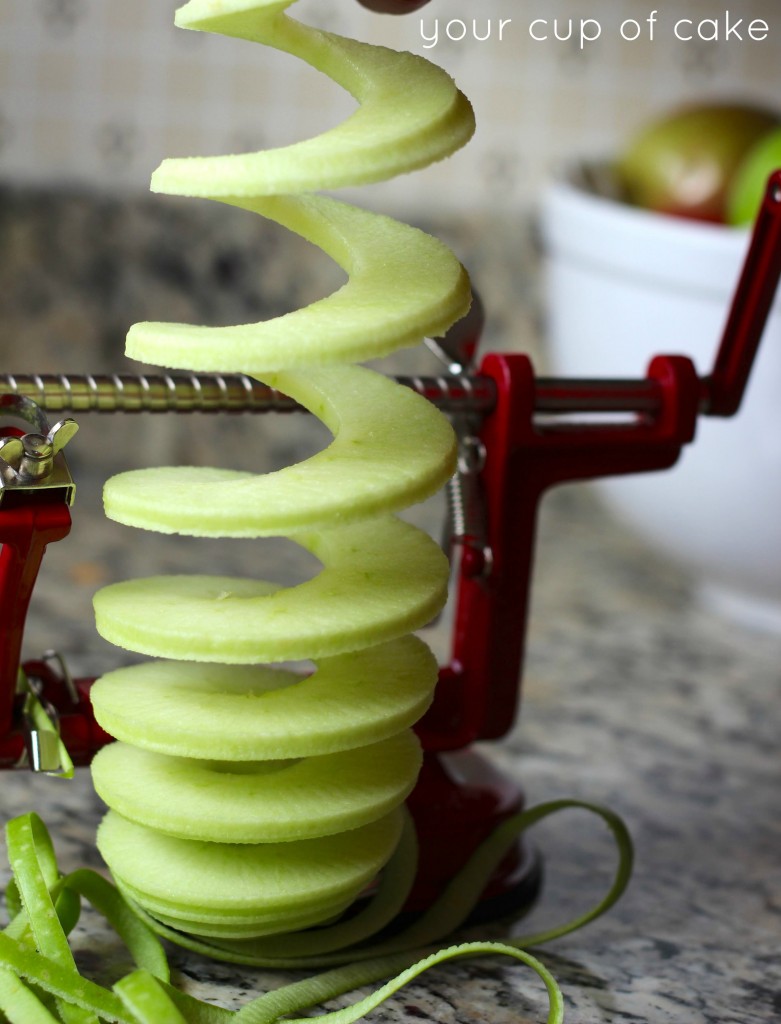 Always lay your apples flat because when it bakes the apples fall, this way they fall more evenly and it's easier to cut. Remember, overfill your pie because when it comes out of the oven it won't be this tall!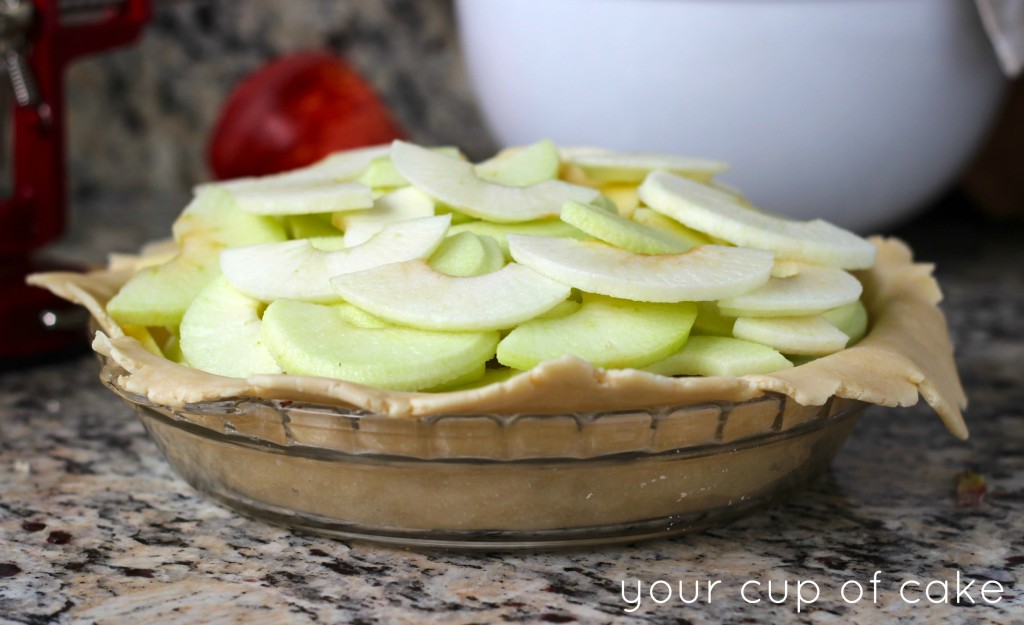 It's a Caramel Apple Pie because you make a caramel sauce and pour it over your pie! Genius!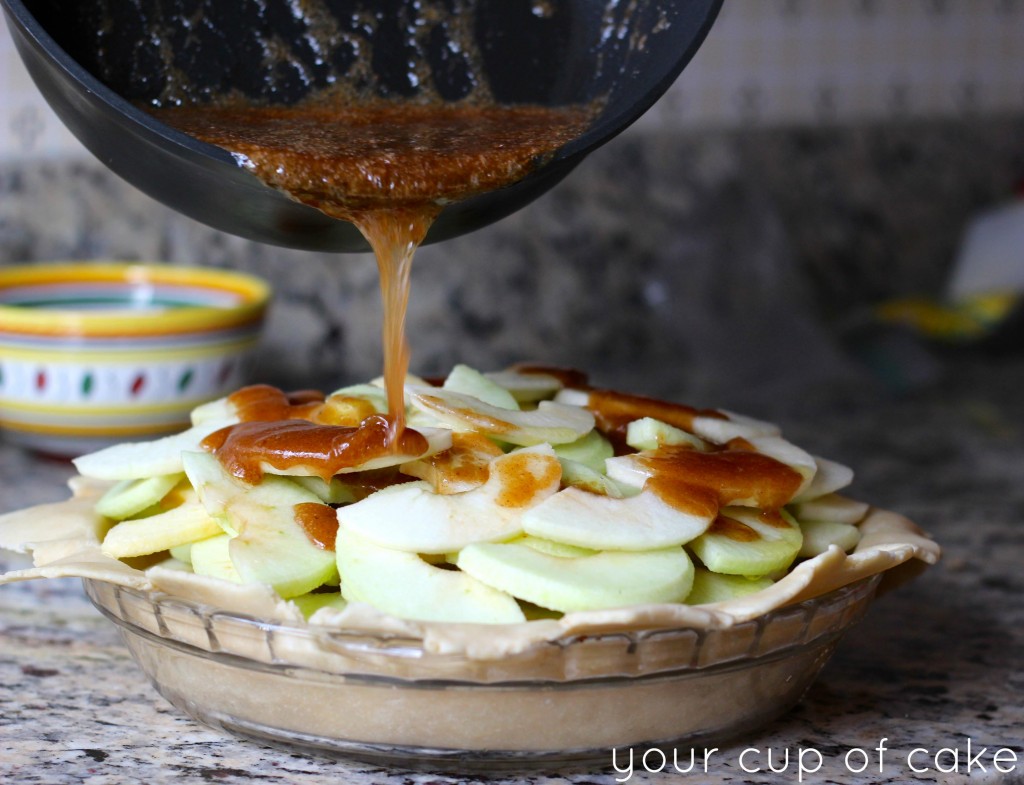 Always egg wash your pies and sprinkle with them with sugar (I like Turbinado sugar best). Check out yesterday's post for all things pie crust! It will seriously change your life. Two words: Parchment Paper.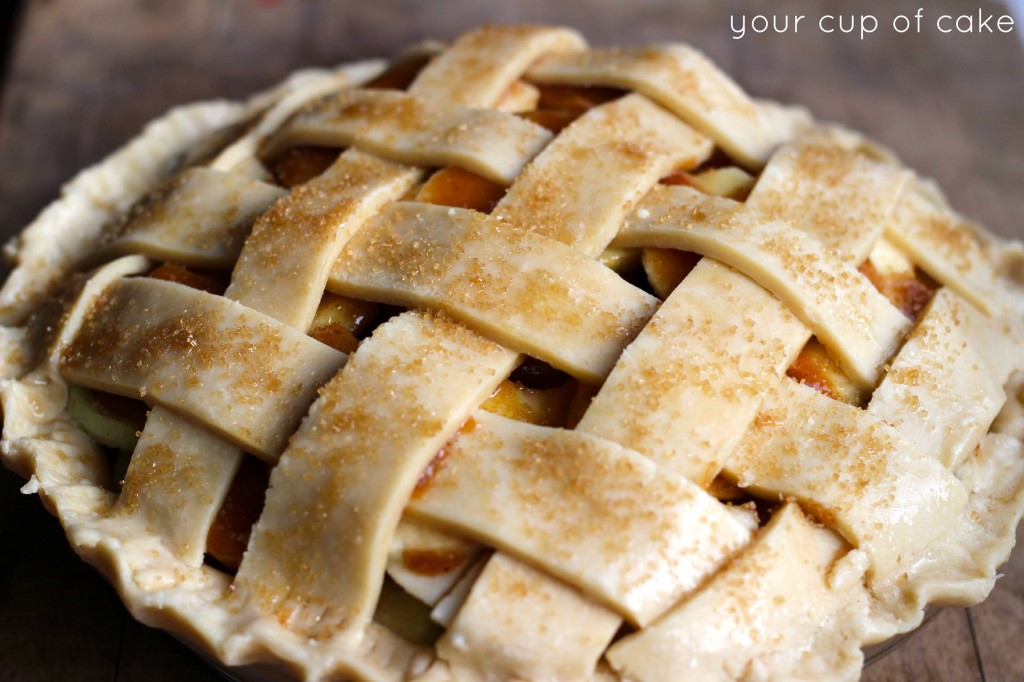 The egg wash makes it golden and the sugar gives an amazing crunch.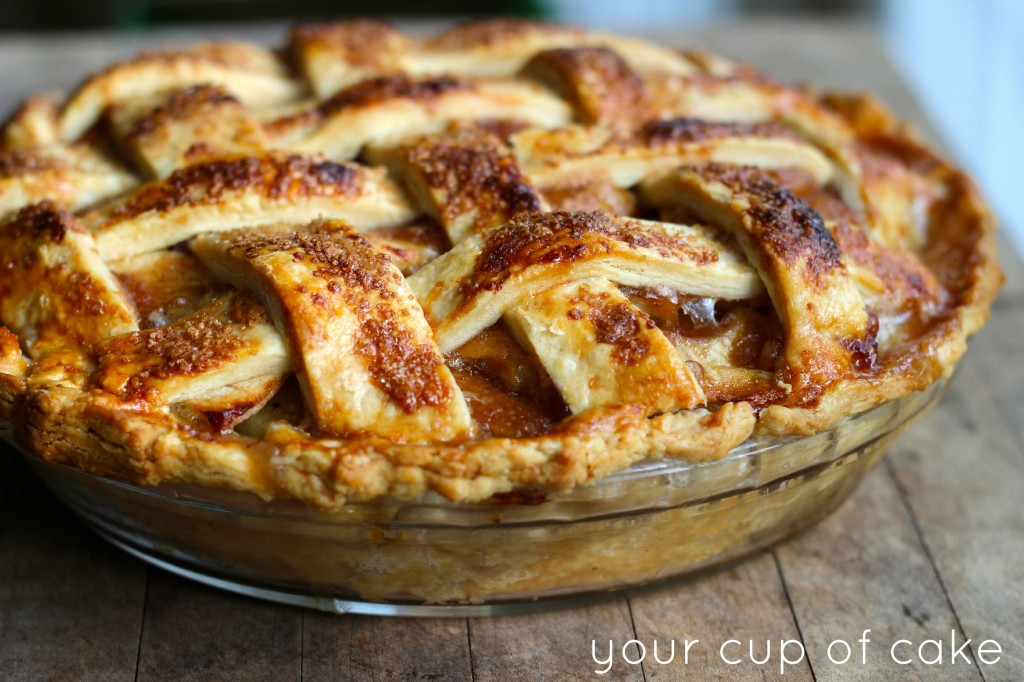 I had this for breakfast and dinner… it's fruit!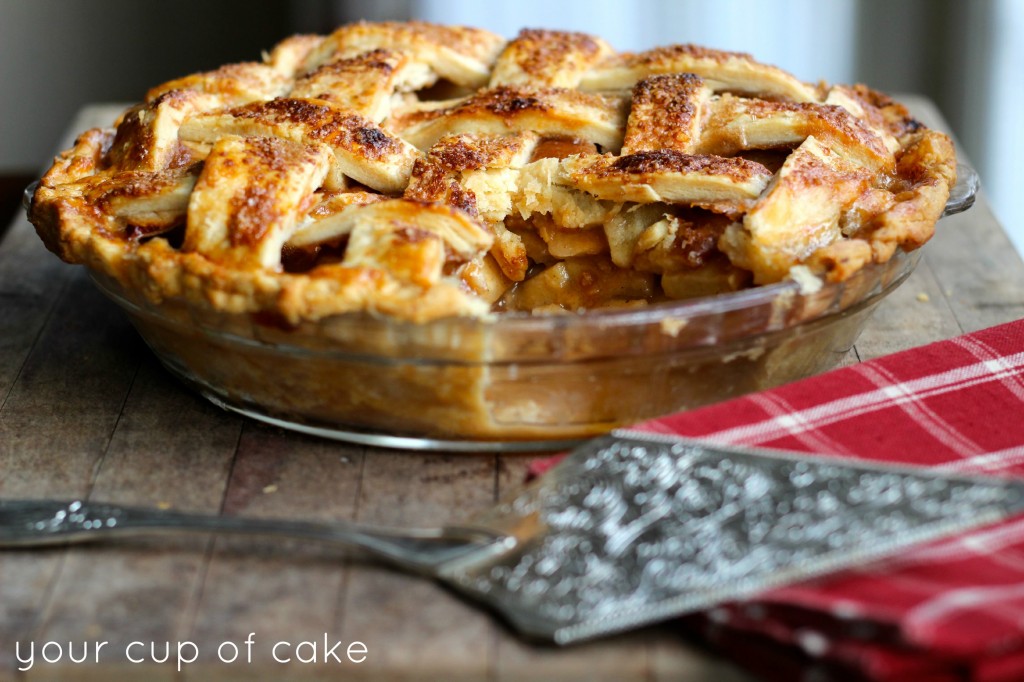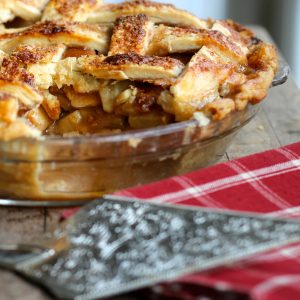 Caramel Apple Pie
Ingredients
9-

inch

pie crust

top and bottom

8

apples

peeled, cored, and cut!

juice of 1 lemon

1/2

C.

butter

3

Tbsp.

flour

1

Tbsp.

water

1

Tbsp.

vanilla extract

1/2

C.

sugar

1/2

C.

brown sugar

packed

1 1/2

tsp.

cinnamon

1/2

tsp.

nutmeg
egg white and sugar for decoration, optional
Instructions
1. Preheat your oven to 425 degrees.

2.Toss your apple slices in lemon juice and layer into your pie crust (for pie crust recipe and AMAZING tips on rolling our your dough, click the link below the recipe...store bought pie crust mix is great to use too!)

3. When layering your apples in, lay them one at a time flat, this will help them bake down easier. You'll want the slices of apple higher than the rim of your pie pie, because they will condense as they bake.

4. Place a sauce pan on the stove and heat. Melt butter.

5. Add flour and whisk to create a "paste."

6. Add all remaining ingredients and whisk.

7. Let boil, then reduce to a simmer for 2 minutes.

8. Pour over apples in pie crust and then top pie with crust. (For lattice instructions or other ideas click the link below the recipe.)

9. Use a pastry brush to "paint" the egg white over your pie crust (you won't use all the egg white) and then sprinkle with sugar, I like using Turbinado sugar because it is larger.

10. Bake for 15 minutes, then reduce temperature to 350 degrees and bake for 35-45 more minutes. If your apple slices are thicker, it may take a little longer to bake.

NOTE: Check your pie when it is about 75% done, if the top is starting to get too dark, cover with foil and let it continue to bake. Also, place a cookie sheet on the rack below the pie in the oven to catch any filling that may "bubble" over.
For "Everything you need to know about Pie Crust" click here! It's my post that explains the ins and outs of all things crust, and gives you the solution to every pie problem you've ever had in the kitchen!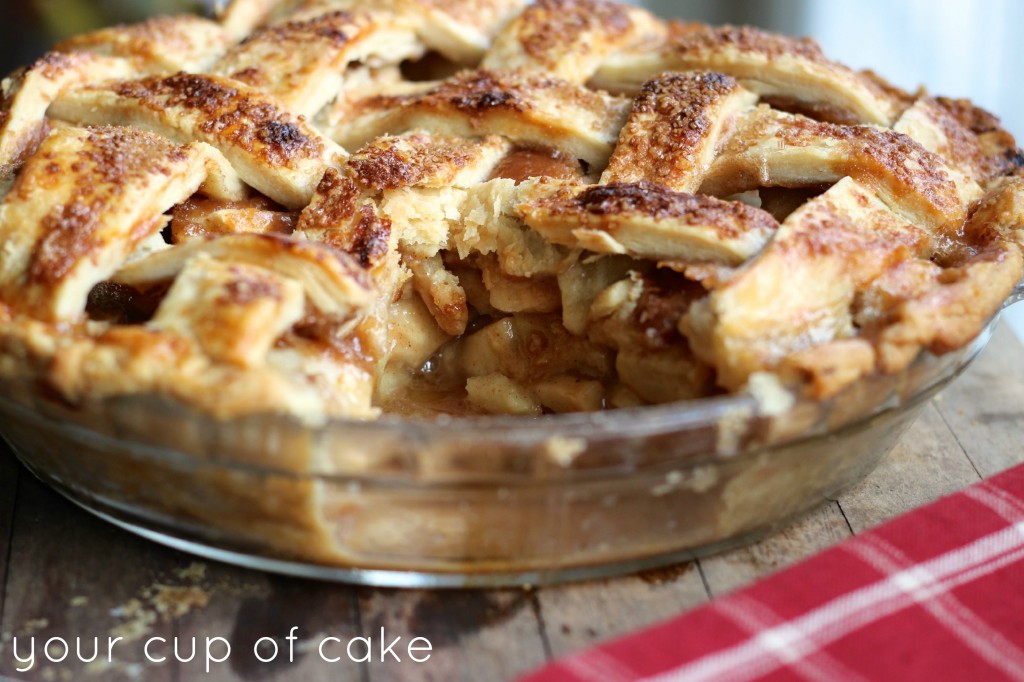 I'll be out of town this week with no internet, so if you post questions I will happily answer when I get back! But just because I'm gone doesn't mean there won't be more amazing recipes this week! Watch out for tomorrows post, it's my new favorite dinner meal!