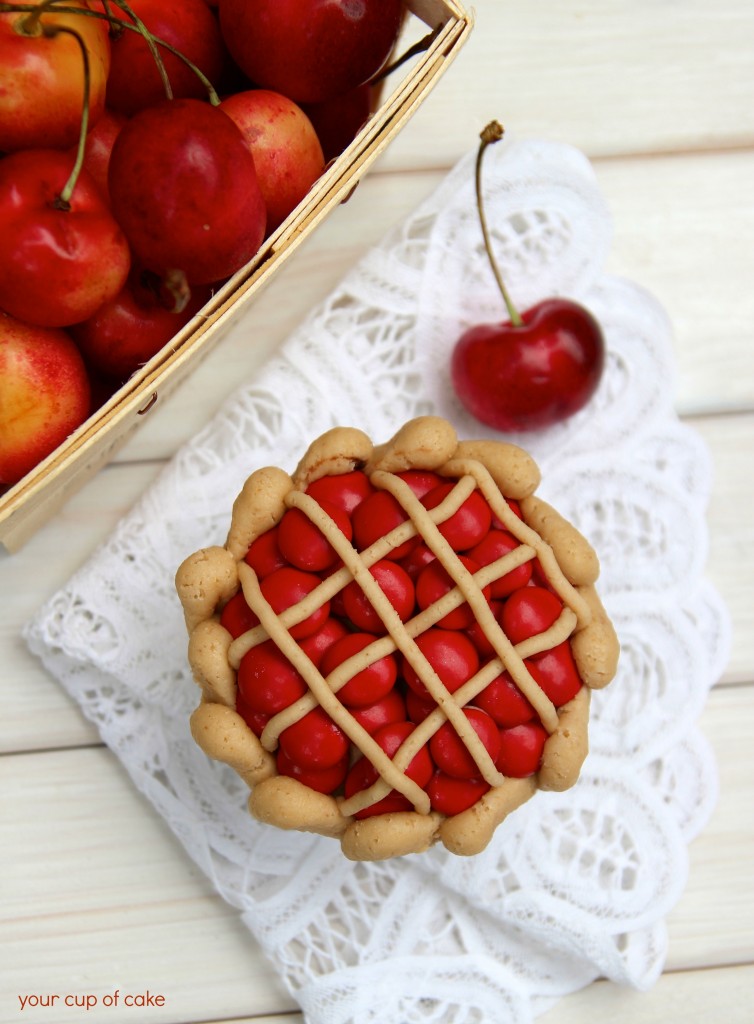 The Story:
Every recipe has a a story but usually the story behind the photo is better. This recipe and photo was created for my cookbook. I wrote the book in about 3 months from my parents house where I took over the kitchen, 3 rooms, the patio and the deck. I would always be running around the house trying to find the best lighting. Some days were a breeze but most days were frustrating and full of panic.
I needed cherries to prop this photo. I wanted the dark red cherries you would make a cherry pie with. So my dear mother and I got them the day before and were all ready to go. But during the photos, I quickly realized I made a mistake. The lighter cherries would match the M&Ms so much better! What was I thinking getting the dark red cherries? Already in a panic with the sun disappearing behind the trees and too stubborn to ask someone to run to the store, my father rescued the day as he hopped in the car to buy the brighter and lighter cherries. And not just cherries in the generic, ugly plastic container, but cherries in this cute wooden basket. Alas, Michael saved the day again.

Cherry Pie Cupcakes
Ingredients
Cake:
1

box white cake mix

1/3

C.

butter

melted and cooled

3

eggs

1

C.

buttermilk

1 ½

tsp.

almond extract

1

tsp.

vanilla extract

24

cherries

pitted with no stems
Graham Cracker Buttercream:
¼

C.

gram crackers

finely crushed

1

C.

butter

softened

1

tsp.

vanilla extract

1-2

Tbsp.

milk

3-4

C.

powdered sugar
Red chocolate candies (M&Ms)
Instructions
1. Preheat oven to 350 degrees and line pans with cupcake liners.

2. Sift cake mix into a small bowl and set aside.

3. In a large bowl, combine butter, eggs, buttermilk, almond extract, and vanilla extract.

4. Stir in cake mix until smooth.

5. Fill cupcake liners ¾ full and press a cherry into the center of each mound of batter.

6. Bake for 17-22 minutes or until an inserted knife comes out clean.

7. Buttercream: Use a food processor to finely crush graham crackers and then use a sifter to sift out the larger pieces. Discard the large pieces. In a stand mixer, beat butter and vanilla extract. Add crushed graham crackers and 1 tablespoon milk and slowly add powdered sugar until you reach your desired consistency. If the buttercream becomes thick like cookie dough, add more milk.

8. Once cupcakes have cooled, cut the tops off to create a flat surface. Use a knife to spread a layer of buttercream, then start to place your red candies. Use a small round top to pipe stripes across the top, then a slightly larger tip to make the "crust" around the outside
This recipe is from my cookbook Your Cup of Cake available on Amazon!