Perfectly crispy and crunchy brownie bark that is addicting! This Chocolate Mint Brownie Bark will be your new favorite treat to munch on!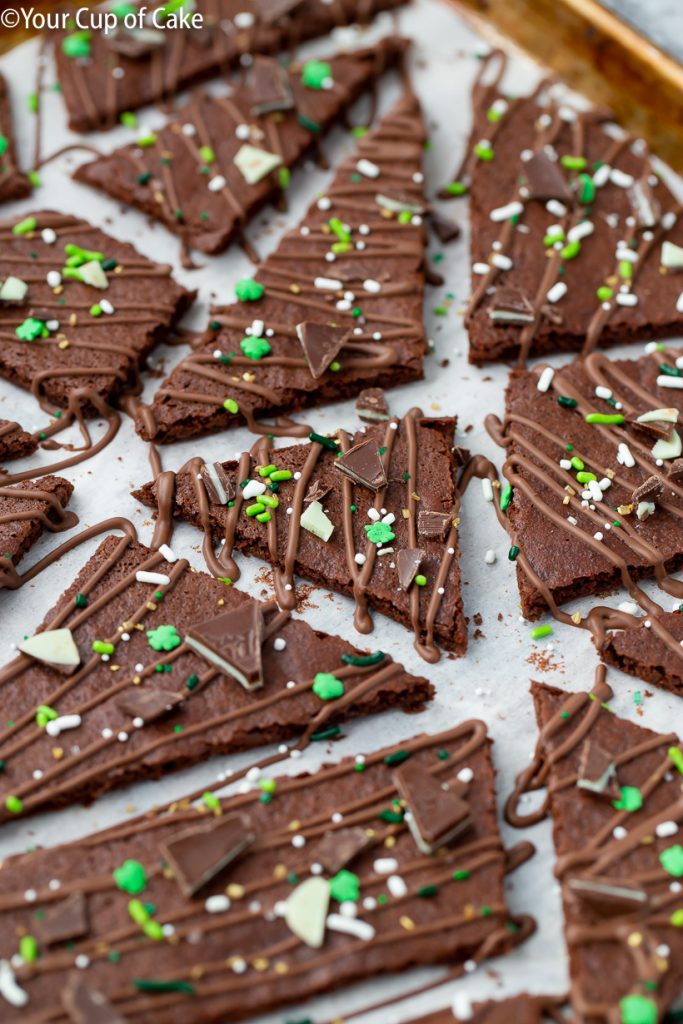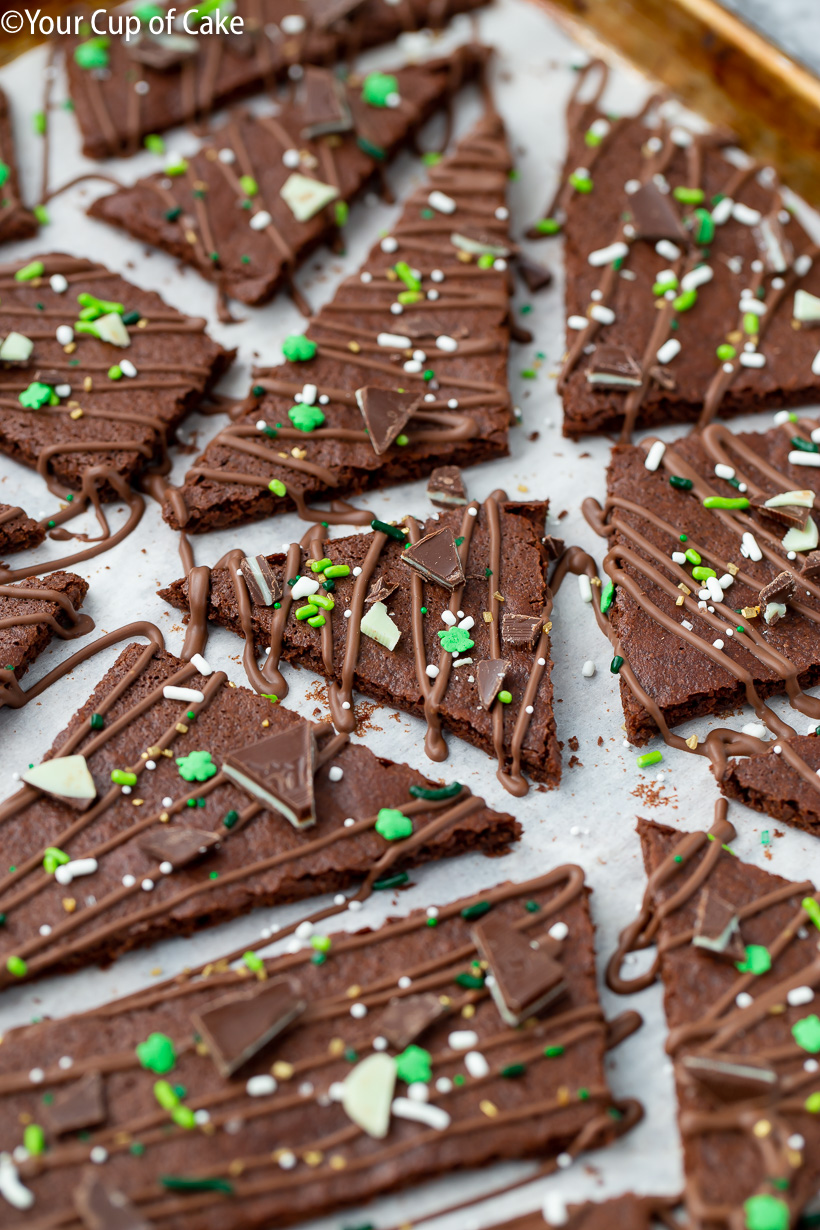 Chocolate Mint Brownie Bark
St. Patrick's is coming up and we all need something minty! There's plenty of mint cakes and cookies out there (I've got plenty of those delicious recipes) but I wanted to bring you something a little different. This Chocolate Mint Brownie Bark is great for all ages and perfect for lunch boxes. No mess, no tricky traveling issues, just delicious, crunchy brownie bark! But be careful, once you have a bite of this good stuff you'll be munching on it all day long!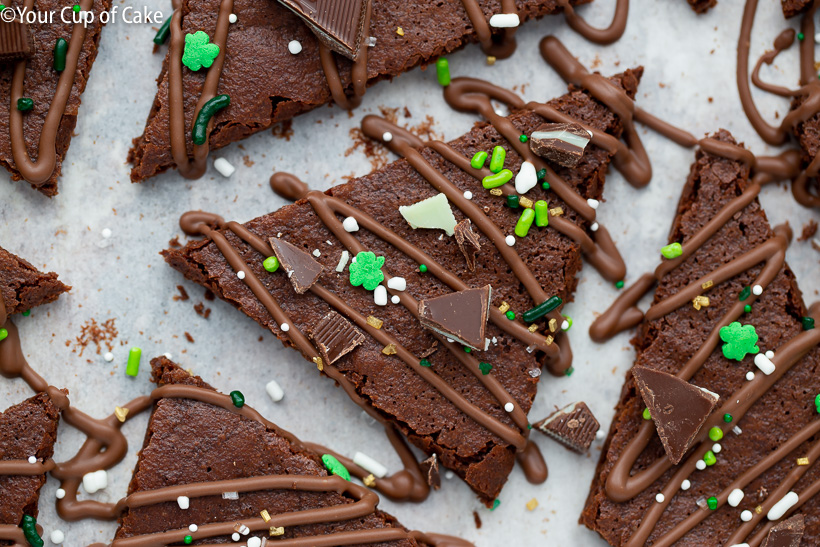 What is Brownie Bark?
I was skeptical to try brownie bark a few years ago when it started popping up in grocery stores. But a friend of mine just raved about it and offered me a piece. I tried it. And then I continued to eat most of the bag, ha! Brownie bark is like a rich brownie that got flattened out and then baked to a perfect crisp. It's still somewhat airy and not dense, but just so delicious! Here's the problem, it can be a little expensive when you buy it from the store. I love the brownie bark from Trader Joe's but before I know it, it's gone! Making my own has been wonderful and saved me a lot of pennies.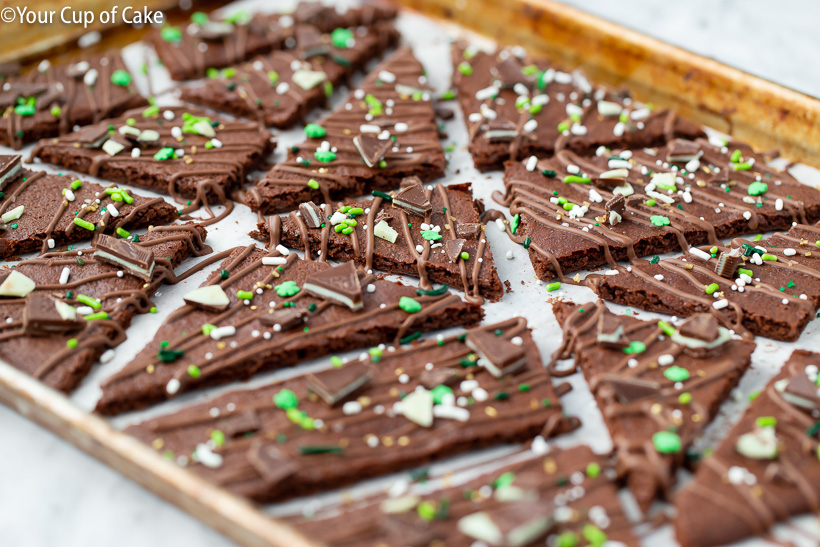 How to Make Brownie Bark
To make the perfect brownie bark I needed to get rid of all the ingredients that make brownies/cookies chewy or soft. So no egg yolks or brown sugar here! You'll make a very chocolatey batter and then spread it thin to bake. You can have fun with this recipe and sprinkle in extra chocolate chips before baking or drizzle with green chocolate! But you'll want to keep the recipe the same to make sure you get the right texture. I baked my cookie sheets one at a time and the first one I under cooked a little so it wasn't quite as crisp. You just want to be careful not to let it burn! So make sure when you spread the batter on the pan, you do it as evenly as possible.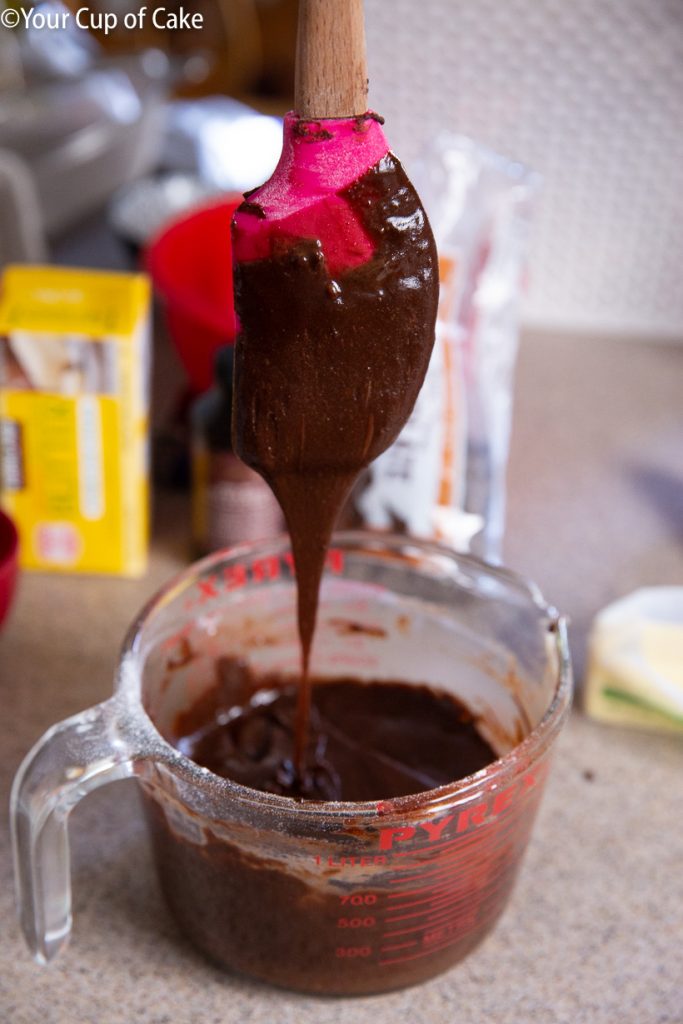 You'll have two cookie sheets like this to bake!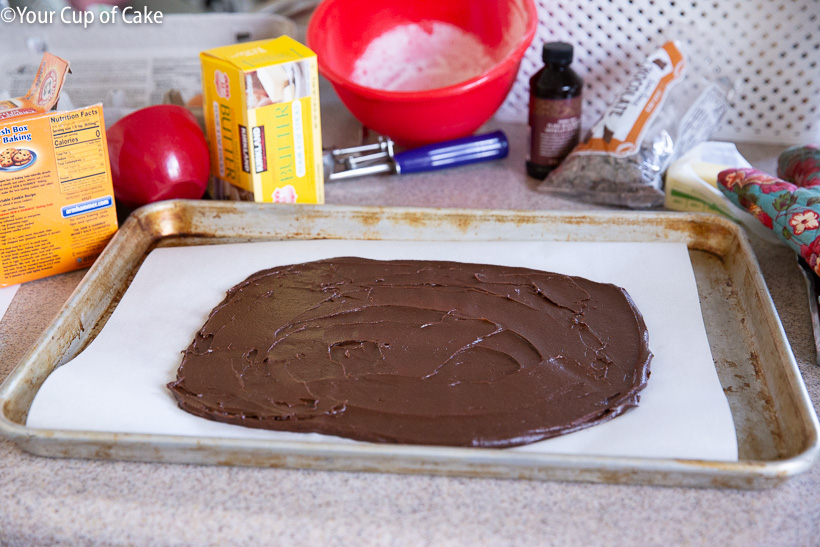 Cutting the brownie bark first thing out of the oven helps you to get clean breaks once it cools! I cut mine in random shapes but you can be more precise if you'd like.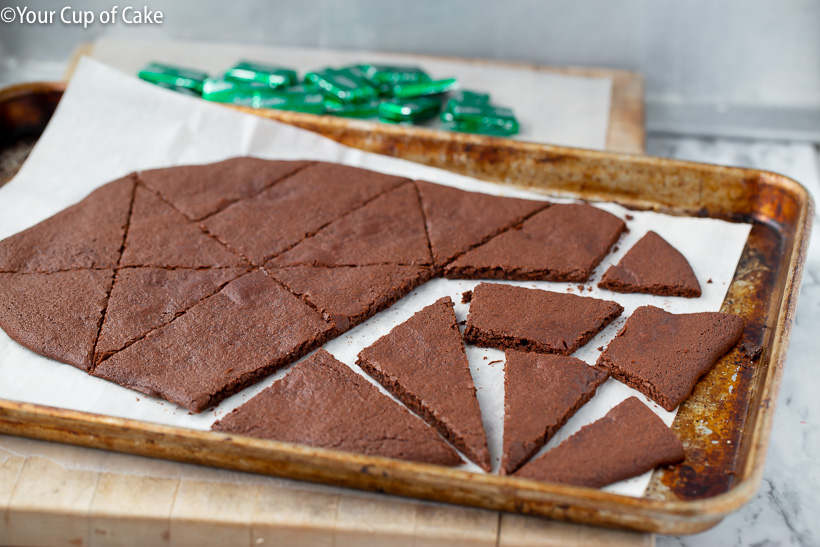 I added a pop of color with sprinkles and even added a few extra Andes Mints I had leftover from my Marshmallow Mint Cookies.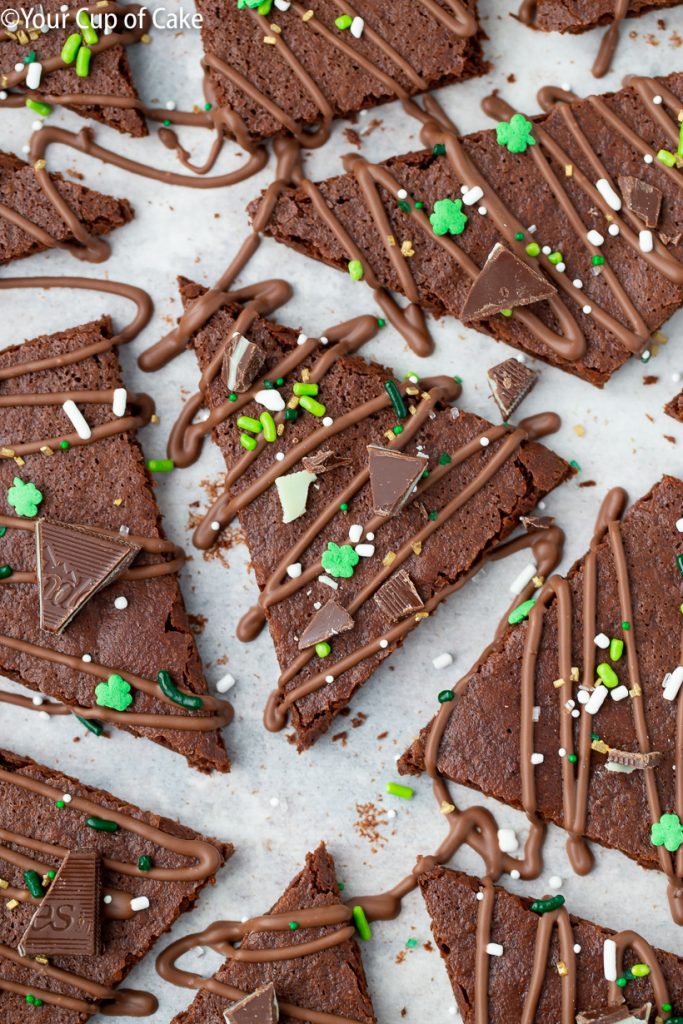 I hope you love this Chocolate Mint Brownie Bark Recipe!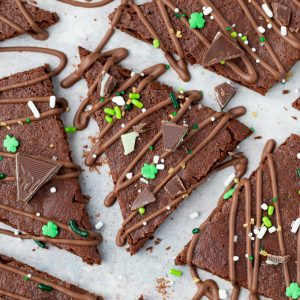 Chocolate Mint Brownie Bark
Crisp brownie bark that's perfectly minty!
Ingredients
1/4

cup

butter

1

cup

chocolate chips, semisweet

1/2 cup + 2 Tbsp.

sugar

1

Tbsp.

cocoa powder

2

egg whites

1

tsp.

vanilla extract

1

tsp.

peppermint extract

3/4

cup

flour

1/4

tsp.

baking soda

1/4

tsp.

salt

3

Tbsp.

milk

extra chocolate for decoration
Instructions
Preheat oven to 375 degrees and line 2 cookie sheets with parchment paper.

In a large microwave safe bowl (I used my pyrex measuring cup) melt butter and chocolate chips together in the microwave. I like to zap it for 30 seconds, stir, then continue to heat in 15 second intervals. Stir until smooth.

Add in cocoa powder and sugar. Stir.

Add egg whites, vanilla and peppermint. Stir again.

In a separate bowl, whisk together flour, baking soda and salt. Stir into chocolate mixture.

Add milk and stir one last time.

Divide the batter between the two cookie sheets and use a spatula to spread thin. (You can sprinkle on extra chocolate chips at this point if you want.) Bake for 15-18 minutes, watch the edges to make sure they don't burn!

Use a knife or pizza cutter to cut into the bark. Let cool completely on cookie sheets and then break bark along the lines you cut. Drizzle with extra melted chocolate, top with sprinkles for color!