Cookies, cookies, cookies. You know, there's pie season in the Winter, and pumpkin season in the Fall, and cobbler season in the Summer. But cookies are just a year-round dessert. Today I'm focusing my tips on chocolate chip cookies, but some of the tips apply to lots of different types.
Whenever I need to make a good impression with someone, I take them one of my cookies. It's not as grand and awkward as a cupcake, it's just a cookie, right? That's what they think, and then they bite into it and I become their new best friend. Now, there are lots of blog posts out their about the recipes and the baking, but this post is about the actual mixing of the cookies. Because let's face it, if your cookie dough isn't spectacular, your cookies won't be either.
Butter:
-There are some recipes that call for melted butter, that will yield a more chewy cookie. But unless the recipe specifies that, cookie recipes need soft, room temperature butter. Don't microwave it! Once butter melts, it can never go back to being just normal butter.
-I always like to use unsalted butter because you can always add a little extra salt if you like the taste… but you can't really take out the salt.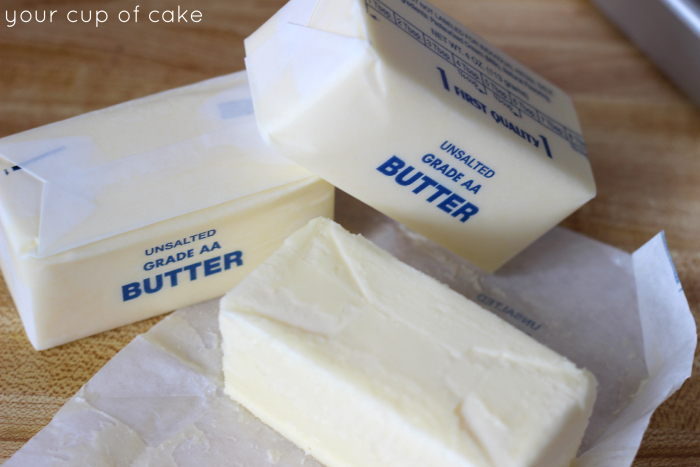 Mixing the butter:
-Throw your butter into your mixer and beat it well to make sure there aren't any lumps.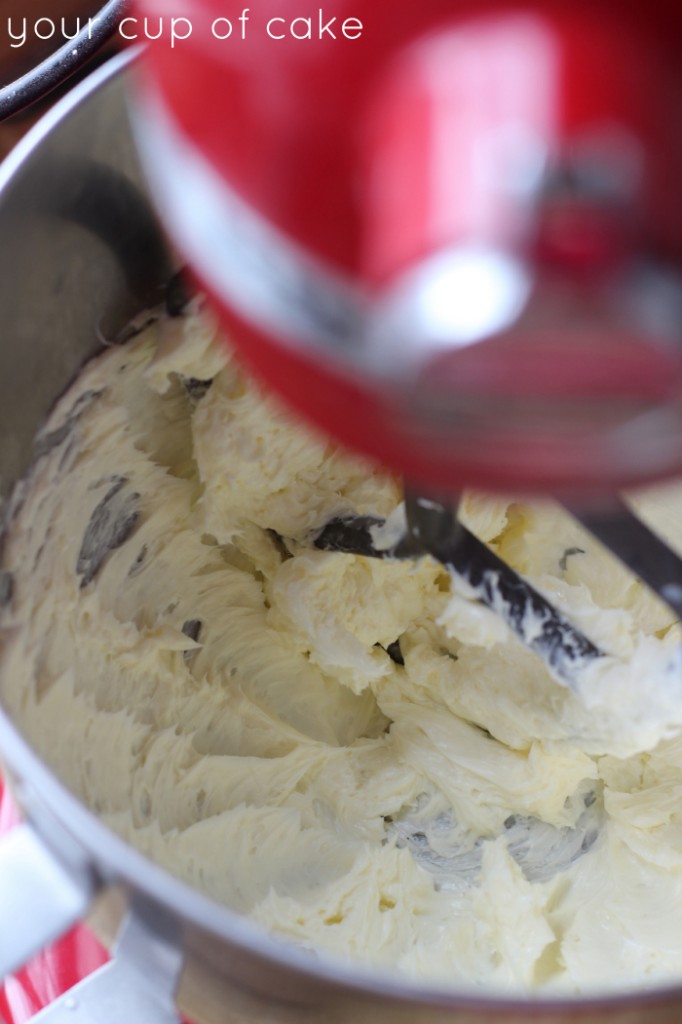 Sugar:
-Brown sugar is meant to be packed when measured, unless otherwise specified. For the seasoned baker, you may be thinking "Duh." But I'm always shocked to find out that a lot of people don't know that. If you don't get the right amount of sugar in the recipe, your cookies won't turn out how they're supposed to.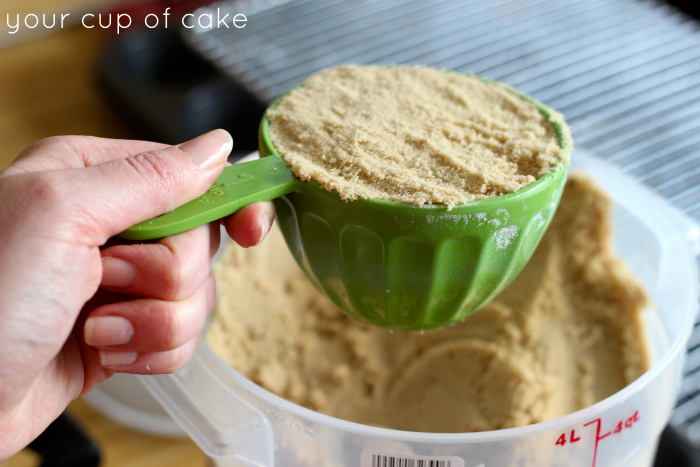 Mixing Butter and Sugar:
–If you do nothing else, do this. Beat your butter and sugar for 2-3 minutes. Or more. Seriously. Let them cream together until they turn a lighter color and the sugar really starts to melt into the butter.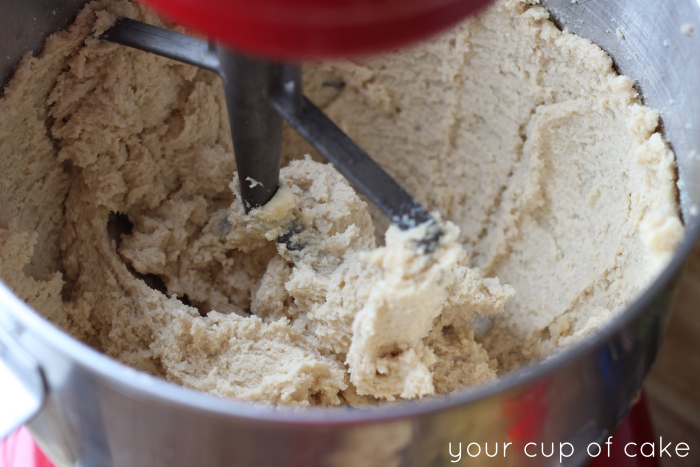 Room Temperature Eggs:
-"Ain't got time for that?" …. Neither do I! Fill a cereal bowl with warm-hot water and put your eggs in there while your butter and sugar is getting' crazy in the mixer. Dry them off and then crack them in. Ta-dah! Room temperature eggs in 3 minutes.
Measuring Flour the Right Way:
-How many of you dunk your measuring cup into the bag of flour and bring it out full of flour? Did you know that's technically the "wrong" way to measure? You're supposed to fill your measuring cup using a scoop (or just another measuring cup will do). Over fill it, and then….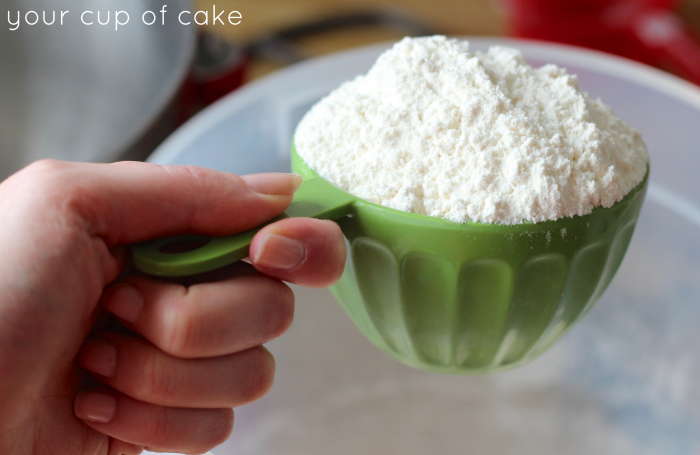 -Use a knife to scrape off the excess. This way, they flour isn't compacted. This is "technically" the right way because you don't want Sue in Seattle compacting her flour just a little and Annie in Atlanta compacting her flour a lot. All of a sudden you two very different amounts of flour being used in the same recipe! Pouring flour into the measuring cup and leveling it off is more consistent.
–BUT here's the thing. If you got a recipe from someone you think doesn't follow this rule, then you might want to measure the "wrong" way. But whenever you read a recipe from a cookbook or a more professional site, measure the it this way!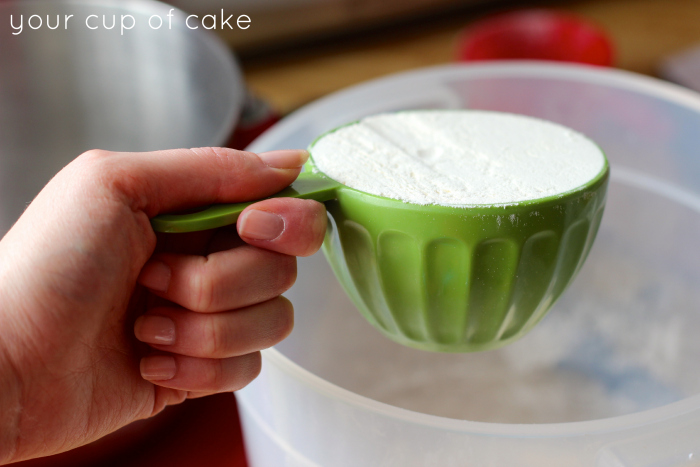 Sifting:
-Why? Because you want to make sure you get your salt and leavening (baking soda and baking powder) evenly dispersed. It would would no fun to have one cookie extra salty 🙁
-Okay, there's those fancy sifters with the squeeze handle but I love my $5 one from the grocery store! I use it to strain out raspberry seeds in purees and even as a colander for pasta when I'm in a rush!
Salt:
-Okay, you don't have to do this one. But Kosher salt is the only kind I buy and use in cookies, cakes and everything. BUT did you know, when you measure coarse salt you have to add just a little extra because coarse salt doesn't fill a teaspoon as well as the tiny stuff. Does that make sense? It's like filling a cup of water vs. filling it with cubed ice, the ice just doesn't lay flat. So when I measure Kosher salt I round the top of the teaspoon just a little bit.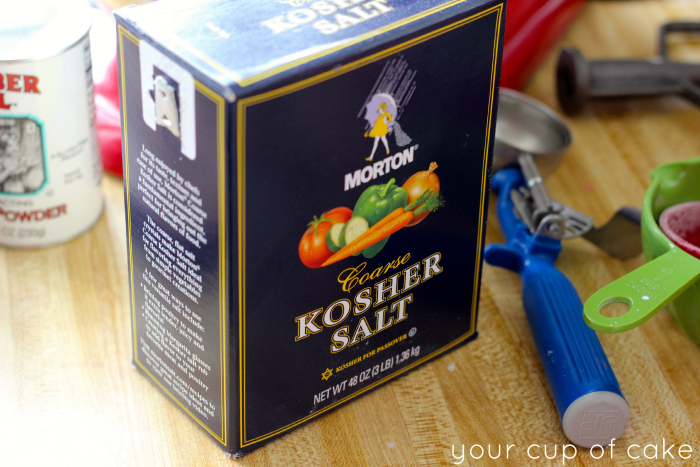 Chocolate Chips:
-This is a big decision. Dark, milk, semi-sweet, white, chips or chunks? These are my two favorite chips to use. Guittard Milk Chocolate Chips are incredible because they're velvety smooth and bigger than a normal chip so they really make a statement. The Trader Joe's Semi-Sweet is my favorite Semi-Sweet chip because it doesn't taste at all chalky or plastic-y.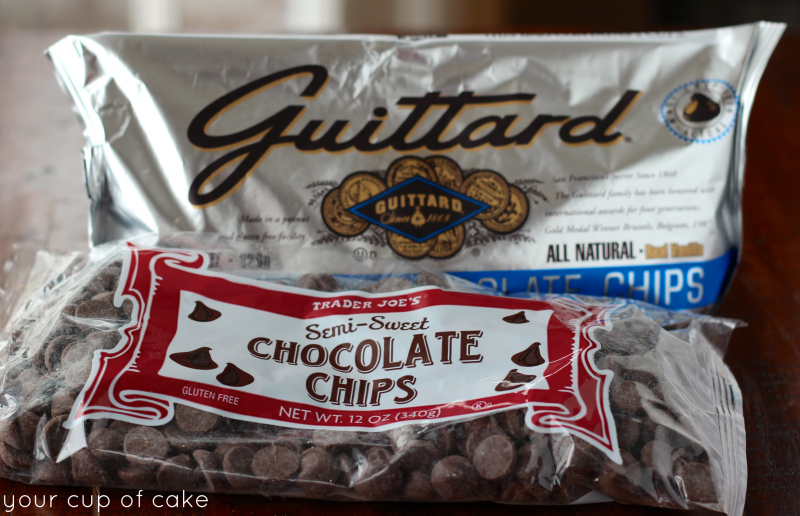 Cookie Scoops:
-This is the best thing to have if you make cookies. It saves time and gets all your cookies the same size! Plus, they're perfectly rounded! They come in different sizes, I use this blue cookie scoop to get rather large cookies. It can also double as a cupcake scoop! Get the yellow or red ones if you want smaller cookies (Size 20 or 24 in that same link)!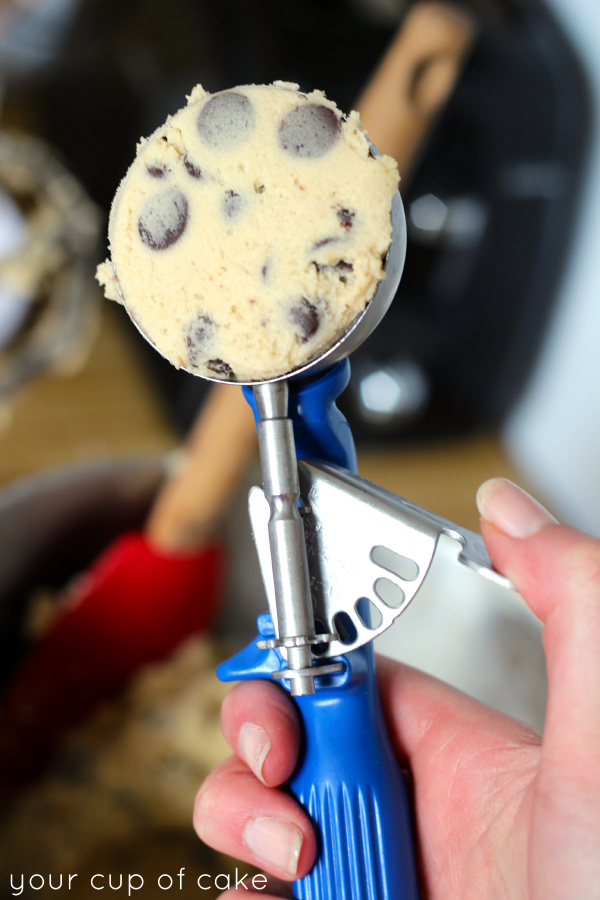 Extra Classy:
-Sprinkle a little kosher salt on the top of your dough balls! If you're nervous, just do one and bake it and see how you like it. It adds another layer of of flavor when you eat the cookie and just makes it seem bakery perfect.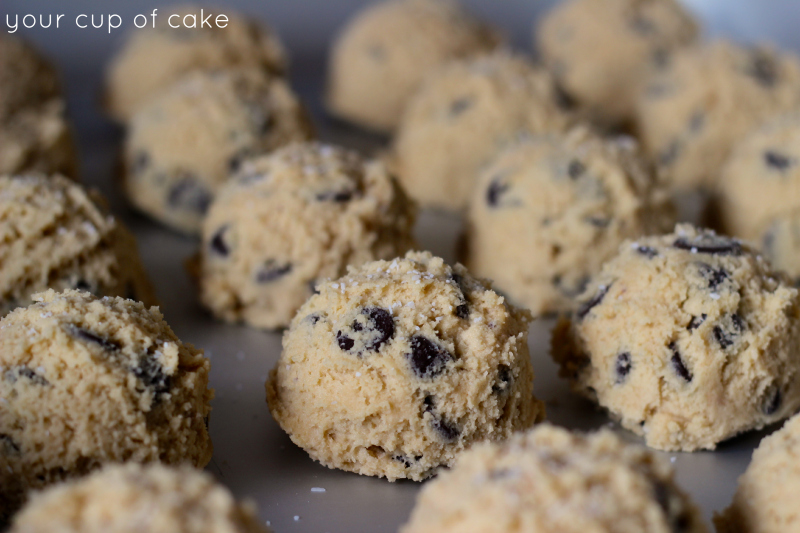 Time to Chill:
-Want thick cookies? Freeze the dough balls! You may need to increase the baking time by a minute or two, but this yields soft centered cookies that aren't paper thin. (You just put a frozen dough ball on your cookie sheet to bake. I promise it works perfectly!)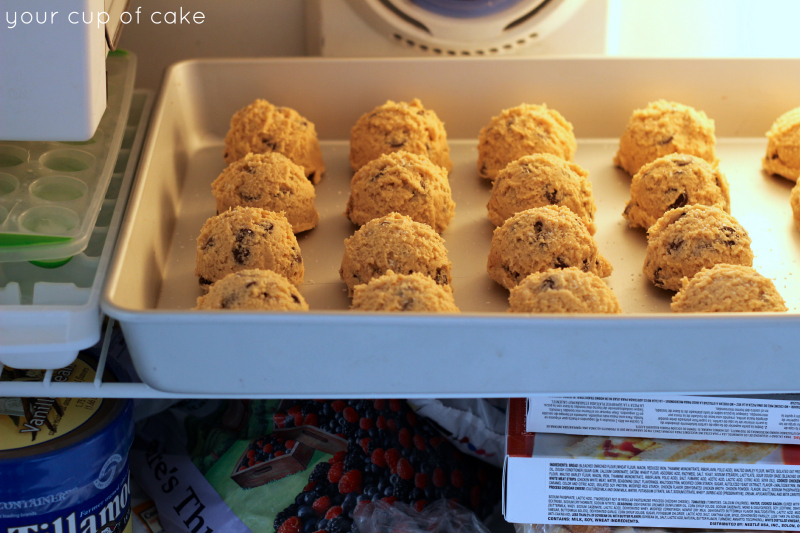 Home Alone?:
-Love cookies but don't want 30 sitting in your kitchen because you'll eat them all? You, me and my mother are the same! So freeze your dough balls and then toss them in a freezer bag and keep them in them in the freezer! Only bake 1 or 2 at a time for a perfect treat! Have warm cookies ready for the kids after school every day and you only have to mix up the dough once a week (or month)! I always have a bag in my freezer and sometimes I just eat the dough frozen on hot summer days.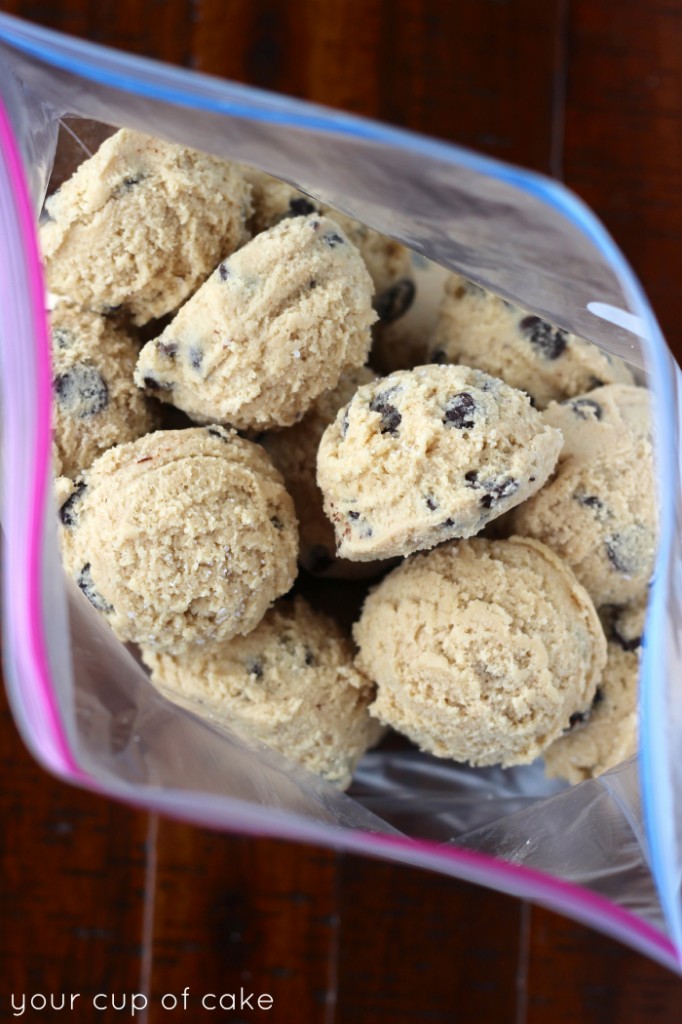 -Now, you may have to hide them behind the frozen vegetables so that the Mr. doesn't break into them, but this is seriously the only way I bake cookies. If I wake up with a cold, I can bake myself a cookie to nurse myself to health. If my neighbor is having a rough day, I pop in a few cookies into the oven. So quick and easy!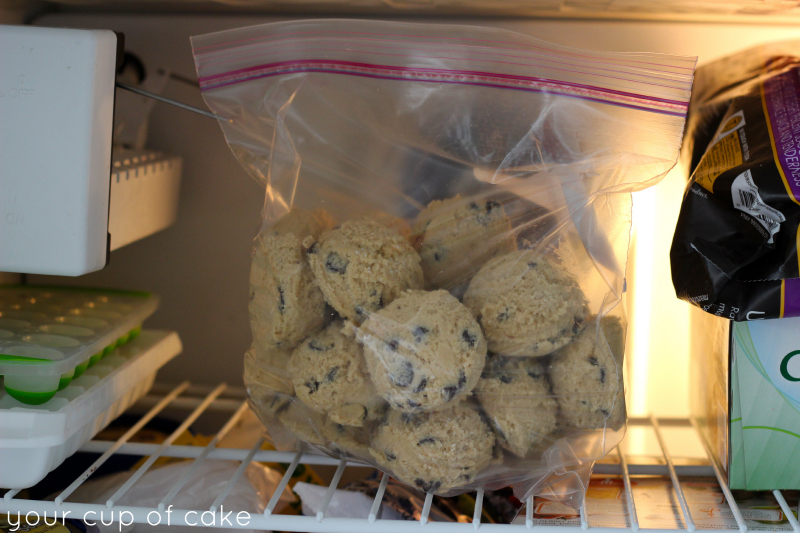 Bottom's up:
-One final tip! Bake your cookies on parchment paper! They will never stick again and the bottoms will be perfectly smooth. My brother used it for the first time and he called me and said "Lizzy, it's just so easy…I feel like I'm cheating." Also, use your piece of parchment several times before throwing it away! It doesn't "go bad" after one use.
What are your favorite cookie tips?