Who needs take-out when you can make this Crock Pot Take-out Mongolian Beef at home! It's as simple as slice, pour and stir! And if you have a rice cooker, you can just start that a few minutes before you're ready to serve. Your kids and friends will be begging for more of this delicious recipe.


Always Asian
I grew up on take-out! When I'm in the mood for something "homey" and cozy I always turn to asian food! I know that sounds a little strange since most people go for tomato soup and grilled cheese or a roast, but I remember all the nights my father used to come home with Thai, Chinese and Indian food. The smell filled the entire house and I just knew I was about to be in heaven. So here we are, Crock Pot Take-out Mongolian Beef served with rice!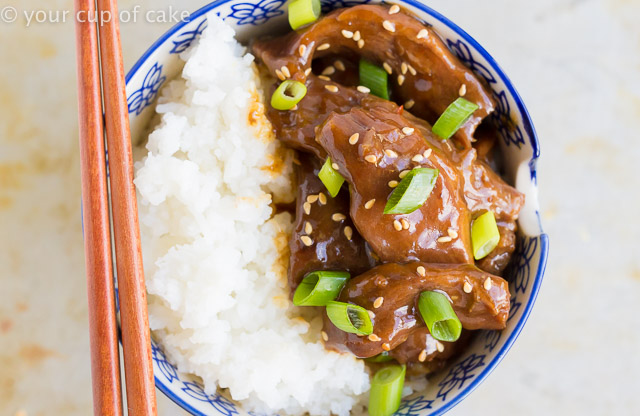 A True Crock Pot Dinner
This recipe is great because there's no cooking of the meat before hand. The only prep work you have to do to the meat other than slicing it is coating it with cornstarch, which takes a plastic bag and about 5 seconds.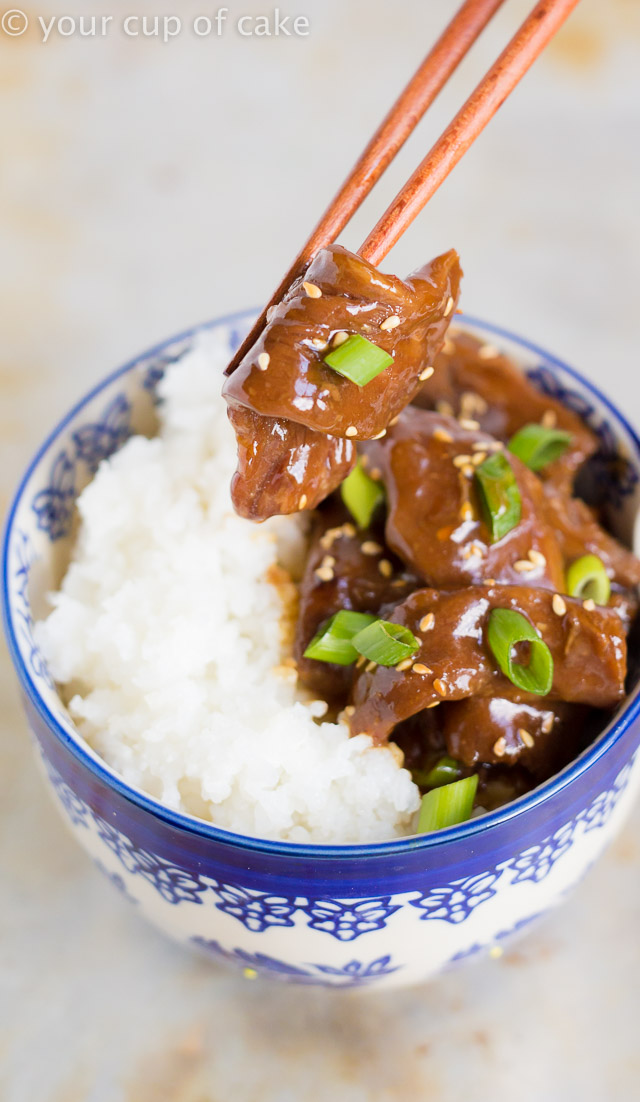 Introducing Mr. Cup of Cake
Who's holding those chopsticks… Parker! By the time you all read this, he will be my husband!!!!!! Crazy. But seriously, he is the best thing that has ever happened to me. Plus, he loves cooking and might be more obsessed with food than me! He gets all the credit for this delicious recipe and the cute bowls we took the photos in were even a wedding present from a cousin of mine!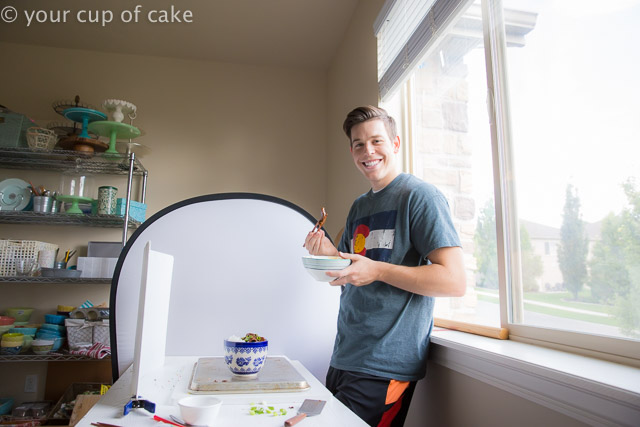 Parker is a great spoon holder too… But he kept wanting to just eat the food! And as soon as I told him I was done taking photos he grabbed a bowl and started gobbling it right up!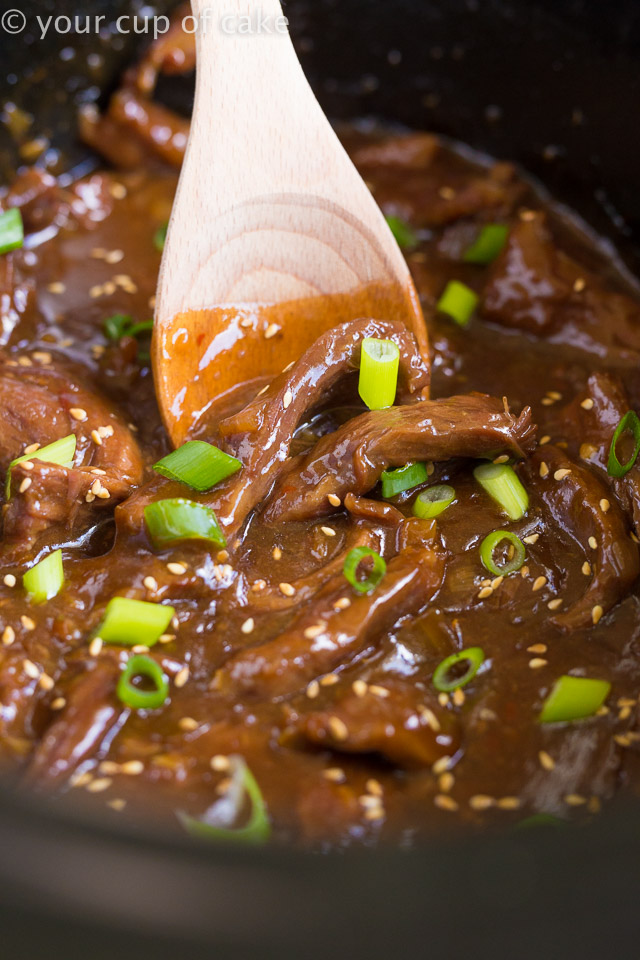 You don't have to top yours with green onions or sesame seeds, it just makes it looks a litter prettier and the onions add a little more flavor. But if you're looking to add more veggies you can always add steamed broccoli or carrots to the pot and give it a good stir in the sauce and serve. If you add some broccoli you can even call it Beef and Broccoli! Another one of my favorite dishes….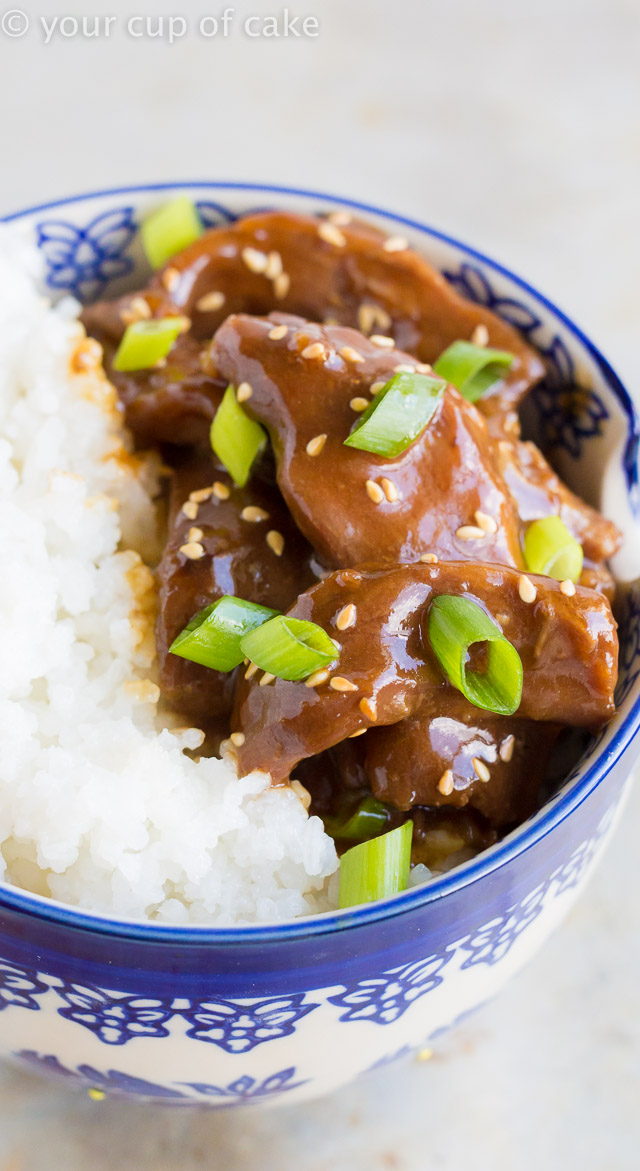 Another one of my favorite slow cooker/ crock pot recipes is this Cheesy Artichoke Dip! Oh my! Football season can't come soon enough, because I need to be making that and my cute football cupcakes every weekend for parties.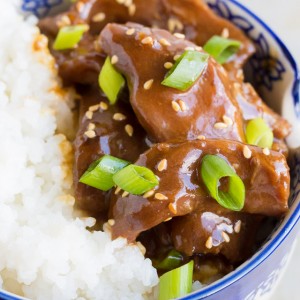 Crock Pot Take Out Mongolian Beef
Ingredients
1 1/2

lbs.

flank steak

3

Tbsp.

and 1 Tbsp. cornstarch separated

2

Tbs.

sesame oil

olive oil works if that's all you have

3

cloves

of garlic

minced

1

tsp.

ground ginger

1/2

C.

soy sauce

I used low sodium

1/2

C.

beef broth

1/4

C.

onion chopped

2/3

C.

brown sugar

1/4

tsp.

red pepper flakes

optional

green onions and sesame seeds for garnish
Instructions
1. Slice flank steak into thin 2-3 inch pieces and toss in a ziplock bag with 3 tablespoons of cornstarch.

2. In your slow cooker, sesame oil, garlic, ginger, soy sauce, beef broth, onions, brown sugar and red pepper flakes. Stir together, then add beef and stir again.

3. Cook for 2-3 hours on high or 4-5 hours on low. When it's just about done, remove 1/2 cup of the liquid, whisk in 1 tablespoon of cornstarch to that removed liquid. Then pour it back into the pot and stir to help thicken the sauce.

4. Serve with rice and top with green onions and toasted sesame seeds!