For all you Dr Pepper lovers out there, this is for you! Saucy Dr Pepper Wings and Drumsticks that will make every dream come true!

Dr Pepper Wings and Drumsticks: Chicken for the Soda Addicts
On my first date with my husband, I glanced in his backseat and saw a 24 pack of Dr Pepper. Little did I know, I would be his second love to the Doctor. Any why does he call me such a good wife now? Because I always keep cold cans of Dr Pepper in the fridge. He's an easy man to please. So of course it was his idea to make these decadent, saucy and over the top Dr Pepper Wings and Drumsticks!
Have you seen all the funny Dr Pepper shirts out there?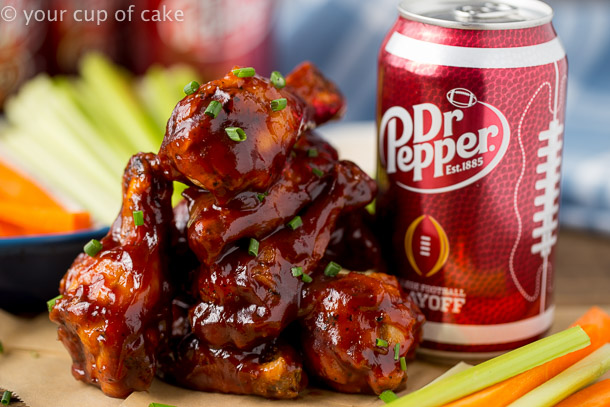 Dr Pepper BBQ Sauce
"These are the best photos you have ever taken." That's what my husband said when we saw these. It's the glistening Dr Pepper BBQ sauce! It just makes you want to reach in and take a bite! Parker couldn't even wait for the end of the photoshoot to dive in, he only let me use a few to take photos of while he ate the rest! And I won't lie, I may or may not have licked the sauce off of the can when it bumped up against it…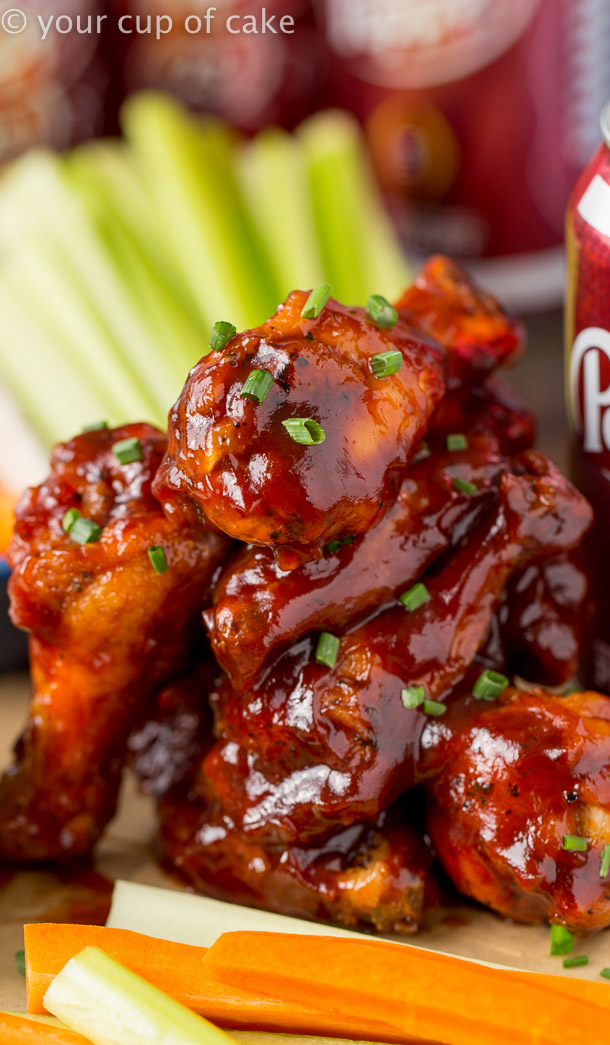 Baked BBQ Wings and a Fried Recipe Too!
I've included both a frying recipe and a baking recipe! My husband is die hard about frying his wings but I just find baking them to be easier and less messy. So I wanted to make everyone happy! Except vegetarians… they won't be happy with me and this recipe. But oh well! One trick to baking your wings is to blot them dry before baking with a paper towel. When the skin is wet, it won't get very crispy! But let's be honest, once it's smothered in this sauce you won't even care.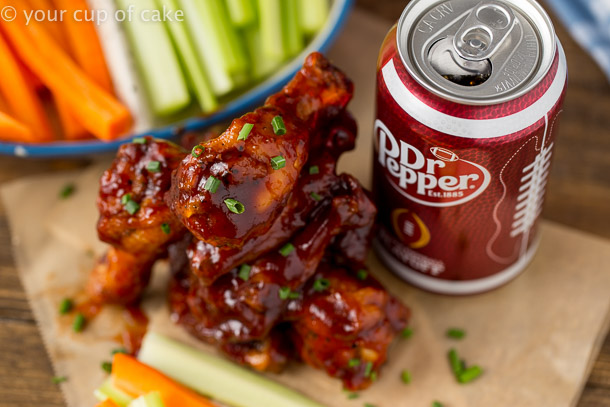 The Best Game Day Food
Not many things beat a day full of football and game day food. We had quite the spread with these wings, cold Dr Peppers, celery and carrot sticks! You can even bust out the ranch! The chives I garnished the wings with are more than just decoration, they taste awesome on them! So they add a pop of color, flavor and it's a vegetable so these are totally healthy, right? Right.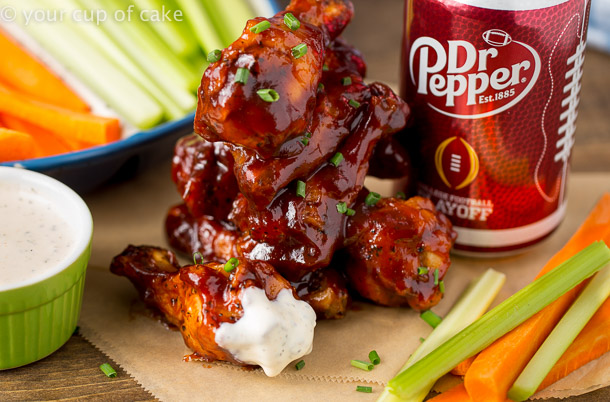 Enjoy these Dr Pepper Wings and Drumsticks at your next game day party! Is it time for the super bowl or NBA playoffs yet? Bring on all the sports!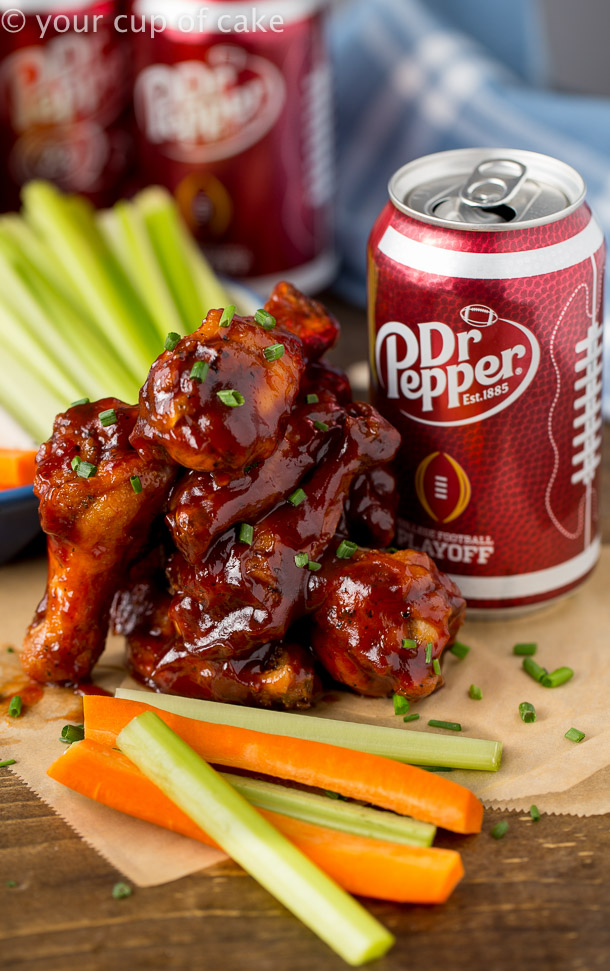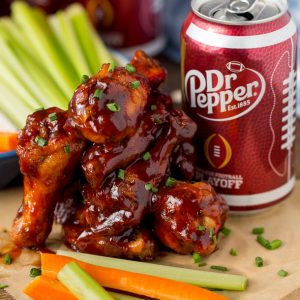 Dr Pepper Wings and Drumsticks [Game Day Food]
Ingredients
15-20

Drums and Wings

depending on how saucy you like them

DR PEPPER BBQ SAUCE:

1/4

C.

butter

1

large yellow onion

chopped

4

cloves

garlic

1

C.

ketchup

3

Tbsp.

tomato paste

1

can

12 oz Dr Pepper

1/2

C.

cider vinegar

1/3

C.

Worcestershire Sauce

1/2

C.

brown sugar

packed

2

tsp.

chipotle powder or chili powder

1

tsp.

pepper

1

tsp.

salt
Instructions
1. BBQ SAUCE: In a sauce pan, melt butter. Sauté onions for about 7 minutes. Then add garlic and let cook for another 3 minutes. Add the remaining ingredients and let simmer for 15 minutes (which the chicken cooks.) Continue to cook for 10 more minute or until you like the consistency. Then place in a blender and blend for a smoother consistency.

2. FRYING INSTRUCTIONS: Heat oil in a large skillet to 375 degrees. Deep fry chicken wings until done, about 10 minutes. Remove chicken from oil and set on a plate covered in paper towels. When all the chicken has cooked, place in a large bowl and pour in as much sauce as needed and toss until covered. Sprinkle with chopped chives!

3. BAKING INSTRUCTIONS: Preheat oven to 450 degrees and lightly grease a cookie sheet. Use a paper towel to blot chicken wings/drums dry. This will help to get a crispy skin! Place chicken on cookie sheet and bake for 30-35 minutes, then drain the pan, brush chicken with BBQ sauce and bake for another 10 minutes or until cooked. Feel free to toss the chicken with more sauce in a large bowl after cooked! Garnish with chopped chives! (The chives taste incredible on these wings!)