Make canned baked beans even better! This recipe for Easy Ultimate Baked Beans will be your new favorite side dish this summer and all year long! I'm OBSESSED with this recipe!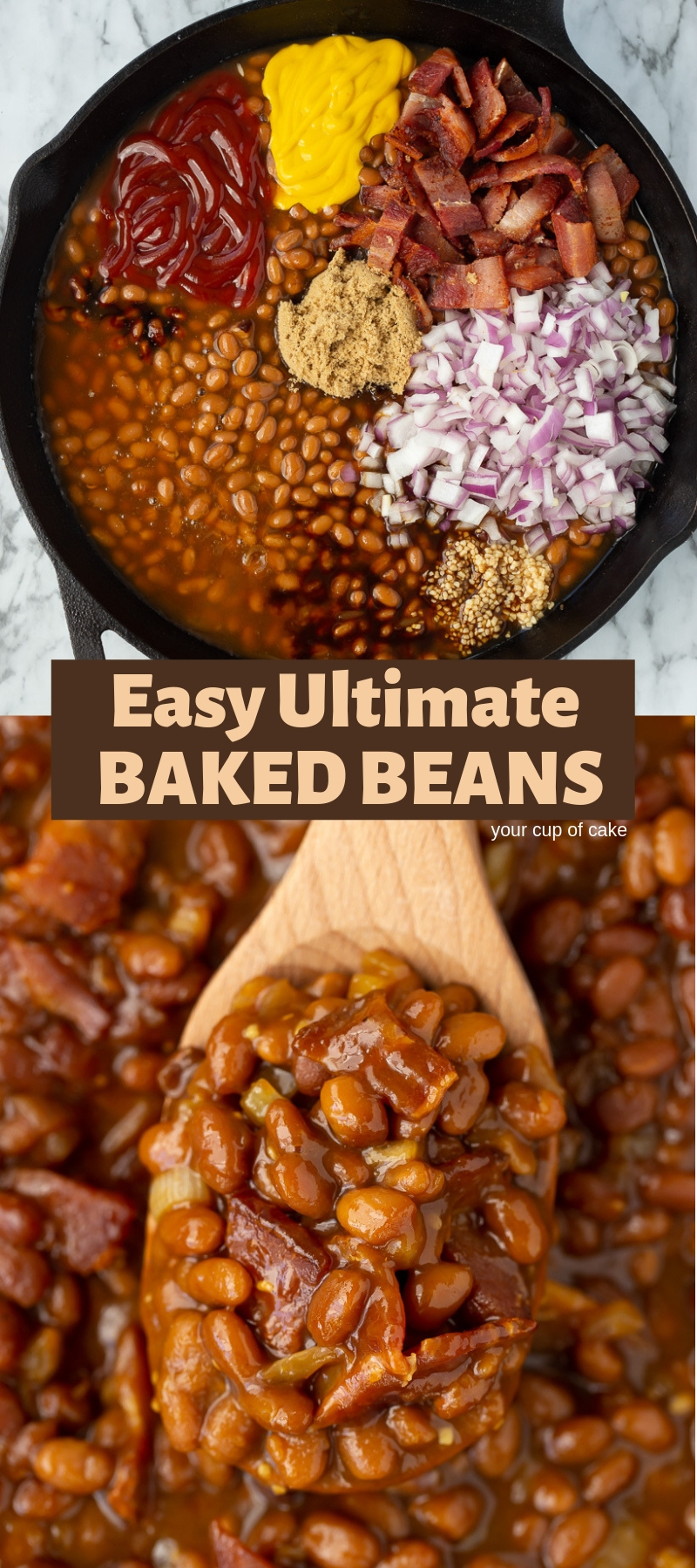 How to Make Baked Beans: Easy Ultimate Baked Beans
I am so excited to share this recipe! I have never been the biggest fan of baked beans until my husband Parker made these for me a few years ago. WOW. These baked beans should be a side dish for every meal! And to make it even better, these are so easy to make! Just dump all the ingredients into an oven-safe dish, stir and bake for an hour! If you want to be really fancy you can do what BBQ restaurants do to make their beans incredible… use leftover brisket or pulled pork to help flavor the beans! We tend to eat all our pulled pork when we make it, so that's why we use bacon in the recipe. These Easy Ultimate Baked Beans should be a staple side dish for your family this summer and all year long! Enjoy our recipe for the BEST baked beans ever!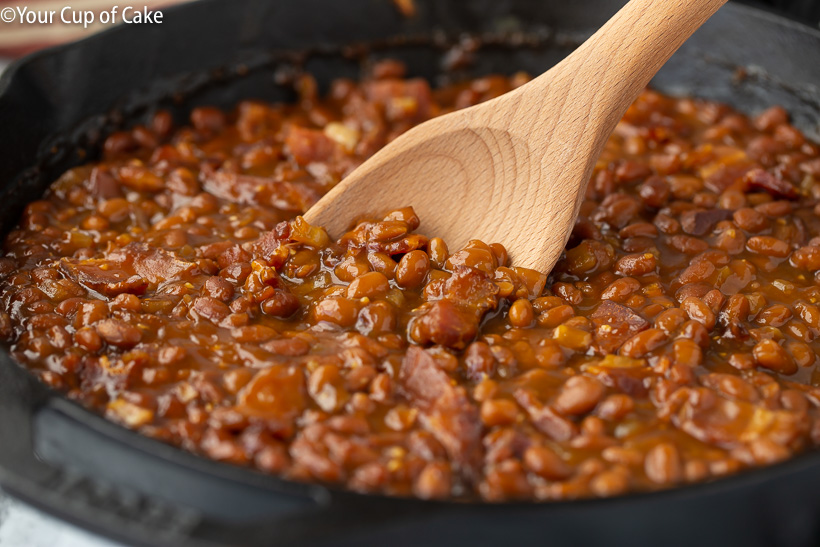 Can You Make Baked Beans in a Slow Cooker?
Because all you're doing for this recipe is combining the ingredients and letting them cook and simmer together to thicken and build flavor, you can easily make these baked beans in a slow cooker! Slow cooker meals can be great because if you run out of room in the oven or don't want to bother making these an hour before the meal just put all the ingredients in a slow cooker, stir and cook on low for 8 hours or high for 4 hours. Stir occasionally! If you have a smoker and want to add that smokey flavor, cook for only an hour! No matter how you cook these Ultimate Easy Baked Beans they are truly amazing! Even my nephew who is the pickiest eater alive loved these beans! And they're tender and sweet so tiny kiddos will love them too, no teeth required!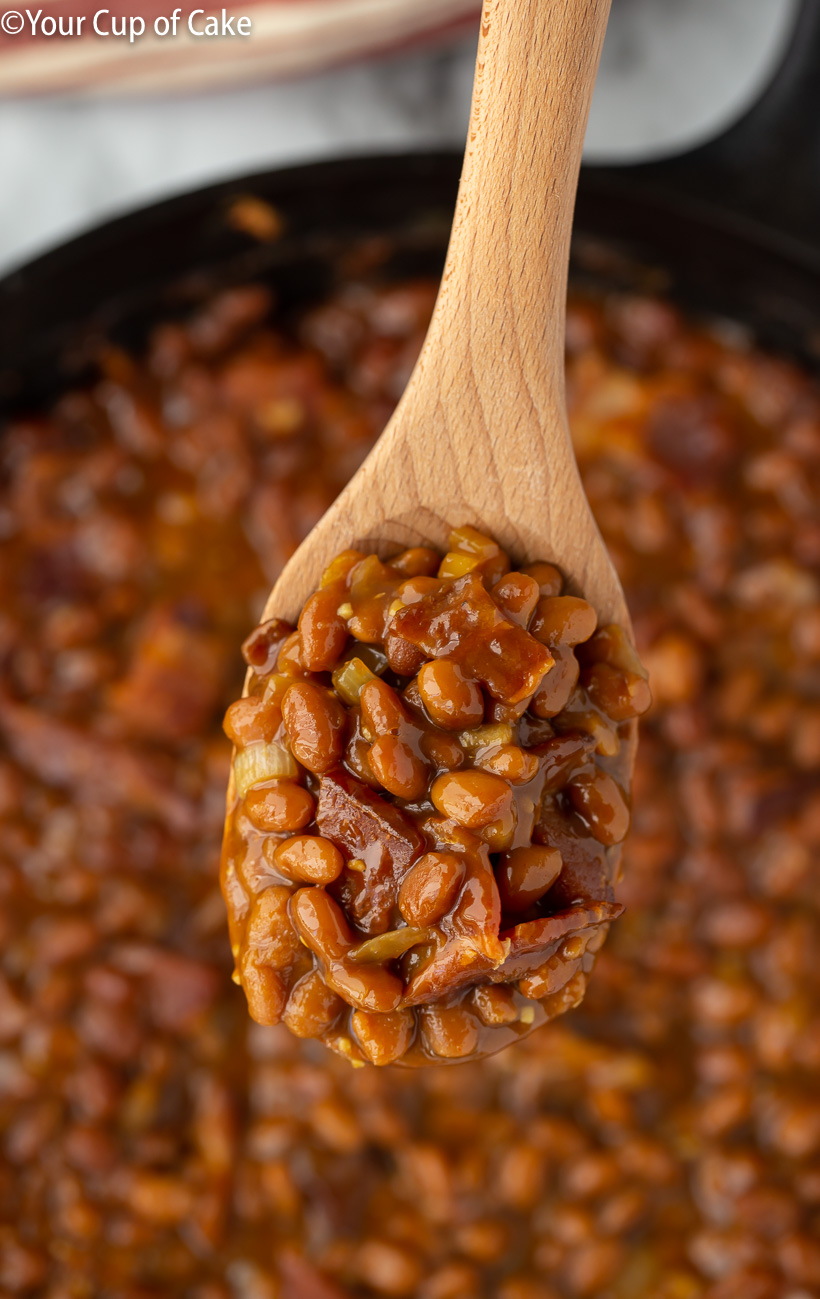 How to Make Canned Beans Better?
I am always looking for ways to make store-bought foods better. This is the best and easiest way to make canned baked beans better! What canned beans are best for baked beans? We like to use Bush's Original Baked Beans, they never let us down! Adding bacon is a great way to instantly boost the flavor because let's be honest…bacon and bacon drippings make just about everything better. The other ingredients added like the onion, brown sugar, mustard and garlic just help to deepen the flavors. Canned baked beans are very one note, they just taste like beans. But when you add all these other ingredients it turns into an explosion of flavor! Everyone will be begging you for the recipe when you should up to your next block party with these Easy Ultimate Baked Beans! You'll notice BBQ sauce is not listed in the ingredients but thats because we sweeten the beans using those other ingredients.
Because we are using canned beans to start, there's no need to soak beans! I love when I can make an incredible recipe and it doesn't take too much time or extra steps.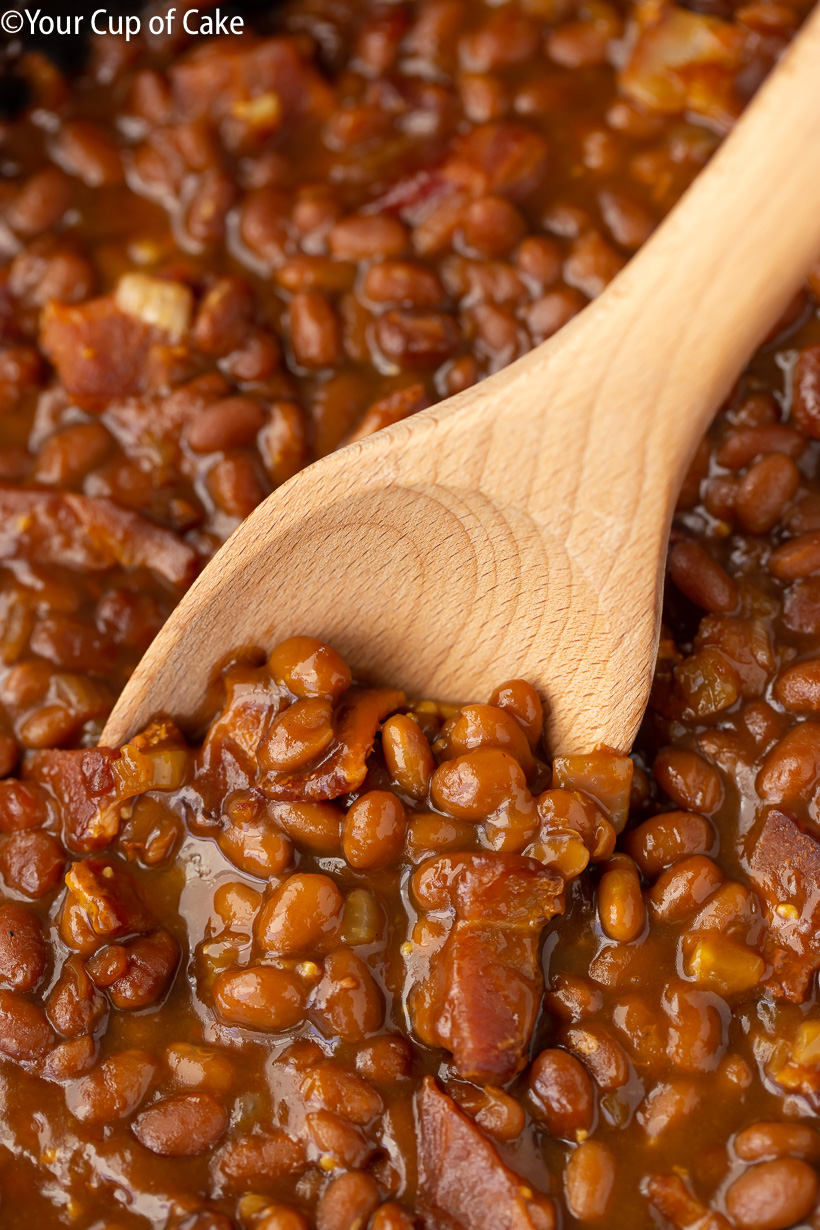 What Goes Well with Baked Beans?
Baked beans are always the perfect side dish for anything BBQ related! The dish is high in protein so it's great to keep kids (and adults) full and happy. Bring this to your next potluck or neighborhood party! My husband and I will sometimes just make veggie kabobs and make these beans as the side, yum! Parker (my husband) loves to use a potato chip as a spoon when he eats these! But let me tell you, once you make these you will never go back to plain old baked beans because they're just that good. You'll be looking for excuses to make these baked beans with every meal.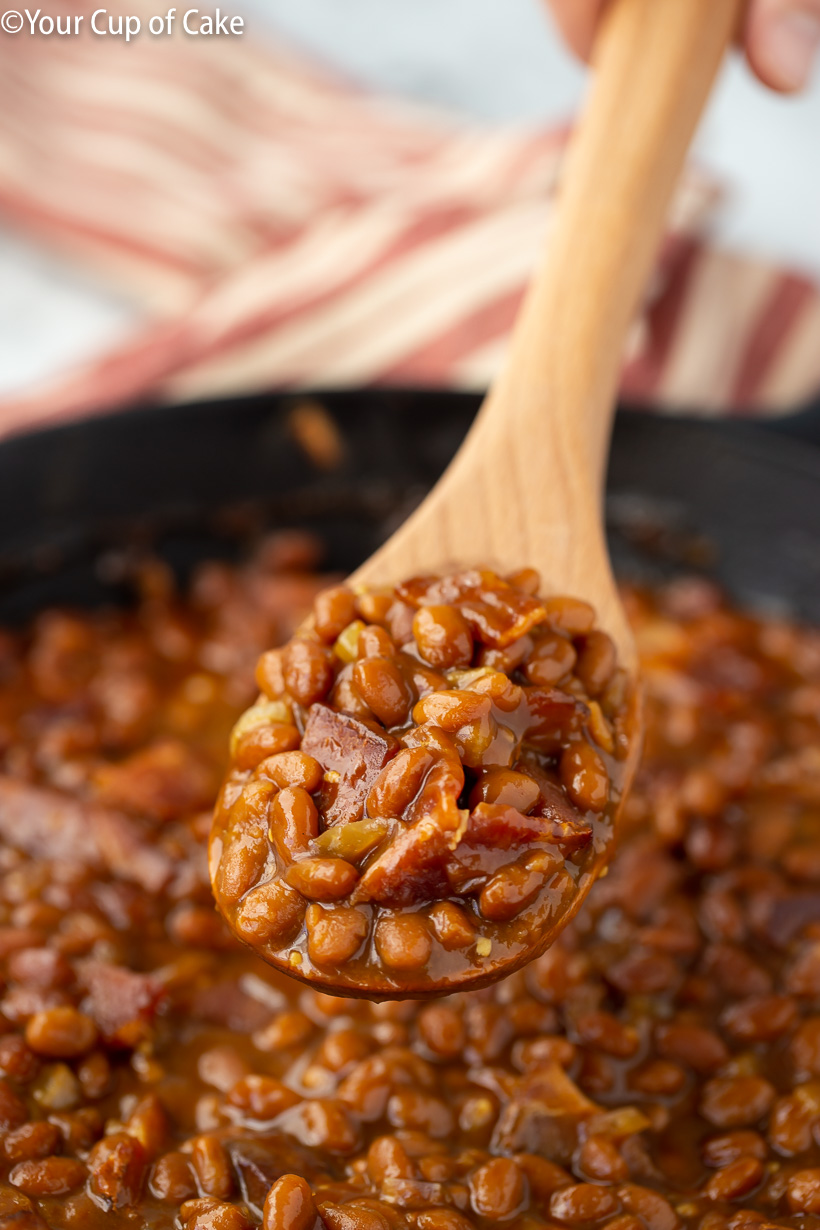 Are you drooling yet? Luckily we still have some of these baked beans in the fridge so I can eat some right after I write this post! My husband is always temped to make a half batch when it's just for us but I always convince him to make a big pot because I know I'm going to want plenty of leftovers.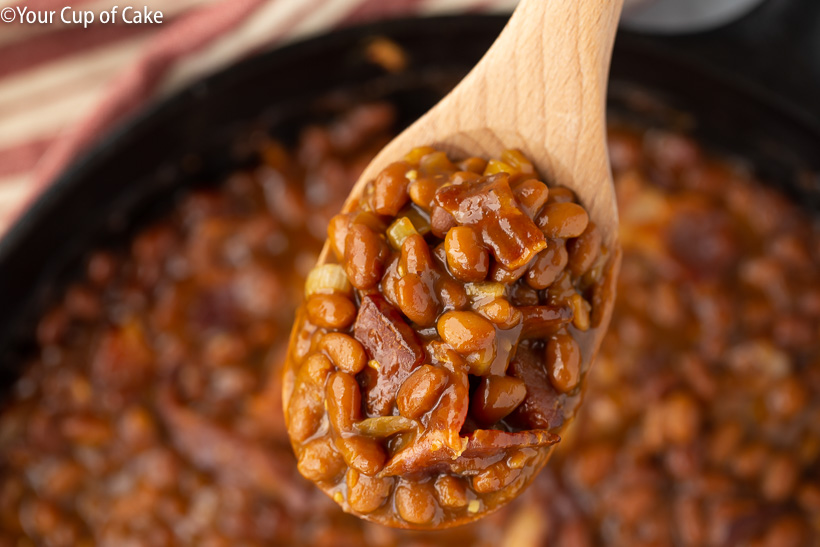 This really is the best baked beans recipe ever. Like ever.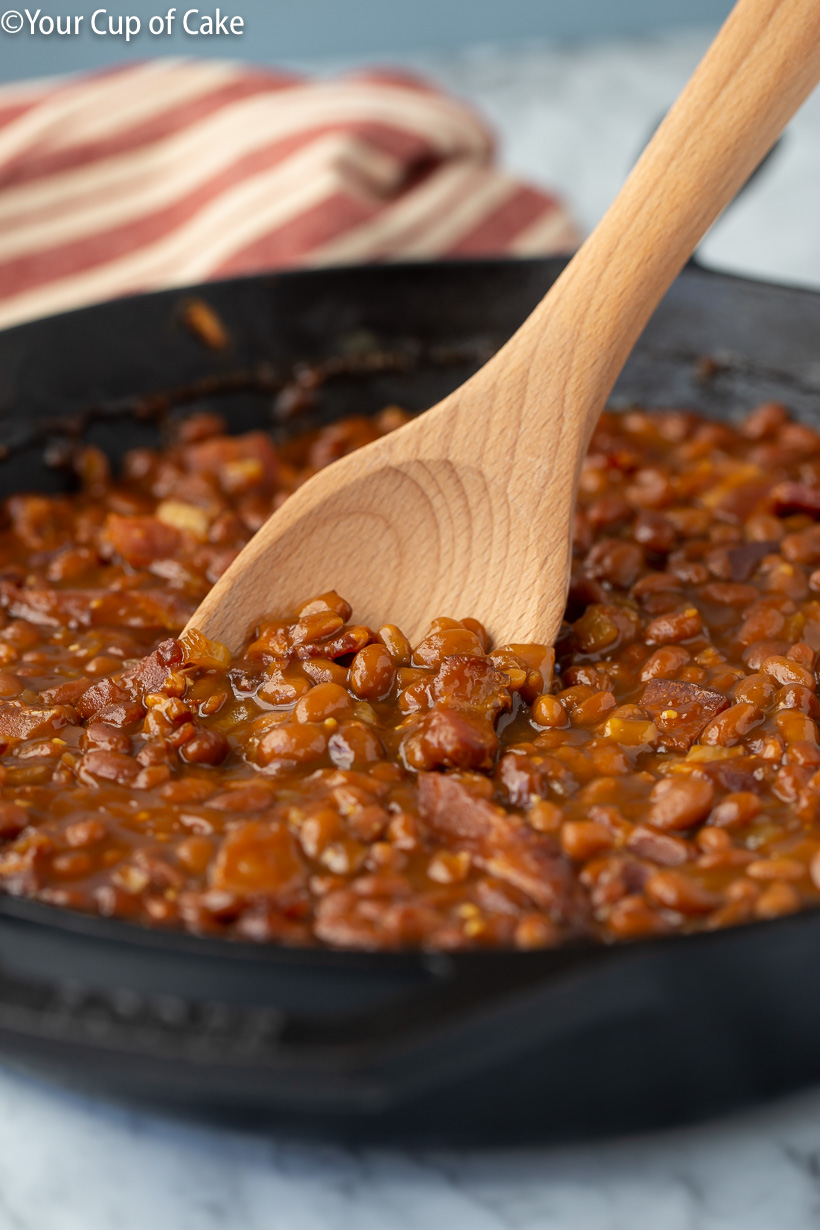 I love bringing a big pot of these baked beans to all our parties all year long! No matter the occasion these beans go great with every meal and everyone of every age loves them! Even my own picky kids keep asking me to make these every week. Happy cooking everyone!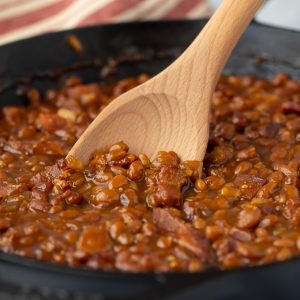 Easy Ultimate Baked Beans
Make canned beans even better with this AMAZING recipe for Slow Cooker BBQ Baked Beans! The perfect Summer side dish for any BBQ, potluck party, or get together.

Ingredients
1

28 oz can

baked beans

6

slices

cooked bacon

chopped in 1/4 inch pieces

1/2

red onion

diced

1/4

cup

ketchup

1/4

cup

yellow mustard

1/4

cup

brown sugar

2

Tablespoon

molasses

2

Tablespoon

minced garlic

1

Tablespoon

Worcestershire sauce
Instructions
Preheat oven to 350 degrees.

In a casserole dish, cast iron pan, or other oven safe dish. Add all the ingredients and stir until well incorporated.

Bake for 1 hour, stirring halfway through.
Recipe Notes
If cooking in a slow cooker, cook on high for 4 hours or low for 8.
I love a recipe where I can just pour everything into one pan and let it cook!