Make this perfectly flaky and easy butter pie crust for all your pies! It's an all butter recipe and can be frozen weeks ahead of time. No more store-bought crust, homemade pie crust is the way to go!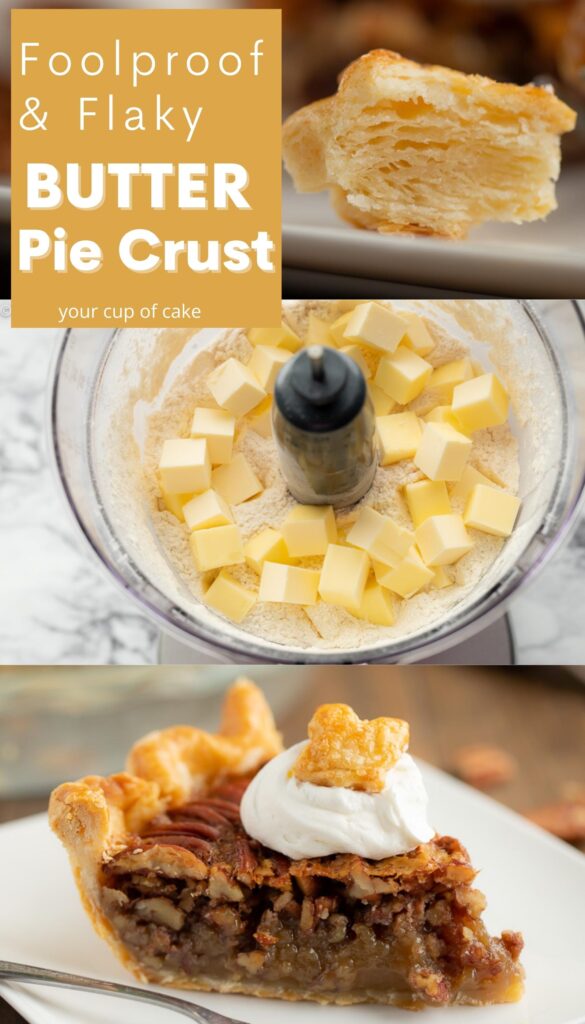 Easy Butter Pie Crust Recipe
There has been a lot going on about pies lately. When I asked on my instagram about what pie flavors people want recipes for, many people said they wanted a solid, foolproof easy pie recipe! So here I am. Pie crust can seem daunting but I promise it's not. It's very simple if you have a food processor. I only bought a food processor for pies and grating tons of carrots when I make carrot cake. Other than that, I really don't like dragging it up from the basement and then having to clean a bunch of parts on it. Also, this pecan pie is to die for, so make sure you try it this Thanksgiving!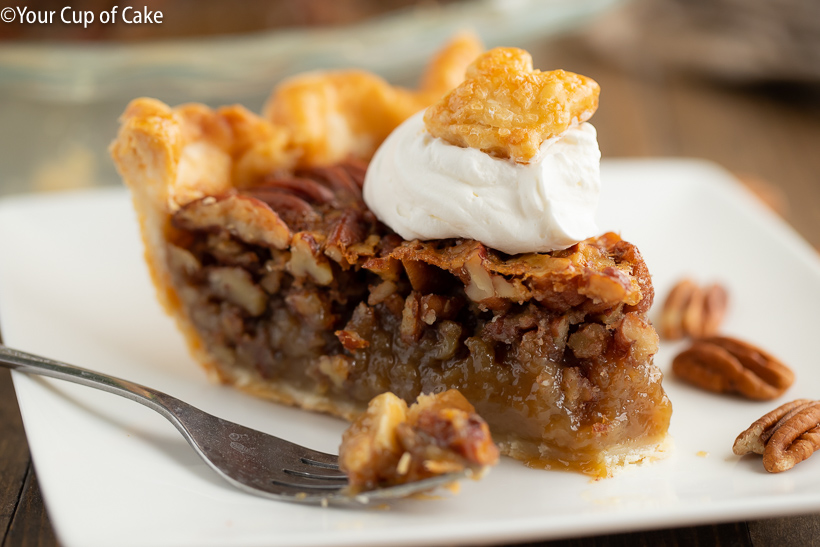 Foolproof Pie Dough Recipe
I don't ever recall making cake from scratch or even making chocolate chip cookies with my mother growing up. But we would make PIES! And we would always make pie dough from scratch. So I'll try to zip through some of the basic tips but always give you some sneaky tips to making the best pie dough and crust. This recipe is all butter, but can you make a pie crust with shortening? Of course! Shortening has it's own baking benefits but this recipe is for people who prefer only butter. It's the recipe I always use myself.
See that little pie crust leaf on top of the whipped cream in the picture above? I cut that leaf and THIS is what was inside. Layers and layers of flakiness heaven. This pie crust is amazingly flaky and buttery.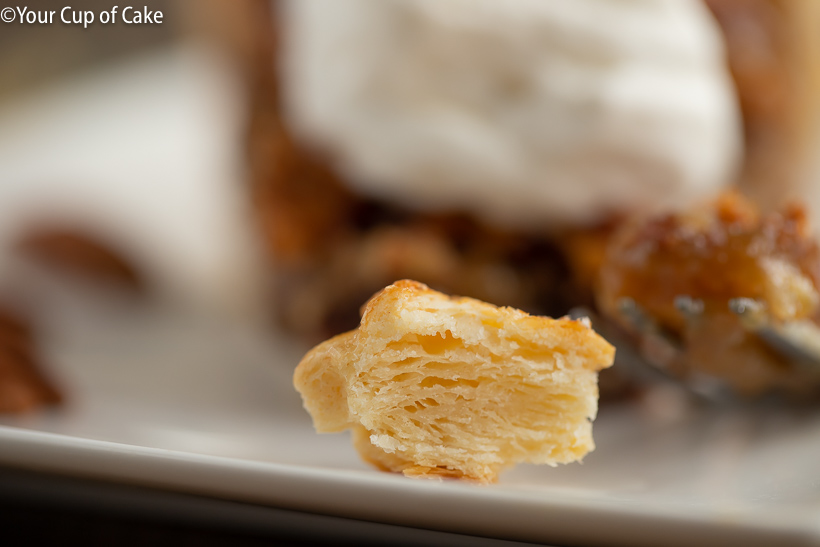 Can you make pie crust without a food processor?
Yes, yes you can. But it's a huge pain to try and get the cold butter dispersed evenly and it will take you 10 times the time and you will probably break your pastry cutter like I have. So using a food processor to make pie dough it always recommended. Don't have one? I bet a friendly neighbor or friend does! This recipe can be made weeks before you use it and stored in the freezer so find a time to borrow it and use it!
Here we are step one: Mixing some of the flour with the other dry ingredients.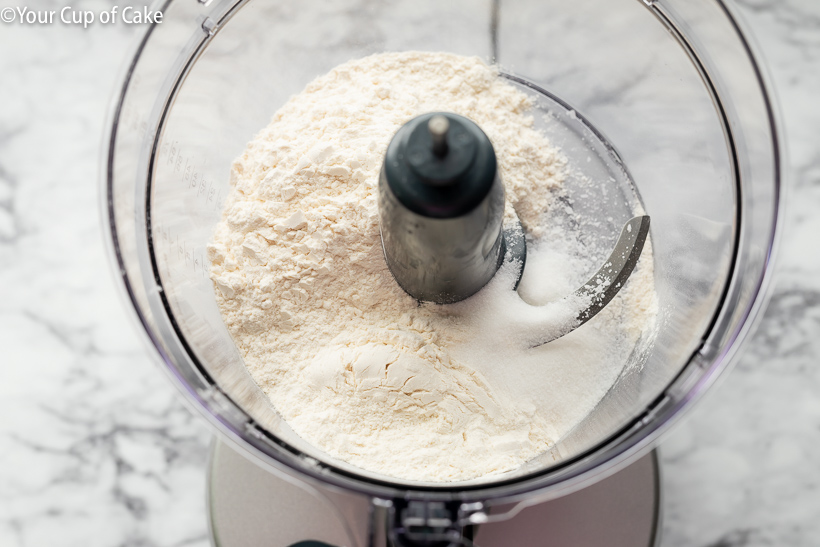 Secrets for Flaky Pie Crust
Want that flaky crust? Cold. Keep your butter cold and keep your pie crust cold. when those bits of butter melt in the oven they will create pockets of air making the dough flaky. So start with cold butter and don't over work it or sit and let your kids play with it with their warm hands! Only add as much liquid as you need, no more!
Here we are step 2: Adding in that COLD butter!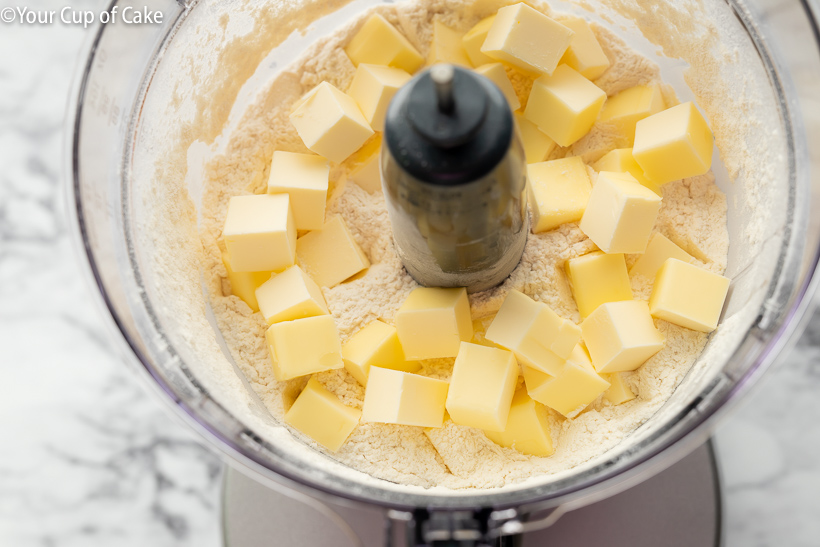 Step three: You can see the blended ingredients in coarse crumbs and then the rest of the flour being added.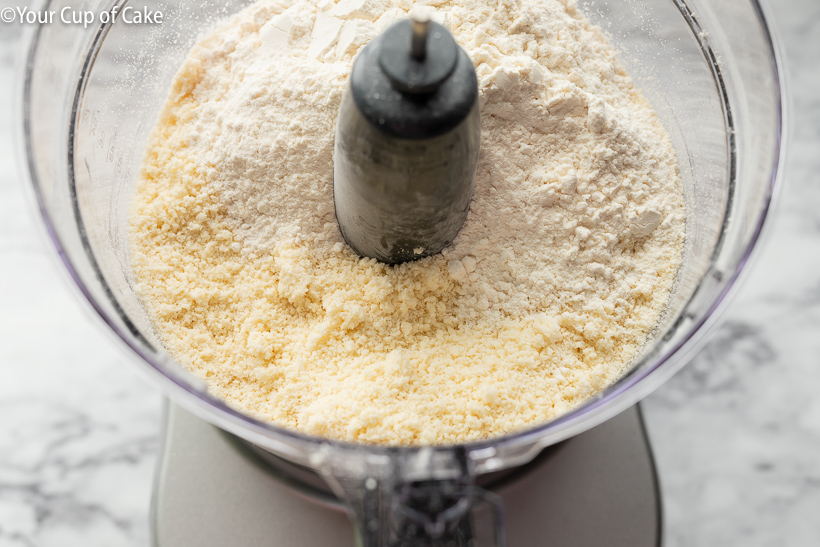 Step four: The ice water has gone in! How do I make "ice water?" I just put a bunch of ice and water in a pyrex and let it sit while I do everything else for the pie and by the time I need it the water is cold and I can just use a tablespoon to scoop out the water I need!
This is how you know you have added enough water, the pie crust mixture sticks together when you pinch it!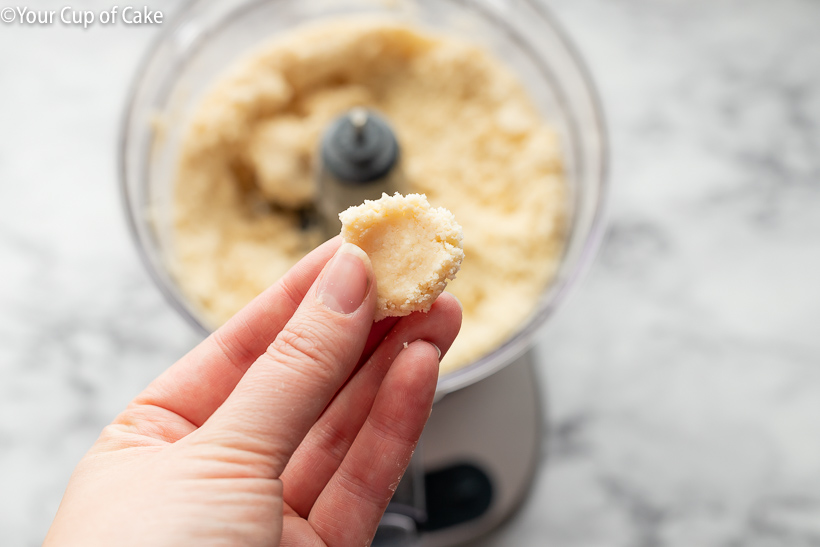 More Pie Secrets
Don't you hate when you roll out your pie dough and then it gets stuck to your counter or work surface? Say goodbye to that problem! Okay, this photo is terribly because of my horrible kitchen lighting but you can see two amazing pie secrets… I roll my pie dough out on parchment paper (with a little flour) AND to keep it from moving all around I actually use packing tape to tape the parchment to the counter! My pie dough never sticks and when I'm done, I just just roll up the parchment with all the flour and throw it away! No big mess to clean up.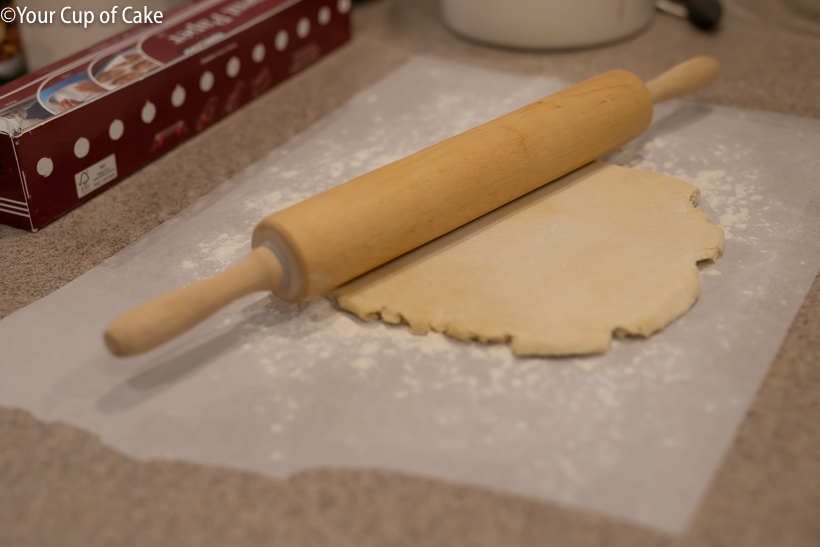 How thin should you roll your pie dough? Well that depends on what end result you want. Thin pie crusts are delicate, tender and taste amazing but can be very difficult to serve because they can be fragile. So I always tend to use a rolling pin to roll out the dough to a little thicker than 1/8 of an inch which usually is what recipes suggest. And I like my crimp or flute to be thicker too!
When it comes time to flute or crimp your edge (unless you're doing something more fancy around the rim) I like to fold my excess dough inward toward where the filling will be. The filling will hide the seam! If you fold it under and tuck it into the pie pan, that seam will be seen when you serve the pie.
The Best Type of Pie Pan to Use
I make this mistake all the time and made it again because I couldn't find my "right" pie plate. Use a ceramic or tin pie dish! Glass can make your crust shrink a ton, especially if you blind bake it! If you only have a glass dish, then plan accordingly and give yourself plenty crust on the sides! Make sure you always use a fork to poke holes in your pie crust before blind baking it and you can use dried beans or pie weights to keep it from shrinking in the oven too.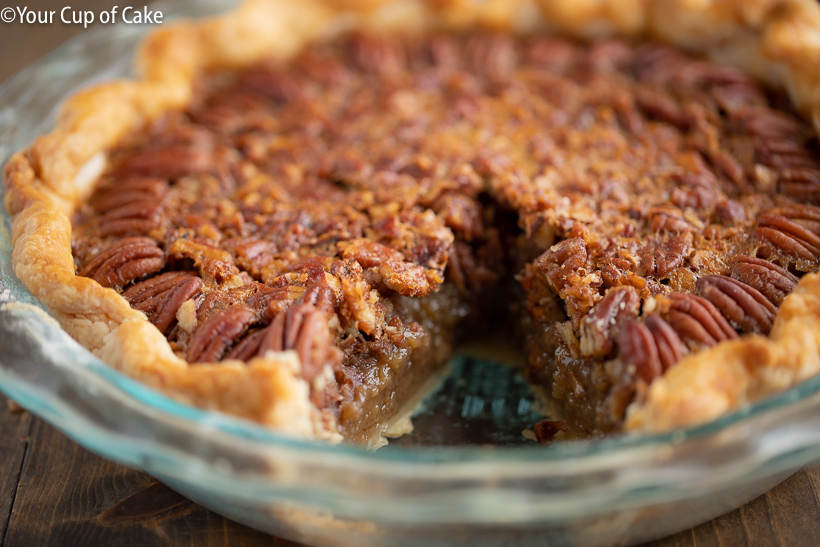 The Perfect Pie Crust Recipe
I LOVE this recipe for a few reasons. It's delicious and flaky, which is a must. But it always makes plenty of dough! I hate when I'm having to roll my pie crust wafer thin get it to cover my pan and I can barely flute the edges. This makes plenty. You will even have enough to make little decorative leaves or braid a crust. When I was a kid we would use the extra dough to make a tiny pie with some filling or wrap an apple slice in it or just spread on melted butter and cinnamon sugar. After we baked it we could eat that while the pie cooled.
How to Egg Wash your Pie Crust
I have been telling everyone to egg wash their pie crust for the last 10 years! It gives the crust a gorgeous color and if you add a sprinkle of granulated or coarse sugar it also gives it a great crunch! Just take an egg or just the egg white and whisk. Then brush it over the rim of your pie crust (I did this BEFORE adding the filling). I add sugar on top of my egg wash to apple pies when I do a lattice top and other berry pies. But for pecan pie and pumpkin pie I just do the egg wash.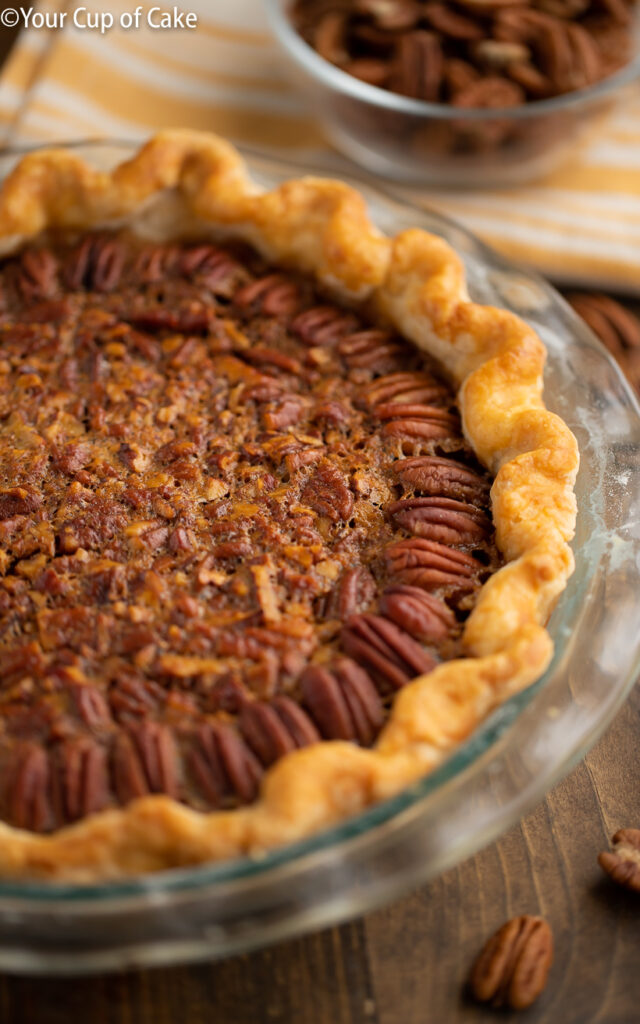 Remember, you can make this Foolproof and Flaky Butter Pie Crust ahead of time. The dough can stay in the refrigerator for 2 days or you can freeze the dough for about 3 months before you use it! I already made my pie crusts for Thanksgiving because it's nice to spread out the work over time. So make your pie crusts this weekend! Then set a reminder on your phone to let them thaw in the refrigerator 24 hours before you need to roll them out! This recipe makes a double-crust pie so that's enough for 2 pumpkin pies or 1 apple pie (which uses a top and bottom crust).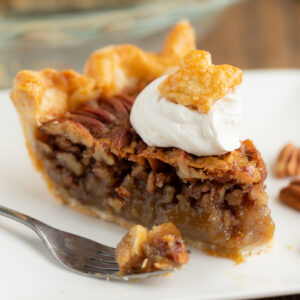 Foolproof and Flaky Butter Pie Crust
Ingredients
3 3/4

cups

all-purpose flour

1 1/2

teaspoon

salt

I use Kosher

1 1/2

tablespoon

sugar

optional

1 1/2

cup

very cold unsalted butter

cut into 1/2-inch cubes (3 sticks)

6 to 10

tablespoons

ice water
Instructions
Add ONLY 2 3/4 cups flour to your food processor with the salt and sugar. Pulse to mix.

Add your cold butter and pulse again until incorporated. This will take 10-20 seconds.

Scrape down the sides if needed and then add remaining 1 cup flour. Pulse just a few times.

Add 6 tablespoons of ice water and then pulse. Continue to add ice water until you can pinch the pie dough together and it sticks together.

Remove from food processor. Dump into a bowl or onto your countertop and split dough evenly in two. Make two thick disks and wrap tightly in plastic wrap and chill for at least 1 hour or up to 2 days. If you want to freeze your dough I suggest double wrapping it! It will stay good in the freezer for about 3 months, Thaw over night in the fridge before using.