Miso Marinated Steak and soft boiled eggs top these delicious and authentic Japanese Noodle Bowls. They're better than takeout!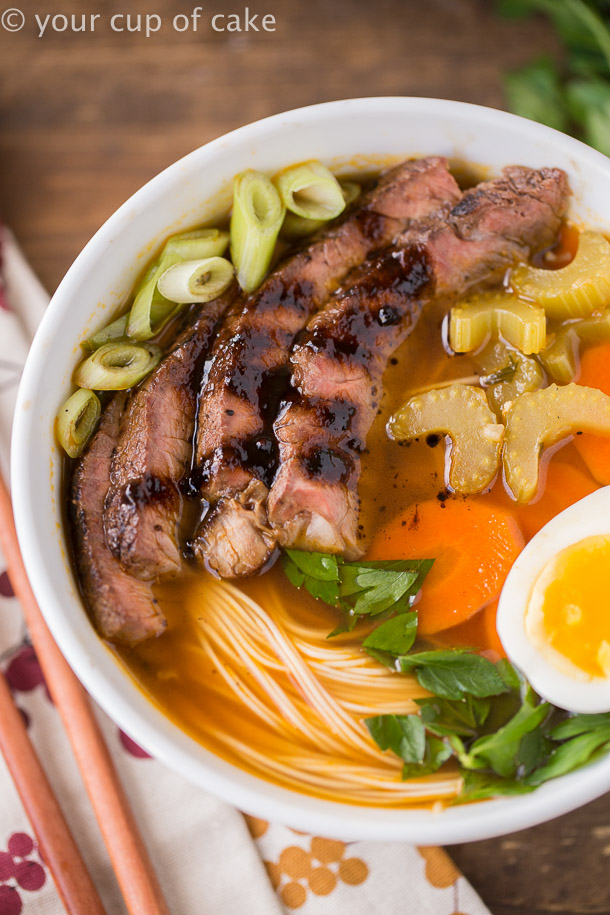 My husband and I are obsessed with all asian foods! We make Pho, pad thai, curry, beef and broccoli, you name it! So of course we loved the idea of getting to make a Japanese Noodle Bowl for HemisFares. Their ingredients are authentic and really transport you to another continent with just a one taste, it's magical!
So let's get started!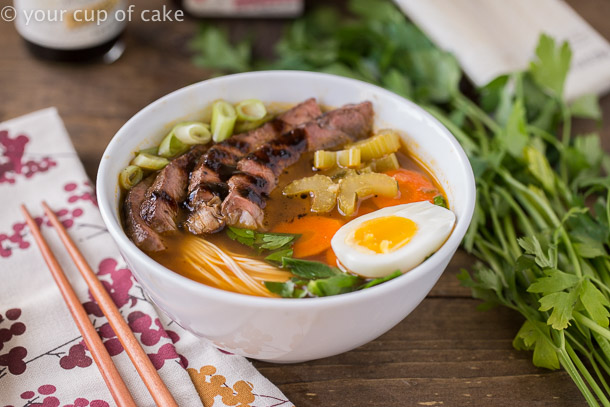 Japanese Noodle Bowls
Winter is here and soup just sounds so cozy! I'm not quite ready for the overload of all things peppermint and gingerbread since I'm still recovering from the Halloween candy, so I thought I would keep things savory today. This soup has deep flavors and is sort of like a chicken noodle soup for the Asian food lovers out there. Plus, the little sriracha gives it a kick to kick any oncoming colds out! Well, I don't know if it really has the power to do that but it sure feels like it if you put a ton in there!
Start with Soup
Soup is always a great place to start with new types of food because you can mix and match ingredients and only put in what you want! For example, serving soup with a soft boiled egg is very traditional in the Asian culture but if you don't want to add it, don't! And if you prefer your noodles to be short instead of long (which can sometimes make it difficult to eat in a soup) then you can break them before you cook them! Make this soup perfect for you and your family!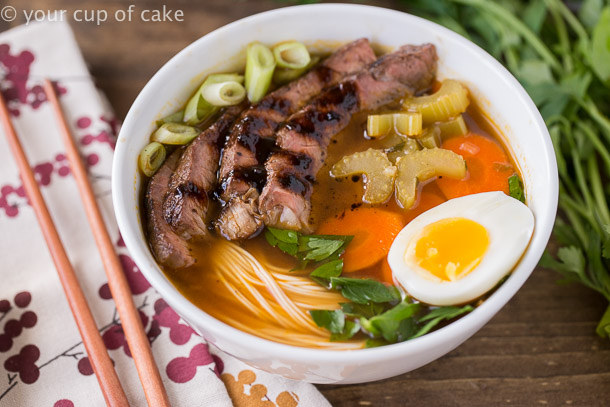 My husband ate this soup using chopsticks and a large spoon but I'm not all that dainty with chopsticks and soup so I stuck with just a spoon!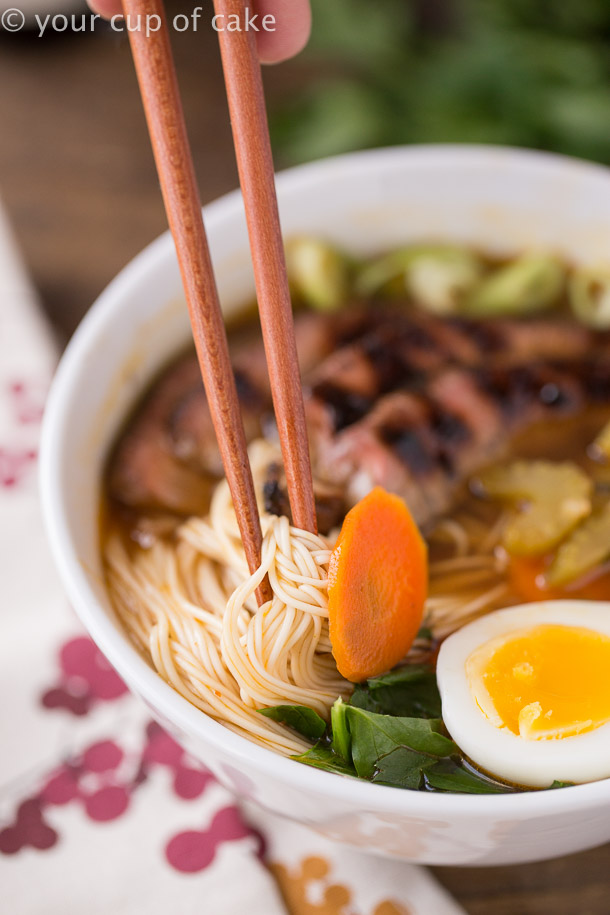 I drizzled on some of the extra juices from the pan I cooked the steak in, it was from the miso marinade and it was too good to leave behind!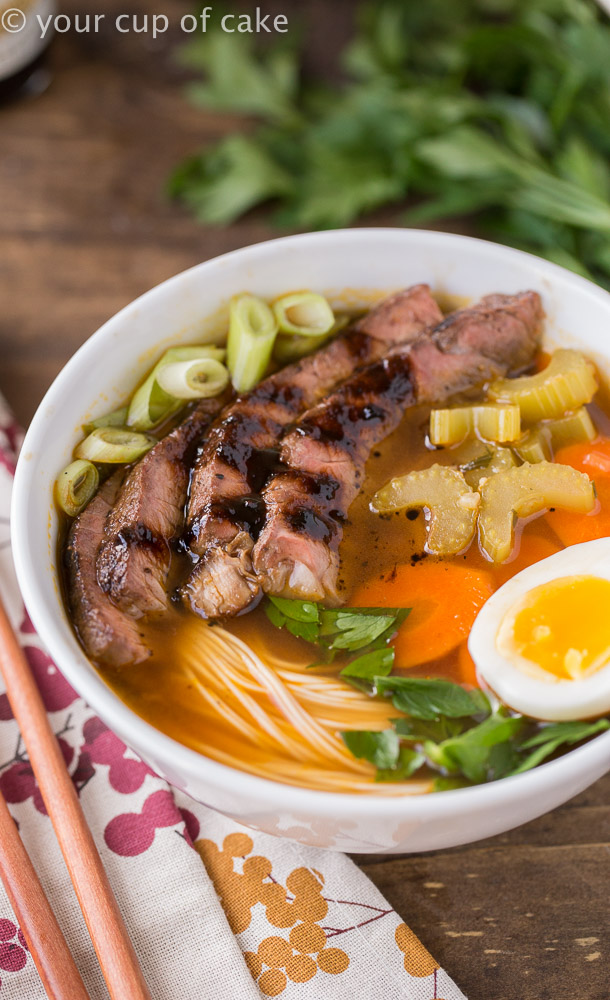 And the ingredients that made it all possible…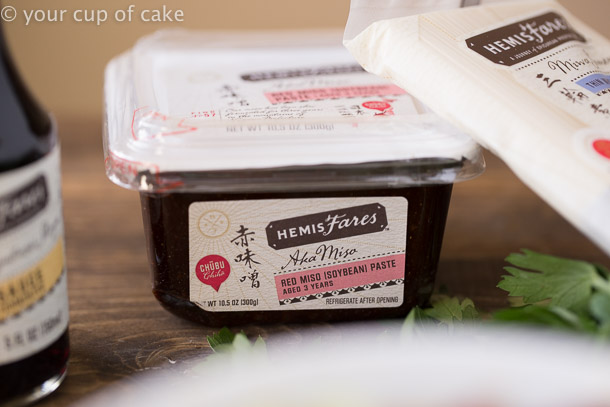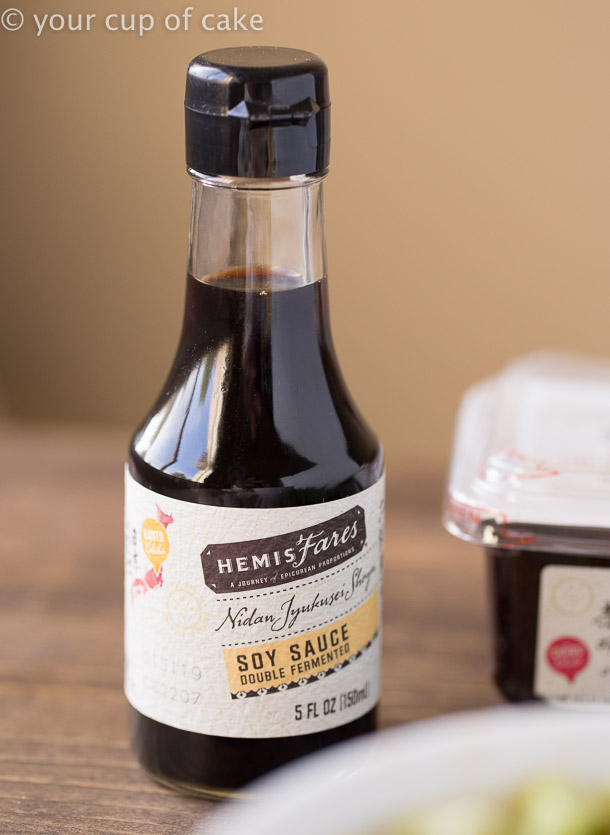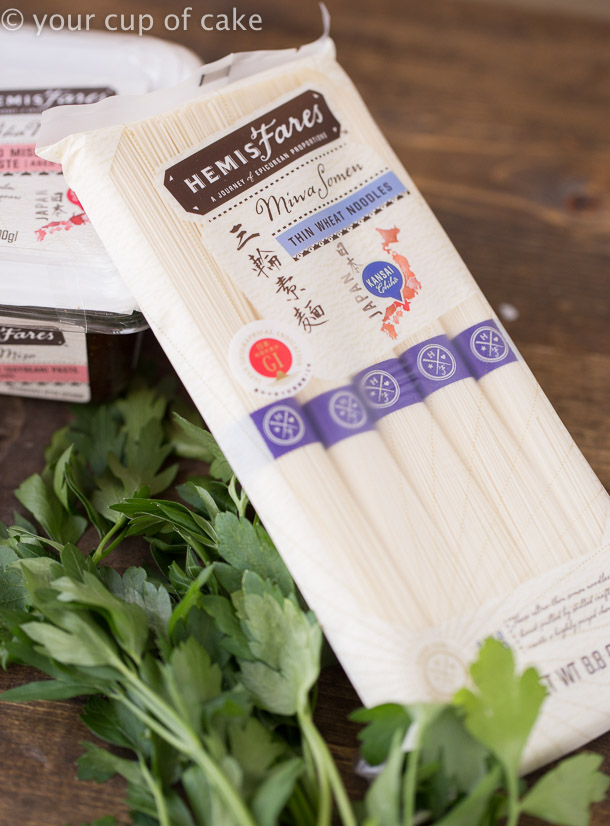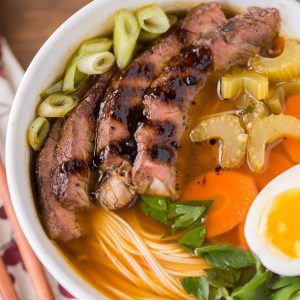 Japanese Noodle Bowls
Ingredients
MISO STEAK MARINADE:

1/4

C.

HemisFares Red Miso Paste

2

tsp.

Dijon mustard

1

tsp.

grated peeled ginger

1

tsp.

kosher salt

½

tsp.

pepper

1

garlic clove

minced

2

Tbsp.

vegetable oil

1

pound

beef flank steak

SOUP:

2

Tbsp.

olive oil

1

medium onion

diced

2

carrots

sliced

2

stalks celery

diced

2

garlic cloves

minced

¼

C.

parsley

roughly chopped

1 1/3

C.

beef stock

2

C.

chicken stock

3/4

C.

water

4

Tbsp.

HemisFares soy sauce

1-2

tsp.

Sriracha

1

pkg. HemisFares Thin Wheat Noodles

3

green onions

chopped

Soft boiled eggs

Salt and pepper
Instructions
1. Miso Marinated Steak: Combine miso paste, mustard, ginger, salt, pepper, garlic and vegetable oil. Pour into a large plastic bag, tupperware or bowl and submerge meat. Let chill for at least 30 minutes or overnight. Cook in a pan or in the oven until desired doneness. Let rest for 5 minutes and then cut thin slices.

2. Soup: Heat olive oil in a large pan over medium high heat. Add onions, carrots and celery and cook for 10 minutes. Stir occasionally. Add garlic and half of the parsley. Add beef stock, chicken stock, water, soy sauce and Sriracha. Season to taste. Bring to a boil and let simmer for 10 minutes. Add noodles and cook until they are done. Serve topped with green onions, soft boiled egg and steak. Garnish with the rest of your parsley.