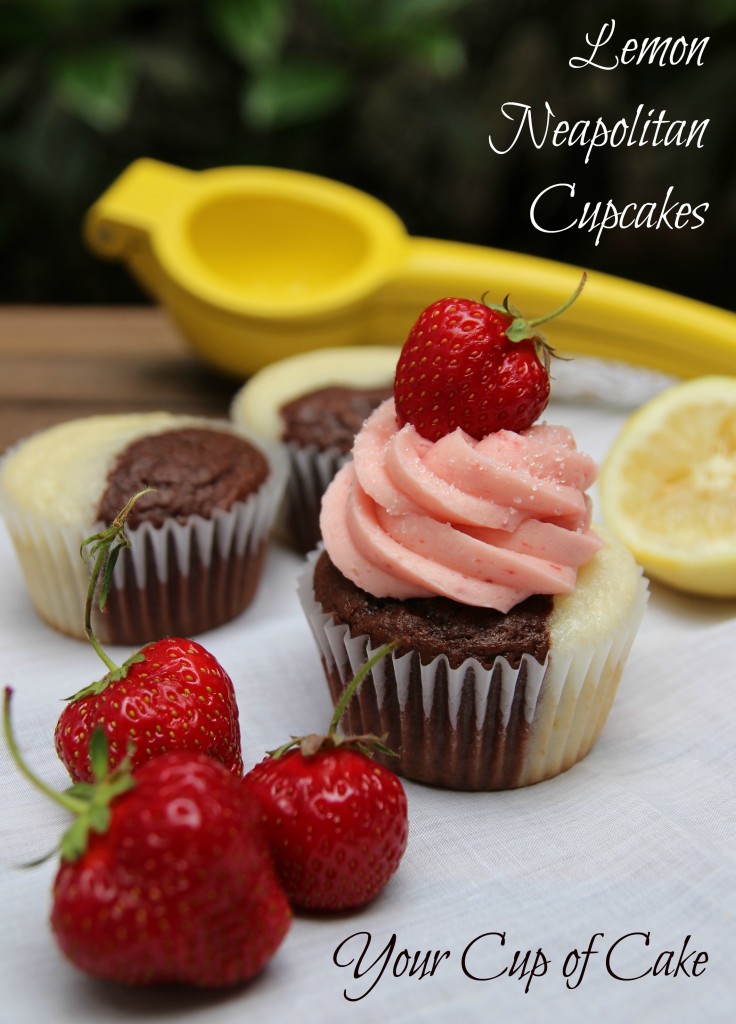 The Story:
Cupcakes tend to be something that keep me social. I bake, and then I need to give all the treats away. So I meet a lot of new people on campus and in my apartment complex. It's remarkable how many people want to be your friend when you carry around a plate of cupcakes all the time.
And not only does this cupcake look like a party, the recipe calls for a party as well! Because it makes 48 cupcakes 🙂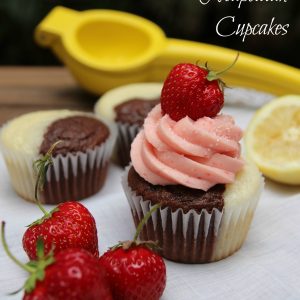 Lemon Neapolitan Cupcakes
Ingredients
Chocolate Cake:
1

box Devil's Food Cake mix

3

eggs

1/2

cup

oil

1

cup

milk

1/2

cup

sour cream

2

teaspoons

vanilla extract
Lemon Cake:
1

box White Cake mix

4

egg whites

1/3

cup

oil

2/3

cup

milk

juice of 2 lemons

zest of 2 lemons

1/2

cup

sour cream
Strawberry Buttercream:
2

cups

butter

softened

5-6

cups

powdered sugar

1/3-1/2

cup

strawberry puree

fresh

2

teaspoons

vanilla extract
Instructions
1. Preheat oven to 350 degrees and line pans with cupcake liners.

2. Sift both cake mixes (into separate bowls) and set aside.

3. Chocolate Cake: Combine the remaining ingredients in a large bowl and mix until smooth. Add cake mix and stir until fully incorporated.

4. Lemon Cake: Combine remaining ingredients in a large bowl and mix until smooth, add cake mix and stir well.

5. Fill your cupcake liners by placing one small scoop of chocolate batter on one side and lemon on the other side. It doesn't need to be perfect, they will bake beautifully no matter what.

6. Bake cupcakes for 15-20 minutes, or until an inserted knife comes out clean.

7. Buttercream: Beat butter for 2 minutes, scrape down sides and beat again. Slowly add powdered sugar until your mixture is very thick. Add your strawberry puree a little bit at a time until your frosting becomes light and fluffy. If the frosting becomes too thin, then add more powdered sugar. Add vanilla extract and beat.

8. Pipe buttercream onto cooled cupcakes and top with a fresh strawberry.

9. Throw a party!
Recipe Notes
Make your strawberry puree by placing berries in a food processor or in a blender and mix until very smooth, like a soup. For an extra boost of flavor, add freeze dried strawberries to the puree.