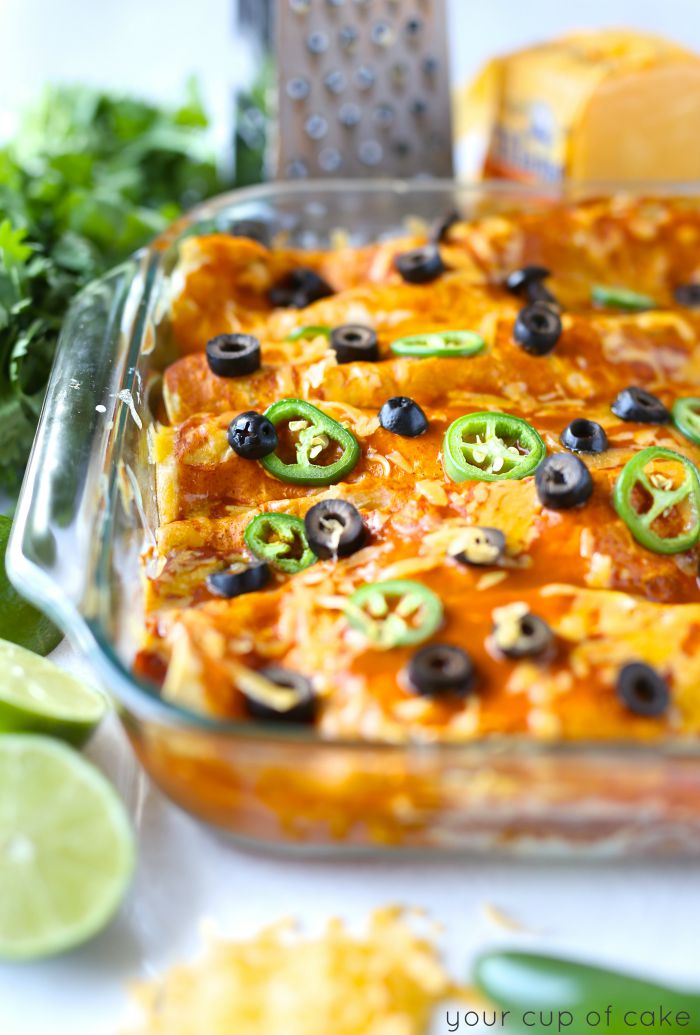 Easy Chicken Enchiladas
Mama's Chicken Enchiladas are filled with chicken, cheese, onions, chiles and of course… love! I grew up looking forward to these enchiladas and I always begged my mother to make a double batch so that I could eat the leftovers all week long. Now, I won't lie- I'm sort of just doing this post for me. I always call my mother from the grocery store when I'm shopping for these just so that I don't forget anything. So now, I can have this recipe in print wherever I am no matter if I'm shopping at midnight (when my mother is fast asleep) or at noon when she's out to lunch with her gal pals.
These enchiladas really are so easy to make and completely delicious! I'm craving them right now… mmm…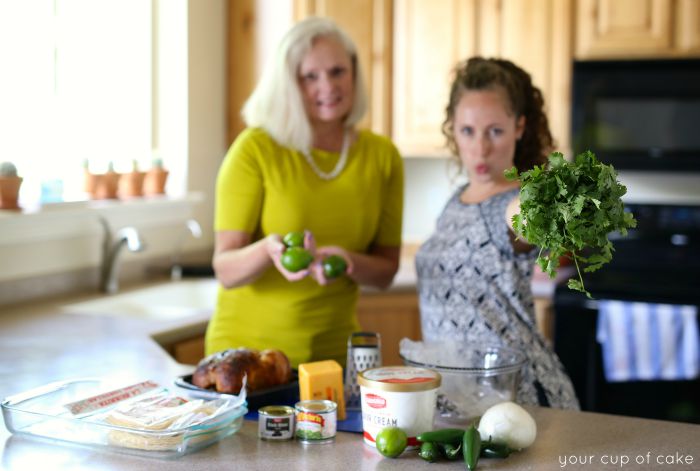 My mother and I were trying to take photos in the kitchen but this is all we ended up with. My dueling the camera with a bunch of cilantro….
Now, I couldn't make and post this recipe without my dear, sweet mother! So when she was in town a few weeks ago I had her make them and I photographed her. She said it made her a little nervous but she did great as a food model 🙂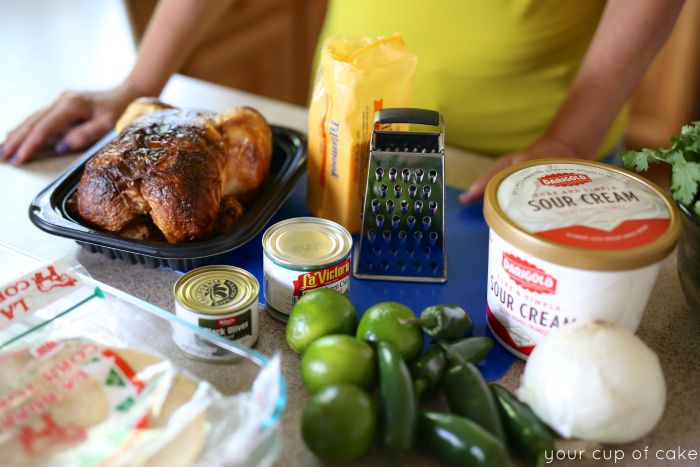 Cheese. We are a Tillamook cheese family.
Start by grating it out and then setting it aside. You'll use it to fill the enchiladas and then to top them off.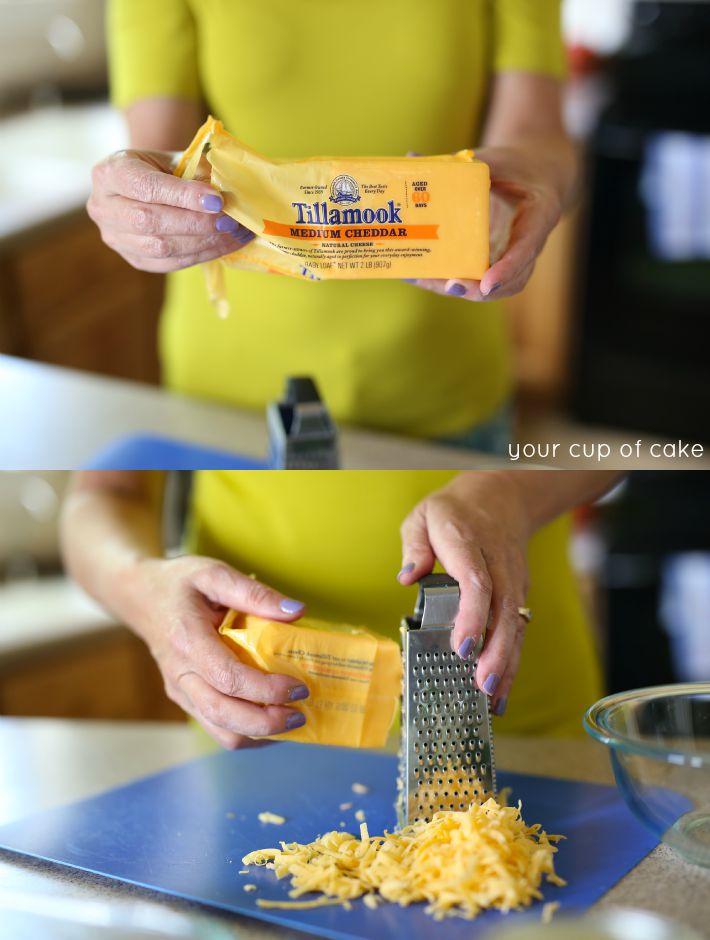 Chop up half your onion. Now, you can use half a large or a medium onion but you don't want to add too much so be careful. Put it into a bowl and set aside.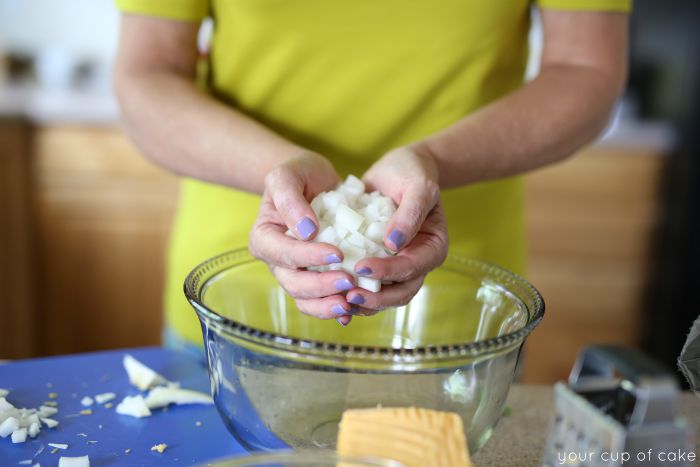 Chicken time! You can use rotisserie chicken (which I like because it's easy to just pick up from the grocery store) or you can use 2 large chicken breasts and boil or grill them. You can shred the chicken or chop it up, whichever is easier for you. Add it to the onion!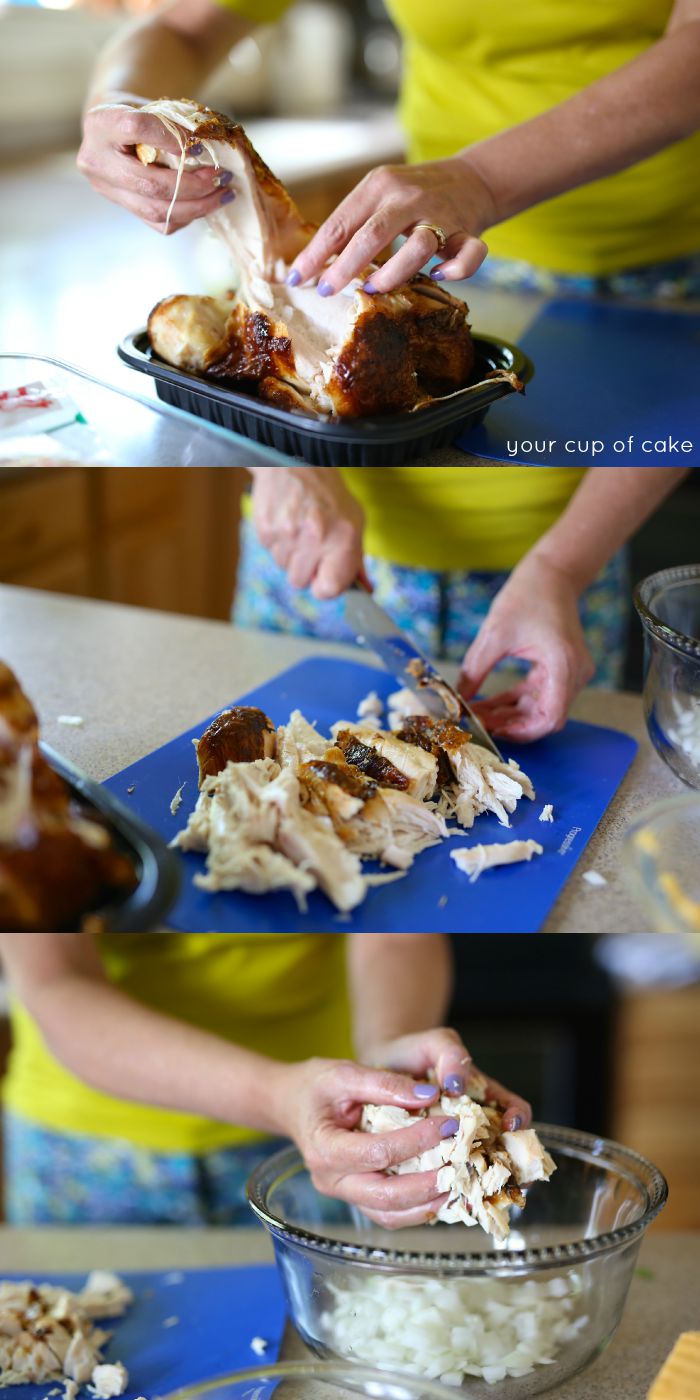 Pour in your green chiles to finish off your filling. If you want, you could add in a some of the cheese and mix it in, but my mother prefers to keep it separate…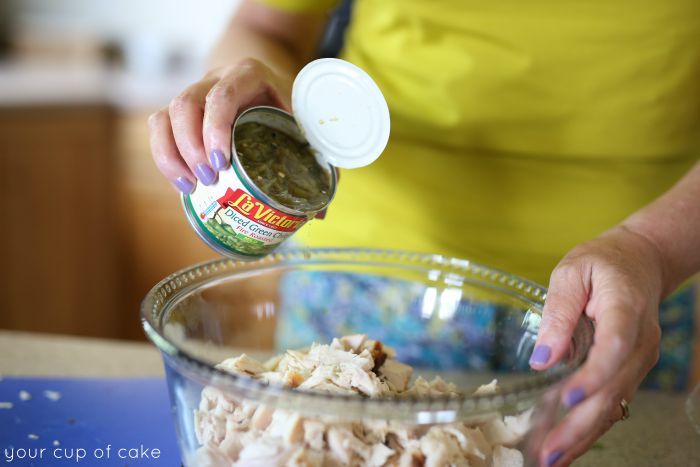 My mother has this genius trick for saving dried tortillas, or in this case making the tortillas really easy to roll without breaking them. Microwave them with wet paper towels in between, this way they get steamed!
Then dip them in sour cream on both sides before you fill them!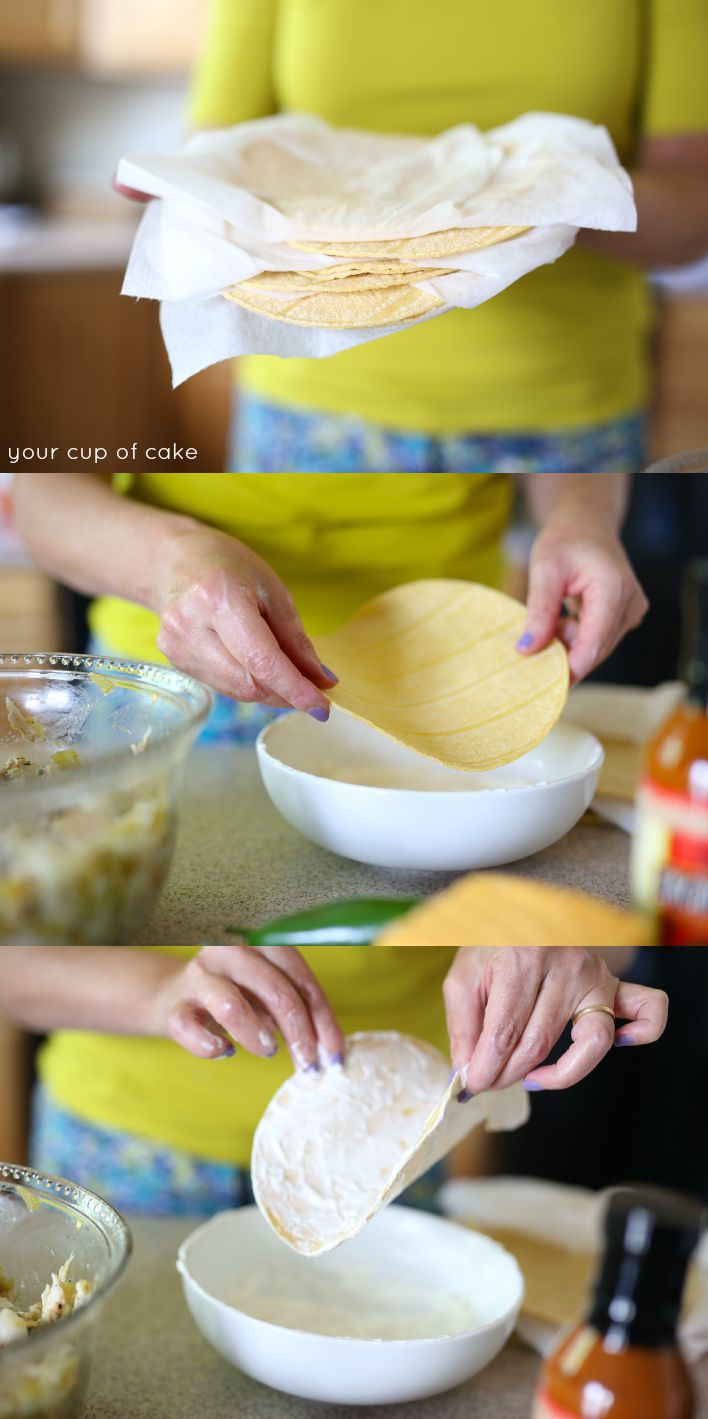 Fill each tortilla with some of the chicken mixture…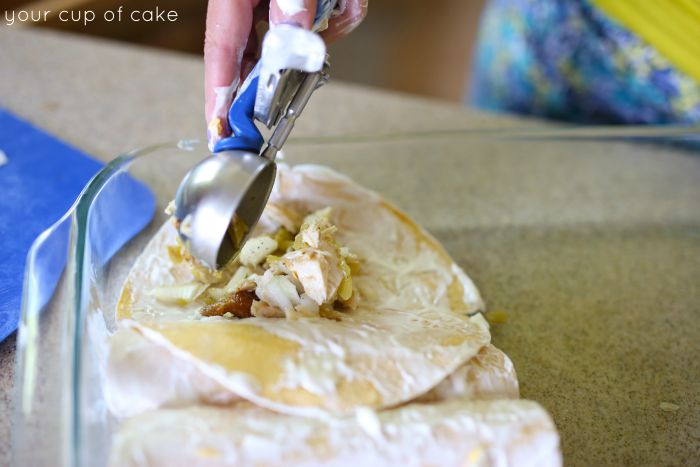 Sprinkle on some cheese to finish them off…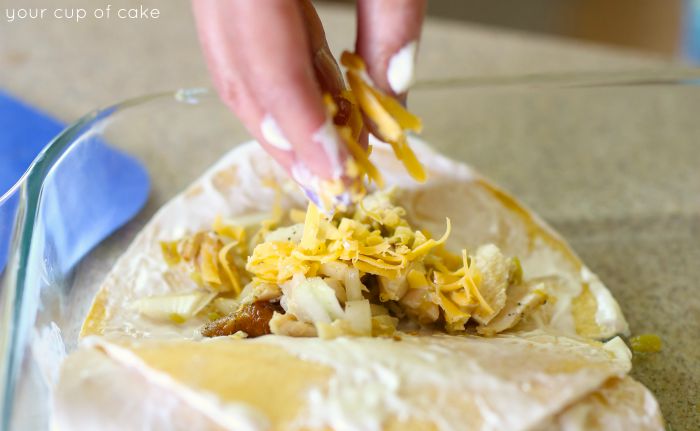 Then roll them up tight!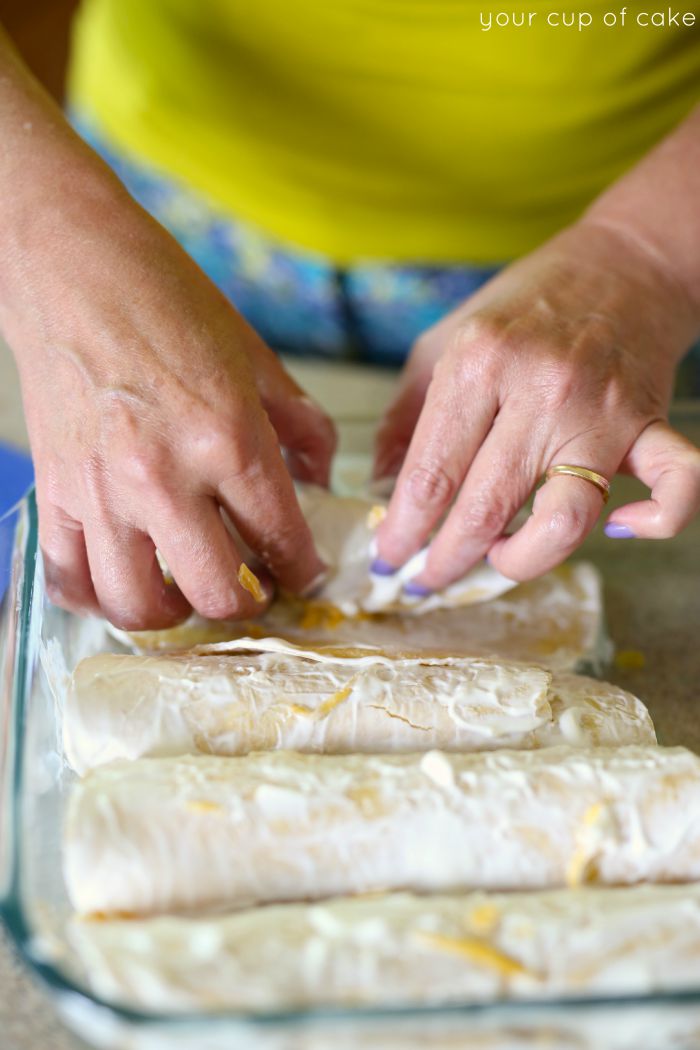 Pour your enchilada sauce over the tortillas and make sure to totally cover them. Use a spoon if you need to spread it around to cover the tortillas. If some tortillas are left without some sauce, they'll get real crunchy so be sure and get them saucy! I like the Trader Joe's sauce the best 🙂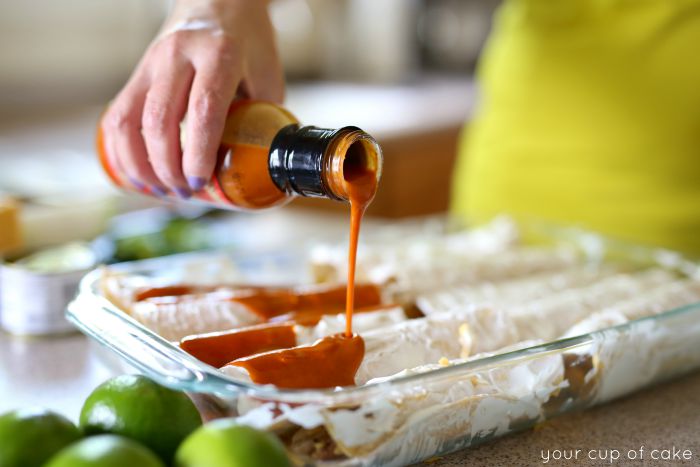 Sprinkle over some cheeeeeese.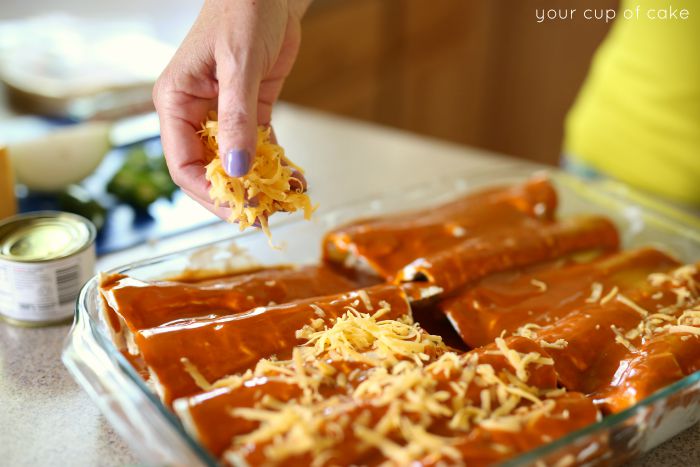 Top with jalapeños for a little kick! You can add the olives at this point if you want or add them after baking.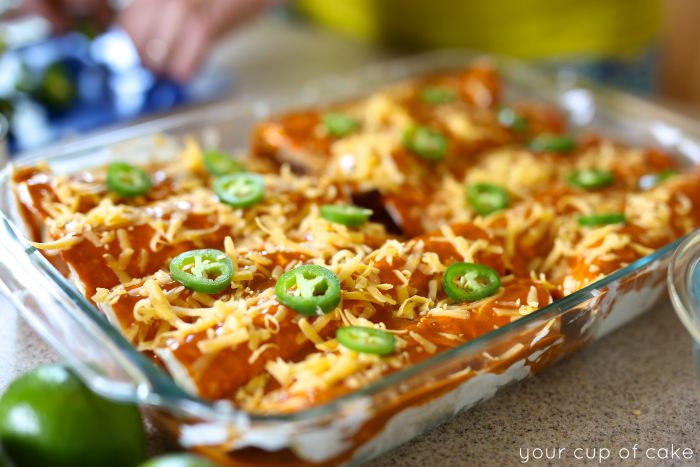 Ta-dah! Oh heavens these are my favorite and I would do just about anything for a plate of these right now.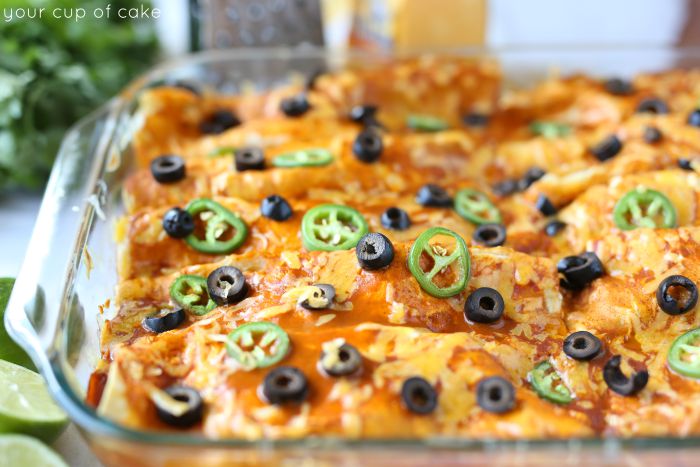 Still messing around trying to get a decent photo… we tried.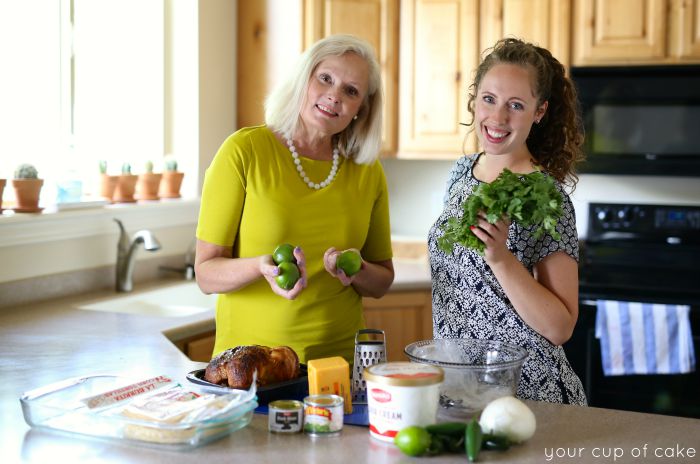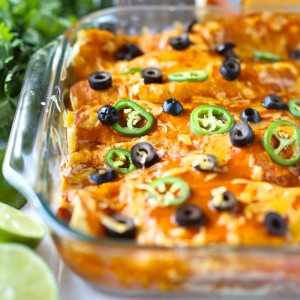 Mama's Chicken Enchiladas
Ingredients
1 1/2

C.

cheddar cheese

1/2

medium white onion

Cooked chicken breasts

2 1/2 cups (I use 1 rotisserie chicken)

1

small can green chiles

1 1/3

C.

sour cream

more if needed

10-16

corn tortillas

depending on size

24

oz.

enchilada sauce

I get away with only using 12 oz

3-4

jalepeños

chopped (optional)

sliced black olives

Served with chopped iceberg lettuce

cilantro and lime juice
Instructions
1. Preheat oven to 350 degrees and pull out a 10x15 inch casserole dish (no need to grease pan).

2. Grate cheddar cheese and set aside.

3. Chop up onion, chicken, and add green chiles into a bowl and mix. (If you aren't using rotisserie chicken, add a little salt).

4. Place sour cream into a wide bowl or a small baking dish large enough for tortillas to lay flat.

5. Prep tortillas by heating them up in the microwave so they don't break when you bend them. My mother likes to heat them with wet paper towels between them so that the get steamed. (This is a great trick for saving dried out tortillas!)

6. Dip a tortilla in sour cream on both sides (the sour cream makes it taste delicious and keeps it from sticking to the pan!). Then place in pan and fill with your chicken mixture and a little cheese. Roll the tortilla closed and continue doing this until your pan is filled.

7. Pour enchilada sauce over the filled tortillas and be sure to try and cover them all, they don't need to be drowning in it but you shouldn't see any bare tortillas! (See photos) Sprinkle with extra cheese and top with jalepeños. You can put the olives on now or after they bake.

8. Bake for 30-40 minutes or until the enchilada sauce is bubbling.

9. Let cool for a few minutes and then serve. We always ate these enchiladas with iceberg lettuce and recently we discovered that eating them with the lettuce and cilantro and lime juice was spectacular! The lime juice is incredible and I'm obsessed with it now. Enjoy my family favorite recipe!