It's not fall without the perfect pumpkin cookie and these Pumpkin Cream Cheese Sandwich Cookies are creamy, dreamy and just what you've been looking for.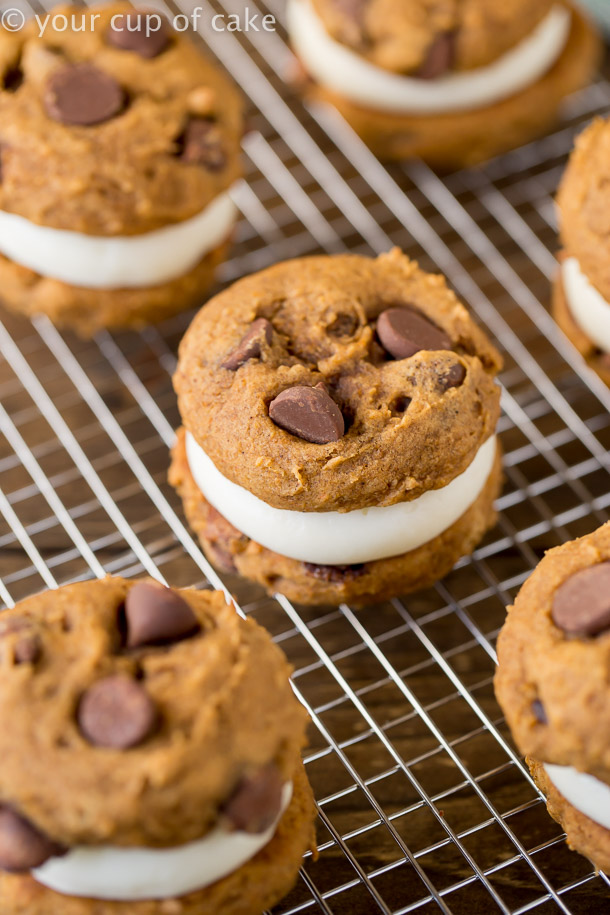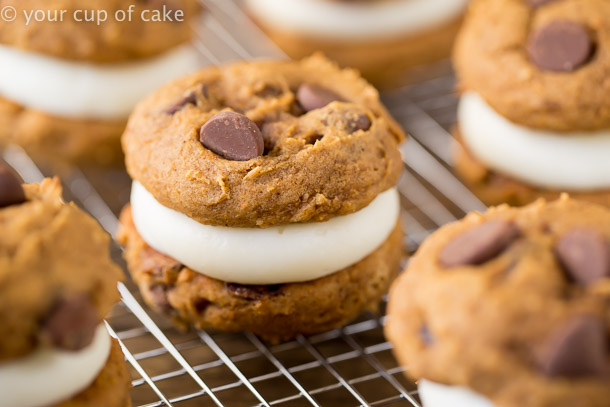 Pumpkin Cream Cheese Sandwich Cookies
I posted this over on My Baking Addiction earlier this month and it was too good to not share you with! I also have a cake mix version of this recipe if that's more your style! Pumpkin Cream Cheese Sandwich Cookies are one of my favorite because they're perfect to make the night before any party. They actually taste better the next day (pumpkin flavors develop over time) and I store mine in the fridge and they taste better cold too! That way, the filling doesn't squish out when you bite into them.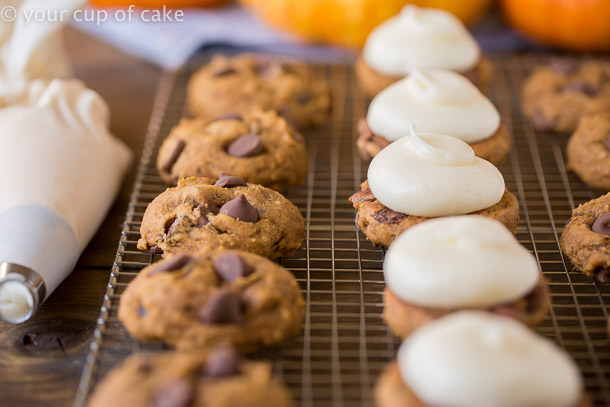 Cookie Sandwiches and Whoopie Pies
Okay, I don't even know what the real difference is but it doesn't matter what you call these, because they're amazing either way! It's always the perfect ratio between cookie and filling and they don't make a mess! They travel perfectly because you can stack them all up in a tupperware and you don't have to drive like a grandma to deliver them safely. When I drive with cupcakes in my car people probably want to murder me. I take the turns so slowly and can't accelerate too fast either.
Pumpkin in August…No Thanks
I saw bloggers posting pumpkin recipes in August! I was getting in married is August so my mind was no where near anything pumpkin. It was stuffed full of flower crowns, ties, centerpieces, photographers and 3 tiered cakes. I'm also a believer that if you start pumpkin stuff too early, I'll get burned out by Thanksgiving. I want to enjoy that pumpkin pie after stuffing my face all day long… mmm.
But I will be honest, sometime every year around April I end up busting out a can of pumpkin and whipping something up. I just miss it so much!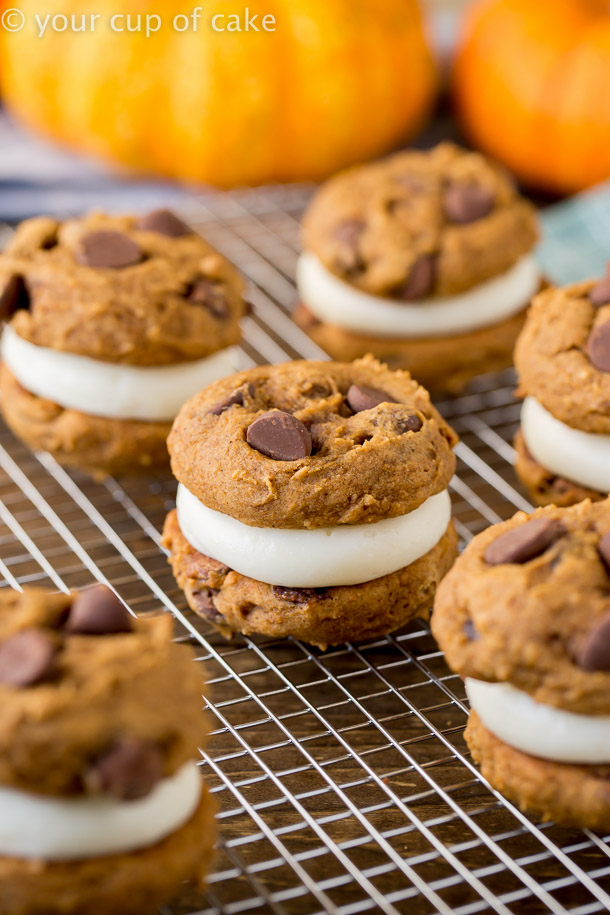 Cream Cheese Filling is awwwwwesome. It's creamy, tangy and the perfect match for these fluffy pumpkin cookies! Sometimes frosting gets a bad rap because it's too sweet! Bakeries always pour pounds and pounds of powdered sugar into their frosting because it makes it less expensive to make. But using cream cheese and the right amount of powdered sugar makes this filling divine.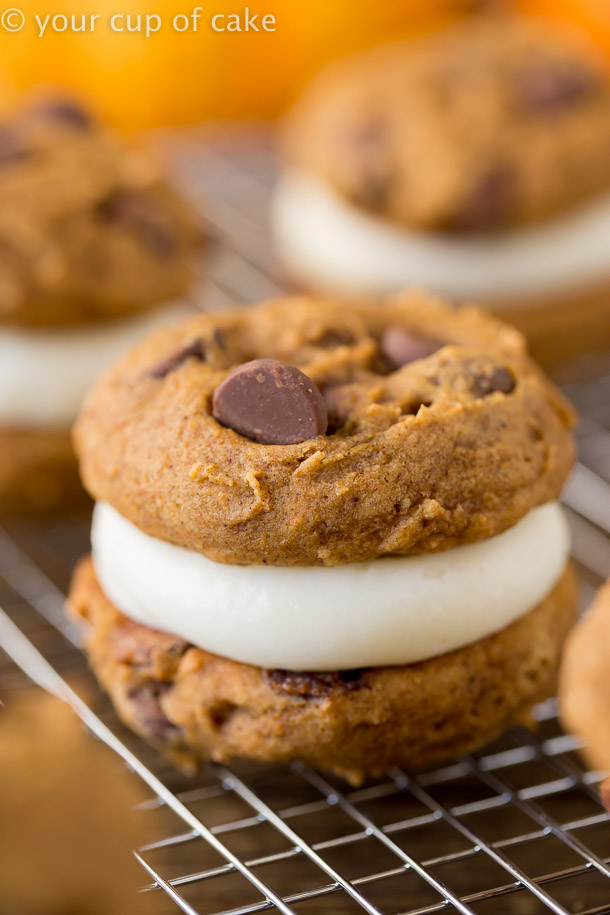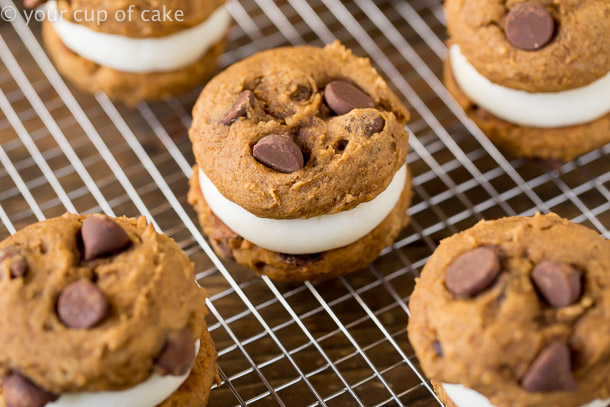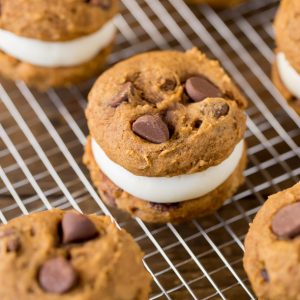 Pumpkin Cream Cheese Sandwich Cookies
Ingredients
COOKIES:

2 ½

cups

all-purpose flour

1

teaspoon

baking soda

1

teaspoon

baking powder

2

teaspoons

pumpkin pie spice

½

teaspoon

salt

¾

cup

granulated white sugar

¾

cup

brown sugar

packed

½

cup

butter

at room temperature

1

cup

canned pumpkin

(not pumpkin pie filling)

1

egg

1 ½

teaspoon

vanilla extract

1

cup

milk chocolate chips

CREAM CHEESE FILLING:

4

ounces

cream cheese

¼

cup

butter

at room temperature

2

teaspoons

vanilla extract

1-2

cups

powdered sugar
Instructions
1. Preheat oven to 350°F. Line cookie sheets with parchment paper.

2. In a medium sized bowl, whisk together flour, baking soda, baking powder, pumpkin pie spice and salt.

3. Using a stand mixer beat sugar, brown sugar and butter together. Scrape down the sides as needed. Add in pumpkin, egg and vanilla extract and beat again. Scrape down the bowl to incorporate everything evenly.

4. Slowly add in dry ingredients and chocolate chips. Stir just until combined. Do not over mix.

5. Scoop out dough balls roughly the size of a heaping tablespoon, place them on cookie sheets and bake for 9-11 minutes. Let cool.

6. Frosting: Beat cream cheese and butter together until smooth. Add vanilla extract and 1 cup of powdered sugar. Continue to slowly add powdered sugar until you reach your desired consistency.

7. Frost the bottoms of half of your cookies to make your cookie sandwiches. Top with a "blank" cookie and serve. I love them best cold, so I store mine in the fridge before serving.