Everything you need to know including secrets to making perfect chocolate covered strawberries. Tips and tricks from a pro's kitchen.

Secrets to Making Perfect Chocolate Covered Strawberries at Home
Chocolate covered strawberries are always a perfect dessert option! They're great for little league parties, bridal showers, Super Bowl Sundays, weddings, a treat for the kiddos and of course for romantic nights in. But if you buy them from the store or a restaurant they can cost a fortune! So make them at home instead. With my tricks and tips you'll have all the Secrets to Making Perfect Chocolate Covered Strawberries. Happy Valentine's Day!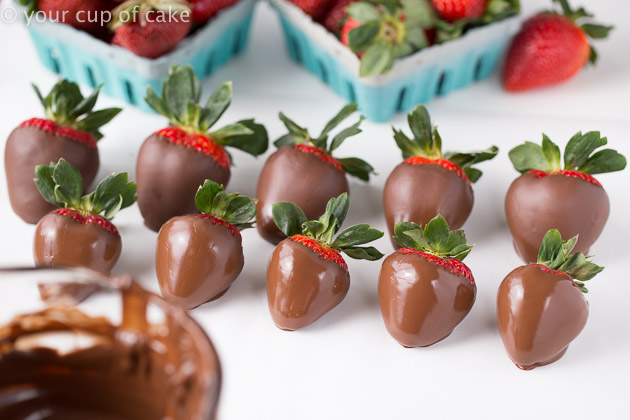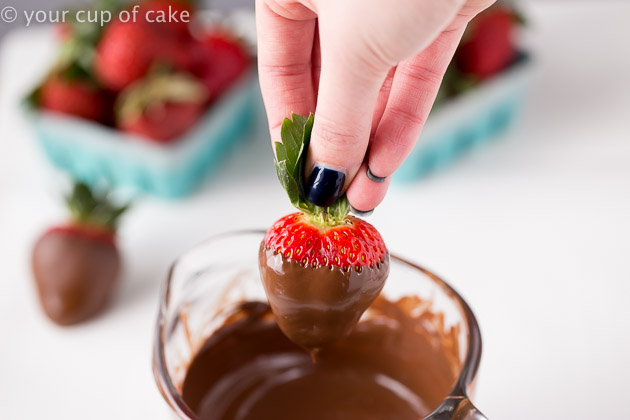 How to Make Chocolate Covered Strawberries like a Pro
Let's start from the beginning. Chocolate covered strawberries may seem super simple to make, and they can be! But sometimes simple things can be tricky because there are also simple ways to make it all go wrong! Whenever I drop off my chocolate covered strawberries to a friend or serve them at a party people are amazed at how professional they look! Just use a few simple tricks and yours will look professional too! There are some recipes out there that are too busy and trying to make these seem more difficult, but I promise with a few simple tips your chocolate covered strawberries will look and taste amazing!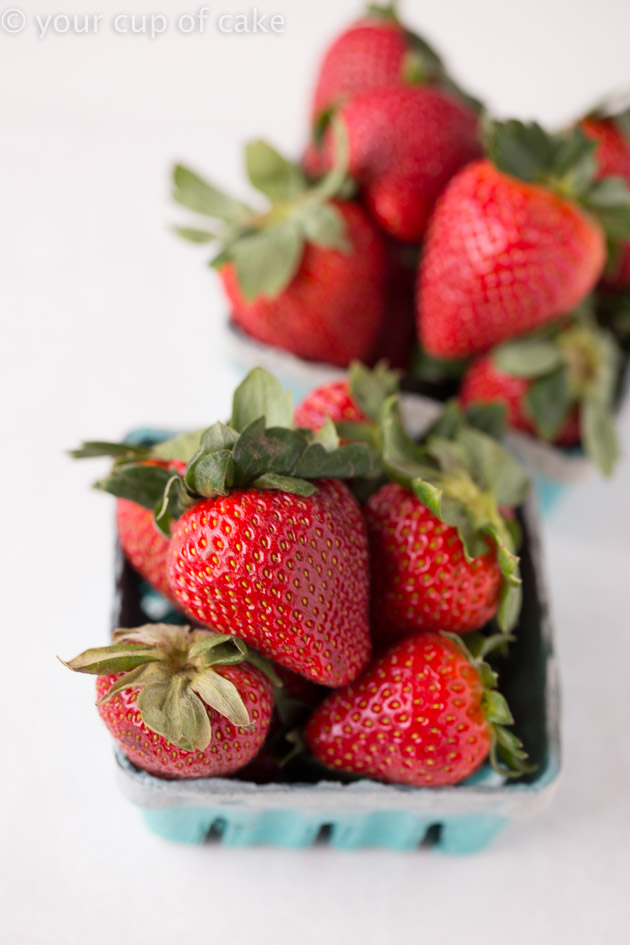 Pick the Right Strawberries
Strawberries can be tricky depending on the time of season. Did you know that the tastiest strawberries are actually the small ones? Oregon berries are always the best, but if you can't find those then try not to get a package with monstrous berries. You'll want good stems that you can hold on to them while you dip your berries. If you can't find good stems, you can dip them using toothpicks but it's a little more labor-intensive. I usually head to Costco during the winter months to get my berries!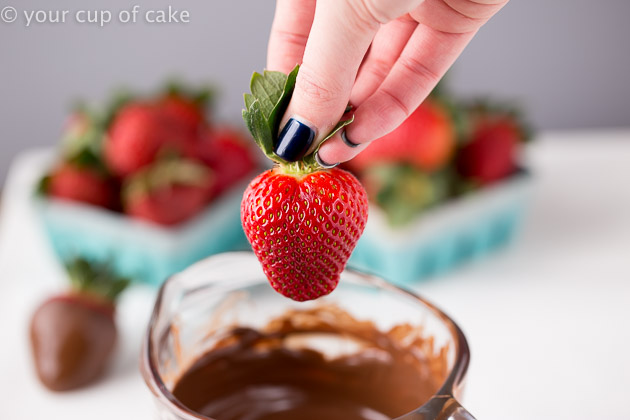 "Why Does the Chocolate Fall Off My Strawberries After It Cools?"
This is the number one problem people have. A huge mistake people make is washing their berries right before dipping them in chocolate. The chocolate then can't adhere to the skin of the strawberries because there is still moisture on them from the water! Your berries need to be dry when you dip them. So wash them and give them plenty of time to dry out!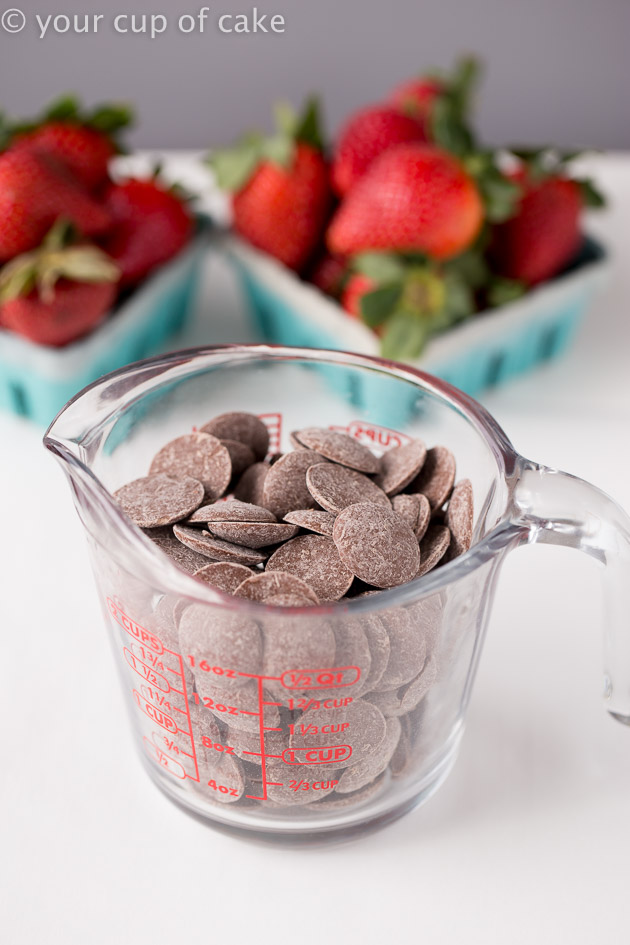 "How Do I Get the Chocolate to be Thin Enough for Dipping?"
You need to pick the right chocolate for dipping strawberries. You have a few options! You can buy chocolate or chocolate chips and melt it down with a little oil or shortening over a double boiler (or another heatproof bowl), stir often! Be careful not to burn it! You can add coconut oil or another baking oil (I would not recommend olive oil) and add a little at a time until you reach the right consistency. This way is great but it doesn't take extra care and take longer for the chocolate to harden after.
My favorite chocolate to buy is Chocolate Melts, it's the best chocolate for candy coating! You can get Candy Melts from Hobby Lobby, Michaels, Walmart, my local WinCo carries them! (Sometimes they're called chocolate wafers.) You can find them in different brands and colors, even Ghirardelli has a milk chocolate and dark chocolate kind that is incredible! These are meant for candy and dipping! They melt down in the microwave to give you the most perfect consistency! I use my Pyrex measuring cups when I melt my chocolate because they are microwave safe and the perfect shape for dipping.
I like to use room temperature strawberries or ones that are a little colder but NOT warm strawberries. When the berries are just a little cold they help to set the chocolate!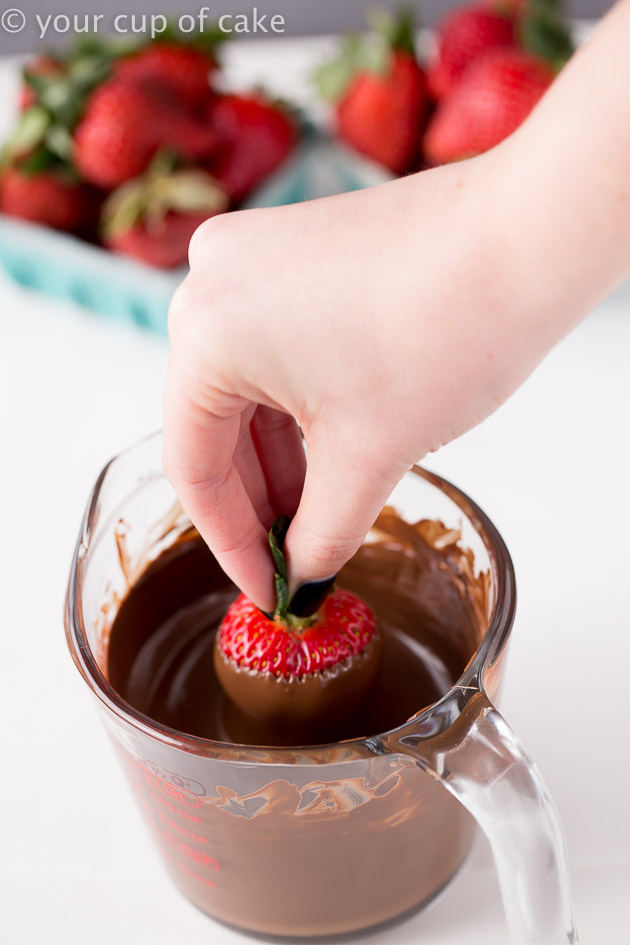 Use the Right Dipping Dish
You'll want a dish that isn't too wide! You need to be able to dip your strawberries in deep and the best way to not waste a bunch of chocolate is to have the right dish. Lucky for us, pyrex measuring cups are perfect (because they're microwave safe like I explained above) and they are the right shape and size! You can always use another microwave-safe bowl to melt the chocolate and then transfer the chocolate to a different dipping dish!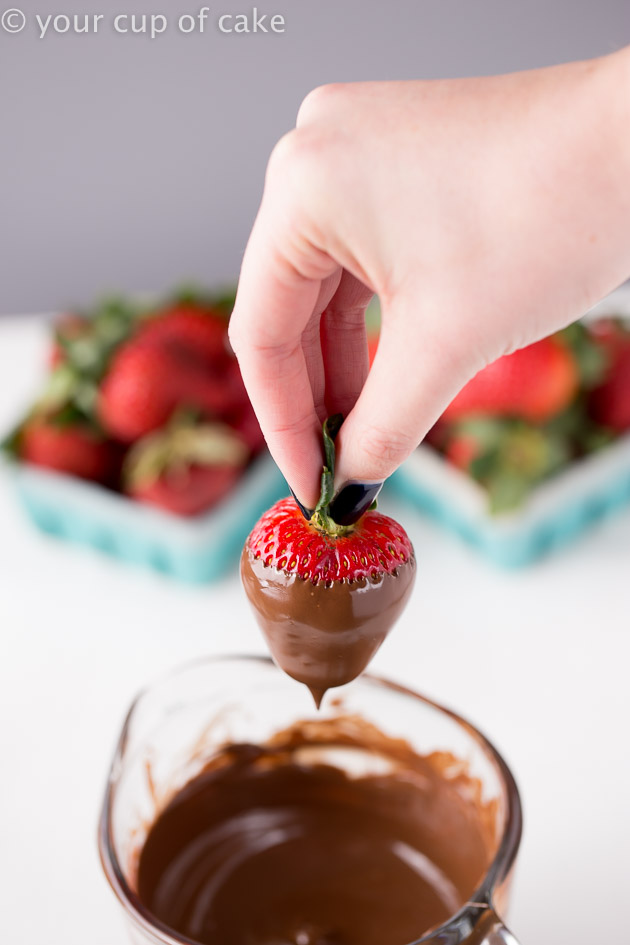 Minimize Mess and Clean Up
You need parchment paper. If you don't have a roll of parchment paper in your kitchen, get some! I bake all my cookies on it with my cookie sheets. It means smooth bottoms to my cookies and NO washing my pans after! I also reuse my pieces of parchment 5-8 times before tossing them! After you dip your chocolate covered strawberries, let them drizzle off the excess chocolate for a moment, then place them on parchment paper! The chocolate will harden and then you can pick them up right off the parchment and they'll have perfectly smooth bottoms!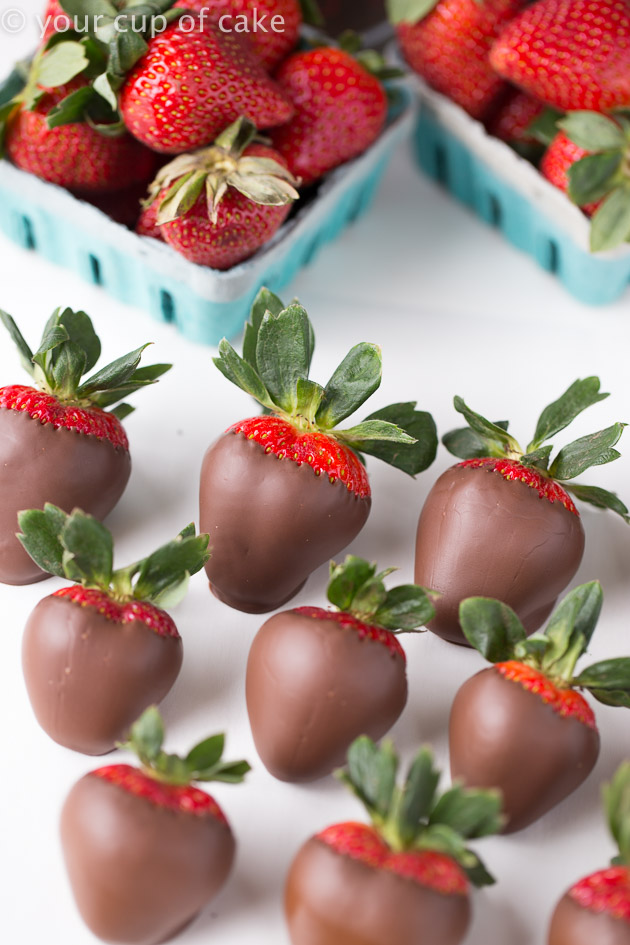 S'mores Chocolate Covered Strawberries are one of my FAVORITE types!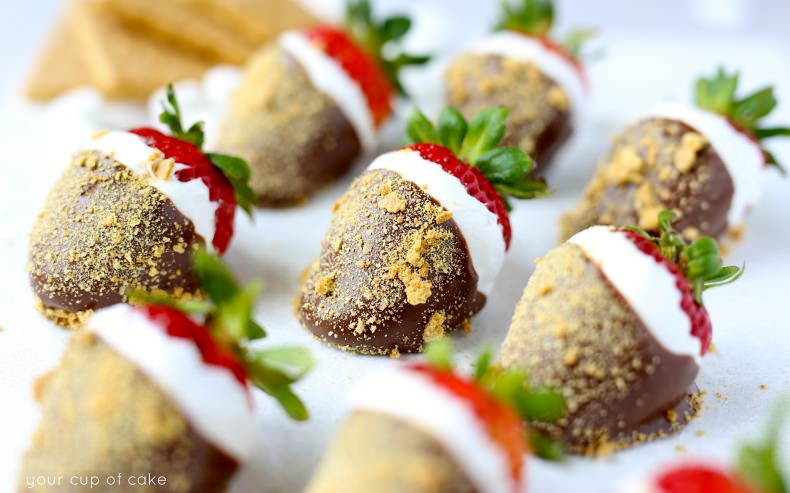 What to Top Your Chocolate Covered Strawberries With
You can just dip your berries in chocolate and they'll be great! But if you want to get a little more fancy there are things you can add right after you dip them. You can add a drizzle of white chocolate (this also comes in Melts), toffee pieces (one my my favorites), graham cracker crumbs, sprinkles, nuts, mini M&Ms and more! If you're doing this with your kids or on a date you can have a few little bowls of toppings and decorate as you go!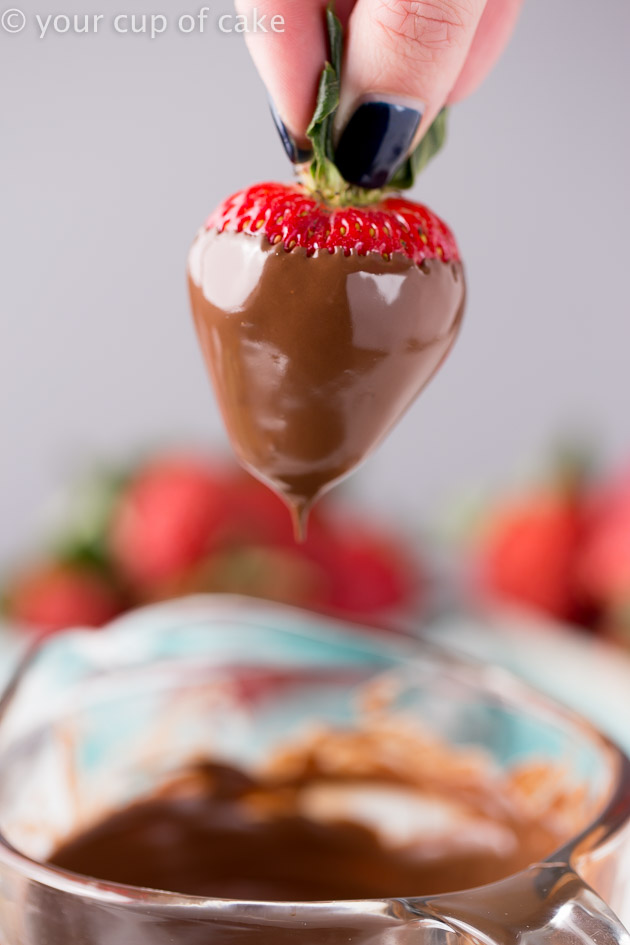 Store your berries in the refrigerator until you're ready to eat them! I'll just pop them in the fridge for a few minutes to help set them if I'm in a rush to deliver them too! I'm so excited to spend my first married Valentine's Day this year dipping chocolate covered strawberries! I'm trying to eat healthier this year so I decided to opt for the fruity dessert as opposed to my regular cookie and ice cream option.
I'm hope learned a few new Secrets to Making Perfect Chocolate Covered Strawberries. I make these multiple times every year for all types of occasions. They are such a quick and simple dessert to make that is semi-healthy! I'll make them to top decadent cakes, eat by themselves with leftover berries or make them for neighbors. They are always a hit!
I hope you have a great Valentine's Day this year!