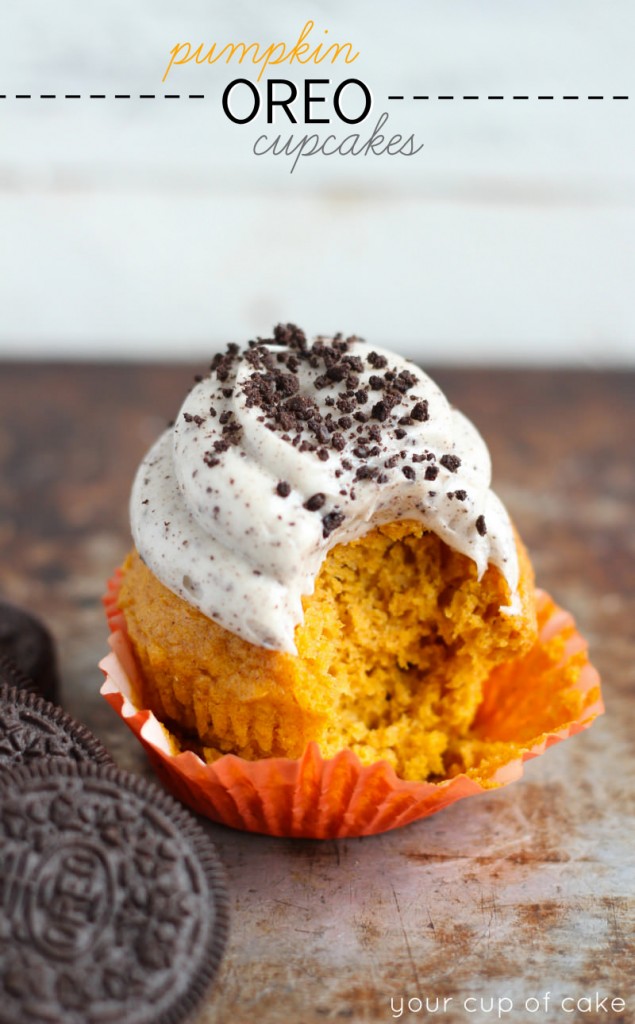 Fluffy pumpkin cupcakes topped with a cream cheese Oreo frosting. It's basically a kid's drew come true! Plus, it has the whole black and orange thing going on which is perfect for Halloween! Pumpkin Oreo Cupcakes… so good. If you want to make them even more fun, you can always bake them on top of an Oreo like I did for my Peanut Butter Oreo Cupcakes and my Golden Oreo Cupcakes.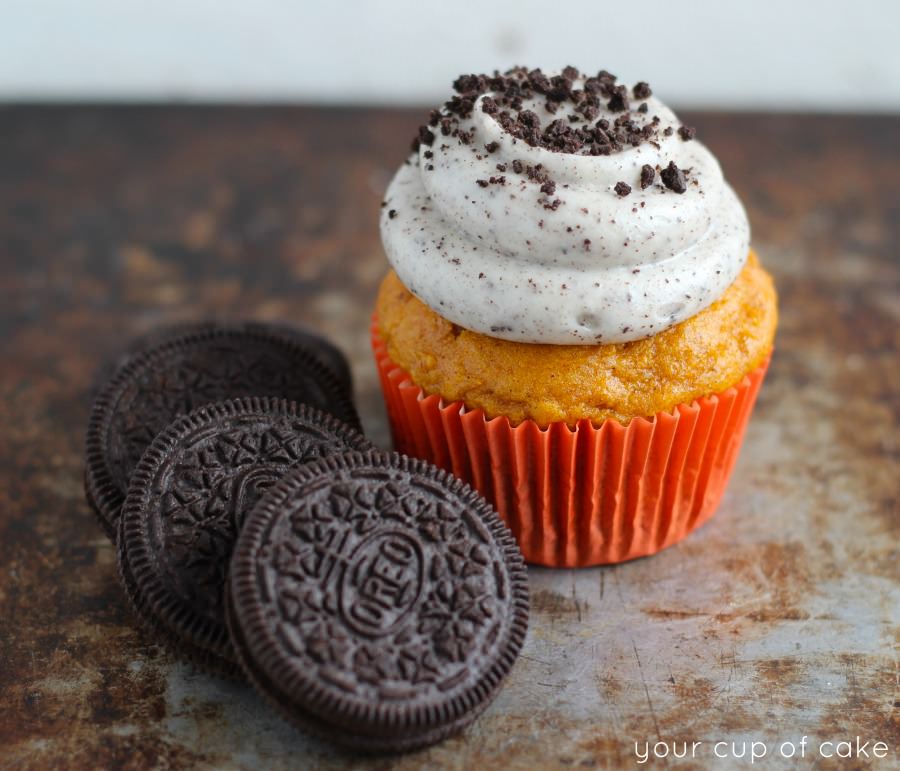 The Story:
Remember my really ghetto oven I've been baking with for years? Well I finally am moving up in the world! It's still nothing real fancy but it doesn't look ancient and pieces don't fall off 🙂 But I was still so nervous to bake my first batch of cupcakes… The oven and the kitchen is sort of my life. Most people just deal with it if their oven has a few hot spots or doesn't make cake rise well, but for me it's a real deal breaker in the oven-Lizzy relationship.
But I pulled out my perfectly rounded pumpkin cupcakes and danced with joy around the kitchen to Broadway music.
I'm officially ready for the crazy holiday baking season.
Bring. It. On.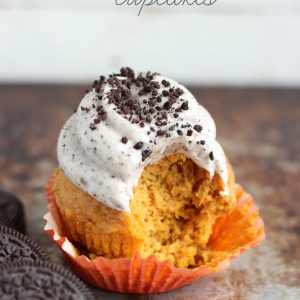 Pumpkin Oreo Cupcakes
Ingredients
Cake Mix Cake:
1

box yellow cake mix

or spice cake mix and disregard extra spices

15

oz.

pumpkin puree

3

eggs

1/3

C.

oil

1/2

C.

milk

1

Tbsp.

pumpkin pie spice

or cinnamon if that's all you have
Scratch Cake:
1 2/3

C.

flour

1

tsp.

baking soda

1/2

C.

sugar

3/4

tsp.

salt

1/2

tsp.

cinnamon

1/2

tsp.

nutmeg

¼

tsp.

ground ginger

1/2

C.

oil

2

eggs

1/3

C.

milk

1

C.

pumpkin puree
Oreo Frosting:
1/2

C.

butter

softened

8

oz.

cream cheese

2-3

C.

powdered sugar

2

tsp.

vanilla extract

6

Oreos

split and remove cream and then finely crush
Instructions
1. Preheat oven to 350 degrees and line pans with cupcake liners.

2. Cake Mix version: Sift cake mix into a large bowl to remove any lumps, add remaining ingredients and stir until smooth.

3. Scratch Cake version: Sift flour, baking soda, sugar, salt cinnamon, nutmeg, and ground ginger together (or you can use pumpkin pie spice instead of the the separate spices). Add oil, eggs, milk and pumpkin puree and stir until smooth.

4. Fill cupcake liners 3/4 full and bake for 15-20 minutes or until and inserted knife comes out dean.

5. Let cool.

6. Oreo Frosting: Beat butter and cream cheese until smooth. Add 2 cups powdered sugar and vanilla extract. Slowly add in more powdered sugar until you reach your desired consistency. If it becomes too thick, add milk!

7. Pipe onto cooled cupcakes and top with Oreos or crushed Oreos!
I'm so excited the holiday season is starting to come in full swing! I have tons of fun posts for you and even some incredible giveaways!