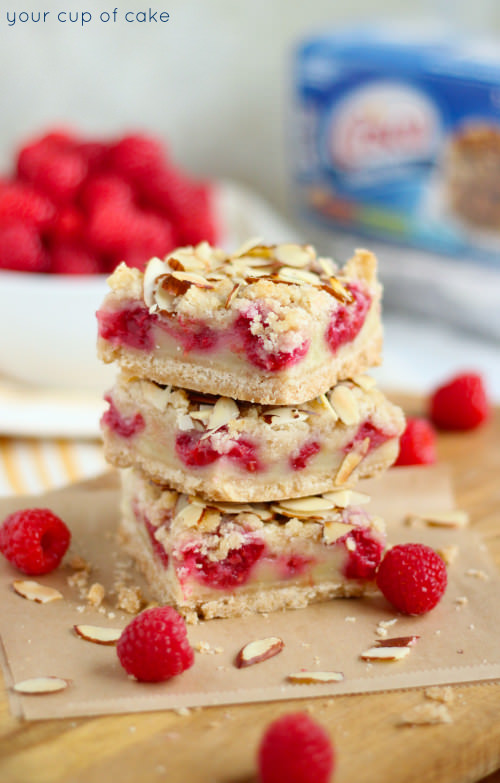 Raspberry Almond Pie Bars with a zing of lemon will be your new favorite holiday treat! Pie bars are one of my favorite things because I love pies, but I always secretly dread rolling out the pie dough. Well with pie bars you just dump and press flat! So easy!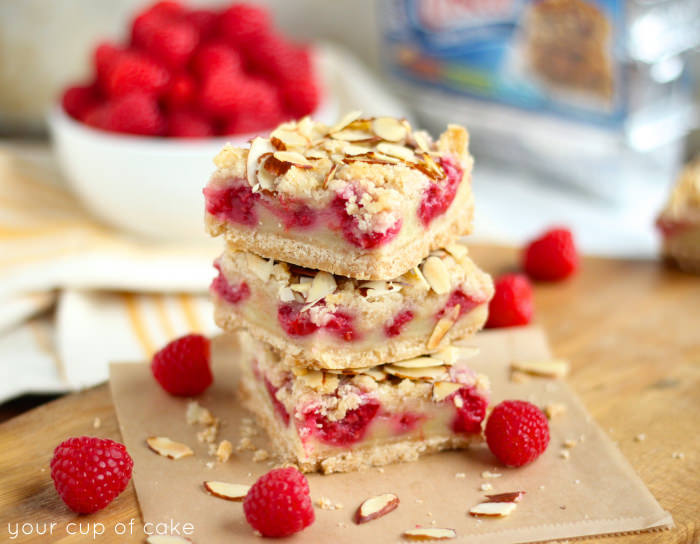 I love lining my pans with parchment paper for 2 reasons. 1: Easy clean up! 2: When the bars are cooled, I just lift up on the parchment to pull out the bars and then I can easily cut them into squares!
And when it comes to flattening your pie crust, you can use your fingers but you'll leave little finger marks all over. So if those marks bug you, just use the bottom of a glass or a measuring cup!
As for the filling of these incredible Raspberry Almond Pie Bars, I added a little zing using the lemon zest and juice. Feel free to play around with that, maybe even use an orange instead if you want! I really just loved the brightness from the lemon, the sweetness from the raspberries and the warmth from the almond. It's a perfect fall treat that really goes along with all the Thanksgiving flavors.
I toss the berries in flour and sugar first to make sure they don't all sink through the filling. And I break them up with a spoon so that every bite will have a little bit of raspberry in it 🙂

Serve them with some whipped cream or vanilla ice cream!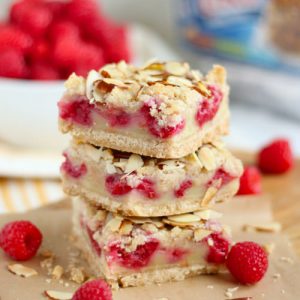 Raspberry Almond Pie Bars
Ingredients
Crust:
1/2

C.

Crisco Shortening

cold

1/2

C.

sugar

1/4

C.

brown sugar

1 1/2

C.

all purpose flour
Filling:
1

large egg

1/4

C.

all purpose flour

1/2

C.

sugar

1/4

C.

sour cream or yogurt

zest of 1 lemon

2

Tbsp.

fresh lemon juice

1

tsp.

almond extract

1

C.

fresh raspberries + 1 Tbsp. flour + 2 Tbsp. sugar

1/2

C.

sliced almonds to top
Instructions
1. Preheat oven to 350 degrees and line an 8X8 inch pan (or something similar to that) with parchment paper, or simply grease it.

2. In a food processor (I used my Blendtec) or using a pastry cutter, combine cold shortening, sugar, brown sugar and flour together until the mix the crumbly.

3. Reseve 1 cup of crust for the topping and dump the rest into your prepared pan. Spread out and press flat. I used the bottom of a glass to do the flattening for me, a measuring cup works great too!

4. To make filling, combine your egg, flour, sugar, sour cream, lemon zest, lemon juice and almond extract until smooth. Pour over flattened crust.

5. In a separate bowl, coat raspberries in flour and sugar and then use a spoon to gently split the berries in halves. You just don't want full berries, to crus them to your liking.

6. Spoon the raspberries over the filling.

7. Crumble your reserved cup of crust evenly over the filling/raspberries and follow up with sliced almonds.

8. Bake for 45-55 minutes or until an inserted knife or toothpick comes out clean! Let cool and serve with whipped cream!
If you loved these, check out my Pumpkin Dump Cake, it's basically like an upside down pumpkin pie! Or want another fun pie recipe? Eggnog pie is insanely easy and incredibly eggnoggy!
Guess what time of year it is? Time for the Crisco Pie and Baking Hotline! How fun is this? You can call and ask all your questions about pies and other baked goods and someone will actually pick up the phone and answer! So cool! I know when I'm in the kitchen and something isn't going right, I hop on my computer to find out what to do. But I always get frustrated because my questions are so specific. Well, in November and December I can just call and ask an expert!
Here's the hours for the hotline:
November 12 – 21: Monday through Friday 8:00 a.m. to 8:00 p.m. ET
December 10 – 21: 8:00 a.m. to 7:00 p.m. ET
December 24: 8:00 a.m. to 3:00 p.m. ET
A little behind the scenes shot for those of you who like to see how it all happens 🙂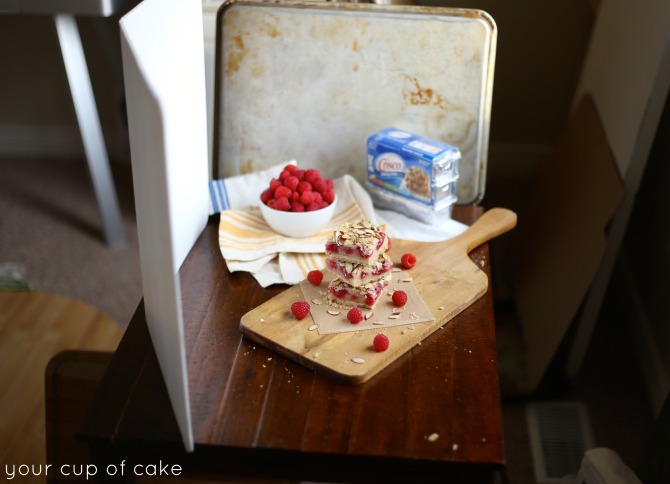 I was compensated for this post by the J.M. Smucker Company, all opinions are my own.