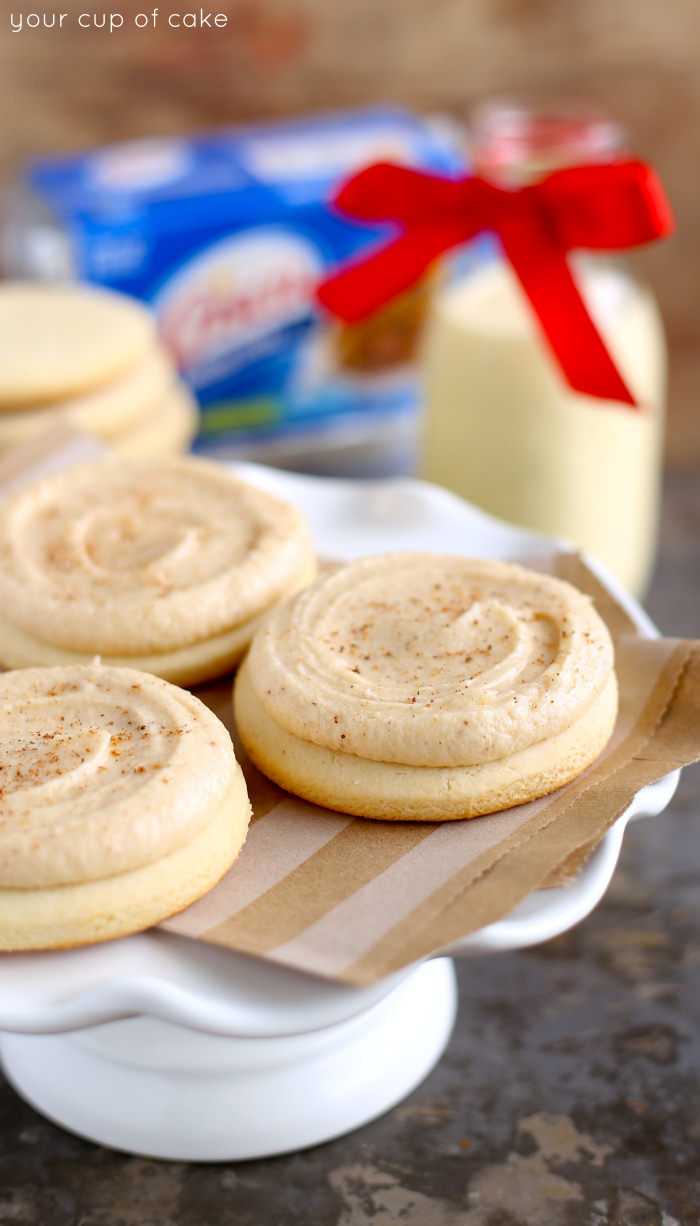 All I want for Christmas is some more of these Soft Eggnog Sugar Cookies! The cookie recipe is fail-proof and the frosting is incredible!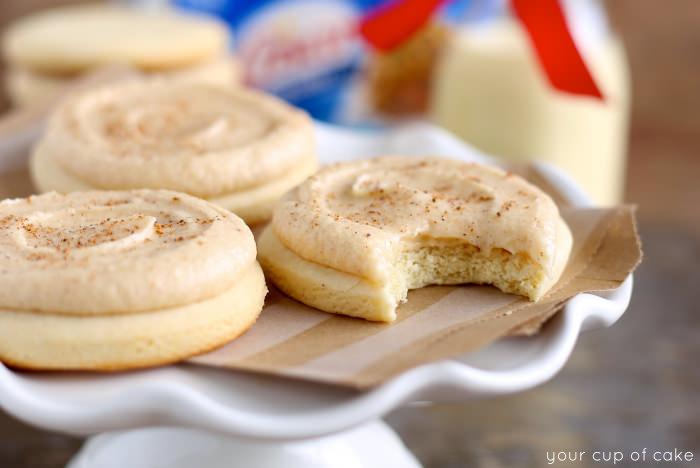 Yeah, I just couldn't help myself, I had to take a bite!
I was talking to a baker extraordinaire a few months ago and we got on the topic of sugar cookies. She said the secret to great sugar cookies is using shortening! It keeps them extra light and fluffy! So of course I had to give it a shot this holiday season and bust out some Crisco!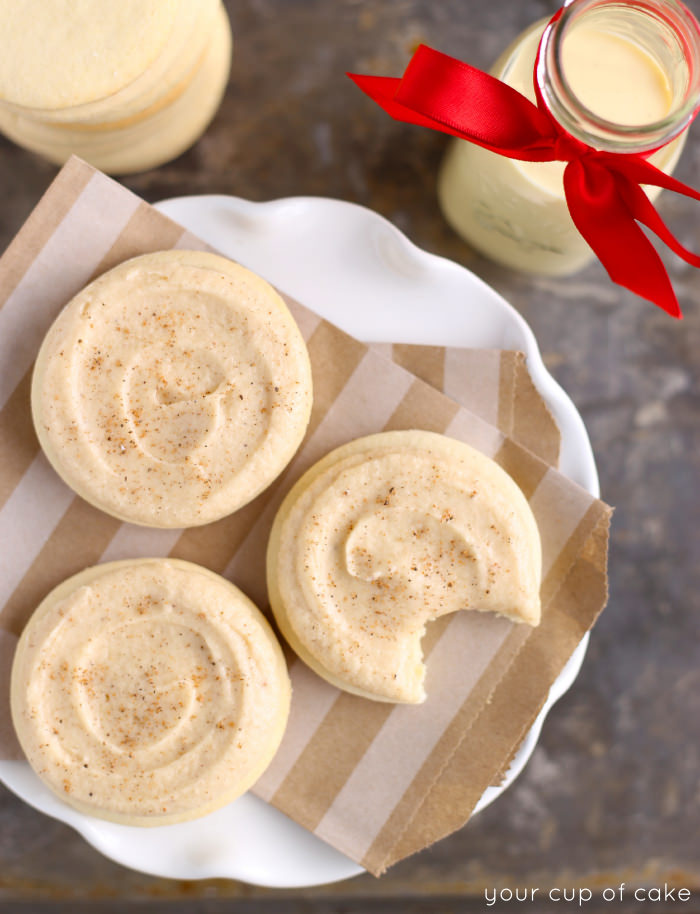 This cookie recipe is perfect! It didn't stick to my countertop or to the rolling pin or to the cookie cutter! If you aren't an eggnog lover, then use the recipe (minus the vanilla and rum extract) and add lemon extract or almond extract! Add your own flare and top it with some classic cream cheese frosting and sprinkles 🙂 Oh! Maybe even some crushed candy canes!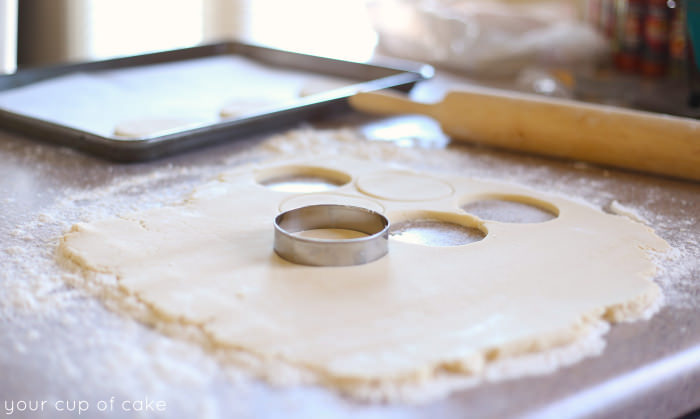 On the pan and into the oven they go!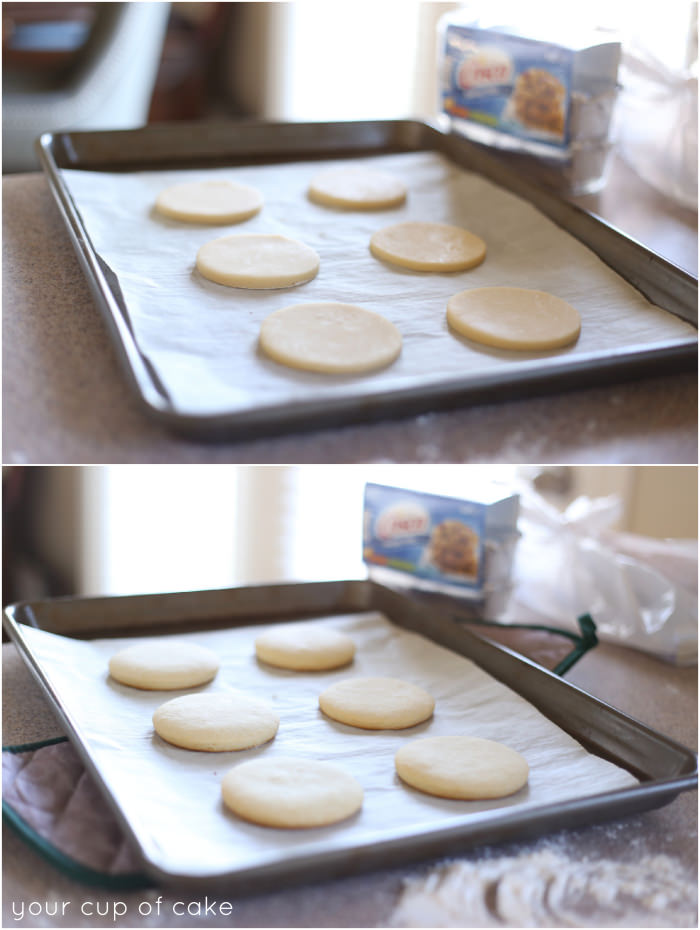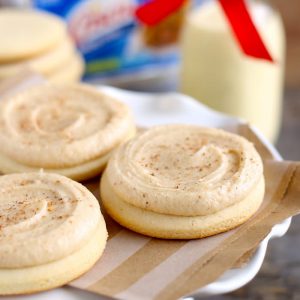 Soft Eggnog Sugar Cookies
Ingredients
Classic Sugar Cookies:
3 1/2

C.

flour

1

tsp.

baking soda

1/2

tsp.

salt

1/4

C.

butter

softened

1/4

C.

Crisco shortening

1

C.

sugar

1

egg

1 1/2

tsp.

rum extract

optional for an extra "eggnog" zing

1 1/2

tsp.

vanilla extract

1/2

cup

sour cream
Eggnog Frosting:
3/4

C.

butter

softened

3-4

Tbsp.

eggnog

as needed

1/8

tsp.

cinnamon

1/8

tsp.

nutmeg

1/2

tsp.

vanilla extract

1/2

tsp.

rum extract

optional

2-3

C.

powdered sugar

more if you want it thicker
Instructions
1. Preheat oven to 350 degrees and line pans with parchment paper.

2. Whisk flour, baking soda and salt together in a bowl and set aside.

3. In a stand mixer, beat butter, Crisco shortening and sugar together for 2 minutes. Add egg, rum extract, vanilla extract and sour cream and beat until combined.

4. Add flour mixture and stir only until combined.

6. Roll out onto a lightly floured surface. I rolled mine out to about 1/4 of an inch but you can make yours as thick or thin as you like! (The thicker the cookie the more time in the oven and the thinner the less time.) Cut out using desired shape and place on cookie sheets.

7. Bake for 7-10 minutes depending on how soft you like your cookies!

8. Let cool.

9. Eggnog Frostin: Beat butter, 2 Tablespoons eggnog, cinnamon, nutmeg, vanilla extract, rum extract and 2 cups of powdered sugar. Then continue to add more eggnog (to make thinner) or more powdered sugar (to make thicker) until you reach your desired consistency. Taste before you frost to see if you want to add more spices!

10. Frost cookies!

Cookie Tip: If your cookies turn out too crispy, frost them and seal them in a tupperware for a day! Some of the moisture from the frosting will go into the cookie and soften it up!!
For those of you who like to see what the actual photo set-up looks like…
It's pretty glamorous, old baking pans, old cutting boards… I'm a classy woman 🙂 Stay tuned for my Christmas Gift Guide for bakers and photographers! I'll share all my secrets and gadgets to getting fabulous photos 🙂 And my little sneaky tricks of how I get around paying for really expensive equipment!