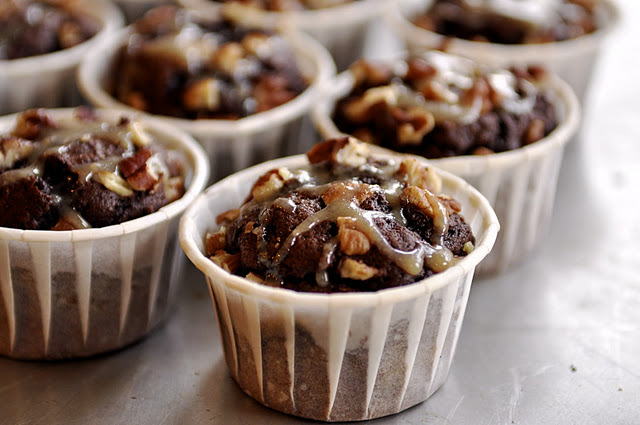 This was the second recipe that I brought to Your Homebased Mom's Annual Holiday Baking Day. I wanted to bring something totally new and use her expertise to help me get it perfect. I could find no other turtle muffins recipe online (though I found plenty of cupcake ones), so I was excited to make something totally original.
The chocolate muffins are a spin off of the Costco chocolate muffins and they turned out perfectly and they are so simple. So I know I will be making them in the future. The chopped pecans and the caramel inside and on top make it a perfect holiday treat that no one else will be giving out.
Merry Christmas! (Thank you Leigh Anne for the extra photos!)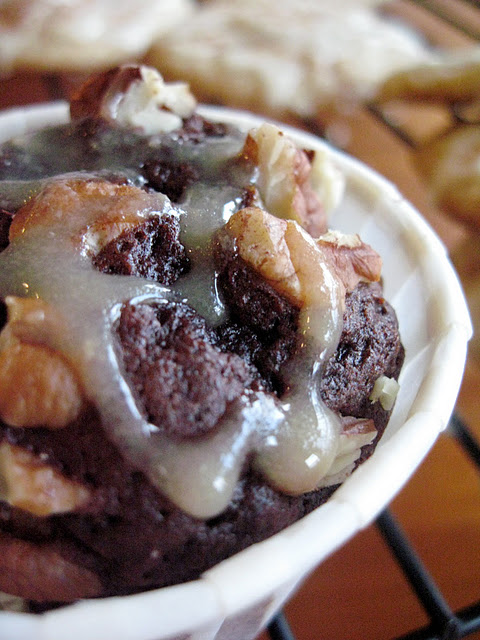 1 (3.9 oz) package instant chocolate pudding
Caramel Sauce (store bought or homemade)

1.
Preheat oven to 375 degrees.
2.
Sift cake mix and pudding mix together. (If you don't sift there will be lumps, but if you don't care about lumps then don't worry about sifting.)
3.
In a separate bowl, whisk together sour cream, water, oil, and eggs. Stir the wet ingredients into the dry ingredients just until combined.
4.
Fill muffin tins about 3/4 full and top with chopped pecans.
5.
Bake for 16 -18 minutes or until a toothpick comes out clean.
6.
Let cool for about 5 minutes and then use a piping bag with a small circle tip to pipe caramel into the center of the muffin. Just insert the tip into the top and pipe out caramel. Then drizzle caramel on top to disguise where you piped in the caramel. (If you pipe caramel in when they are still hot, then the caramel will be absorbed into the muffin, which still tastes good but is visually different when you bite into them.)